BACK TO NEWS
echo::factory Launches Career Day Event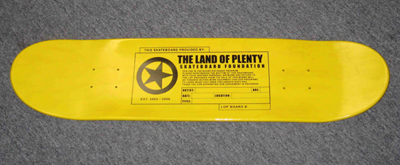 echo::factory Launches Career Day Event
On Monday March 4, 2008, echo::factory launched the fist ever Career Day event. Career Day is an opportunity for design students/artists to develop some contacts in the skate industry and for skate industry art departments to meet some new talent. The event is founded on the principle that any workplace with a mini-ramp is far superior to one without.

The event starts off with an online portfolio review. Design students/artists are invited to submit portfolios on the Career Day website, http://www.careerday08.com. The portfolios will be reviewed by echo::factory staff and the top twenty designers will be sent blank skateboard decks from the Land of Plenty. On March 21st, all twenty selected applicants along with their now decorated decks and portfolios will meet at Alex Cheung¹s gallery in Chinatown, L.A., California.

At the party the selected design students/artists will meet with art directors and executives from a bevy of skate industry sponsor companies and make some of the contacts that will help pursue a career in the industry. After the event, all twenty of the custom decks will be auctioned off to support a variety of charitable causes.
For more information on the event visit:
http://www.careerday08.com
---