Back to News
Danielle Kristmanson and Marie-Josée Legault: Origin Design + Communications
March 1, 2008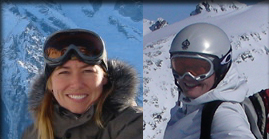 Danielle Kristmansonand Marie-Josée Principal: Origin Design + Communications
Fifteen years ago Danielle Kristmanson set up her design shop in Whistler, BC Canada – not a bad place to start out! By focusing on the niche markets of snowsports and resort companies, and not veering off track, Danielle's one person shop has grown to a full-service design and communications agency employing more than twenty five people in Whistler, BC and Montreal, QC. Passing up mega-corporations from industries such as pharmaceuticals takes discipline and commitment. The reward is being submerged in work, lifestyle, and culture that you love. This Industrial profile with Danielle Kristmanson and Marie-Josée Legault (MJ) is a demonstration of the commitment and reward.
What is your profession, Danielle?
My title is Creative Director. But my job includes a lot of brand strategy, and MJ and I collaborate on marketing strategy often. My degree is in Marketing & Communications, and I then went back to school for a certificate in design. I can never get away from managing the business too. It's wearing a lot of hats, typically.
And how about you MJ? Your profession, please….
I'm the principal of the Montreal office and my day job consists of marketing strategy and planning. We're a smaller team in Montreal so I tend to be involved in much of our clients' business - from the proposal to the plan to the overseeing of its execution.
How did you get started in your profession?
Danielle: As soon as I graduated from university I was working in publishing. As kind of a lark I saw a classified ad for a Creative Services manager at Tourism Whistler. I was just a year or so out of school, and I got the job and that put me here in Whistler. I worked there for 3 years. Because Tourism Whistler is a mandatory association for local businesses I met pretty much everyone in the area. I had access to everyone and I had a lot of contacts. I worked for Tourism Whistler until I decided I couldn't work for someone else and I set out to start my firm, Origin Design + Communications.
I started out in my basement, actually in my loft. It was fairly quick going–from me to me and a couple of people in just the first year – I didn't get stuck in the small agency rut as many do. It's sort of a small town….peopled needed it (a creative agency). It wasn't a struggle to grow, but struggle did come later.
In what sense or how did struggle come later?
Danielle: I think it was in growth really. I had no business experience; being a creative person…I don't think that's necessarily an inherent strength. My business acumen came later when I almost ran my business into the ground. I think you learn how to run your business when you're faced with potentially losing it.
MJ, how did you originally land a gig with Origin?
I had been working in ad agencies in Montreal for a few years when the mountains called... Like so many Quebecois, I packed my gear into my station wagon and drove out west for the promise of real mountains. Shortly after I moved to Vancouver, I saw an ad in the paper for an account manager job at Origin in Whistler. That was 10 years ago and I think there were 3 of us in the Origin office at that time.
On what expertise was Origin founded?
Danielle: It was definitely from a design and production standpoint. And in hindsight, that was probably to our detriment. If I had the wherewithal to position it differently we would've got to where we are today a lot quicker. But, at the time when we started everyone in Whistler needed the services we provided. That is where we started.
Who was your first client?
Danielle: I don't actually recall! We did a lot of work with resort-based activity operators. Every snowmobile, back-country tour operator, and the like were our first customers. Our first major client was Whistler Mountain - that was before the merger (between Whistler and Blackcomb). They were putting a lot of money into marketing to make sure Blackcomb didn't get a leg up. We were doing a lot of work, everything from season pass campaigns to lanyards to big branding initiatives for the mountain. Right then is when I needed to hire people.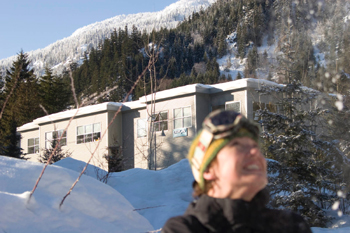 It was a natural progression. (Danielle pictured in front of Origin's Whistler office)
Danielle: We've had a long road with Whistler and in the last three years we've really started affecting their business – since we've become the creative agency of record. And over the last three years is also when we've experienced explosive growth as well.
What about your second office in Montreal. MJ, was that your doing?
Mais Oui! After working my way around the world from London to Colorado to Vermont - I made my way back to Montreal and realized that none of the agencies here offered the type of expertise and industry knowledge that Origin had. I missed the clients and the industry terribly and as I was still very much living the lifestyle, I could see tons of potential on the East Coast.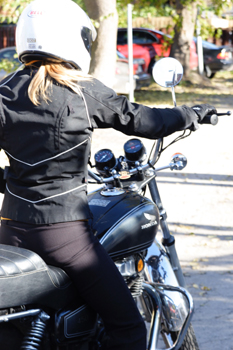 What's the advantage of having two offices? (MJ, picutred here getting ready to enjoy the city aspect of Origin's set up on her trusty two-wheeler)
MJ: We get the best of both worlds - the mountains and the city. East and West. Ying and Yang. Beyond that, having an office in Montreal opens up the talent pool and we have access to a great variety of talented creative people. Then there is the language thing; we offer completely bilingual services to all our clients and for most sports/outdoor companies selling in Canada, Quebec represents 40% of that market so French is essential. We offer some translation and creative adaptation services, as well as, entire campaigns designed specifically for the Quebec market. Then there's the obvious reason: we have offices in two kick-ass places allowing us to take advantage of Whistler in the winter and Montreal in the summer.
What were some key events that fueled the growth of Origin over the last five years?!
Danielle: A guy who worked in the retail division here named Sandy Black was sent by Intrawest to Colorado to head up all Intrawest retail stores and he had us work with him on the branding for all those Intrawest stores.
And David Perry who was VP of Marketing at Whistler Blackcomb left to take a job with Colorado Ski Country, which is the marketing, communications, and public policy arm for twenty five Colorado ski resorts. He hired us on to help rebuild that brand. We started working in Colorado and established ourselves as real brand people. It was the kind of work we love, and because we came from Whistler – it was really hot at the time – people perked up and started listening. It was two or three years after that, when people began recognizing us for our real expertise and that's when things really started to grow.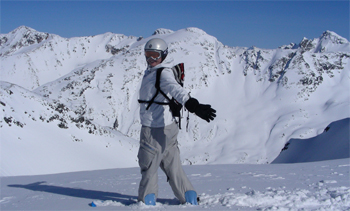 Was this a point of clarity, or validation for your firm's expertise? (Danielle, keeping in tune with her market on the Pemberton Ice Cap, BC Canada)
Danielle: Absolutely. For a ski area or a snowsport brand to have an agency that they don't have to brief on certain fundamental or operational practices is great for them; and this has been really apparent in the response we receive from the industry.
And then working with Intrawest on retail environments naturally led us to working with manufacturer brands - hardgoods, softgoods, and so on. That part of our business is something we're still focusing on and we see growing as retail is an amazing place to bring a brand to life and really showcase it to the customer. Most recently, we've worked with Salomon Canada and Atomic in Mont Tremblant in revamping their stores.
And for sure there's the one thing about diversification and growing our firm. We've really chosen to focus on growing vertically within our niche instead of branching out. The more expertise we garner within our vertical, the more we are worth. We've consciously decided our grow only in this way. The variety of services we can offer are a very broad range and it seems it is working. We provide a bit of everything to our clients, and they're happy with it. And coincidentally, there's a trend towards integrated shops.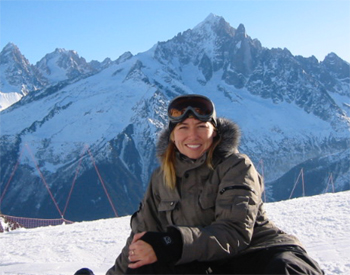 MJ - When did Origin expand to offer additional services? What year? (MJ, living it in Chamonix, France)
This happened around 1998 when we went to Colorado. Our roles changes there because we were working with people who needed re-branding. It was a really important one and positioned us as brand specialists and brand strategists.
When I came on to Origin in the late nineties, I really saw a lot of opportunity for the firm to grow. It's natural when you pair marketing with design. With my marketing background and big agency experience, I could see what we could offer that was so unique; taking the best of big agency thinking and expertise but pairing it with a small creative shop approach.
So can you give us the line up of Origin's services?
MJ: I'd say we're brand, creative and marketing strategists first and foremost. But a large portion of our business is built around the design that falls out of those strategies. We do both print and web-based design and development. We also have a segment to our business that is about brand activation. This comes in the form of branded retail environments, brand engagement in the form of grassroots marketing and public relations as well as community and social media marketing. This is going to be an important focus for us since our industry is so focused on youth.
Gen Y is so much about pull instead of push. They don't want to be told, they don't want to do anything that they don't want to do, they want to find it on their own, and they want to talk about it. Responding to these changing marketing environments is where we intend to focus our business in the future.
How deep does your firm's expertise run within each segment of your business?
Danielle: That's one thing we've tried to do is to provide the best available in all categories we offer. A good example is within a fairly new segment of our business–social media. Blogs and community site development is big right now, and we're able to do design and development of those really well, but our real value added though is in content development for those sites. We just hired a really well-respected ski writer Mike Berard (previously managing editor of SBC Skier Magazine) to help build that side of our business. Having someone like him as a contributor to our clients' campaigns makes us really credible. It's having someone like him in all of our categories that gives us credibility. That expertise is really, really important to us.
With growth comes diversification, right? There are many ways to grow a company. From the outside, it appears Origin made a very conscious decision to offer more services to it's existing customer base and market niche. Why?
Danielle: We are really vertically based in this industry. We had to be sure we positioned ourselves as a full service agency. The interesting thing is traditional marketing in its old sense and the services we offer sort of meld together. For example, you don't do web without social media. No print without conversational media. To split it apart would be difficult.
Where are you taking your firm over the next few years?
Our business will certainly continue to be about integrated marketing, but we'll also be focusing on social/conversational media. Blogs, communities, and so on…
Wow. We just talked about work for quite a while. Let's have some fun now.
Wait, one more…your firm has grown tremendously since inception in 1993. Not all firms grow. What was the key to your firm's growth?
Danielle: I don't know…I think its perseverance. Specialty for sure….we worked our asses off…but you gotta fuckin' work…..
MJ, what's your take?
This might sound weird but I think our growth can be attributed to saying NO to clients. By turning down clients that were not mountain sports related, we were able to really focus on mountain sports –live and breathe that lifestyle; attend events, study the retail environment, meet and question athletes and regular consumers, invest in conferences and education. I think turning down the many pharmaceutical companies and real estate companies that first contacted us in Montreal lead to our credibility in the industry and our growth.

Danielle in 1993 compared to Danielle in 2008. Fundamentally the same?
No, not even close to the same person. Something happens when you get old. I have a confidence now that I didn't have in even the first five or ten years of my business. But the more people that endorse you… or people who sit up and listen when you speak changes that. I speak my mind 100% of the time now and I don't think I did that much back then. I've seen so much, learned so much….I used to be really emotional and take everything personally but just about everything runs off my back now. I think the one thing that has endured is my entrepreneurial spirit.
Ok, what are the top five things you love about your job—GO! One at a time!
DANIELLE
This sounds so cliché, but the top thing I love about my job is our clients. The reason I love'em is because we only work with people who are really stoked and want to be there. The people that are in this business are doing it because they know it's exactly where they want to be. You're dealing with people who want to do it.
Our team. We've got people who've been here for ten or eleven years. It's a close-knit group.
Having people appreciate our contribution to their business.
Being in a creative setting
I love the mountains, and my work keeps me in the mountains. That makes even the shittiest work day ok.
MJ
I love that our clients' products and services are things I actually believe in and use as a customer.
I love the fact that we talk about snow every day. It's one of those realities to our clients business that few people outside the industry would comprehend.
I love setting up objectives with clients at the start of the relationship and meeting those objectives as the season progresses. That's probably my biggest joy.
I love that Origin is located in two of the world's greatest places and that I get to work/live in both.
I love that I am inspired by the Origin team. We've got some of the coolest chicks you'll ever meet.
Five for fun: Which Do You Prefer?
DANIELLE
Poutine or jellies?
Oh yeah, poutine. Right across the street from our Montreal office is one of the best, and it's the first place I'd go when I get to town. But there are so many Quebecers in Whistler we have great poutine here too.
Tim Horton's or Starbucks?
I'd have to say Starbucks for the coffee. But I prefer something that's less corporate.
Alexander Keiths or Caesars?
That's a tough split! That would be according to the day. You can't be a Canadian and not be Caesar fan.
Hockey or Curling?
I'd probably have to say Hockey because it's on 7 nights a week and my husband is a fan. But curling is cool!! It's a super cool sport that only Canadian's get. It's the only sport in the world that has a cup holder for your beer and ash tray half way down the lane…it's great. Curling was a big part of our child hood, all of our parents belonged to the club.
Garfs or Buffalo Bills?
I grew up in Garfs…I was 22 or 23 when I moved to Whistler. But "grew up" is sort of the operative word. We always mocked the women who went to Buffalo Bills, we called them cougars, so now I'm like a woman without a bar….so I swore it off. So, we go The Garibaldi Lift Company at the base of the Gondola.

If I'd been to Bills I won't admit it.


---