Back to News
Propaganda Continues to Grow with New Hire Geoff James
March 25, 2008
Propaganda Continues to Grow with New Hire Geoff James
Brand Consultancy Expands to Meet Demand for Marketing and Design Driven Solutions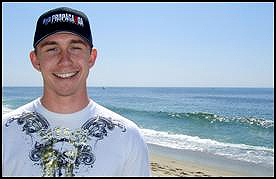 Propaganda Headquarters, Inc. a leading youth based brand consultancy, has expanded its design team with the addition of Geoff James, a creative young professional who is currently earning his BS in Graphic Design at the Art Institute of California - Orange County. Geoff's role will support the growth of our Brand Design team led by Creative Director, Ty Smith.

"Geoff is a talented individual who captures what's going on with youth culture and design" said Smith. "He has a thorough understanding of balancing design with business and will be a great member of our family."

In his new role as Creative Assistant, Geoff will be responsible for supporting and assisting with design based projects. His skill set includes hand illustration and the incorporation of illustrations into new media. A valued student of the Art Institute of California, Geoff most recently lead a team of his fellow students in the design and production of the Art Institute's school magazine, Portfolio.

About Propaganda Headquarters, Inc.
Propaganda is a leading youth culture Brand Consultancy. We live to inform, influence, instigate, incite and inspire ideas; Ideas that shape brands through authentic, credible and creative strategies.
---