Back to News
Woodward at Copper
April 1, 2008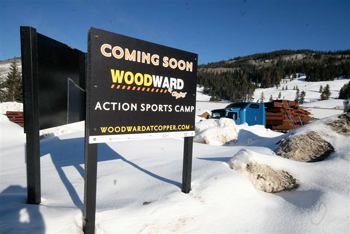 Woodward at Copper
The mountains will never be the same…once Woodward at Copper is open to the public. What is right now a project, or facility in the making, will soon be a marquee example of a mountain resort evolving in stride with its visitors. Woodward at Copper is a year-round training facility with an indoor component spanning nearly 20,000 square feet and featuring all of the right "training apparatus" to enable riders of snowboards and skis to progress as individuals and push the evolution of snowsports. Looking forward to the 08/09 season Woodward at Copper is planning to offer (among a myriad of other products) a "one hit wonder" session – practice a trick all day and night in a safe, simulated environment, and then take it to the hill the next day. Ranquet and Plake might not like it, but the next generation won't know any different. And corporate sponsors, endemic and non-endemic, are probably waiting in line for a chance to support this action. Herein lays the story of how it came together and what it's all about. As they say at Woodward at Copper – "Progression is Inevitable". Evolution is staring you in the face.
How did the idea originate to bring Woodward to Copper Mountain?


David Barry and Ben Friedland met Gary Ream at the CSCUSA conference in 2003. The project was born through many fits and starts. It has been 5 years in the conversation and planning phase, and now for the 2008/2009 ski season, we will be opening our doors and changing the industry.
What is the CSCUSA conference?


CSCUSA stands for Colorado Ski Country USA. It is a conference held annually to discuss the state of skiing and riding in Colorado and nationwide; topics range from what happened the past year to what exciting new endeavors resorts and people are undertaking. This conference is attended by most of the ski resort executives from around the state of Colorado and some neighboring states.
Can you provide insight as to what these three do?


At the time, David Barry was the Senior VP for Intrawest Colorado responsible for both the Copper and Winter Park ski areas. He is now involved in a new role at Intrawest as the President and CEO of Canadian Mountain Holidays – a spectacular heli-ski operation based out of Banff, in Alberta Canada. Ben Friedland was the Director of Marketing for Copper Mountain and has recently ended his 9 year stint with the company to pursue the a career in the natural foods industry..
Gary Ream is the Camp Woodward President and a Partner at the company. Hailed by many as a pioneer of action sports camps Gary is integral in breaking new ground for the action sports industry.. There is a vast amount to Gary and his commitment to Woodward and the athletes that come through their program.
Why Copper and not somewhere else?


Woodward and Copper are very aligned from an attitude and personality standpoint. A great quote from the founder of Copper Chuck Lewis does well to sum up our business model – "I don't care how everyone else does it, we're not everyone else."
Who were the key players in making this happen?


Ben Friedland, Mark Piquette, David Barry, Mike Jacki, Gary Ream, and most recently, Ben Brown
Was there any opposition or resistance to the idea?


Initially yes, but as Copper got its arms around the potential, the resistance melted away.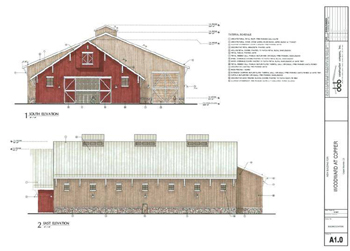 What were the fundamental arguments of the opposition, and how was that barrier overcome?


As with any new endeavor, this project entails the fear of the unknown. For the initial phase of this project, Copper is building a brand new 20,000 sq foot indoor training facility – working on the approvals internally and with the community always takes time. Any of the opposition melted away as the company became more aware of the potential that this project could bring to winter sports. This is a key differentiator for Copper Mountain: there is only one Woodward, and there is only one Copper Mountain; together we will be setting the standard for action sports training in the ski and ride industry.
Exactly how far from the mountain is Woodward at Copper?


It is on the mountain, next to the mountain and above the mountain. This is a fully integrated camp experience with exclusive Woodward components weaved in.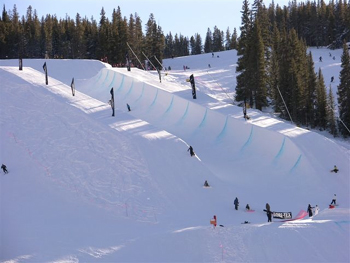 WOW! Can you explain a little more about how it's on the mountain, next to it, and above it? There must be some really innovative things going on to accomplish that?


Woodward at Copper is fully integrated into Copper Mountain Resort. The indoor facility is located in our base area and just a short walk to the lifts. Next door to the facility is Copper's full service Athletic Club complete with free-weights, cardio equipment, racquetball, hot tubs and an indoor swimming pool. Our on-hill component will speak to the progression and evolution of the sport that the Woodward at Copper program will embrace. Woodward at Copper and Camp Woodward are working on a number of innovative technologies that will allow for all levels to push the limits of their abilities to new levels. For the residential programs, we have a dorm on property include all of the amenities you would want and need.
Is this the first of its kind? Meaning a full blown camp, training facility, and in-door skate facility at a mountain resort.


This is the first Woodward facility dedicated to the progression and evolution of winter sports. This is also the first Woodward program that will be offered year round. We are braving new territory with this project and feel that there is a
Is this facility going to be a strong draw for pros and average Joes across the globe?


The plan is to progress the sport from all levels and abilities from the average Joe to the pro skier and rider. To change the nature of skiing and riding and allow access to the more extreme component of our sport in a progressive and safe learning environment. Our facilities will provide some of the best opportunities for each skier of any ability to tailor a program that allows them to set their own personal bar, whether it be learning your first method air, or defining the trick of the next generation.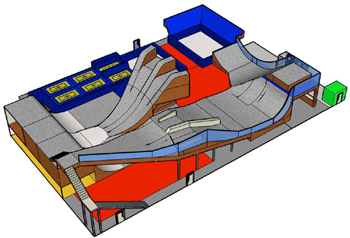 How big, in square feet or acreage, or whatever makes the most sense is this Woodward?


The indoor facility that will begin construction in May of 2008 will be almost 20,000 square feet. With ramps and rails, airs and foam, not to mention a simulated ½ pipe.
On the hill we have over 2400 acres of skiable terrain with 4 terrain parks and a world class Superpipe.
Simulated half-pipe? How big might a person go, if he or she is a professional rider? And how about ol' average Joe?


We are still working on the technical specifications of the indoor facility, but it will be sure to provide for a great training ground for both pros and average Joes alike. As you know, speed determines size…
What features will be included in the facility?


Inside the facility we will feature rails, boxes, a ¼ pipe that simulates a Superpipe, a big air into foam, trampolines, some skate features a viewing platform and much more – designs are still evolving and changing as we meet with more athletes and design professionals.
Will it be open year round?


Absolutely – perhaps some down time here and there, but overall – we will be open summer and winter! This summer we are working on some snow farming techniques to implement for the Summer 2009 programs. This will provide for some great features inside and outside year round.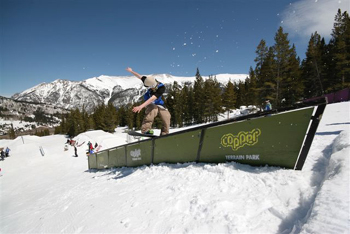 What unique method of learning freestyle snowboard and ski tricks does this present to people who use the training facility during winter?


Our method of teaching and our facilities will provide a safe environment for campers to progress quickly and push the limits of the sport. The facility will simulate the features that will be encountered outside, yet with safe landing zones allowing for athletes to push their individual limits. Taking the new trick that was perfected inside we are working on safe and progressive ways to bring it outside through safe landing zones and exclusive parks simulating the indoor facility. All of these features will be complimented by a coaching staff that understands the core of the sport and can deliver on the goal of progression.
Will it require visitors to book multi-day stays, or can people pay for access by the day?


At this time, we are planning on anything from drop in sessions, one day camps all the way to multi day camp programs
How much will a one day visit cost?


To be determined.
How about a ball-park figure, so we can all start saving?


Currently we are looking to keep the cost of a "One Hit Wonder" (one day camp) under a couple hundred bucks. The idea as it stands today will be to have the one day program last into the evening to maximize the time in both the indoor and the outdoor spaces. As you can imagine, this is still in the brainstorming phase, so all of this is subject to change – thanks for understanding.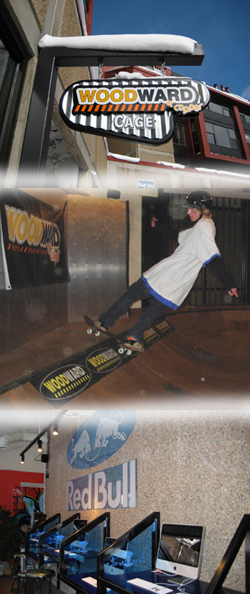 Is The Cage retail shop a part of Woodward at Copper?


It is a part of the entire copper and Woodward at Copper experience. The retail outlet will provide Woodward logo wear, Indoor skate bowl, free IMAC video editing bays, a lounge, and other amenities for campers and future campers.
What unique features exist within The Cage? Are there any other mountain resorts with a similar offering?


This is the only resort that we know of that has an indoor mini-bowl for customers to skate in. Currently The Cage's indoor skate bowl is the only one available in Summit County. Not only do we have the mini-bowl, we have free IMAC video editing bays, a lounge and the hottest free style brands for our customers.
Are most customers of The Cage locals or tourists or both?


A combination of both
How would someone go about finding out about employment at The Cage or the Woodward training facility?


Coppercolorado.com on the jobs link would be the best source for jobs at either woodward at copper or in the cage. We will have a link to this from woodwardatcopper.com as well.
Are there career opportunities for people of all backgrounds and experience levels?


Absolutely – we will be posting positions as soon as this summer.
---