Back to News
Black Box Distribution
May 1, 2008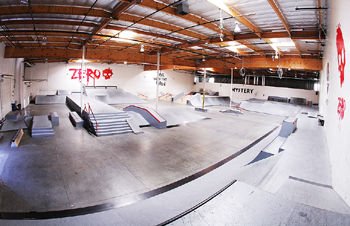 Black Box Distribution
Will Black Box Distribution take Fallen into the sandal market?! The answer is here along with many more answers in this Company Q&A. Black Box Distribution's business strategy is guided by the mission it was founded on to "support skateboarding at every level."
Founder and owner Jamie Thomas won a regional Entrepreneur of the Year award in 2006 from accounting firm Ernst & Young. Recognition at that level, from a group of business-peers, can be considered as validation of a business strategy, as well as more than eight years in business.
Chad Foreman, general manager of Black Box pictured below, provides you with more insight to the company, as well as what it takes to become a part of the Black Box team.
When was Black Box Distribution formed?
Black Box was started in November of 2000 by Jamie Thomas.
Would there be a Black Box Distribution without Jamie Thomas' initiative?
Without Jamie, Black Box would not have been thought of or possible at all, so I feel his involvement and vision is imperative to the success we've had. We have a lot of extremely hard working people here that do a great job of carrying out his vision on a day to day basis.
Do you ever see Black Box brands catering to other market segments outside the skate industry?
We choose to stay focused on what we love and know the most about, which is purely skateboarding. At this point, I don't see that changing.
What was gained by taking Fallen out of DC and 110% into Black Box?
Everything was gained. At the time, DC had been bought by Quiksilver and they weren't interested in continuing the license agreement that was in place, therefore we had two choices, 1. Sell Fallen to Quik, or 2. Take it on our own and do the best we could…selling wasn't an option so we dove in head first and did the best we could.

Did Fallen Footwear have trouble taking off after moving to Black Box, with the loss of access to DC Shoes' development, production, and support infrastructure?
Luckily, we had very little problems after the transition was all finished. It actually helped our growth because the people that were now involved gave 100% to get things on track fast. It was a very exciting time for all of us.

How did Black Box address those issues?
We just did the best we could with what we had at the time.
When did Black Box make a decision to not participate in any of the major U.S. tradeshows?
Pretty much from the beginning. We did the first one or two in the very beginning when we had Innes Clothing but after that, we decided to spend the money on things that were more important to us as a company and that would also make our riders and employees happier.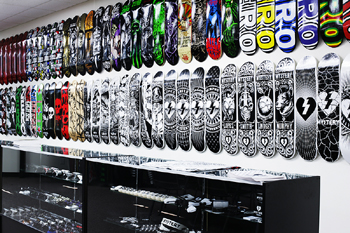 Is there a strategy behind this, or do you promote through other venues?
We have an Open House here at Black Box twice a year and we also have an in-house showroom where people can see everything new first hand, eat some good food, tour the building and skate the park. We invite pretty much everyone and the people that show up are the ones that would come to our booth anyway if we had one, so you really get a great crowd of people.

What determines success for this strategy?
We monitor the amount of people that show up and it's been consistent. We try to never determine success by a dollar amount but more about personal interaction and feeling.

Fallen was launched during the skate shoe boom, and has remained successful when others have struggled or disappeared. What factors have contributed to Fallen's success?
I think the success we've had is by staying true to what we set out to do, and that's support skateboarding at every level.

Can Fallen shoes be found at retailers which do not stock skate hardgoods?
No, we only sell our products to places that fully support skateboarding.

Will Fallen produce sandals one day?
I will gladly say no, you can't skate in sandals so we have no desire to explore that market.
Are Black Box brands doing anything to promote video content on YouTube, the Web, etc?
We have our own website that's updated pretty much daily. It has a ton of video content and you can spend hours just digging through stuff.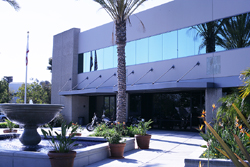 When looking to hire people under the distribution, what are the top factors in choosing candidates?
Well anyone can look good on paper so it's mandatory to come in for at least a few interviews so we can get a feel of the persons personality ect. I feel that it's 50% of who a person is and 50% of what their qualified to do. I've hired people with no qualifications that have ended up being the some of the best people in the building.

When is "skate industry experience" necessary?
Almost always here at Black Box. I'd say 90% of the people in the building skate or have skated at one point. The 10% that don't have been either working in the industry for a long time or they love it just as much as everyone else.

Has Black Box ever hired anyone as a result of a job posting on Malakye.com?
All the time, we usually only post on Malakye and our own website and a few school sites around the country. We've always had the biggest response from our Malakye postings.

What's the key to success in submitting a resume to Black Box?
Reading the job description and requirements before submitting. I've gotten a lot of post's where people write a nice letter explaining that it's their dream to work for a Surf or Moto company and we don't do either of those things here, so paying attention to detail is a great quality to have.
---