BACK TO NEWS
echo & Land of Plenty Host Career Day 08
Career Day 08 Created by echo::factory and The Land of Plenty
By echo::factory
In late March 2008, echo::factory and The Land of Plenty organized a skate-community oriented event dubbed Career Day 08. Career Day 08 took place in the heart of Chinatown but the people in this room were about as Chinese as Dick Cheney. A few chain smoking skaters sitting outside, some advertising types manning the door and inside the gallery space was chock full of design students and skate industry art directors. The walls are covered with hand-painted skate decks and above it all hangs a sign that reads "Career Day".
Career Day is what happened when a few guys from a small Southern California ad agency asked how they could help their skate-industry friends find good creative talent and their designer friends find good jobs in the skate industry.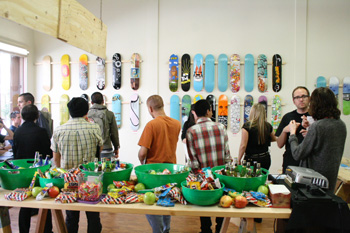 "We all dream of going pro when we're young" says Chase Wilson, a designer at echo::factory, "but for those of us with more artistic talent than skate talent, working as a designer is a more likely way to get into the industry."
So Chase and his coworkers created Career Day, an event that brought design students and artists together with art directors from skate companies. The Land of Plenty joined forces with echo::factory to host the event, a natural fit since The Land of Plenty's organization is based on unifying art and skating.
Career Day began with design students submitting their portfolios to the Career Day website. The portfolios were reviewed by the echo::factory staff and the winners of that review were sent blank decks to paint on from The Land of Plenty.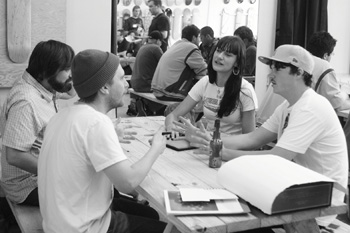 Echo::factory and the Land of Plenty got in touch with a few skate companies they had worked with and asked them to send their art directors to the show.
"Everyone we invited was super excited, and then, at the last minute it sort of snowballed," said Chris Johnston, another echo::factory creative. "A few days before the event, we got a phone call from Vans, who we had never talked to before, and they were like, 'Why didn't you invite us?' and we said, 'Come on down'".
Vans couldn't make it to this year's Career day, but representatives from Girl and Chocolate Skateboards, Lakai, Fourstar Clothing, The Art Dump, Nike, The Skateboard Mag, Malakye, Ogio and Buckle Down did.
This brings us back to the day of the event in LA's Chinatown where art directors are talking with artists, tourists are pondering decks on the gallery walls and everybody seems to be having a good time.
Each student, who ranged from high school kids to recent college graduates, was given about 15 minutes with each art director. Throughout the afternoon the students got feedback on their portfolios, discovered how the industry worked and learned the arcane secrets of landing a job in the skate industry.
After the show Dana Collins, a designer, said that Career Day was epic, but sort of like "cramming 20 pounds of crackers into a half-pound parrot."
Next year's show will involve a bigger parrot. "It went well" says Chris, "so we're basically going to keep it the same, just more of it." Echo::factory is planning on expanding the art show side of the event as well as inviting surf and snow companies for next year's event. Chinatown won't know what hit it.
Want more? Check out:
Career Day site, blog and more
http://www.careerday08.com
The Sponsors
echo::factory
http://www.echo-factory.com
The Land of Plenty
http://www.thelandofplenty.org

---