Back to News
Woodward at Copper Breaks Ground for Winter 08/09 Debut
May 20, 2008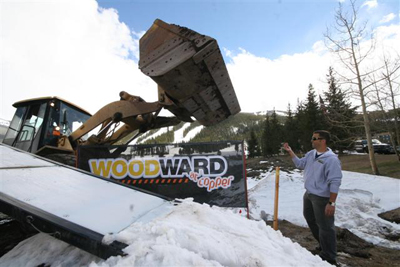 Woodward at Copper Breaks Ground for Winter 08/09 Debut
Thursday May 15, 2008 was a big day for Woodward at Copper. Tractors and shovels were out moving dirt to mark the beginning of construction on the 19,000 square foot Woodward at Copper facility, set to debut Winter 08/09. (Ben Brown of Woodward at Copper pictured here on ground-breaking day)
Woodward at Copper is going to change the way that skiers and riders grow their skills and progress the sport. Woodward at Copper will offer year-round programming, with Woodward at Copper Experiences during the winter season and Summer Camps launching in 2009.
Using many of the same techniques already enjoyed by BMX, Skate and FMX pros, skiers and snowboarders will have access to a first of its kind facility dedicated to their sport, featuring progressive teaching tools including trampolines, foam pits, resi-pits and bungee systems.
Copper also hopes to achieve Green Globes certification for the Woodward at Copper facility.
Fore more information and a preview of the facility visit the Web site: http://www.WoodwardatCopper.com

---