Back to News
Rome SDS Crew Crashes Windells
May 19, 2008
Rome SDS Crew Crashes Windells
The summer season is just beginning at Windells. Mt. Hood has been hit with a shattering record of 826 inches of snow this winter, and with most resorts closing up shop around the United States, springtime is in full bloom for everyone at Windells.

The Rome SDS crew made a stop at Windells for their Magic Bus Tour bringing along such names as LNP, Casey Neefus, Joel Cline, Greg Bokenkamp, Jerry Thompson, Johnny Paxson, Christian Weber, Eiki Helgason, Max Legend, Will Lavigne, John Foy and Ryan Runke. They arrived for a late night session in their hippy-esque bus to throw down in "BOB", skating hard into the AM.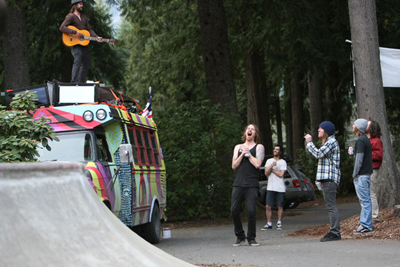 The following morning, the Rome crew killed it at Mt. Hood Meadows with a full bag of tricks. The tour continued into Government Camp, and it wouldn't have been a journey if they didn't make use of the sky-high snow banks from Mt. Hood's record snowfall. These guys mixed it up on a street hip in Gov'y, which you won't want to miss in Rome's next film "No Correct Way". (pictured left, Runke can't get enough of Dirty Joel, so a serenade was in order)
Don't miss out on another epic summer with more activities planned this year than ever before. Come ride and play with the Rome crew along with many other pro riders this summer at Windells. Check out www.windells.com or call 1-800-765-7669.
---