Back to News
Lisa Fruggiero - Marketing/Event Coordinator for the Action Sports Tour (AST)
June 2, 2008
Industrial Profile: Lisa Fruggiero - Marketing/Event Coordinator for the Action Sports Tour (AST)


All of us wonder how we're going to land that perfect dream job in the industry, and hardly any of us are provided with a direct path to get there. The plain and simple fact of the matter is, most of us won't find this job right off the bat, but will instead have to jump through hoops, roll over and beg to turn this dream into a reality – hopefully without the begging!
Lisa Fruggiero, the marketing/event coordinator for the Action Sports Tour (AST), unveils her trials and tribulations of how she landed her dream job in the industry. This proved to be no easy task for Lisa, but she worked her way through the motions, never gave up and worked her little tokus off to get herself where she's at today. According to Lisa, "Nothing ever comes to people that wait; you have to go out and get yours!" and that's exactly what she did. Lisa story is a real world example of how careers unravel, so check out her story and enjoy.

How did you end up working for the AST?

I would say it's been a yearlong process. Last year, I was the Local Marketing Coordinator for the AST Dew Tour Panasonic Open (Baltimore) and Playstation Pro (Orlando). This position was a 3 month contracted position for each of these events.
I saw the job posted online and right away I knew this was MY job. At that time I was working as an Independent Contractor for Winter X Games 12. There were no current full-time positions available within X, so my bosses were like go for it, this is the perfect job for you. I had my contacts at X send recommendations to the AST staff.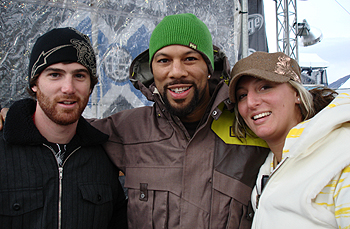 I went through the interview process and was officially offered the job in April. I actually turned down the job at first because the money wasn't what I expected, but after some additional conversations with Kerry, the Marketing Manager, I was like , "Am I crazy; this is a chance of a lifetime!" So I accepted the positioned, packed up my life and made the 8-hour drive to Baltimore.
Once I arrived, I had two months to educate and inform as many people as I could about the AST Dew Tour from a grassroots initiative. My main responsibilities as the LMC were to recruit, hire and manage the local marketing street team, development an event activity calendar and create new partnerships within the community and local businesses. The Local Marketing Coordinator position is a really unique, entry-level position. Since the AST headquarters is in Illinois, as the LMC you are the only person in the market representing the company. I reported directly to Brian Varner, who at that time was the Marketing Coordinator. At first it was kind of intimidating because all my training and communication were done over the phone and through email. (I never even met Brian until the week of the event.) This was the first year they hired this local position, so a lot of things were still being developed and defined within this position. Brian was a great manager, he gave me complete creative freedom to design my grassroots marketing plan and if I had an idea, he gave me full support to turn it into reality. Along with the AST full-time staff, my local marketing squad and I were part of the Marketing team that helped bring in over 55,000 spectators to the Camden Yards Sports Complex for the first AST Dew Tour event of 2007.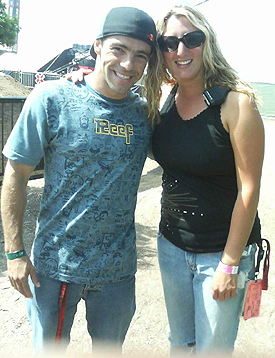 After the successful Baltimore event, I went back to work for the X Games for the month leading up to X Games 13. Before I left for L.A., I expressed interest to Brian about the possibility of me becoming the LMC for the Playstation Pro event. Brian also agreed and had faith in me that I could walk into another city and create some serious damage. To make a long story – shorter – I moved to Orlando directly following my return from X Games and got the job done. The city of Orlando has truly embraced the AST Dew Tour as an annual event for the past 3 years. The foundation was already in place and my street team and I worked full force to make sure the last stop of the Tour was the biggest event of all time, in which it was.
When you work hard and have real a passion for what you do, it gets noticed. I was like an experiment. This was the first year they created this position, the first time the Tour was in Baltimore, and the first time I was in Baltimore. There were a lot of unknowns and risks that AST took with me. In the following months I had discussions with Brian and my now current boss, BJ Carretta. The company was going through reorganization and Brian got promoted to the Manager of Competitions, so there was an opening within the Marketing Department in which BJ oversees. AST is a company that highly believes in promoting and hiring from within. They valued my previous work and offered me a full-time position as the Event Marketing Coordinator. I accepted the position in December and moved to Chicago this past January. And here I am now!
What made you want to work in the "Action Sports" realm?

I'm from Cape Cod, so I have always been surrounded by watersports and have had friends that surf and skate. Growing up, I was really active in sports and even played field hockey in college. I took a class called Work Based Learning in high school (my mom was actually my teacher), where I interned for the Park and Recreation Department. From this experience I learned that I wanted to pursue a career in sports, especially where I would get the chance to work with kids and the community.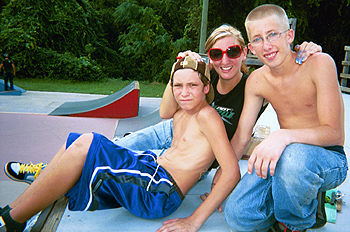 It was in college where I developed my love for action sports. Freshman year, I was sitting in one of my Sport Management classes, where my favorite Professor (Bob Accorsci) was lecturing about Youth Trends. He stated the alarming fact that 70% of all kids quit traditional sports by the age of 12. He went on to discuss the increase in alternative sports. Right away I wanted to know more. I focused all my research projects around action sports – I wrote a legal paper on skatepark liability, I designed a marketing plan around a snowboard contest, I even did a final project on how to open a public skatepark in my local community. I learned about all the different organizations and job possibilities within this niche community. While my friends were reading their gossip magazines, I was reading Ridebmx and Skateboader and ripping pages out for my dorm room wall.
I had my yearly meeting with my advisor (Bob Accorsi) where we set goals for my college career. I expressed to him my interest in pursuing a career in action sports. This is where he informed me that the ESPN headquarters was only 45 minutes away from my college and that he had a contact within the X Games Business Administration Department. Right away I reached out to Linda Moore and Kyle Alexander, and over the next year this relationship eventually landed me the position as the Business Administration intern for the X Games. Linda and Kyle took me under their wings and brought me into the X Games family.
Did your internship with the X Games have a major impact on where you're at now?

Absolutely! I consider myself truly blessed that I had the opportunity to begin my action sports career with X Games. I spent over a year working for the X Games and had the chance to experience different roles and responsibilities. I started off as the Business Administration intern, where I worked with numbers, anything from budgets to expense reports, to catering and hospitality totals. I sharpened my Excel skills and built a solid understanding of how an event is monetary broken down.
I extended my internship into the summer and became the Event Development (ED) Intern. I worked directly with Marc Murphy and Kelly Robshaw. I can honestly say that this experience changed my life. Murph and Kelly let me into their world and showed me the ropes. As a department, they ventured into new business opportunities for X. They produced X Fest, which lives inside X Games and is home to the up and coming companies, youth lifestyle businesses, the Music Stage and all the interactive parks and courses. As the ED Intern or Supertern as I was referred to, I was given ownership of projects and they trusted me to maintain important department documents. Once Kelly and Murph finalized a partnership, I then went to work to collect information, logos, pa announcements, booth activities and logistical info including shipping and load in for each companies onsite presence. This responsibility allowed me to have direct connection with key brands. I dramatically improved my communication skills and had the ability to sit in on sales calls, which introduced me to a whole new side of things.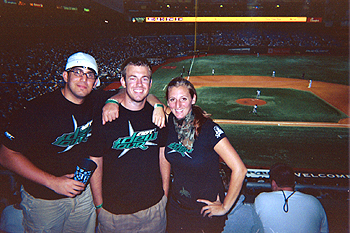 By the time X Games 12 came around, I had proven myself, so Murph and Kelly gave me additional responsibility as X Fest Event Manger. During this event I was on top of the world. When you're put in a high stress, constantly changing, fast paced environment, some people crash – I shined. Working this event, I discovered my calling.
My internship ended shortly after X Games, in which I returned back home (with my mom) and started looking for a full-time position. I had been in discussions with X about obtaining a full-time position, but at that time there just wasn't any openings. My initial plan was to move to Cali – I knew I wanted to stay in action sports and felt making this move would be the option for me. I went through the interview process and damn was it a lot harder than I thought. I started substituting at my old high school so I had some kind of income. Then in November I received a call from Linda Moore at X Games. She wanted to bring me on board for Winter X Games. She proposed that I work with her and Kyle once again in Business Administration and then join forces with Murph and Kelly once the Winter event got closer. I immediately agreed and the next week moved to Connecticut.
Working Winter X was a complete 180 from Summer. Since I had the experience from Summer, I felt confident coming into this event. I was familiar with the partners, X staff and I knew how to find all the answers. Since the Mountain scene was new to me, I also had my eyes opened to a whole new way of life. After spending 3 weeks in Aspen, I must say that I'm a big fan of the Mountains (esp Apres X).
Working for an Industry leader, like X, right out of college was an unbelievable experience. The work culture, employee benefits, the people and the energy of ESPN was very empowering. I was constantly surrounded by influential, brilliant people that inspired me daily. Yes, I would say that working for X Games has greatly impacted where I'm at today!

What were your keys to success in winning your full-time position with AST?

Research, Outgoingness, Passion, Initiative, Work Ethic, Education and Experience.
What are your responsibilities as the Event Marketer/Coordinator?

I love my job. As you read my responsibilities below, you will understand why. Last year working as the Local Marketing Coordinator I use to tell people that my job was to chill with 12 year olds. I spent everyday on the streets, constantly surrounded by the kids and families that fuel this industry. I learned so much and made great friendships along the way. Now that I'm full time and work out of an office – I get to work more with the owners and managers of local businesses in each market. Don't get me wrong ---any chance I get you better believe I'm on the ground running with the street teams.
Here is a breakdown of my responsibilities:

- Hire Local Marketing Coordinators and maintain daily communication.
- Develop relationships with college professors to recruit street team members.
- Directly oversee Local Marketing Teams and track market penetration.
- Work closely with my Marketing Managers to research and generate new business leads and partnerships.
- Research and develop relationships with the local scene including skate/bmx. shops, parks, music shops/venues, community art initiatives, lifestyle shops and boutiques.
- Generate Hospitality leads for Event week in each market.
- Maintain the AST Dew Tour Myspace/Facebook – add us as friends!
- Oversee the Grassroots Coordinators for each Free Flow Tour Super Stops.
- Maintain the Marketing Department Budget.

What events have you worked on since you joined the AST?

Last year I was strictly focused on the Panasonic Open in Baltimore and the Playstation Pro in Orlando. Now as a full-time employee, I work on almost all the AST's properties including AST Dew Tour, AST Winter Dew Tour, and the Free Flow Tour.
Have you had the opportunity to travel overseas for tours or events? If you haven't yet, do you think it will be a future responsibility?

I have not had the opportunity to work on any International events thus far. AST China was the first International event for AST. It was really a successful event and I think more International events are in the future for AST. Hopefully I'll have the opportunity to work directly on these events.
How many hours per se, does it take to put on an AST Tour event?

The AST Dew Tour season includes five events, June thru October. To pull off events of this magnitude, everyone in the office works year-round planning and executing. From a marketing stands point, our goal is to have year round communication with our Local Partners and community presence within each Tour market.
Do you work with a variety of people, or a group inside AST? Are the people you work with local, spread out through the country, or a combination thereof?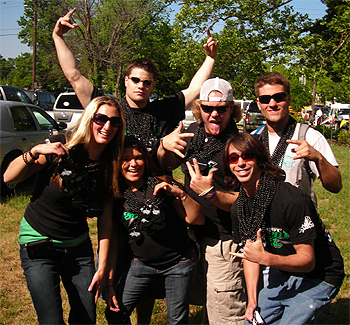 There are about 25 full-time staff members who work at the AST headquarters in Burr Ridge, IL, right outside Chicago. AST is broken down into the departments of Marketing and Communications, Partnerships, Event Operations, Business Operations, and Competitions. All full-time staff lives in and around "Chicagoland." The small group is focused on all of the AST initiatives and brands including AST Dew Tour, Winter Tour, AST China and the Free Flow Tour. We also have an AST office in Cali' that is run by our Winter Tour Director, Dawn Williams.
The additional AST Family is constantly growing. In order for the success of our event, we work with experts in their respected fields from all over the world such as: Course builders, Sport organizers, Producers, Photographers, Agencies, Commentators and Talent, Team Managers, Athletes, Brand Managers, Sponsors, Host Cities, Local Partners etc.
Can you give us a "day in the life" at the height of this season?
Since this is my first year, full time with AST, I have not yet experienced the height of the season. I can give you an idea of what a typical day is like for me in the office:

- Arrive at work at 9am – check my email and phone messages.
- "Girl Team Meeting" with my Marketing Manager, Keely to outline the weeks' goals and last weeks accomplishments.
- Talk with Ferger the LMC in "Bmore." We go over upcoming events and activities the street team is working on and how much they are killing it in the market.
- Check in with Quenton, the LMC for Cleveland. See how recruiting for the street team is going.
- Phone Interview with possible LMC candidates for the AST Dew Tour Wendy's Invitational in Portland.
- Call with Jason from Charmcity Skatepark to discuss the upcoming cross promo demo schedule.
- Research possible music venues in Salt Lake City.
- Call with Scott and Dave from Chenga to talk through ideas for AST Dew Tour Takeover Day at there parks.
- Log onto Malayke B2B to check out new potential business opp's.
- Receive mock ups of our Winter giveaway items from Mitch at GMPC.
- Attend a meeting about our marketing strategy for our AM Series, Free Flow Tour.
- Create and ship out prize packs for our cross promotional online contest to Jason at Rams Head Live!
- Is it 6 p.m. yet?
When you're on scene at an event, do you have time to mingle with peers, or are you running around like a soon-to-be KFC meal?

I'm always running around. For anyone that works live events, it's all about the radio on the shoulder, the cell phone on the ear and the blackberry in the hand. During events, you gotta make time for friends and esp' the local peeps in each city that we work close with and that support our event. Hospitality and customer service is highly valued at AST and this allows me to give back and say thank you.

I'm from the East Coast, so I actually invite all my friends and family to the Baltimore and Orlando stops. I don't get to go home that much, so this is the perfect way to reconnect while showing them what I do for a living. It's much easier explaining what I do after they come out and experience it. I even have my grandma watching the Dew Tour on NBC. She loved the boy with the Red hair - Haha!
Are you involved in any of these sports as a participant?
I've been riding a longboard since college and my favorite part of going back home to the Cape every summer is going wakeboarding with my friend Russ and Anna. But by no means do I consider myself a skateboarder or wakeboarder. It would be bad ass to learn to ride bmx; I'm looking into getting a bike this summer.
I really respect the scene and culture, and everyday I learn something new. I will be the first to admit that I am not an expert, but if you ask anyone that knows me – I will be the first to ask and seek advice and guidance from the people that are. I don't pretend to be someone I'm not. I'm in this industry because this is where I belong and it brings out the best in me.
What are the top 5 things you love about your job?

1. Traveling
2. People
3. Direct connection to the kids and local scene in each city
4. Live Event
5. Room to Advance
What's the best advice you can give someone looking to start a career in special events/event marketing?
Take the initiative! I know people hear this all the time, but it's so true. My parents instilled this into my head growing up. Nothing ever comes to people that wait, you have to go out and get yours. Volunteer, ask questions, do your research, take chances and get involved to put yourself in the right position to create better opportunities.
What's in your Fab' 5?
- Family
- Friends
- Garth
- Pedestrian 410
- Lost Dog
Cubs or Sox?
- Neither – Go Red Sox!!!!! 508 Represent!
Sears Tower or Eiffel Tower?
- Haven't been to either yet….on my to do list, but I think I'm more of an Eiffel Tower kind of girl.
Street or vert?
- BMX Street
Freezing cold or sticky hot?
- Sticky Hot – I hate being cold!
Michigan Ave or Avenue of the Stars?
- North Ave in Wicker Park is more my scene!
---