Back to News
Malakye Powered by People Photographer Announces "The People of Protest" Exhibit in NYC
June 25, 2008
Malakye Powered by People Photographer Announces "The People of Protest Exhibit in NYC
The Half King Gallery is proud to announce the opening of THE PEOPLE,OF PROTEST, a photography exhibit by the work of New York Based photographer Paul Park.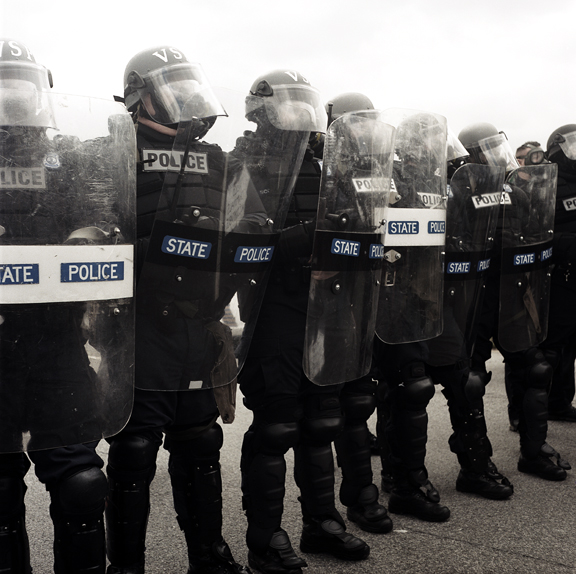 Since the latest invasion of Iraq, both the anti and pro war contingents have been a constant presence in Washington DC. In this series of photographs, photographer Paul Park takes a look at the human drama and spectacle of the protest people, including veterans who have come back from the war with a distinct and intimate point of view of what is happening on the ground. They remind us that the war has a very individual human element that is often overlooked.
The photography slideshow will be followed by a talk lead by Paul Park and Jose Vasquez, an active member of Iraq Veterans Against the War (IVAW) serving as the president of the New York City chapter.
This opening is free and open to the public.
Photography Slideshow and Talk
"The People of Protest"
Tuesday, July 1st, 2008
7:00 pm
Photographer Paul Park
Guest Speaker Jose Vasquez
Location: The Half King in the Gallery
505 W 23RD ST, NEW YORK, NY 10011
TEL: 212.462.4300
About the Photographer:
Paul Park is New York based photographer. His work focuses primarily on portraiture and documentary photography. He has spent the last year focusing on the "The People of Protest" as an ongoing project on the culture of protests in Washington DC.
About the Speaker:
Jose Vasquez is a doctoral student in the PhD Program in Anthropology at The Graduate Center, City University of New York (CUNY). He is also an adjunct lecturer at John College of Criminal Justice/CUNY. His dissertation research will focus on the politics of veteran status in contemporary American society. Mr. Vasquez served fourteen years in the US Army (active and reserve) and was honorably discharged in May 2007 as a conscientious objector. He was a key organizer of Winter Soldier: Iraq and Afghanistan (www.ivaw.org/wintersoldier), collecting veterans' testimonies.
A conference held on March 13-16, 2008 at the National Labor College in Silver Spring, MD highlighted these testimonies and illustrated how government and military policies are creating the realities on the ground in Iraq and Afghanistan. Soldiers, veterans, and civilians testified to incidents they witnessed and/or participated in. Vasquez is headed up the verification team of the Winter Soldier organizing
committee.
The Half King Photography series is curated by Song Chong. For more information, please visit www.thehalfking.com/gallery

---