Back to News
Industrial Profile: Adam Wright – Ocean Media Inc., Wavewatch & Glassypoint.com
July 2, 2008
Adam Wright – Surf Forecaster for Wavewatch & SoCalSurf.com, and Media Planner & Buyer for Ocean Media, Inc.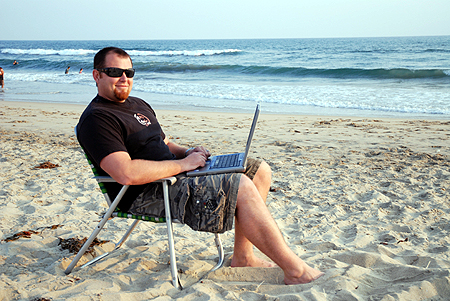 Even though surf forecasting is a small niche within the realm of action sports, it's the fine details, planning and first-hand knowledge gained through these spot-on reports that have turned it into an invaluable resource for the industry. These reports provide crucial information, helping you decide if it's really worth dropping $20 on gas for an epic shred session at Trestles (a famous surf spot in San Clemente, Calif.)! All kidding aside—although this rings true sometimes—surf forecasting requires more than just pulling information from weather-related Web sites and "Knit Picking" through data; it requires first-hand knowledge of how surf spots react to different swells, an understanding of various swell periods, observation and a deep underlying knowledge of surf forecasting gained only through experience.
Speaking of which, this month's Industrial Profile features Adam Wright, an experienced surf forecaster for both Wavewatch and SoCalSurf.com, and media planner and buyer for Ocean Media. Adam provides all the info you'll need to grasp the concept of surf forecasting, and describes how he got to where he's at today, so check it out; it's an interesting read!
All right Adam, you work for three companies, Ocean Media Inc., Wavewatch and Socalsurf.com. How do you juggle the three, and what exactly do you do for each company?
For Ocean Media, I am the interactive media planner and buyer. I work on all of the interactive planning for their clients. Ocean Media didn't have an online division until about a year ago, so we have been building their interactive group from scratch. The role that I have at Ocean Media includes lots of online strategic planning, rate negotiation, testing new technologies, and eventually trafficking media campaigns.
With Wavewatch (www.wavewatch.com) I'm the Southern California and Baja Mexico Surf Forecaster. I also create a lot of custom forecasts for the various surf contests held in my areas (lately I did the "official forecasts" for the 6.0 Lowers Pro and the NSSA Nationals). Oh, and I help the Surfer/Surfing Magazine editors plan trips for various stories and photo shoots. I am also stoked to work with a team of great forecasters like Charlie Fox, Mark Sponsler, Jon Andres, and Chris Marshal, who cover the other surf forecast areas.
Socalsurf.com is my own little project. In its current form it's basically a blog that supplements the long-range forecast that I do on Wavewatch. If you check out the blog, www.socalsurf.com, you'll see it kind of takes the idea of the surf forecast and breaks it down to a simpler, easier-to-understand level so that it's not as complicated or daunting than some of the current forecast sites. There are a lot of people out there that haven't had the chance to learn a lot about forecasting, but they still love surfing and want to know when it is good. That is what the Socal blog is about; it should answer the question, "Should you surf tomorrow: yes or no?" and it'll answer that question pretty quickly. Most people aren't going to be able to go out and travel around and hit up 10 different spots, or drive for 2 hours because they have responsibilities like work and family, not to mention just the cost of gas today. Hopefully this will give them a simple answer.
You're an interactive media planner and buyer for Ocean Media Inc., and do web content management and forecasting for Wavewatch. These are two very different jobs! What paved the way for you excel in two different categories?
Well, I guess what you really have to look at is the evolution of delivering content. I was fortunate enough to be in the arc with the internet bubble to start with – so to speak. In the mid '90s you went from zero Internet to having a retarded amount of Internet everywhere within a space of a couple years; it almost felt like it was happening overnight. A lot of people were developing technology and Web sites to get the surf forecast information out there, and I was lucky enough to have at least a little bit of a connection in the industry through interning at Surfer Magazine back in the day. Luckily I kind of broke ground there, and got to know people connected to surf which helped me score my first job.
My background is in geography, cartography, a certain level of meteorology and oceanography—physical geography was my traditional schooling. I had all the terminology in place and a lot of the technical skills used for forecasting, so what ended up happening was, a part-time position opened at Surfline and I stepped into that role. In a couple months they wanted to keep me on full time, and over the course of a couple of years I was the Forecast Manager. In some ways it was a combination of luck, timing, and persistence to a certain degree.
Once I got into forecasting, it went from being a pay-per-phone call and fax-on-demand system, to marginal online properties that had web cams; even in that stage it was growing pretty steadily. From there, the Internet bubble started and you had an infusion of cash that came through Swell.com back in the day. Swell went right out and hired a bunch of editors from all the magazines, bought Surfline and tried to create this huge internet portal. Swell left the forecast group up in Huntington Beach where we ran the whole surf forecasting section of it. Swell built out the Web site into an early version of what it is today, and then as the internet bubble popped, the companies broke up into their existing forms. As they did that, Surfline became a separate company and stepped back to a paid subscription model.
To answer the questions though, we were going through all these different technology phases and since we were a small company—basically start-up size—everybody had to wear multiple hats. Forecasters couldn't sit around waiting for a tech guy to publish out stories or forecasts because we were doing so many updates throughout the day. In order to keep my deadlines I just kind of learned my way around technology and content management. This eventually blossomed into becoming more involved in e-mail delivery, some ad-trafficking, and realizing that there was a certain level of branding and advertising that made the communication feasible from a cost perspective. From there I began to understand the marketing principles and the idea behind driving internet traffic. So that helped me build a really good base to go on and eventually pass that onto a technology role in a company like Ocean Media. Ocean Media isn't really related to action sports all that much; they are a media company that buys national ad space for their high-profile clients. I help run the interactive/tech side of their media plans, so if they have an online/mobile/tech portion of the plan I will go in and negotiate, purchase, and traffic the media.
I think that communication has been one of my greatest assets over the years. I have been able to learn how to break down technology (and the more complicated forecasting concepts) so that people without the background or the terminology can understand and relate to them. I guess you can say that I essentially talk to the technology guys without freakin' them out, and then turn around and talk to people who don't understand technology and explain to them what the tech guys just said. I am basically Tom Smykowski from Office Space: "I have people skills! Can't you understand that? What the hell is wrong with you people?"
What makes a forecast accurate or inaccurate when it comes to figuring out the surf?
For me personally, it's more about being able to communicate what real conditions are going to be like. It's one thing to say it's going to be head high, and it's head high at one spot, but everyone else thinks it's waist high everywhere else. You might be right, but the pubic perception is that you're not. For me, being able to communicate exactly what's going on in the most clear and concise manner is really what I consider a good "accurate" forecast. If I can save somebody $20 worth of freakin' gas because it's only going to be head high at Trestles, you know, and everywhere else is going to be waist high and blown out, then I'd consider that a good job!
What's the difference between wind swell and ground swell?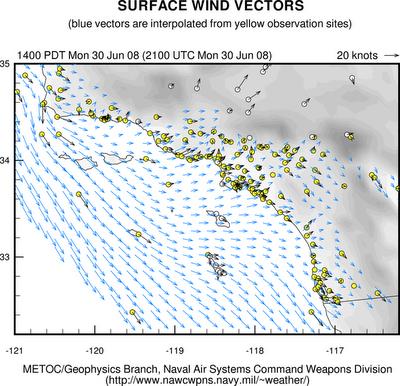 Haha! Well personally I don't use the term groundswell in my forecasts. I generally refer to swell in the terms of swell periods, so you have long, medium, and short-periods (though I do call short-period swell "windswell.")
Ground swell is not even a real term—for the most part—because all of our surf is generated by wind, so technically all surf is windswell.
There are actually three types of waves. There are tidal waves, which are actually the high/low tidal swings; tsunamis, which are caused by displacement of water like earthquakes or under sea landslides; and then you have wind waves.
Wind waves have two kinds of distinct life cycles, there's the long period and the short period. When most people are referring to wind swell, they're talking about short period wind swell waves, which could be anywhere from 6 to 10 second periods. You can have rarer swell in medium period range, which would be 10 to 15, and then the long period which is 15 seconds and longer.
In the past, they started referring to long-period swell as ground swell because it wasn't coming from a storm that you could technically see close by; it wasn't like a system that was going to send you swell and then roll right over the top of you. It could be very nice weather, wind can be blowing off shore, it's sunny, yet it came from a storm several thousand miles away when it arrives.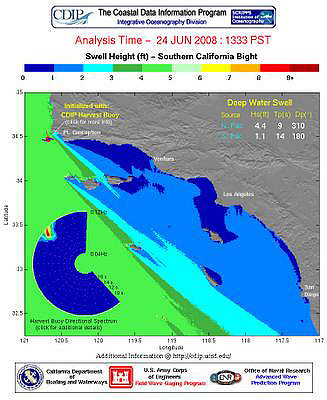 As you move into the shorter period stuff, usually the wind is right on top of it because it decays so quickly. So a 6 second swell pretty much needs the wind riding it right up to the beach, and if it stops it'll drop off super quick, like within a couple hundred miles. Really, I think one or two people started using it back when there were only a couple of places to get surf forecast information, and because it was an OK way to describe the type of swell it stuck around.
Does this job require any special training or education?
There's not really a program out there that does operational marine forecasting, as far as school training goes. You could go that route, but you'd have to probably get up to the masters or doctorate level of an oceanography program, or a combination of ocean science, marine biology, or even physical geography to a certain degree. That would give you a really good base to start with, and you'd understand all the theories and formulas behind everything. Until you actually step into the role and start doing it on a daily basis, that's pretty much where all your training comes from – practice. You need the terminology and it's a lot easier if you have it, so I'd definitely recommend taking geography and oceanography courses, but if your goal in life is to become a surf forecaster that doesn't necessarily have to be the pathway.
Do you know how big or small the job market is for surf forecasters?
Yeah, it is pretty damn small; there's about maybe 10 or so full-time jobs in the world! So to get a job doing it, you pretty much have to wait until one of them quits or dies! I suppose there is a little more room for more guys out there, but you just got to understand the market isn't huge. You either have to bring a really unique product to the market, or a unique way of delivering it. If it's a meteorology job, and not necessarily a surf forecast job that you're after, there are private groups like defense contractors, shipping companies, or even other weather Web sites like weatherunderground.com or weather.com. You can also go into the public sectors with places like NOAA and the National Weather Service. That would be much more realistic for finding different roles and jobs; there's more turnover for that kind of stuff.
If you have your heart set on Surf Forecasting, then it will be more of a combination of what you know and who you know. I'd recommend getting a good base of knowledge in school and then going in and interning for one of the weather groups and make connections. Expect to not work for any sort of pay for a while, but if you do a good job and have the right personality that fits with that group, down the road there might potentially be a job for you. It's a long arduous process; you definitely can't count on getting a degree and coming out of school with a surf forecasting job.
What resources or research databases are used in forecasting?
You got the National Weather Service, the Climate Prediction Center, the National Hurricane Center, and so on. They are all different branches of NOAA and the National Weather Service – NASA as well. You have different areas within the main weather disciplines. Universities will have special programs that run in conjunction with the government. There are also European services that do satellite observation stuff that we essentially use for guidance on our forecasts. This is where you get observational guidance to see how strong the storm was or how much wind was coming through.
There are thousands of sources you can go to everyday. It's just seeing an area of interest, focusing in on it, and figuring out what tools you need to get a tighter look within a particular system. This is sort of the art of surf forecasting, taking all of the data, being able to fill in the missing gaps, and then distilling it all down to a forecast that people can understand.
When you conduct custom surf forecasts for various events, contests and trips, how accurate are these reports, seeing that they're conducted well ahead of time?
It depends on the ocean and the location. There are certain swell windows that allow for more time. Take California for example, you can go out almost 20 days with a reasonable amount of accuracy if conditions in the Southern Hemisphere cooperate. For the custom events you can be super accurate; it basically depends on lead-time. The way I look at it is, for an average location with a more normal swell window that has about 5 to 6 days worth of travel time, a 24 to 72 hour forecast is almost spot on. Very rarely do you get something that is so out of whack that the model or observations are skewed in some way. As you go over 72 hours the probability starts to drop off; the further out you go, the worse it gets.
Southern California, Baja and Mainland Mexico, are all unique for the fact that they have 6,000 to 7,000 miles, basically 9 to 11 days worth of travel time for swells that come out of the South Pacific. There's nowhere else in the world where it'll do that really. Some storms have happened so far in the past that you're actually working with observed data more than just "forecast" information. That's where your accuracy for a longer range works better for a particular location.
As for the East Coast, you basically have to wait for a storm to come off of land, barely generate enough surf, move off into the ocean, and then it's done generating surf. You have a very short window, and the weather is so dynamic on that term that anything past 36 or 48 hours turns into a total crapshoot. It totally depends on what location you're talking about.
What do you see in the future of surf forecasting Web sites? (i.e. technology, virtual tours of beaches, Google Waves?, etc.)
One of the biggest cutting edge things I see is kind of a cleaner integration of social media/networking so to speak. It'll go beyond just one person delivering a message. People will have a group, like the small one that has formed with socalsurf.com, that will help direct the message to a certain degree. It's going to allow everyone out there to create a portion of the message that relates to them the best, while giving them the tools to generate their own personalized content.
I see things jumping channels. You'll have Internet, phone, mobile, and text; pretty much everything that's already out there will get more and more integrated. From a technology standpoint, you'll see more video because that's kind of the big marketing push right now. The big TV guys that I deal with spend all their money on this to extend their brand message. They're real thirsty for video content; the more of that they have, the better dollar value they'll have at the end of the day. It sucks if that drives your content, but if you're not making money, you can't eat or generate anymore content (laughs)!
What's the best advice you can give people just looking to snag a job in the ASI?
Definitely network and intern! Don't expect to step off the boat somewhere and jump right into the industry with a good paying job. Expect to do scud work to a certain degree. Get in their, make friends, make good connections, be a genuine, honest and hardworking person, and follow through on your commitments. That stuff will turn things around for you!
One of the reasons I got started was an internship with Surfer Magazine. This provided the connections to get me in the door at another job. Even though they didn't have the ability to hire me at the time, they put in a good word when I applied for my first real job. From there, it just went from having a good work ethic and so on. It's amazing how effective networking can be.
What's in Your Fav' "5":
Starbucks or Coffee Bean?
I prefer my liquid crack to come in a Starbucks' cup.
Epoxy or Foam?
Foam with generous amounts of wood.
Point Break or Blue Crush? By the way, Point Break is coming out with a sequel: Point Break Indo - seriously!
Come on, Point Break for sure! Though I am surprised that "North Shore" didn't make the list. "Get the Ball Rodger!"
Windswell or Groundswell?
Man, I hate you right now!
Vanilla Ice or Eminim?
Eminim, but only if he wears hammer pants!
Obama or McCain?
Which one is the Manchurian Candidate?
---