Back to News
Boards & Waves EXPO Rides a Wave into Daytona Beach
July 16, 2008
Boards & Waves EXPO Rides a Wave into Daytona Beach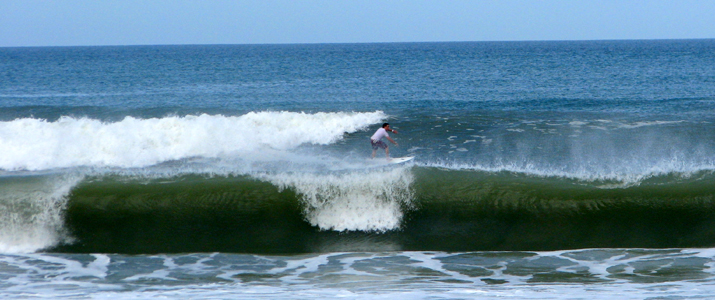 With over 60 exhibits and 1200+ consumers, the first annual Boards & Waves Expo at the Daytona Beach Resort & Conference Center got an extra boost of "stoke" this past weekend. With sunny skies, glassy conditions, and overhead surf from Hurricane Bertha, surfers from Miami to Pensacola were treated to the latest surfboard, fin, and foam designs at this "consumer expo for surfers". Surfboard shaping demos, art seminars by surf artist Drew Brophy, Surfline's wave forecasting, up-and-coming shapers Chris Coyle and Jeff Hull, the Kicker Audio Polaris, beach- and surf-inspired artwork from Damien Share, Patrick Madden, & Hunter Glass & Design, vintage boards, surf retailers, and lots of free product all contributed to an exciting 2 days.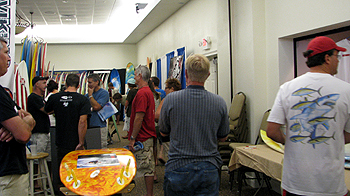 Surfboards from Ricky Carroll, Allen White, and Bilt were raffled off to 4 lucky surfers, with a portion of the proceeds donated to local Surfrider Foundation chapters. The Ocean Deck, Longdoggers, Lost Energy Drink, city of Daytona Beach, Daytona Beach News Journal, Hometown News, Orlando's Channel 13, and WNDB all supported and promoted the Expo!
Work has already begun for next year's Expo! For more info, please call Expo Director Dave Seehafer at 949-466-4110 or [email protected].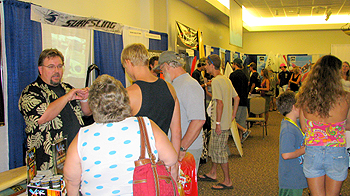 ---