Back to News
'From Here to There: A HEYA Project' to Feature Visions for the Future of Transportation
August 14, 2008
"From Here to There: A HEYA Project" to Feature Visions for the Future of Transportation
Exhibition Details and Program Schedule Announced for Toyota and Quiksilver's Collaborative Creative Project at siteLA
HEYA, Toyota's online community of inspiring, innovative young adults, is proud to announce that four of its members' visions for the future of transportation have been selected to be brought to life at Quiksilver's siteLA for a two week residency entitled: "From Here to There: A HEYA Project." Opening with a kickoff celebration on August 22nd, "From Here to There: A HEYA Project" will be anchored by multimedia artworks that showcase the four HEYA members' visions, created in collaboration with the Quiksilver siteLA community. The two-week exhibition will also feature a series of workshops, speakers and film screenings as well as transportation-related art and design projects by siteLA's "Visionaries in Residence."
Over the last few weeks, HEYA invited its members to describe and illustrate their future visions in HEYA's online forum. From human power to hydrogen, bicycles to rails, the ideas ranged from common sense to fantastical. The diversity of ideas and the overwhelming optimism from the HEYA community leaves no doubt that there will be many ways to get from here to there in the world of tomorrow. Following are the four winning visions that will be unveiled during the exhibition at siteLA:
•"Mean Green Accelerating Machine" by Jason93cobra – Age 25 – Detroit, MI: The "Mean Green Accelerating Machine" by Heya member Jason93cobra is a concept car that combines a solar charger, hub-less wheels, a graphite epoxy frame, and hi-tech gadgets in the interior. Large digital printouts will be created by siteLA resident Khrystyne Zurian along with local artists.
•"Efficiency" by JiGaNtO – Age 21 – Skokie, IL: Multiple efficiency features combine in Heya member JiGaNtO's vision of future transportation. In "Efficiency," a short film created in collaboration with siteLA filmmaker Mariah Garnett, JiGaNtO's ideas swirl about like a constellation of automated train systems, electric technology, new roads, flywheels and springs.
•"Commuter Transit" by Bjoern – Age 18 - Grosse Pointe Farms, MI: Heya member Bjoern will collaborate on an animated short film to describe a rail system that allows electric cars to dock and charge as they travel at high speeds from the suburbs to the city.
•"Bicycle of the Future" by Zee – Age 29 – Kokomo, IN: To explore a concept for a "Bicycle of the Future," Heya member Zee is creating models and mockups to experiment with innovations like a bubble enclosure, alternative power sources and a trailer that folds up into its own carrying case.
From now until the opening, the progress of the collaborations can be tracked at heya.toyota.com/fromheretothere.asp.
In addition to the 4 creative collaborations, "From Here to There: A HEYA Project" will feature two special installations by siteLA Residents Sarah Anderson and Khrystyne Zurian. SiteLA visitors will have the opportunity to contribute to a future of transportation inspired Sumi Ink mural created by Sarah Anderson. Khrystyne Zurian will display 3-D renderings of her concept car that evolves throughout a woman's life like the butterfly life-cycle.
HEYA and siteLA will be hosting a series of events to expose the visions of their collective community and inspire conversations about the future of transportation.
•"From Here to There: a HEYA Project" Opening Reception (Friday, August 22nd from 8:00 pm to 11 pm) - siteLA Visionaries, local HEYA members, Toyota staff, and local influencers will celebrate the unveiling of the collaborative creative projects and the opening of the 2-week-long exhibition. The event will also include live DJ set by The SYCONS, a DJ group that runs all their equipment with portable solar power.
•Never Before Seen - An Exercise in Imaginary Transportation Systems (Tuesday, August 26th from 7:00 pm to 9 pm) - Using a medley of recycled materials, participants will be introduced to an innovative way to articulate transportation and land use ideas by city planner James Rojas and Visionary in Residence Dorothy Le.
•Fuel for Thoughts - Exploring Alt-Fuels (Wednesday, September 3rd from 7:00 pm to 10 pm) - A presentation from Toyota's Jaycie Chitwood (Alternative Fuel Vehicle Manager) and Conserv Fuels founder Kris Moller (along with Visionary in Residence Khrystyne Zurian) on alternative fuel options. The workshop will be followed by a Film screening on alternative fuels and a Q&A with Chitwood and Moller.
siteLA is located at 2522 Sunset Boulevard in Silverlake, CA. Additional exhibition details and an updated schedule of events will be available at http://www.sitela.org.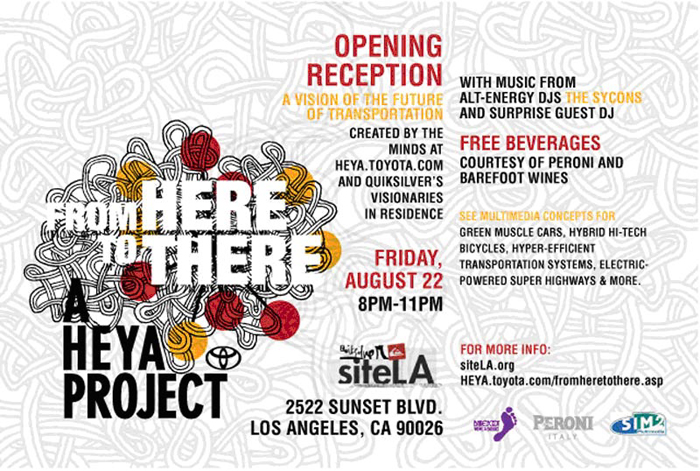 ---