Back to News
"Deathbowl to Downtown" Launches Regional Tour September 8
August 29, 2008
"Deathbowl to Downtown" Launches Regional Tour on September 8 and DVD Pre-Orders Now Available Online
Mountain Dew to Sponsor Ultimate NYC Skate Trip Sweepstakes In Support of Film
Following the widely acclaimed May screening of "Deathbowl to Downtown" in Manhattan, filmmakers Coan "Buddy" Nichols and Rick Charnoski are set to take the movie on the road. With minor adjustments in place, Buddy and Rick will show the film on a regional tour that begins September 8 in their adopted home of Los Angeles, with showings in Chicago, Minneapolis, Austin, San Francisco and Portland.
"Deathbowl to Downtown" chronicles four decades of life in New York City and showcases the emergence and influence of the urban skateboarding scene as it evolved in the gritty streets of the five boroughs. With narration by Chloë Sevigny and musical tracks provided by the Beastie Boys, Drunk Injuns, Minor Threat, Eric B. & Rakim, Wu-Tang Clan and the Talking Heads, among others, "Deathbowl to Downtown" is the first feature length film to show the rise of skateboarding from a New Yorker's perspective.
Scripted by Jocko Weyland (author of The Answer is Never: A Skateboarder's History of the World), "Deathbowl to Downtown" traces the untold and historically rich story of how skateboarding evolved in New York City, beginning in the mid 1970's with a group of skaters known as the Zoo York Crew and then developed into its present day form. "Deathbowl to Downtown" shows how New York skaters made due with the harsh realities of the city's urban landscape and unintentionally helped shape the face of modern skateboarding.
In addition to candid interviews with dozens of prominent and influential skaters, "Deathbowl to Downtown" also features architects and scholars, who shed light on how the city's urban planning unknowingly led to the development of terrain that was quickly adapted by skateboarders looking for their own version of the California dream.
"When we first showed the film in New York, the reception we received was overwhelming. The cultural aspects of skateboarding we explore in the film make it something that you don't have to be a skater to enjoy," noted Buddy Nichols, co-director of the film. "We've made some minor tweaks and can't wait to take it on the road to show it and skate in other cities."
Screening Dates and Locations are as follows:
9/8 – Los Angeles: Director's Guild of America
923 – Chicago: The Vic Theater
9/24 – Minneapolis: Oak Street Theater
9/27 – Austin: Alamo Drafthouse
9/29 – San Francisco: The Castro
10/1 – Portland: Cinema 21
More details on times and the skate shops Buddy and Rick will be hitting up can be found on DeathbowltoDowntown.com.
Film and contest supported by Mountain Dew
In support of the skateboard community, Mountain Dew has provided funding for the production and promotion of the film, including the upcoming screening tour that will give thousands across the country the chance to see it in theaters and meet the directors.
"Deathbowl to Downtown" features interviews with:
· Chris Pastras
· Lance Mountain
· Mike Vallely
· Puppethead
· Keith Hufnagel
· Steve Rodriguez
· Jeff Pang
· Bruno Musso
· Bill Thomas
· Jerold Kayden (Professor of Urban Planning and Design at the
Harvard University Graduate School of Design)
· M. Paul Friedberg (designer of the Brooklyn Banks)
Mountain Dew is also sponsoring a "Win a NY Skate Weekend" promotion. Through the sweepstakes, the winner will win a weekend trip for two to New York, which will include round-trip airfare, a new skateboard, shopping sprees at both Autumn Skate Shop and KCDC, a two night hotel stay, cash for expenses and a tour of some of the best spots by the crew from 5Boro Skateboards. More information and rules on how to enter can be found online at www.mountaindew.com beginning on September 9, 2008.
For additional information on the "Deathbowl to Downtown" screenings, including times, side events and how to enter the sweepstakes, go to www.mountaindew.com or DeathbowltoDowntown.com.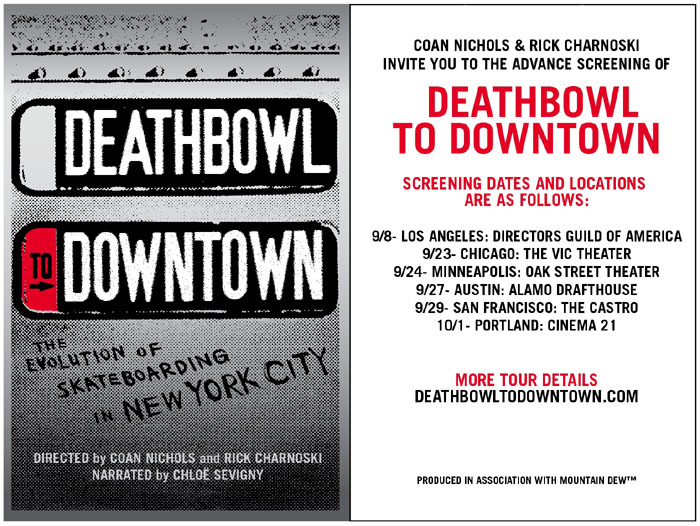 ---