Back to News
Ryan Rush – VP Men's Merchandising & Design at O'Neill
September 1, 2008
Ryan Rush – VP Men's Merchandising & Design at O'Neill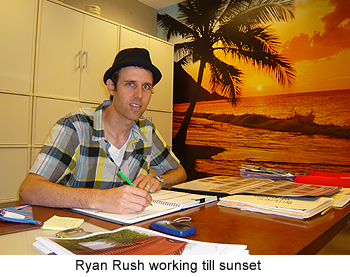 If there's one thing about the ASI that can be written in stone, it would be the fact that this industry is full of unique, talented and amazing people – more so than its corporate counterpart. Not only is it full of upbeat characters and "board-sport" enthusiasts, everyone seems to share one thing in common, the love for the action sports industry. Ryan Rush, VP of Men's Merchandising & Design at O'Neill, is the perfect example of the latter.
Ryan's love for skateboarding, music and fashion eventually led him to starting his own apparel company, Drawls and Dawls. In the midst of his company's success, Ryan became ill and lost his company; however, this professional experience propelled him into the likes of such companies as Ezekiel and O'Neill. When Ryan's not powering through the work week, you might catch him flyin' by in his NSX at a buck forty-five at Cal Speedway's race track! Ryan's story will enlighten you on the reality of the apparel "biz" and the skill set you need to get your foot in the door in the month's industrial profile.
When you first started your career, you worked at the retail level. What made you decide to dive into the apparel and fashion industry?
As a kid I was really into skateboarding, music and fashion. However, not having the skills to go pro in either skating or music, I took the fashion route. Right out of high school I took a sales position at Nordstrom. This was during the early '90s when Stussy was changing the game in the surf/skate market, and streetwear designs were on the come-up. I went to my first ASR in '90 and was immediately hooked on the action sports industry.
You started Drawls and Dawls back in the early '90s—shortly after high school. What made you decide to take the entrepreneurial route?
I got along well with a Nordstrom buyer who was cool enough to take me to some of the sales presentations. I met a sales rep from one of the new brands we were carrying and naively told him that I'd like to start my own line. He told me it would be pretty easy to get started, and gave me the contact info of a screen printer and an apparel attorney that I still use to this day. However, I was definitely misinformed about it being easy!
After saving money and continuing to work at Nordstrom for another three years, I finally launched my own clothing company—Drawls. I had no professional education in apparel, and frankly no idea what I was doing. I personally designed the line with amateur pencil-and-paper sketches, and had the tailor from the Nordstrom men's suit department make the patterns and sew all of the jeans, shorts, jackets and sweatshirt samples from his home.
I launched Drawls in '91 at the ASR tradeshow and did $30,000 dollars in sales. I thought I was on my way to success; however, I hadn't thought about how I was going to manufacture and ship the orders! I hired my sister and my buddy from high school and somehow we figured out how to produce and ship the first collection—albeit six months late.
What made you decide to position your company in action sports instead of streetwear, lifestyle, or any of the other markets it could have been in?
As a kid, all I knew was skateboarding and fashion, but I didn't want to start a skate company. Therefore, I created a brand that had one foot in fashion and one foot in action sports.
Your company lasted for 10 years—well beyond start-up years. What kept it from living on?
The Drawls men's business had tapered off in the mid '90s as the small boutique and streetwear shops started to shut down. I was too much of a brand snob to open up distribution to major accounts. Sun Diego storeowner Dave Nash and I still laugh at the fact that I wouldn't open them as an account because I thought they were too mainstream. How ridiculous was that!
In 1995 I launched a juniors' line called Dawls. The brand quickly gained success and went from zero to ten million dollars in annual sales in five years. These 10 years were an intense crash course in merchandising, design, marketing, sales, finance, operations, production, sourcing, licensing, and general business skills. You could say I received my MBA from the School of Hard Knocks.
Why did you decide to go to work for a company rather than staying on the entrepreneurial route?
In 2001, I was diagnosed with Non Hodgkin's Lymphoma cancer, and my life and company started to spiral out of control. At this same time, my new business partner and I weren't seeing eye-to-eye on fundamental issues such as brand strategy and personnel. I couldn't fight cancer and save my business at the same time. In the end I beat cancer, but lost my company.
I was hired at Ezekiel in 2001 to build a creative team that would launch their juniors' division. After 18 months, I was promoted to creative director, overseeing both the men's and juniors' divisions—including all merchandising, design and advertising. This was a complete product-and-brand repositioning project, and was very rewarding. We built a great team and repositioned Ezekiel into a uniquely competitive niche. I remained in this roll for five years before moving on to O'Neill.
Seventeen years later we find you in the role of VP of Men's Merchandising & Design at O'Neill. What professional expertise do you rely on to succeed in your position?
While my experience in overseeing both men's and juniors' merchandising, design, and marketing teams has given me a diverse set of skills, actually having owned a successful apparel company gave me an excellent understanding of how the entire corporate enterprise needs to operate. This has allowed me to formulate strategies and decisions that work for the betterment of the entire organization—not just my department.
In terms of successful leadership, I follow some straight forward principals:
1. Formulate a competitive product and brand-positioning strategy for the enterprise.
2. Be slow to hire and quick to fire. Put the right people in the right places.
3. Adhere to streamlined processes.
4. Build a results-driven culture.
5. Establish clear priorities and motivate the team towards the common goal.
Do you do any of the design work yourself? How are you involved in this process?
I haven't personally designed anything in many years. However, one of my main roles at O'Neill is that of Design Director. I'm intimately involved with our merchandising and design teams in regards to line planning, design direction, pricing, sourcing, etc. I'm a product person at heart and enjoy being close to its lifecycle from start to finish.
In a previous interview on the Web, you mentioned that you wanted to add a "Street Edge" to the beach culture of O'Neill. What have you done to accomplish this?
By the term "street edge" I do not mean "streetwear." For lack of a better term, we've mixed in a bit of indy fashion to our product mix, as well as slimmer silhouettes, shorter trunks, slim-fit colored denim, hooded flannels, retro tank tops and bold colors.
What direction will you take O'Neill in the future?
I don't want to get into specifics, but our goal is to have the industry's most relevant and competitive product assortment. This is no easy task considering the incredible talent among our competitors. However, we have an amazing team and we're quickly making a lot of progress. The product you'll see from O'Neill in the next 18 months is going to be amazing.
What does your crystal ball tell you about the future of apparel, beyond what's going to be hot next season—more of the long-term?
The Internet has changed the game of fashion design. It has equalized the power for all designers and marketers to know what's going on around the world in real time. That being said, the ability to remain far ahead of the pack is much more difficult now.
The ability for a brand to stay fresh and relevant with consumers will require very strategic brand management. My crystal ball tells me that strong chief brand officers who have an intimate knowledge of competitive product and marketing strategies are what's needed for brands to remain competitive. The superstar merchant, the superstar designer and the superstar marketer need to be the same person in the future.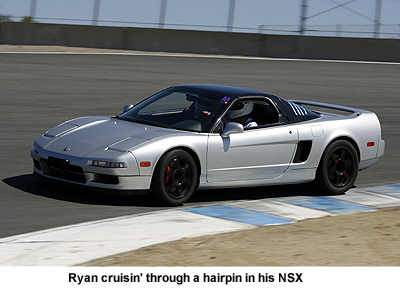 It's been said you're a race car driver! How did you get into that?
About 10 years ago I started racing remote control touring cars, then Go Karts, and then a friend of mine with a Subaru WRX told me that he was going to take his streetcar to a real racetrack. I couldn't believe this was possible and decided to take my car as well. I had so much fun I almost lost my mind.
What type of vehicles are you whipping around the track, and where do you race?
I have an Acura NSX that is prepped for the racetrack, but still street legal—barely. I run the car at most of the West Coast racetracks, including Willow Springs, Buttonwillow, Cal Speedway, Laguna Seca and Spring Mountain.
My Go Kart is a Trackmagic that I race in a spec 200cc four stroke series. I've run it at most of the local tracks including Perris, Adams, Grange and Willow Springs.
Which is sketchier: flyin' around the track at 70 mph in your Go-Kart, or unleashing the NSX around the track?
I would have to say the NSX. I've driven it at 145 mph into turn one at Cal Speedway's Roval road coarse, which is pretty sketchy. Additionally, I spun the car twice on the racetrack without serious damage—once at about 80mph with my wife Jessica in the car! Needless to say, she doesn't go to the track with me anymore. If you crash, it could be all over because insurance companies (including mine) don't cover accidents on racetracks.
Which one's more fun and why?
I enjoy them both for different reasons. However, I really like racing Go Karts since I get to do it with my father, sister, brother-in-law and his brother. We're on a four-person team and race in a monthly six-hour enduro at all of the local karting tracks. The format is very exciting and includes pit stops and driver changes. The karts do nearly 70 mph and we cover the equivalent distance from LA to Vegas in one race.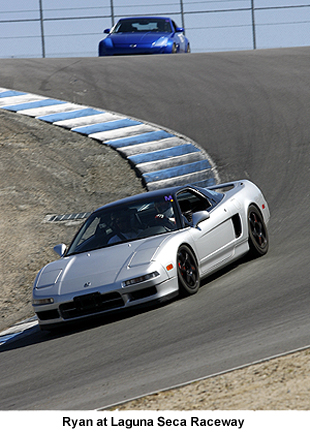 Have you ever got 1st place in either category?
Our Go-Kart team won the '06 and '07 overall championships. The best I've done in the NSX is a 4th place finish at a Redline Time Attack and a 4th place finish in a NASA Time Trial (Class TTC if anyone cares).
What advice can you give someone looking to start a career in the apparel industry?
What I look for in an applicant is passion, instinct and experience. I've been known to hire people without experience as long as they have passion and instinct. Building superstars out of people with these two characteristics is easy. If you want to make it in this competitive industry, you need to have both. Getting a good job is one thing, but keeping a good job requires exceptional performance, a solutions-oriented mindset, and a positive attitude.
My advice for anyone with passion and ambition, but little experience or connections, is to do the following: Contact the company of your dreams and ask if they would consider a full time, "FREE" employee for three to six months in exchange for an opportunity to work in your particular field and be hired if you perform well. This may sound drastic, but for your efforts you will have worked with a top-rated organization and developed valuable skills and resources for your entire career. Additionally, you will have networked with industry leaders and influential decision makers, and have positioned yourself for a potential full-time job. At the very least, the experience will look great on your resume.
How about some advice for the adrenalin junkies out there?
The easiest and safest way to take you streetcar to its limit is by doing it on a racetrack, not the streets. There are several inexpensive schools and open track clubs that can teach you the basics. Four local SoCal clubs that allow you to take your car to the track are:
http://redlinetimeattack.com/
http://speedventures.com/
http://www.nasa-tt.com/
http://www.bmwcca.org/
For a Go Kart driving school, contact:
http://www.jimhallkartracing.com/
Fav' 5: Which Do You Prefer?
1. Inspiration trip or trend report?
Fashion trip to London, Tokyo, Australia or Barcelona.
2. Flat sketch or Adobe Illustrator?
Flat sketches look cool, but Illustrator is what's needed to get the job done.
3. Spring/Summer or Fall/Winter?
Fall/Winter because there is more design variety.
4. Behind the wheel or in the pits?
Behind the wheel smoking the tires of the car.
5. Straight-aways or hairpins?
Esses.
---