Back to News
K2 Skis Presents First Annual Pink Chase Fundraiser
September 23, 2008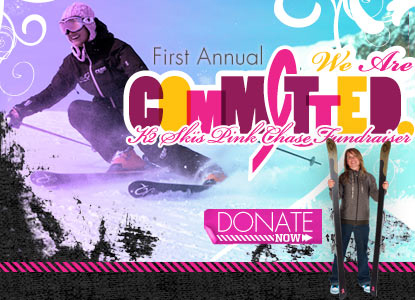 K2 Skis Presents First Annual Pink Chase Fundraiser
K2 Racks Up Vertical to Support Breast Cancer Research
Interlacing two important aspects of the lives of women all over the world -skiing and wellbeing – K2 is presenting the first annual K2 Skis Pink Chase fundraiser. During the month of October, members of the K2 Alliance women's development teams around the globe (including U.S., Canada, Europe, and Japan) will ski as much vertical or walk as many kilometers in a given time period on a given day with two goals in mind: to raise as much money as possible for breast cancer research and to have fun and ski their legs off with a big group of their K2 girlfriends.
K2 Skis' commitment to women extends beyond building authentic women's product: four different breast cancer research organizations will benefit from all the money raised from the Pink Chase online fundraisers. Since 2000, K2 has contributed more than $1 million to The Breast Cancer Research Foundation (BCRF) and similar organizations focused on the cause. Together, K2 and The BCRF are dedicated to improving women's health through recreation, athletics, and research to find a cure for breast cancer in our lifetime. All of the contributions from the K2 Skis Pink Chase will be donated directly to each country's sponsoring foundation. The Breast Cancer Research Foundation and Canadian Breast Cancer Foundation will be the beneficiaries of the North American fundraising efforts.
For more information on the K2 Skis Pink Chase Fundraiser, how you can donate today, and win amazing prizes from Helly Hansen, Smith, Arapahoe Basic, and Polar, visit www.k2women.com/pinkchase.
---