Back to News
THRASHER MAGAZINE
October 1, 2008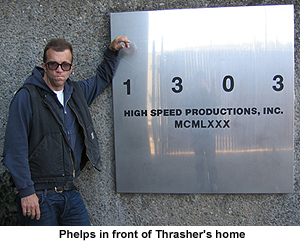 If you're hesh to death and flat out don't give a damn about conforming to societal standards, you might belong up in the ranks with Thrasher Magazine - and every other skater on the planet for that matter. But wait up there Charlie, be weary of comparing yourself to the likes of "The Skater's Bible"! Thrasher, skate slang originally coined by legendary pro skater Duane Peters, is known for being one of the first publications dedicated to skateboarding. Thrasher has been bringin' some of the rawest, raddest content since 1981, so recognize, and enjoy this month's Company Q&A with the sweet, sweet verbal repertoire of Thrasher's editor at large, Mike Burnett.
How was Thrasher conceived, and what army nurtured her through her early stages of life?
By 1981 the industry had shrunk from its bloated '70s proportions and there was no skateboarding magazine. Skateboarder Magazine had turned into Action Now and expanded their focus to include photos of horses jumping over logs on the beach. SF skaters and Independent truck manufacturers, Fausto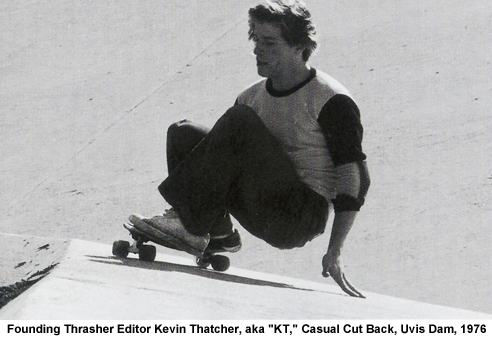 Vitello and Eric Swenson, knew that skateboarding was still happening even though it had been written off as a dead fad by fat-cat manufacturers and publishers. Along with NHS's Rich Novak, Ed Riggins and pro skaters Kevin Thatcher and Rick Blackhart, they banded together to produce the first tabloid-sized black and white issues of Thrasher, named after skate slang coined by the legendary Duane Peters. From there they went on the road, promoting skateboarding at a grass roots level and spreading the Thrasher message. Photographers Mofo and Bryce Kanights, and artists Ken McGuire and Pushead, were also crucial in shaping the mag's early look and feel. Countless other great photog's, writers and artists were involved, too. For a more detailed version of the Thrasher story, please refer to our fantastic Skate and Destroy book.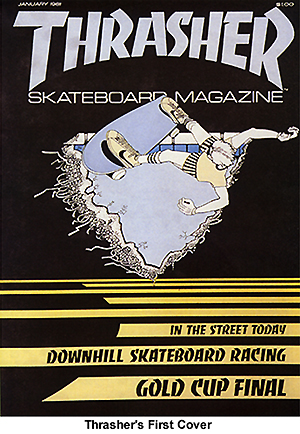 How has Thrasher's viewership grown since its debut in '81?
Similarly to skateboarding - through the roof. Thrasher is known throughout the world as "The Skater's Bible." We're synonymous with skateboarding. If you skate, you have to see Thrasher.
Describe the evolution of Thrasher content?
At first it was very much a community effort. Skaters around the world would send in photos and stories. This tradition continues to this day via our popular Photograffiti department. Thrasher's content has always been dictated by what's happening on the streets, who's busting out big tricks, who the biggest personalities are and what's worth checking out, based on our opinions. We're skaters so we cover what seems rad to us. Obviously, we've kept pace with the advances of the modern pro skate team's schedule (including all the travel, video production, etc.), but the content is still very much based on trying to provide the best coverage of the greatest and most dynamic skaters.
Would you say the majority of content is produced in-house or freelance?
Thrasher's content is driven by the photos we get, which all occur out on the streets and in the parks, pools, etc. We have a great staff of photographers and writers including Jake Phelps, Joe Hammeke, Rhino, Lance Dawes, David Broach, Dan Zaslavsky, Wez Lundry, Michael Sieben and C.R. Stecyk. That said, skateboarding happens in so many places that we also rely on our contributors, the best of whom are Joey Shigeo, Gabe Morford, Travis Howell, Jocko Weyland and Sam Hitz. I'd say it's probably about 80 percent staff, 20 percent freelancers.


Thrasher was around before the Web explosion. Taking that into consideration, what impact did the Web have on the overall state of business?

We've kept in step with the web explosion and provide one of the best, most-checked websites in skateboarding: Thrashermagazine.com. The on-line revolution has given us valuable business opportunities including a way to reach skaters with on-demand video clips, news, our products and the products of our advertisers. It's been a wholly positive development that has enriched our business.

Thrasher has always kind of strayed away from the norm – content wise. What makes Thrasher stand out from other skateboarding publications?

We're proud to stray from the norm because the norm is boring. The norm is providing faultless, bland content, saying, "Hey! Everything's great!" and copying what everyone else is doing. We stand out from other mags because we aren't afraid to do our own thing and have an opinion, even if that means ruffling some feathers from time to time. Another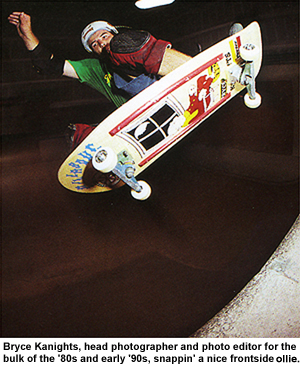 important thing that makes us unique is our knowledge and passion about what we put in our magazine. We have high standards and don't run a bunch of bullshit just because someone is an advertiser or a buddy of a photographer or whatever. Thrasher is also one of a kind because we have consistently covered all aspects of skateboarding, not just the flavor of the month. Most importantly, we really give a shit. Skateboarding is sacred to us and we strive to put out a great magazine every month. Some issues are better than others, but we're always trying to improve.
Non-endemics advertise on the Thrasher website. Do they come to you or do you go to them?
As far as I know, all our advertisers are skate companies and their retail and mail order partners. Corn Gone Wrong could try and advertise with us, but it seems like they're already taken care of in the other mags.
There's a fair balance of tranny and street covers on Thrasher, as compared to being dominated by fresh-to-death street pic's. Is this balance planned out, or do cover shots come on a first-come, first-serve basis?
Cover shots are based solely on radness. We don't have a ramp or street quota. We're just looking for a great photo that will look sick on the front.
Why is Thrasher so damn "Hesh"?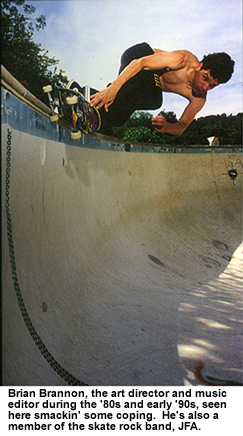 The question used to be, "Why is Thrasher so punk?" I'll suggest that Thrasher is so damn "hesh" or "punk" because, to quote Stecyk from a 1982 article, "contemporary youth is disenchanted with traditional viewpoints." Thrasher is hesh because skateboarding is hesh. More specifically, skateboarding is anti-authority, anti-normal, anti-complacency. That has nothing to do with fashion or musical tastes, and everything to do with why we think skateboarding is unique. Those uncomfortable with that idea are invited to tune in to the Dew Tour.
Is vert dead? Here's better question: Was vert ever dead?
Riding vertical halfpipes will always be a part of skateboarding, but has become a pretty specialized focus. If you're talking about riding anything with vertical, obviously we are in the midst of a concrete revolution where countless parks (many of which include vertical elements) are being shred daily by skaters of all stripes. If anything, vert's not dead, but only skating one kind of terrain definitely is.
How did King of the Road get started? Who was the mastermind behind the chaos?
I invented King of the Road based on road trips I took with my friends. In the first version we all had to pull a trick we couldn't do out of a hat, and whoever didn't learn it by the end of the trip had to get his right ear pierced. From there I swapped ideas with my friend, Chris Coyle, and the basic Thrasher KOTR format took shape. We started it in 2003, and it's been tweaked in various ways each year based on what works and doesn't work. It's been a great success and I'm really proud of it. To me, King of the Road is all the things that are exciting and funny about being a skater mashed into a two-week road trip freak out. That said, 2005 almost killed me.
What's the wildest story to date?
Zero's Tommy Sandoval is probably the greatest KOTR skater to ever live, largely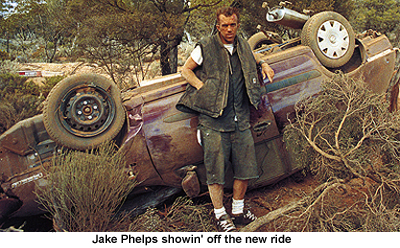 because he DOES NOT GIVE A FUCK. Just watch the footage of him jumping 16 stairs naked. It's one of the most frightening and hilarious things you'll ever see.
What's next after Showdown at Wallenberg and Bust or Bail?
There will always be great Thrasher events, whether it's KOTR or a raw street challenge like Wallenberg. Whatever it is, it will be about skateboarding first - not brand promotion, ad revenue or sweetheart business deals.
Thoughts about the future of skateboarding?
Skate and Destroy.
If and when Thrasher decides to hire on new talent, what type person fits the wrap?
A skateboard maniac who also has the drive and organizational skills to be productive in a publishing environment. Thrasher will always need people who are passionate about making a great skateboarding magazine. You will also have to be able to get along with Jake.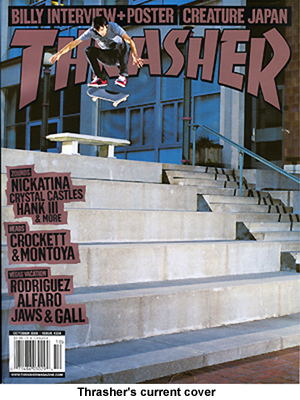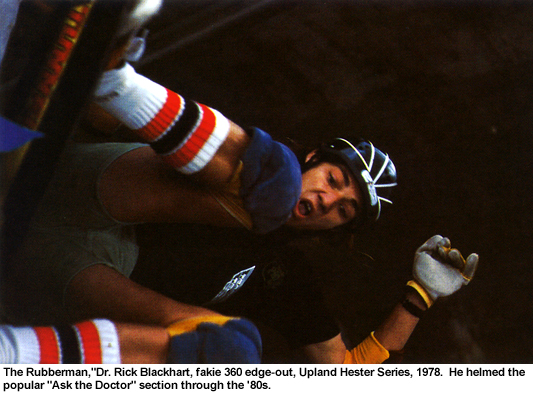 ---