Back to News
Get A Grip With Armada's New Glove Line
September 29, 2008
Get A Grip With Armada's New Glove Line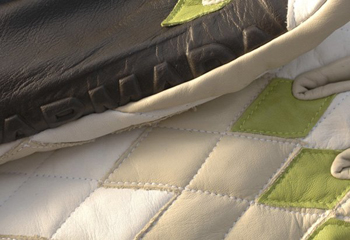 From the very first pair of skis they pressed in 2002, Armada has lived by the simple mantra of "For the athletes, by the athletes." As the company expands beyond hardgoods into an ever-growing line of apparel and accessories, they're pleased to announce that the athletes have once again spoken and they have once again listened.
"A lot of companies don't realize that there's more to a great glove than good leather and lining," explains team member Phil Casabon. "I'm stoked that we as a team have contributed to a line of gloves that is truly functional and visually dope."
From early season to the middle of winter and on to the summer glaciers, Armada offers a glove for any condition. The mid-level Convict glove features waterproof leather, while the top-of-the-line Sonora includes a breathable insert. Both offer PrimaLoft insulation. And for warmer sessions, the AR6 pipe glove extends the AR brand name into Armadas softgoods for the first time.
If Armada had a second mantra, it might be "Look unusual." The styling of the entire glove line is unlike anything currently on the ski market, with eye-catching colorways and pattern treatments that announces an entry to the market with a break from the pack.
"As a rider-driven company, we know skiing inside and out," says company President Hans Smith. "Our glove line is part of our continuing effort to fulfill the needs of skiers beyond simply providing the best skis on snow."
---