Back to News
BRA and Surf Expo Partner to Create "Retail Center" on Tradeshow Floor
October 6, 2008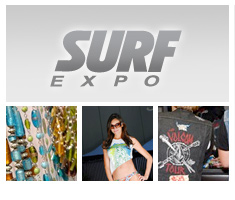 BRA and Surf Expo Partner to Create "Retail Center" on Tradeshow Floor
Register Today to Exhibit in Surf Expo's Retail Center this January
With gas prices reaching an all-time high, it's more expensive than ever for your sales reps to travel shop to shop selling your retail focused goods and services. Next year it will be crucial for them to meet with retailers and get as many of their orders done as they can at Surf Expo-- in one weekend, in one place. That is why the Board Retailers Association (BRA), a non-profit representing over 500 specialty surf, skate, snow and wake retailers with over 3000 storefronts, has partnered with Surf Expo to create a RETAIL CENTER at the upcoming show in Orlando, Florida (January 15 - 17, 2009) and we would like to invite you to exhibit.
The RETAIL CENTER will provide vendors like yourself, who sell retail-focused equipment and services, an introduction to 10,000+ board sport retailers on their home turf and at the trade show where they do all their buying for HALF the normal exhibit booth rate. The RETAIL CENTER is centrally located immediately off the main 40 foot aisle way leading down the center of the trade show floor. Click here to see the section on the show floor.

For over 30 years, Surf Expo has been at the forefront of the Board, Beach and Fashion industries - helping manufacturers meet retailers in an environment that reflects the excitement of their culture while still maintaining a business-first atmosphere, and now Surf Expo and BRA would like to provide vendors the same experience with the RETAIL CENTER. The RETAIL CENTER is a high traffic, centrally located, branded section on the show floor where vendors receive exhibit space, booth with black carpet, electricity, 6' draped table, 2 chairs, booth identification sign, full-page ad in pre-show magazine, template ad in pre-show magazine, listing on surfexpo.com, rep/appt. postcards, Exhibiting 101 seminar, consultation with Buyer Relations and a post-show list of attendees. You can't afford to miss this incredible opportunity for business, and by exhibiting in the specially branded section - The RETAIL CENTER - you only pay half the cost for booth space. Win-Win!

The goal of the RETAIL CENTER is to provide an additional incentive for the buyers/retailers attending the Surf Expo trade show. The idea is to create a specially branded section - a separate entity on the show floor but still in the mix of it all - where retailers can visit with a select group of vendors and service providers, in addition to the normal manufacturers already exhibiting at the show. Space is limited so inquire immediately about exhibit opportunities or click here to download a contract.

Click here for an exhibit contract.
---