Back to News
Volcom Aquires US Patent #7,404,214 for Zip-Tech
October 27, 2008
Volcom Aquires US Patent #7,404,214 for Zip-Tech

After many years of hard work and jumping through government hoops, Volcom has officially received the patent for Zip-Tech. Zip-Tech is a Volcom exclusive feature that allows you to zip the powder skirt of your jacket to your pants - a simple idea that makes a world of difference. This feature will keep you dry and warm on a deep powder day and will keep away that mean ice burn during a slushy spring session.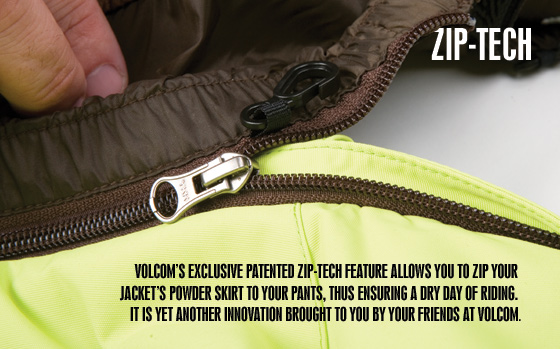 The team has been rocking it since 2004 so we thought we would ask them what they think about Zip-Tech?
"Just zip it, nothing else compares. If you like snow down your pants zip-tech is not for you. Zip it and enjoy snowboarding. I have used zip-tech for years and would not want to use anything else. If comfort is important, zip it." -Wille Yli-Luoma
"Riding in the NW zip tech is a must, or anywhere for that matter. I feel for people not rockin Volcom gear." -Mark Landvik
"My day hasn't ended with a cold wet behind in years! I rode the chair once with Wooly and out of the blue he said, 'Seth, are you zipped in?' I turned to him promptly and said, 'Wooly, I always zip in.' he replied with, 'good, me too' then we both laughed." -Seth Huot
"Zip tech is the biggest break through in outerwear function since waterproofing. It creates a seamless barrier against the harsh elements and retains heat keeping you warmer and drier. I can't imagine riding without it." -Bryan Iguchi
"Ziptech is the sickest feature... connect your jacket and pants sealing out the weather and keeping in the warmth! Amazing!" -Bjorn Leines
Volcom prides it self in being an innovator in technical and forward thinking design, and now our US patent number 7,404,214 makes it official. To see the entire 2008/2009 Volcom Outerwear line featuring Zip-tech check out Volcom.com.
---