Back to News
Dave & Carol Nielsen
November 1, 2008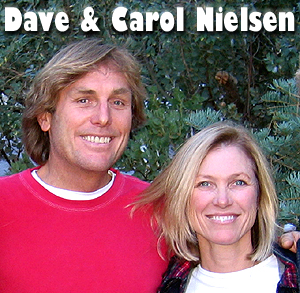 This month's Industrial Profile explores new horizons in a sense that normally only one person is featured. Keeping that in mind, what do you do when you find two people that have been involved in the industry for more than 20 years, and they just so happen to be happily married with children? The answer: You interview them both! Two is better than one right.
Dave ignited his career in 1982 by starting the famous surf accessory company, Pro-Lite, and is currently headlining Ocean & Earth as vice president. Carol got her start in the retail sector as Newport Surf & Sport's first buyer, then moved to NSS and Pacific Sunwear, and is now the women's buyer for Becker, the largest most influential chain of core surf shops in Southern California.
Both have a wealth of industry knowledge and have watched the industry grow from its early stages of life to what has now grown into a world-wide phenomenon. Dave and Carol shed some light on the past and current state of the industry, their adventures shared along the way, and provide feedback on staying afloat in the current state of the economy. Now all you have to do is grab the Zinka, your towel and bathing suit, and dive right in!
Dave - How'd you come up with the idea for Pro-Lite? What put the idea into motion?
Well, I was 22 living on the North Shore and working for Western Airlines as a steward based out of Honolulu. With about 15 days off a month, I was lucky enough to be able to travel around the world and surf. These were the days of smuggling drugs in surfboards, and as travel bags had not been invented yet boards were packed in bubble wrap, boxes and duct tape.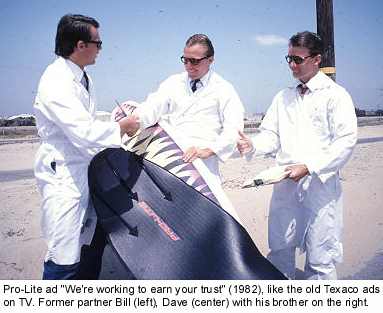 After getting strip searched in the Johannesburg Airport in 1978 on the way to Jeffrey's Bay, customs ripped apart my board box leaving me with three new boards naked and duct taped together with towels. With two more flights to catch to get down to the bay, I finally just had enough of it.
I went back to the North Shore, where my friend and future partner Bill and I lived, and we brainstormed and built prototypes that looked like plywood coffins with hinges. We progressed to sawing foam blocks in half, hand shaping it to look like a surfboard, hollowed it out with hot irons to fit the boards, and fastened it together with big Velcro straps.
Western Airlines was about to close our base in Hawaii, so it was do or die for us to get it together and create a practical surf travel bag prototype. We drew it out from shaping templates, and carved it out of half inch closed cell foam with a Swiss army knife out on the lanai where we lived at "Off the Wall". We sewed it together with fishing line and melt-sealed the edges with a lighter. It was at that moment we saw into the future—the BBQ raged on pretty good that night!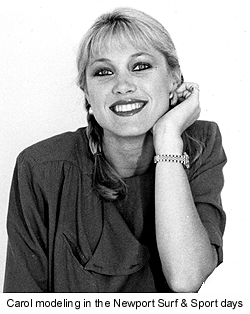 While still living in Hawaii, I flew to Newport Beach and approached Paul Heussenstamm, a friend who owned Newport Surf & Sport, to run everything by him and get a surf retailers point of view; he was stoked on the idea. Ironically, I was stoked as well, seeing that the 24 year old future Mrs. Carol Nielsen was his clothing buyer!
What is the biggest difference between the action sports industry of today and the surf industry in the late '70s?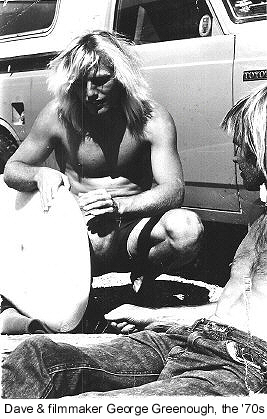 Dave:
Brands born in the '70s sort of evolved naturally from guys, that while just living a simple, core surf lifestyle, hit on an idea true to that existence. They thrived mostly by word of mouth, as it was mostly other core surfers buying the product from core shops. That's the way it happened with my company, and same with Ocean & Earth in Australia.
The brands that moved ahead pioneered their markets with a loyalty to core surf shops. This created competition from less authentic brands, as well as non-authentic brands, and that mix became the mainstream surf Industry.
To a lot of surfers back then, "surf" and "industry" didn't belong in the same sentence and seemed like an oxymoron, like the term "surf the net" feels now. Anyway, that's how I saw it.
Our first warehouse was next to Bob Hurley's when he had just brought Billabong in from Oz. We worked really hard, and it was cool and fun. We sure surfed a lot, but it didn't really seem like an "industry." Bob's wife Shelly had the kids on the carpet playing with toys while she worked the office every day. Ocean & Earth is next door to Hurley now, and we still surf together out front at the River Jetty. Those kids playing on the carpet are now amazing surfers and have kids of their own.

Carol:
Many of the original company founders and shop owners are the same, but other than that, most everything else is a lot different. This area became the center of the surf industry, but it used to be so local and not a big deal. We rode bikes down to the parties at Bob's house at 56th around the time he brought Quiksilver to America. I grew up across the street from the Frog House at the River Jetty where Dave has surfed since he was a kid and bought his first board. Becker Surfboards, where I work today, has the longest running active surfboard factory along with six retail stores and an amazing dot-com business.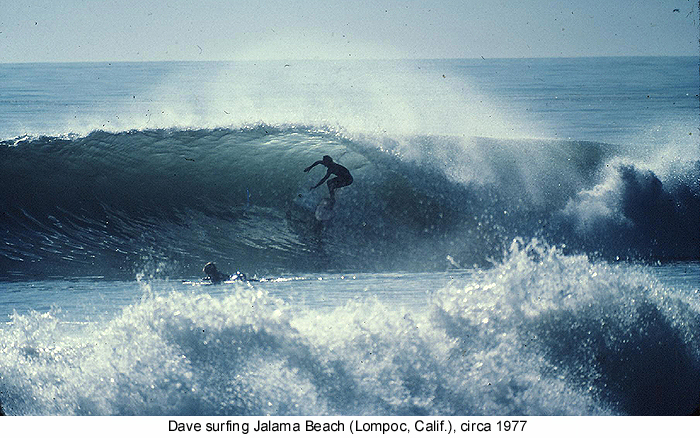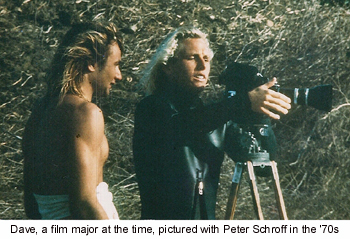 Dave - Do you regret selling Pro-Lite to Quiksilver?
Not at all! That was one of the best times of my life; I love all those guys.
Ironically, Ocean & Earth founder Brian Cregan was an original Quiksilver team rider, a friend of Bob, and a featured surfer in a classic surf film "Band on the Run" (Google it!). Brian would send Bob his latest leash or stretch board cover or whatever, and Bob would bust it out before surfing to show me and say, "Hey, how come our &%*# isn't as good as Cregan's?" We'd laugh, but I'd be fuming!
Anyway, for years "Bob & Crew" had to mortgage their houses to grow the "biz" and understandably went public—a visionary, yet mind blowing concept to a lot of surfers back then. I just couldn't wrap my head around it philosophically, and my passion for it waned to the point it was time to move on.
Dave - Why is now a good time for you to come back to this industry with Ocean & Earth?
I think the industry has truly reinventing itself. A lot of retailers are getting back to the grassroots. They sold unique brands from their unique store to a loyal local following, and to many, even several generations of families—the reason they were successful to begin with.
For a lot of obvious reasons it's become more like the early days, and surf retailers have opened their minds to unique emerging brands not available everywhere. We all need the lifestyle and the passion as well as the profits.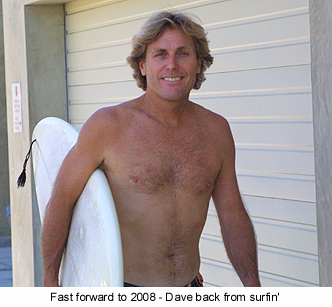 What affect is the economy having on your jobs today?
Dave:
Making decisions I don't want to make, but have to make. Sleeping less. Trying to find a healthy balance between caring and worrying.
Carol:
It keeps me as focused on all of the little things as well as the big things. Some categories used to just require management, now every category requires total day-to-day scrutiny as well. Working closely together with all management in all phases of the business is vital to our business right now.
What is the key to winning retail space for younger, smaller brands trying to break onto the retail floor?
Carol:
Brands are getting more sophisticated, but in the process they're losing the thing that's critical to the growth of our industry, having unique, thoughtful products.
Dave:
Being yourself. As a company we believe it's our differences that bring us together, and we respect the retailer diverse mix of brands. We appreciate the alliances we have with a lot of those brands, a lot of whom are friends.
Dave - What is Ocean & Earth doing, or not doing, to keep its momentum and sales growing in today's economy?
In today's economy the blue ribbon prize may not necessarily be pen to paper sales. What I feel is a most valuable runner up is brand relevance, from which sales can become a benefit even in tough times. We're stoked to still be gaining that ground, but we've got to run lean on inventory and sell through to make the most of this retail climate. It's important to provide great customer service, but not harass accounts for orders they simply cannot afford to give us right now.
Carol - From a buyer's perspective, what are you doing to make sure your company stays healthy?
We're hunkering down and writing smaller pre-books. In some cases we're not pre-booking at all, but may be looking for at once goods from brands we've not written once the economy turns a around. Also, we're buying into winners as soon as we see one emerging.
What benchmarks or indicators are you using to decide when the economy will turn around?
Dave:
When the local restaurants in Newport and Laguna Beach are crowded again every weeknight, including Mondays!
Carol:
Our day to day sales figures for every store; basic, but never wrong.
How will your business strategy change once you feel the economy is gaining momentum?
Dave:
Not a lot. We'll keep focusing on brand relevance and continue our sales and customer service efforts, but we'll definitely kick up the sales effort as retailers feel more comfortable in general.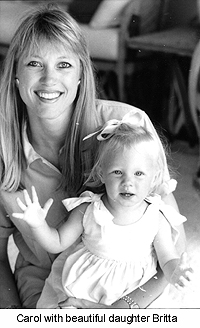 Carol:
I'll just keep adding product in as I see that what I have is selling.
Seeing that you've both seen each other's careers blossom over the years, was there ever a point when you disagreed on your partner's career path?
Dave:
Never!
Carol:
Life takes its own path. I have always supported where and what Dave has wanted to do.
Your relationship is 23 years strong and going. How do you find time for each other seeing that you both have demanding careers?
Dave:
I make sure I look for it as often as possible.
Carol:
We're both busy, but we try to fit a lot in. Time with our kids and families, that's how we spend our time together.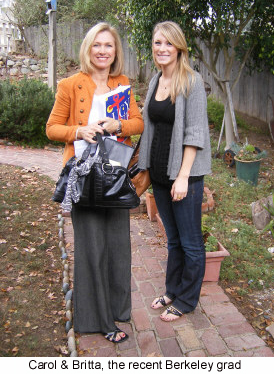 Who wears the pants the in the relationship? Is it 60/40 Dave, or more like 70/30 Carol?
Dave:
There is no "I" in team.
Carol:
We really do this 50-50!
Fave 5: Which would you prefer?
1. Industry employed or the entrepreneur route?
Dave:
Industry; Entrepreneur if it's a non-profit.
Carol:
Entrepreneur route would be challenging now that I've done the industry employed avenue my whole life.
2. Industry biz now, or back in the day?
Dave:
Back in the day for the simplicity, "now" for the crew I work with.
Carol:
Back in the day. The industry now is extremely challenging and invigorating with all of the dot-coms, etc; back in the day it reflected more of the lifestyle. Nowadays, everyone is too crazed to enjoy the lifestyle.
3. Half days on Friday, or power through the day?
Dave:
Depends on the week's progress; after that it depends on the tide.
Carol:
Half days on Friday always.
4. Share a wave with each other, or for each his/her own?
Dave:
I've seen Carol charge set waves on her blue & yellow raft as a teenager, so definitely share.
Carol:
We do our own thing, but it would be nice to share a wave with Dave!
5. Take a risk or play it safe?
Carol:
Play it safe.
Dave:
What she said!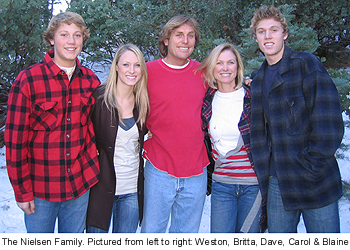 ---