Back to News
Sullen Clothing Adds Pro Skateboarder Chad Knight to Family of Sponsored Athletes
October 31, 2008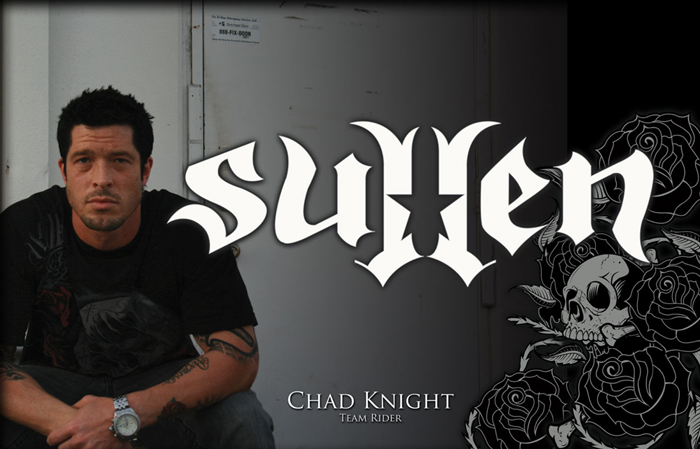 Sullen Clothing Adds Pro Skateboarder Chad Knight to Family of Sponsored Athletes
Veteran Street and Park Skateboarder Showcases Sullen Brand to International Skate Scene; "Turn Up the Hell" 1031 Skateboard Video Release on Halloween Night
Sullen Clothing, Southern California's definitive art-driven lifestyle apparel company, today announced the addition of Pro Skateboarder Chad Knight to the Sullen Family of sponsored athletes, artists and bands.

Knight, a veteran professional skateboarder, is perhaps best known in recent years for his appearances on FUEL TV's "Daily Habit," "Adrenelina" and "American Misfits" along with his featured performances in the 1031 Skateboard Videos "Bleed for Me" and the new release "Turn up the Hell." He has also been featured with numerous interviews, advertisements and editorial coverage in skateboard magazines around the globe.

"My relationship with Sullen is a win-win," said Knight. "I have spent 3 years searching for a clothing sponsor that I felt fit my style. I proudly wear the clothes because they exude dignity in everything they produce; using all original artwork. I respect the support they give to the Sullen Family athletes. Our goal is to expose the brand to everyone who skates for the love of the sport. I am definitely up to the challenge of showcasing the Sullen brand in as many skate scenes around the world as possible!"

Currently, Knight is promoting the release of the new 1031 skate video "Turn Up the Hell" and returning from a series of global demos that featured appearances in: Dublin, Ireland; Seattle, WA; and a summer tour across Japan and the entire United States. He is currently represented by Sports Unlimited Management and also sponsored by: 1031 Skateboards, NSS Footwear, Landshark Wheels, FKD Bearings, Independent Trucks, Vitamin Water, Dragon Alliance, Mouse Griptape, Blendz (smoothie shop) and CD Skateshop out of Staten Island, New York. More information can be found at www.chadknight.com
"We welcome Chad with open arms to the Sullen Family, and we are stoked to have him on board," said Sullen Clothing co-founder Jeremy Hanna. "He has a hardcore attitude, a ton of humility and a healthy respect for the tattoo culture that permeates everything about the Sullen brand. Our roots are in the skate/surf community, and having Chad continue to fly our banner in skate scenes around the world is an honor."

Making a name for itself during the past eight years as an art-driven brand rooted in the So Cal lifestyle and tattoo art culture, Sullen Clothing has transcended the boundaries of genre by making art, attitude and tone its distinctive brand calling card. With its early popularity originating in the action sport community, the brand has continued to grow by taking on the challenge of bridging its popularity across the global skateboard, surf, snow, bmx, fmx, motocross, Mixed Martial Arts (MMA), tattoo, urban and alternative/hardcore music scenes.
Now an international upstart sold in retailers throughout the Americas, Europe, Asia, Australia and parts of Africa, Sullen Clothing has built its solid reputation and frontline creditability as an artistic force and now collaborates with some of the best and brightest of the tattoo and artistic underground, including such noted talents as: Shawn Barber; Nikko Hurtado; Tom Berg; Carlos Torres; Carlos Rojas; Big Gus; Franco Vescom; Jack Mosher; Tattoo John; Curtis Burgess; Grant Cobb; Preston Chambers; Alex Castro; Zurk; Christian Nguyen; Riton Man "Henry B"; Bob Tyrrell; Jay Langer; Jay Cooper; Erik Rieth; and Braden Kendall… just to name a few with many more artists in the upcoming series yet to be announced.
---