Back to News
Kelly Slater Book Signings at Quiksilver Stores
November 13, 2008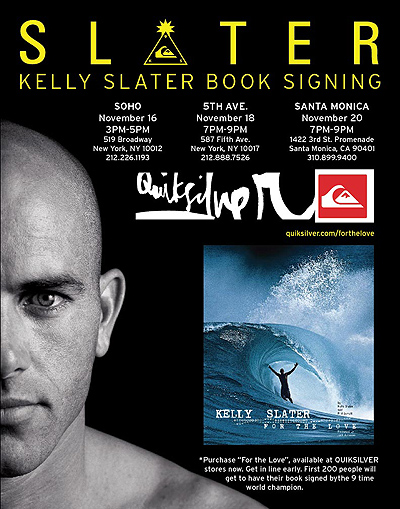 Kelly Slater Book Signings at Quiksilver Stores
Surf Legend Signs Copies of New Book, "For the Love"

Nine-time ASP World Surfing Champion Kelly Slater is making three appearances at Quiksilver retail stores in Los Angeles and New York City, to sign copies of his new book, "For the Love" (Chronicle, 192pp). Whether it is for the love, for the money or for the fun, Kelly Slater has done it all – ridden the best waves, won a record number of world championships, and changed surfing forever. Kelly Slater: For the Love is his story in his own words. It's a riveting visual tour of an unconventional and unparalleled life.
*Purchase "For the Love", available at QUIKSILVER stores now. Get in line early. First 200 people will get to have their book signed by the nine-time World Champion. For more information on Kelly Slater and his book, or to purchase online, please visit www.quiksilver.com/forthelove
WHEN:
November 16, 2008; 3p-5p
SoHo Quiksilver Store
519 Broadway
New York, NY 10012
212.226.1193
November 18, 2008; 7p-9p
5th Ave Quiksilver Store
587 Fifth Ave
New York, NY 10017
212.888.7526
November 20, 2008; 7p-9p
Santa Monica Store
1422 Third St. Promenade
Santa Monica, CA 90401
310.899.9400
---