Back to News
Aaron Macdonald – Brand Director at Option Snowboards, Canada
December 1, 2008
Aaron Macdonald – Brand Director at Option Snowboards, Canada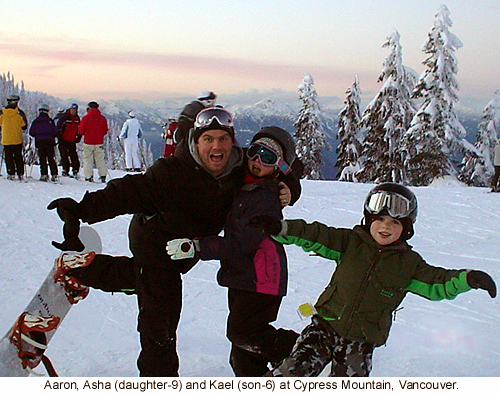 This month's Industrial Profile dives into the life and times of Aaron Macdonald, Brand Director at Option Snowboards, Canada. Back in the day, Aaron's addiction to skateboarding just so happened to be the gateway drug that led him to his calling in life, snowboarding. He's been around since the wee beginnings of the industry, a time when snowboarders had to be certified to ride the mountains (at least in Canada) and youngsters made snowboards out of water-logged plywood—desperate times call for desperate measures right! You'll understand soon enough.
Aaron has more than 16 years of experience under his belt and a wealth of knowledge in the snowboard industry and beyond. Read on to learn how Aaron rose through the ranks into his current position as Brand Director at Option Snowboards.
You've been in the snowboard
industry for 16 some odd years now, and snowboarding for roughly 20 years. What spawned your interest in snowboarding? How did it all begin?
Funny enough, it all started back when I used to skate at the Richmond Skate Ranch. There was a retail store attached to the skatepark called the Boarding House. Saw my first board in there (I think it was a Tom Sims). I tried to build my own board with my friends out of plywood, rubber straps. It didn't work out so well, but it was still fun. I made my first board purchase soon after. It was a Kemper, and the rest is history.
Rumor has it that back in the day snowboarders were required to get certified to ride down local hills. Was this certification Canada-specific, or did it apply to other regions as well? Why was it necessary?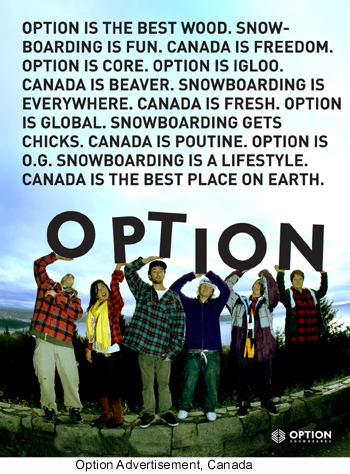 Yeah, back in the day you had to be certified to ride up at the local hills, at least in Vancouver. They gave you a Certified to Ski/Board card, which basically meant that you had to make sure not to crash into anyone (especially our skier friends). Man, that was a long time ago!
What was required to get the certificate (i.e. rodeos, bombing hills, jib skills perhaps)?
You had to show that you could properly secure your bindings, make turns without falling down, and yes, of course you had to perform the rodeo (just kidding!). You also had to make sure you had a "proper" stomp pad and a leash in case your bindings came off your board when riding. Hold on, what happens if your bindings are still attached to your feet? I guess the board just goes on its own right!?
When and where did your professional career officially begin?
My short, professional career began in 1990 and lasted about 3 years. I rode for Vision, Rusty and Black Flys back then. It was fun, but around that time, which I must have been 20 years old, I figured I'd move back to Vancouver from Whistler and find myself a job in the industry. I traveled to many a contest circuits in those days, but I had more of a desire to get involved with a company and to start making some money.
When targeting consumers in Canada, the United States and Europe, are separate marketing campaigns / branding initiatives used for each (noting the psychographic variance in each region)?
No, the fortunate part about this business is that most trends are suitable for all regions, so it makes it easier for worldwide marketing campaigns. However, we try to work and feature riders from each area where necessary. For example, Canadian riders in Canadian publications, etc.

You started at Option in 2001 as the Marketing Manager, traveled other roads in your career, and then ended up back at Option as its current Brand Director. What are the similarities and differences between these two positions (i.e. Marketing Manager / Brand Director)?
Way back in 2001, I did a lot of planning and executing marketing activities with the sales manager and the team manager. Now, I oversee all aspects of the brand, including marketing and sales. This position is much more fulfilling as you have an opportunity to get your hands dirty and make an impact on the brand! Much more thrill in seeing everything come to fruition.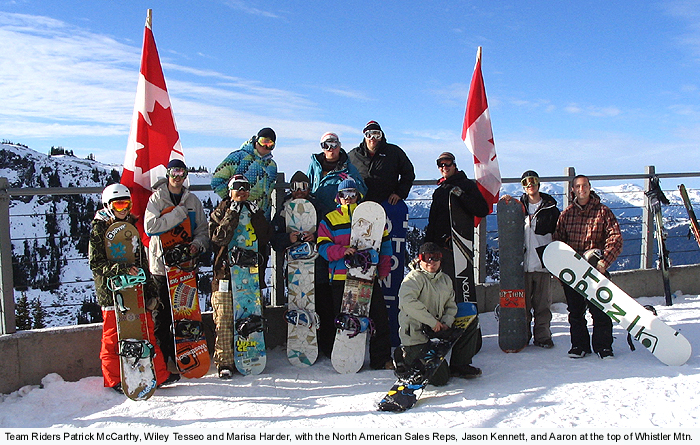 What's different about Option today compared to it right before you left to pursue other ventures?
Interesting question! I thoroughly enjoyed my time in the old Option days, as there was a lot of camaraderie with the staff (as there is also today). It was fun working with Maxx von Marbod, Byron Seegers, Chad Perrin and the rest of the crew, and we worked our asses off to make Option super successful. Present Option, we have a few less staff, but the new Option promises to be even bigger and more successful than the old Option. We've shut down our factory and re-invested in product R&D, sales programs and marketing initiatives. This truly is the 2nd chapter of Option.
Why did you decide to come back to the company?
I really wanted to work for a "true" snowboarding company again, one that was owned by an owner committed to the sport of snowboarding and committed to the brand. Option has been in the hearts of snowboarders for over 16 years, and I wanted to get back involved with this history and to help re-invent the brand. As well, I saw career growth opportunities, so I figured I jump on it right away!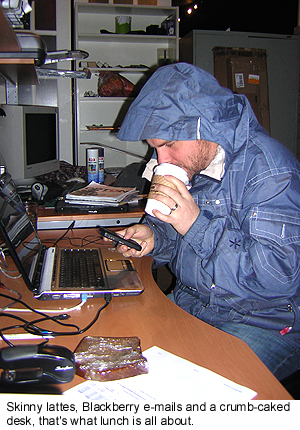 Give us a brief run down of your responsibilities as Brand Director throughout the average work week?
Funny, let's see. At 6 a.m. I check the Blackberry and nerd out on my 1/8 inch keys until 6:30 a.m. At 7 a.m. I get to my office and start working on e-mails, priority being overseas e-mails relating to sales. Around 8:30 a.m. I re-fuel with a large, skinny latte, then on to North American sales e-mails until around noon. Lunch time is usually spent working - spilling crumbs on my keyboard daily - on product development / production with Jason Kennett, our design and engineer manager. The day usually ends working on marketing programs (i.e. press releases, ads, etc.).
I'm usually out of my office around 5:30 p.m. en-route to coach my kids soccer teams, then back on my Blackberry in the evening working for a few more hours while hanging out with my wife. The next morning, I start all over again.
Seeing that Option is Canada's longest running snowboard brand, what have you done to avoid the monotony, or the "Main Stream" per se, in respect to branding Option?
We have always tried to stay grass roots. Unfortunately we have never had the capital to pursue a massive marketing program, so we have to rely on other avenues. It's not that we haven't wanted it, we just felt that keeping our identity was more important than going mainstream. As well, spending money to support our retailers and maintaining relationships was way more important to us. We are working with the best pro rider around, Patrick McCarthy, as well as the next crew of up-and-coming riders, which we can promote from within to become the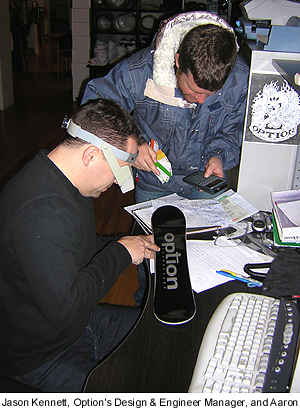 next superstars.
What gives consumers that extra incentive?
Our number one objective is product performance. Further to this, consumers can feel confident that our product is built for whatever terrain they ride. We also cater to them from a grass roots point of view, in that what they are riding is also what our team is riding.
Is the current state of the economy hurting sales? If yes, how are you achieving your marketing objectives with a smaller budget?
We haven't felt it yet, and for the most part, retailers we have spoken to haven't really felt the economic crunch yet either. However, our biggest hiccup right now is lack of snow. There are a few people who I have spoken to within the industry who have said this is going to be a tough year; however, we are doing what it takes (pricing, programs, etc.) to weather this storm. We plan on continuing our marketing programs by moving forward, as well as continuing to maintain our relationships and cementing new ones!
What are the most important factors in keeping afloat these days?
Relationships, consistency, and hard work!
Fave 5: Which would you prefer?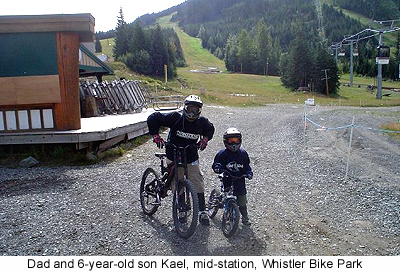 1. Swingin' the 9-Iron, or coachin' the tyke's soccer team?
Since I suck at golf (ask Ken Achenbach!), I would say the soccer team is the way to go (I already coach U11 select girls and U8 boys).
2. Grouse or Seymour?
Hmmm…putting me in a bind right now. Sorry, have to say both!
3. North Van or Van?
Definitely North Vancouver!
4. Bit by the party snake, or chill at the wine bar?
Not anymore. My liver is nice and healthy now!
5. Grass roots or big budget?
Grass roots. One day will have the big budget!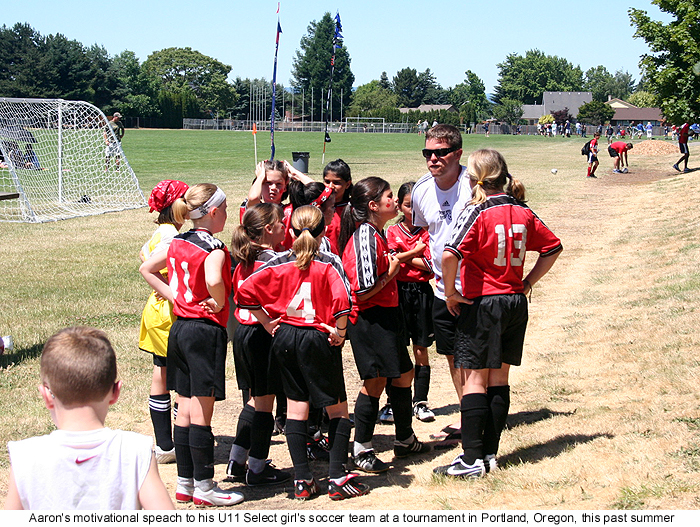 ---