Back to News
BambooSK8 with President Geoff Koboldt
December 1, 2008
BambooSK8 with President Geoff Koboldt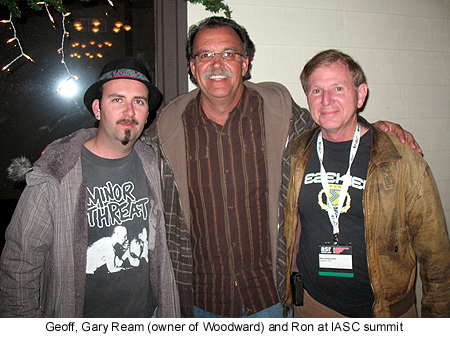 What do 20-stair handrails, wax-caked ledges, broken boards, shattered bones, and that sweet "POP!" sound have in common? The answer: skateboarding! Skaters across the globe have been looking to answer the age old question, "How might I find an eco-friendly skate deck that will last longer than the grains of time?" and BambooSK8 had their answer. Unbeknownst to Bamboo, apparently there are a lot of poetic skateboarders in the world, so they put their minds together to form the ultimate feng shui: an eco-friendly skateboard company balanced with the ultimate aim of a clean environment – simply righteous. And yes, the decks are tough as nails!
Geoff Koboldt, president of BambooSK8, sheds light on the bamboo revolution, providing insight on the history, production, the eco-benefits provided by this material, and some insight into the past, present and future endeavors of BambooSK8 as well. Now all you have to do is grab some hummus and pita bread and get right to it!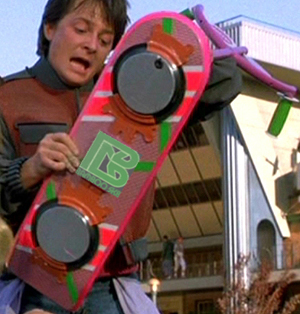 How did BambooSK8 come to life?
Well, I'll let my skateboarding, time-traveling friend Marty McFly tell you! There are four innovative products of human ingenuity that will last to the end of time itself—rock n' roll, Mr. Fusion Home Energy Reactors, skateboards made from bamboo and chocolate pudding cups. I created Rock n' Roll in 1955 while I was playing my parents' senior prom, and Mr. Fusion Home Energy reactors were developed in the late 2000s after its inventor, Mr. Fusion, had a serendipitous revelation after hitting his head on a toilet. No one knows who exactly created the chocolate pudding cup, made popular by two other time-travelers from San Dimas, but Rumors have surfaced that either Martians or David Lee Roth invented the snack pack. But from my adventures through the time-space continuum, none of these inventions have had such epic beginnings as the world's first 100 percent bamboo skateboard developed by future legendary company, BambooSk8.
The foundation was laid in 2007 when two business partners and Ron Stebenne decided to pursue bamboo skateboards. Ron, aka "The Godfather of the X-Games," previously worked in the action sports industry for twenty years, and his face will replace Abraham Lincoln's face on Mt. Rushmore come 2027. World conferences were set up with a plethora of skate factories, top board makers and Emmit "Doc" Brown to design a stronger and lighter board out of one the world's most renewable resources, bamboo.
The first hybrid models couldn't quite match the strength and consistency to replace archaic maple boards, so it was back to the drawing board to move from 86 percent bamboo to an almost unthinkable 100 percent, 3 and 4 ply bamboo model. The plug was pulled on the hybrid models by June 2008. Coincidentally, the factory that was previously making the hybrids also made time-traveling robot assassins that look suspiciously like the future governor of California, Arnold Schwarzenegger, but that's a whole other story.
When BambooSk8 finally made its debut at the Action Sports Retail (ASR) tradeshow in San Diego, the world cheered. BambooSk8's environmental initiatives were featured on NBC TV and were recognized by Action Sports Innovators (ASI).
In 2008, Ron Stebenne recognized the talents of Geoff Koboldt at a charity Christmas event at The Hollenbeck Youth Center. Also attending were Governor Schwarzenegger (or robot assassin?), future basketball star Kobe Bryant and Biff Tannen. Tannen had tried to kidnap Ron but through the skilled BMX maneuvers Geoff learned as a kid in Michigan, Biff's getaway was foiled as he crashed into a manure truck. For his heroic deeds for rescuing Ron, Geoff was awarded the role of president of BambooSk8—the timing was impeccable. Geoff had just left his position as VP of Strategic Operations at Dark Horse Distribution and he was looking for a solid executive role to build a noble company from the ground up.
So there you have it, a brief history of BambooSk8 more incredible than any tale conjured up by Jules Verne, HG Wells or Stan Lee. From this point on bamboo skateboards will pave the way for hover boards and a clean environment.




What inspired the use of bamboo in skateboards?
Ultimately, because skateboarding contributes greatly to the deforestation of maple trees and the industry needed a spark of innovation, both product and environmental-consciousness wise. It was natural for us to use bamboo seeing that we've already had success working with a variety of bamboo products in the home improvement industry. Furthermore, we were seeing the rise of bamboo in longboard decks (whose leader already had significant market share) so we focused on the other 80 percent of decks in the short board market. This was clearly an untapped part of the industry that we were confident we could infiltrate and provide a superior product that was truly sustainable.
What are the advantages of using bamboo over its traditional counterpart, maple?
There are many advantages, but strength would stand out the most beyond the obvious environmental reasons of being truly sustainable.
Bamboo is significantly stronger than maple and has a greater strength-to-weight ratio. According to the Wood Handbook (USDA), in a hardness comparison, the pressure to indent is 1,639 pounds versus 1,450 pounds in hard maple.
Bamboo is highly dense like hickory pecan, with a specific gravity of .66-.72 (lbs per cubic foot). Carbonized bamboo is even higher. Maple has a specific gravity of .52-.63. Density is a significant indicator of overall strength.
Due to the bamboo fibers being small and tightly pressed, they have intense memory (rebound to its natural state) resulting in great pop that lasts a lot longer than traditional maple decks. The modulus of elasticity is much higher, again comparing bamboo at 10,600 MPa to 10,450 MPa for maple with a modulus of rupture of nearly 8,000kPa in favor of bamboo. Furthermore, bamboo has slick edges that simply don't wear down as fast.
If shops want to test a few, we'll send them some – just shoot us an email.
Are there any differences in production of the two? For example, does this material require special machinery, glue, tempering, etc?
Fundamentally, no! You basically need veneers, glue, and a press to make a skateboard. What makes us unique is our patent on the various variables that go into making a quality 100 percent bamboo deck including the following: species of bamboo, age of bamboo, distance of molecular fibers from the hollow center to the outer rim, appearance of the end grains, weight density, moisture content, pattern of veneers, press time, pressure, type of glue, etc.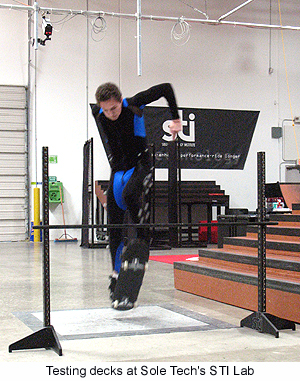 How does the cost per deck compare to traditional wood?
This is proprietary; I doubt anyone is going to tell you what their costs are!
BambooSK8 decks are three ply compared to the standard seven ply maple decks. If bamboo is lighter and more resilient than maple, why not make it even stronger with more plys – take seven for example?
If four legs hold up your chair, why would you use five—haha! Our decks are both three and four ply, depending on the size of the deck. The strength of the deck is a function of many variables, but ultimately, the size of the veneers, amount of glue, and the stacking of the veneers plays the most significant role towards its strength. We already know that bamboo is stronger than maple—ply for ply comparison—and therefore less plys are needed with bamboo. Finding out where that balance is between enough strength without sacrificing the weight is something we strive to achieve. We won't stop until we are there!
Is using this material eco-friendly? If so, explain.
Maple takes 40-60 years to mature while Bamboo takes one to two years to mature. Bamboo grows two to four feet per day and therefore can yield significantly greater results in a much shorter time period. Also, the vast majority of skateboards are Canadian maple which are cut down by a chainsaw, then shipped to Asia or Mexico, milled and made into skateboards, and then shipped back to the USA.
Bamboo is cut down with an axe right in the backyard of the factory and when a chute is hacked, four to five grow in its place. We use a natural carbonization process to heat the sugars in bamboo so we don't have to use toxic lacquers to seal the deck. I am pretty confident that if you look at our carbon footprint as a manufacturer versus others, ours is much smaller.
What environmental efforts/organizations are you involved with?
We are a member of the Action Sports Environmental Coalition (ASEC) and the United States Green Building Council (USGBC). We have been busy attending events such as Seattle's Green Convention, Topanga Earth Day, Coachella, Burningman, art shows, Jane Goodall Institute/Roots and Shoots and anywhere else we can educate people on being environmentally responsible. No other manufacturer out there is going the lengths and widths as we are in the skateboard industry and I hope we inspire future generations to do the same. We can all collectively make a difference!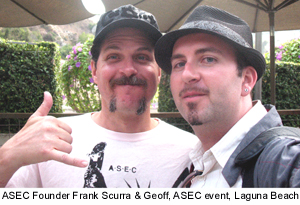 How will BambooSK8 win the hearts of hard-core, brand loyal maple pushers?
You ever tried to get a guy riding an independent truck to switch? It's highly unlikely they ever will. We have the same philosophy. Therefore, our time is best spent educating and building brand awareness with the youth. Forty percent of the market is in the 6-11 demographic and that number is growing exponentially with the rise of skateboarding. These kids are smart and have a moral compass unlike in past years. They want to support companies that are out there doing something for the world, and just as important, they want to be a part of it.
How are core retailers accepting the bamboo concept?
They all aren't there yet, but the momentum is growing. We are working with many retailers and understand in these hard times certain compromises might need to be made regarding minimums for example. The industry is embracing our boards, but like all new ideas it takes a little while to get the word out and get a full commitment from the retail sector until it has a proven sales record.
Our goal is for all shops to have a local shop program using our decks and their artwork, or however they want to brand it. A few of the shops are already on their third order in two months, so the product is moving. One of the retailers said, "The boards are seriously strong, and if they were maples they would have cracked by now under the conditions we have been putting them through." Check out our "fans" page on the website for other comments.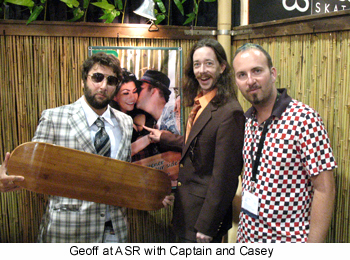 Is BambooSK8 currently an OEM provider for any major skate brands?
I will plead the fifth on this one. We are in serious negotiations with the top skateboarding companies out there and a few new ones coming down the pipeline, so stay tuned. We are implementing a sub-branding strategy with our decks whereby all of our decks will be laser-etched with our logo in between the trucks; this way you can always trust our bamboo decks as the highest quality. We know the market will get flooded with crap bamboo as everyone wants to make a buck off a perceived "trend." We wholeheartedly believe that "being green" is not a trend. It's a paradigm shift happening right in front of us.
Have other companies joined the bandwagon, or experimented with bamboo in the past?
Yes, quite a few companies have experimented with it and a few others actually made the conscious decision to implement bamboo as an alternative material. I would like to take a moment and give each of them kudos for their foresight into the future of skateboarding by using bamboo. Collectively, we can all make a huge difference and inspire other industries to do the same.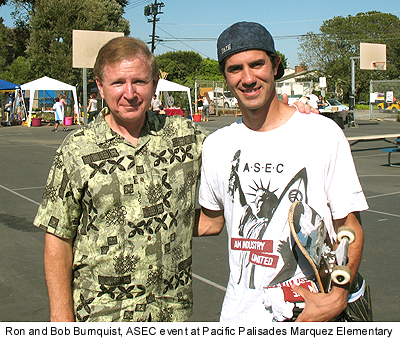 The word on the street is Bob Burnquist won the megaramp contest at the X-Games on a bamboo hybrid deck. Did it happen to be a BambooSK8 deck?
Yes, Bob did win on a bamboo hybrid, but not a deck made by us—maybe someday. Insiders revealed that it was our veneers though, so that's a good start. We are a bamboo material provider so we are happy to work companies who would rather buy our veneers and then make their own bamboo models.
Is there a skate team in the making?
No, we don't have any goal of creating a skate team at the moment, although we have a legion of young, fresh and up-n-coming skaters who are proud to test our decks and get the word out there. Remember, we are just a manufacturer, not necessarily a "brand" that is out trying to compete with the big dogs. We just want to be the premier supplier to the greatest skate companies out there.

What advice can you offer to people looking to get into the industry?
Do an internship at BambooSK8 for three months and you'll gain a tremendous amount of value that you can give to those companies in the action sports world. The reality is, it comes down to knowing the right people who can make the right decisions, including hiring you if you are prepared. Being effective as individuals and organizations is no longer an option in today's world; it's the price of entry to the playing field. It's not enough to just have an education; you have to be goal-oriented, process driven with a proven track record of quantifiable results. Last but not least, always think like an "owner," not an employee. You'll be surprised at the impact you can have on your organization and your own personal growth.
When looking to hire new talent, what type of person do you consider BambooSK8 material?
We are looking to hire those that can get results, have integrity, are educated, bring a myriad of skill sets to the table per se, etc. We are more inclined to hire those that have interned with us or are highly recommended by others we respect in the industry.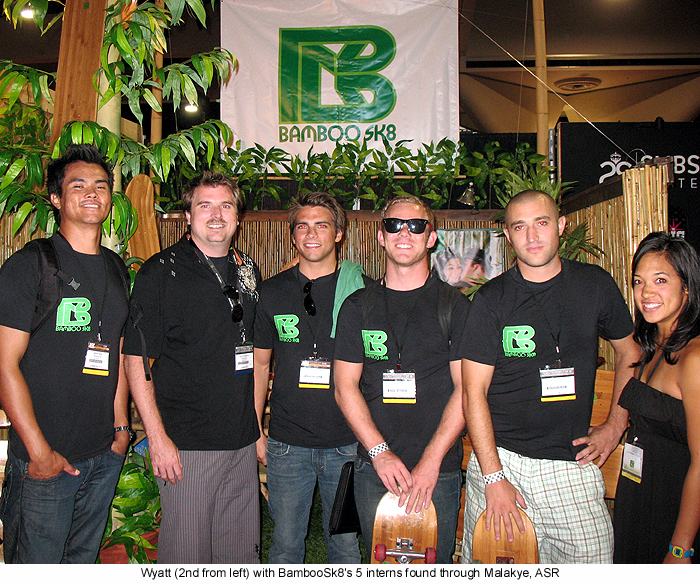 ---