Back to News
MX for Children Bring you Rare Motocross Images for Auction!
December 1, 2008
MX for Children Bring you Rare Motocross Images for Auction!
International Action Sports Photographers Contribute Rare Collectibles to MX for Children 2008 Charity Auction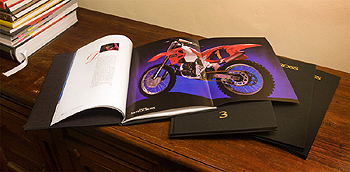 MX for Children and leading Motocross Photographers from Belgium, Canada, Japan, the Netherlands, and the United States have once again joined forces for the 2008 MX for Children Charity Photo auction. Rare collectibles from these top Photographers portfolios have been donated to help raise money for Seattle's Children's Hospital.
Donated images span from the 1980's to 2008. Riders such as: Travis Pastrana, Damon Bradshaw, Jeremy McGrath, Blair Morgan, Andrew Short, James Stewart and Ricky Carmichael are represented. Photos capture action from circuits including Unadilla, Lommel, Daytona, and Glen Helen.
Included this year is an extremely rare collectible: a complete leather bound anthology of Inside Motocross, recognized in its' time as the premier publication for creative and artistic motocross photography. "We are pleased once again with the tremendous support and generosity this year from the Photographers" stated Paul Gross, founder of MX for Children. "This is a great way for us to end our fund-raising year. There are some very cool holiday gifts here, too!"
The eBay auction commences Dec. 1st and ends Dec. 10th. To learn more about the auction, please visit www.mxforchildren.org. On eBay, search for items for sale by "MXforChildren". All proceeds from the auction benefit uncompensated care at Seattle Children's Hospital and help advance hydrocephalus research.
MX for Children sincerely thanks the following Artists for their contributions: Paul Buckley, Simon Cudby, Andrew Fredrickson, Steve Giberson, Frank Hoppen, Jeff Kardas, Fran Kuhn, James Lissimore, Geoff Meyer, Chip Morton, Plons, Shiba, Michael Stusiak, and Rex Backman.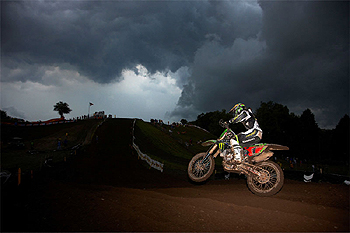 About MX for Children and Seattle Children's Hospital Guild Association:
MX for Children was founded in 2005 by Paul Gross and Lori Poliski, parents of William, whose life was saved by the doctors and nurses at Seattle Children's Hospital on the second day of his life. MX for Children works to create a positive and synergistic bond between motocross enthusiasts and Children's Hospitals across the continent. For 2008 year to date, MX for Children has raised over $150,000 for local Children's Hospitals. For more information, visit www.mxforchildren.org or contact MX for Children at [email protected]
The Seattle Children's Hospital Guild Association is a diverse group of nearly 7,500 women, men, and teens who contribute their time, energy and compassion to support the work of Seattle Children's Hospital. Since the first guild started by Anna Clise in 1907, coinciding with the establishment of the Pacific Northwest region's first hospital for children, today's Guild Association is the largest all volunteer fundraising organization for any hospital in the nation.
Incorporated in 1987 as a nonprofit organization and a subsidiary of Seattle Children's Health Care System, its mission is to serve as advocates through volunteer, philanthropic and educational endeavors to ensure excellent care for all children in our region. For more information, visit seattlechildrens.org or contact the Guild Association at [email protected]
---