Back to News
The Clayton Brothers Join FUEL TV's Award Winning Signature Series
December 4, 2008
The Clayton Brothers Join FUEL TV's Award Winning Signature Series
Symbiotic art duo's network ID inspired by memories of sub-urban decay.

FUEL TV, the only network dedicated to the lifestyle of action sports, is proud to announce the release of its newest Signature Series network ID featuring the collaborative work of ethereal duo The Clayton Brothers.
The Pasadena-based Rob and Christian Clayton, otherwise known as the Clayton Brothers, are known for producing dynamic, extemporaneous, yet purposeful paintings. The Clayton Brother's work is inspired by the ethereal sublime, and searching for that moment of calmness. Their images speak to all through a universal, visual vernacular borrowed from folklore, mythology, urban legend, sound bytes and info-graphics.
"A lot of our work addresses the feeling of 'bliss,' and the moment when everything seems perfectly sound," says Rob. The Clayton Brother's recollections of the past are revealed as slightly tainted yet sublime memories. They believe the world of action sports and art are analogous to each other in a way that it takes extreme creativity and intuitiveness for the athletes to do what they do.
"The Signature Series is refreshing because art and action sports have always gone hand-in-hand," says Christian. "Art is one element that separates action sports from other mainstream sports. As youngsters, we were passionate about skateboarding, BMX, and punk rock."
"Rob and Christian have a way of taking all of these images that we recognize as part of our everyday world and giving them a whole new meaning," says FUEL TV's Creative Director Todd Dever. The Clayton Brothers' approach to collaborative painting is symbiotic and organic with one brother beginning a painting then handing it off to the other for his interpretation. The end result has been described as 'like viewing every frame of a film simultaneously.' Now FUEL TV brings that vision to life.
Daniel Johnston, Indie Rocker who Rolling Stone magazine refers to as a little "soft in the attic," scores the Clayton Brother's Signature Series ID for FUEL TV. According to the Claytons, "Daniel Johnston's lyrics are fascinatingly soulful, sung from the heart of an extraordinarily sensitive and talented man … his songs are amazing renditions of life, death and true love - passionately revealed through an honest voice." The end results of Johnston's emotional lyrics have been covered by influential Indie Rock bands such as Sonic Youth, Nirvana, Yo La Tengo, Butthole Surfers, and Half Japanese.
The Clayton Brothers Signature Series ID was produced by SALT in Culver City, California.
FUEL TV's award winning Signature Series IDs are inspired by signature skateboard decks created for skateboarders by influential or iconic artists. These Signature Series IDs can serve many purposes: to introduce the audience to new and upcoming artists and/or athletes; or to serve as a way for current athletes and artists to express themselves in art and music.
The Clayton Brothers' next stop will be at the Madison Museum of Contemporary Art in London, England. Their work has recently been exhibited at Byblos Gallery, Verona, Italy; Laguna Art Museum, Laguna, California; and Pasadena Museum of California Art, Pasadena, California. The Clayton's currently live and work in Pasadena, California. Both currently serve on the faculty at Art Center College of Design.
To watch the new Clayton Brothers Signature Series ID, check out FUEL TV or click on this link: http://link.brightcove.com/services/link/bcpid1329255681/bctid3160033001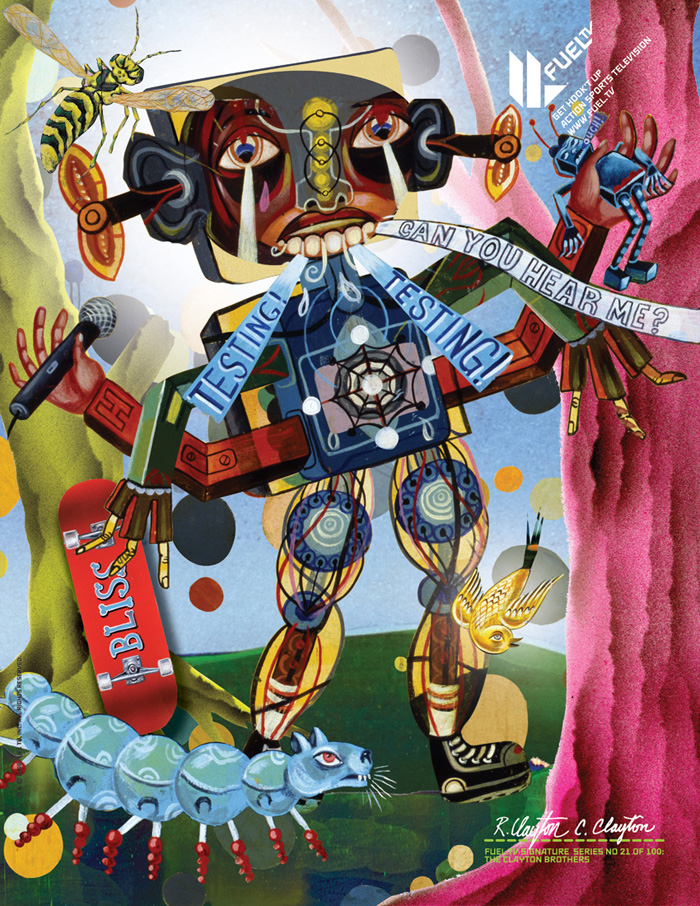 ---