BACK TO NEWS
Etnies Gives Shoes to Charity; Beer to Thirsty
Etnies Gives Shoes to Charity; Beer to Thirsty
etnies still believes in Santa Claus, free beer and wishing all the skateboarding industry happy holidays! With the current recession it looked like the Grinch might succeed this year, but etnies is still celebrating in style and spreading some holiday cheer. etnies' list of holiday events includes the etnies Holiday Festival to help Santa Claus deliver more than 500 pairs of shoes to needy children living in Orange County, etnies Portland Holiday Party and of course its Employee Holiday Party in Lake Forest.
The etnies Holiday Festival is at the etnies Skatepark of Lake Forest on Friday, Dec. 12 from 1:00 p.m. to 5:00 p.m. where Mr. and Mrs. Claus and etnies owner and etnies staff give shoes to children in need. Over the last four years etnies Holiday Festivals have given 2,218 pair of shoes to needy Orange County kids.
When fellow employees and skateboard friends at a rival footwear company got their holiday party canceled, etnies saw it as the perfect opportunity to come together and share the holiday cheer, reflect upon life's gifts and close out 2008 with a celebration. Skateboarding is about having fun, and etnies believes that skateboarders are a family and that's what the party was really all about.
The party went off at "My Father's Place" bar in Portland, Oregon with free beer for all, and a visit by Santa and his sexy lady elves spreading holiday cheer with corporate gifts in the form of coffee mugs bearing a picture of Santa that says, "etnies Believes in Santa." The party definitely served its purpose as 250 people attended including a large turnout of local skateboarders and employees from Portland's biggest footwear companies. During the party etnies paid for 1,203 16 oz PBR tall boys, and more than 107 shots of liquor that were served to attendees. Don Brown personally drank 23 PBR tall boys, and the total count of shots he took is still being tallied. Check out the photos below: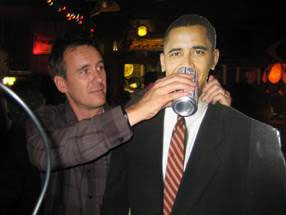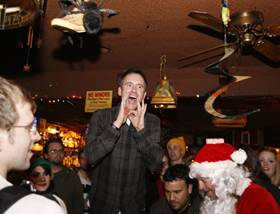 Left to Right: Looks like Don Brown and Barak Enjoyed a Beer Together! Don Brown Spreading Holiday Cheer!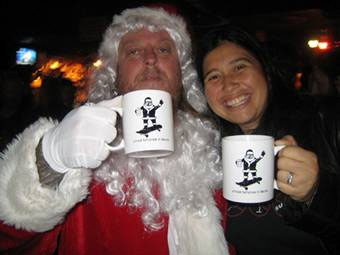 Santa and Yasemin Oktay-Hume with Corporate Gift Mugs that
Proclaim etnies Believes in Santa

---