Back to News
Allyance
December 22, 2008
Allyance

Rogue Heros! Ever heard of them? It's the mantra of action sports brand Allyance. We're going to get into the driving force of this mantra, or campaign if you will, and find out more about how this company is fairing in today's economy as well as where the bright spots will shine on Allyance in the future. Jason Bergman breaks it down.
The Allyance has undergone significant changes over the past few years. How is the company doing financially today?
Allyance is backed by strong money, there have been some changes but with the current state of affairs everybody needs to run a tighter ship and be smarter in their operations. I believe that all brands with or without a strong financial backing are getting smarter and doing what it takes to maintain through this challenging time.
Are deliveries to retailers happening on time?
Yes, we are very fortunate in that aspect of our business and work with some great factories overseas. The Spring and Summer seasons can be a challenge due to The Chinese New Year (the factories shut down shop for a month), but we just deal and try to get things done on calendar before that.
How's the quality of product?
We can proudly say that we make some of the best quality product out there. All our goods are premium and have been developed to appeal to a consumer that appreciates that in a garment. Kids are smarter and savvier than ever before, so we had to come out with a great assortment, and that is what we do very well.
Are there particular categories that are doing well at retail?
We have had tremendous sell through in both traditional board sport accounts and also in boutiques with our jackets and flannels in particular. We also have had a lot of traction with our board short category in shops like Spyder, 9 Star, WRV, Esteem, and Sun Diego. All are having great sell through.
Where in the country do you find the most significant demand for the brand?
That's a good question. Although we are based in San Clemente, CA, we have built a business model that is relevant throughout the country, and we have all worked hard not to pigeon hole ourselves into another So Cal brand. It has been happening nationwide and we are very fortunate for that.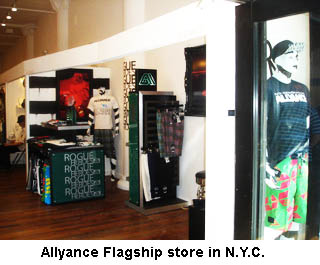 How many doors is Allyance in now? And how many doors are expected to open in the next year?
We just had our first inclusive men's line ship in May 2008, and we currently have over 400 specialty retail partners. We would like to expand that domestically to another 100 doors for 2009 then work on programs to gain more floor space within each door, and build business with them. We have a lot of relationships that helped us get here, and we are going to protect each retailer as we grow so they can make as much money as they can.
Is there expansion in your U.S. rep force?
Yes! Aside from our current slaying rep force we have hired some additional guns that have propelled us to the next level, specifically for the fourth quarter of 2008. Mark Voigt, who has an extensive background in sales was brought on to take on Orange County to the Border in So Cal and AZ, he has really helped put a grasp around our distribution here and open doors with retailers such as Katin, Utility, and RX.com. Tony Dandrea was also brought on for Northern California, where we were able to open many doors such as: Surf and Skate, Mainland, SC Skate Shop, SBI Wavelengths, Skate Works and many more. Also just this week we hired Terry Claudio to do the state of FL.
How about internationally?
Internationally we have started to partner with some very strong Distributors. We want to take it slow and make sure the brand has recognition in North America first before we try to push the goods overseas too hard. We are currently growing the International business in search of the Rogue Heroes of this World.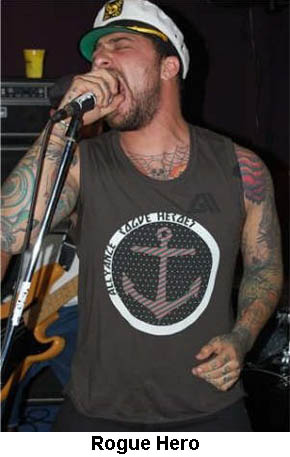 From the outside Rogue Heros is the icon of Allyance. And the ad campaign on FUEL TV is a catalyst for the brand's position. How is this being received by your customers?
We took a strong position off the gate and I think it made an impact on a lot of retailers and the customers going into the stores. We did over 7 pubs this year, and spent a substantial amount of money on the production of our commercial that aired on Fuel. We are doing things our way, and we have made people talk in an industry that is afraid to take risks.
Has your FUEL TV campaign, along with your other marketing efforts, created growth and a good return on investment?
It is hard to gauge marketing and translate it back to sales numbers but I think as long as you make people excited you are doing something right. We always look to our media partners for packages too; that is where you really see things on a bigger scale. An example is when we partnered with VICE for the SXSW music conference in April and got a little media buzz going, met some cool people and bands that received some press, which turned into editorial, the customer sees the magazine, goes into the store…You get the idea
Aside from print, we will be focusing on a lot more web based advertising going into the first quarter of 2009 to help our online retailers like Spyder, Swell, Hanger 94, Becker, Surfride, and Pharmacy.
What's the January tradeshow game plan? Where will Allyance be and what will be happening?
We have committed to ASR (#2117) again, and with certain brands exiting it is an opportunity for us to have even more of a presence in the marketplace. We will also be sponsoring the Retailer Lounge again which is a great place for existing and non-existing retailers to catch a breath, have a coldy and get more familiar with Allyance through our media packets and propaganda within the lounge. We will also be looping our commercial again in case you missed it last show.
Are there plans to expand your product offering?
We currently have an extensive line covering every category, and we will be introducing our denim collection at the show. The denim for us is a critical part of our line that we have been perfecting since the inception of the brand. We will cover many fits and price categories while maintaining premium fabrics, trims and washes. Mental!

Over the coming year, are there plans to bring in new employees?
We are growing both domestically and internationally, there will be many positions opening as we continue to do so. We will keep everyone posted on Malakye.com.
What are the keys to success in submitting a resume to Allyance?
My advice is to keep things relevant to the position when submitting a resume, and try to really expose the history that you have in the industry. There are a lot of talented people out there!
Is there opportunity for career advancement?
Dale Rehberg the Company President and I believe in empowering all our staff, taking the ball and running with it. The sky is the limit here, we are all a team and will make this company successful so as we grow so do the key people here.
---