Back to News
POWDER Announces Nominees for 2009 Powder Video Awards & Reader's Poll
January 8, 2009
POWDER Announces Nominees for 2009 Powder Video Awards and Reader Poll Presented by WE SKI & SNOWBOARD™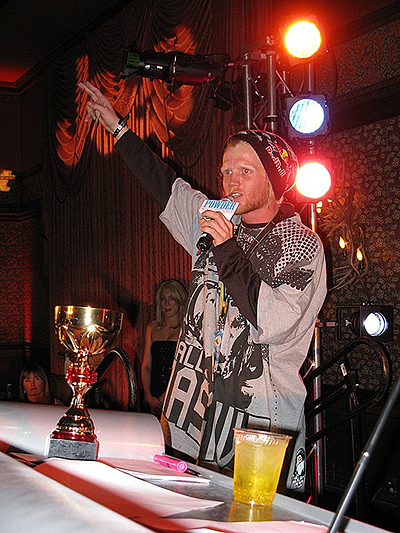 POWDER Magazine today announced the nominees for the 2009 POWDER Video Awards and Reader Poll Presented by We Ski & Snowboard™.

"Since the inception of the POWDER Video Awards nine years ago, the number and quality of ski films continues to grow, demonstrating the vitality and demand for ski cinematography," said POWDER Editor Derek Taylor. "This year, to address the demand, we added two new categories recognizing the creativity of the filmmakers – 'Best Editing' and 'Best Cinematography.'"

POWDER asks each film company to submit their entries for each category except for "Movie of the Year." Nominees for the coveted "Movie of the Year" honor are selected by a POWDER-appointed expert panel of judges after all of the films are viewed. Of the more than 30 titles submitted this year, the following five earned nominations for the prestigious "Movie of the Year": Claim by Matchstick Productions, Reasons by Poor Boyz Productions, Under the Influence by Teton Gravity Research, The Massive by Red Bull Moving Pictures, and Hunting Yeti by Nimbus Entertainment.

The nominees for the remaining video categories are:

Best Point of View (POV):
Sage Cattabriga-Alosa (Under the Influence) by Teton Gravity Research
Jon Hatveit and Andreas Hatveit (Reasons) by Poor Boys Productions
Tim Durtschi, Jossi Wells & Kris Ostness (44 Days) by Kris Ostness/Atomic
Tim Durtschi, Kevin Brower (44 Days) by Kris Ostness/Atomic

Best Powder:
Kyler Coolie, Dylan Natale (Such is Life) by Rage Films
Mark Abma, T.J. Schiller and C.R. Johnson (Claim) by Matchstick Productions
J.P. Auclair and Chris Benchetler (Reasons) by Poor Boyz Productions
Tim Durtschi and Kevin Brower (44 Days) by Kris Ostness/Atomic

Best Line:
Sage Cattabriga-Alosa (Under the Influence) byTeton Gravity Research
Eric Hjorleifson (Claim) by Matchstick Productions
Tanner Hall (The Massive) by Red Bull Moving Pictures
Sage Cattabriga-Alosa (Under the Influence) by Teton Gravity Research
Ian McIntosh (Under the Influence) by Teton Gravity Research

Best Manmade Air:
Simon Dumont (Claim) by Matchstick Productions
Mike Wilson (Jib Jam) by Poor Boyz Productions
Jacob Wester (Claim) by Matchstick Productions
Pep Fujas (Hunting Yeti) by Nimbus Productions
Ian Cosco (Such is Life) by Rage Films

Best Natural Air:
Mark Abma (Reasons) by Poor Boyz Productions
Seth Morrison (Under the Influence) by Teton Gravity Research
Sean Pettit (Claim) by Matchstick Productions
Tanner Hall (The Massive) by Red Bull Moving Pictures

Best Jib:
Will Wesson (Head for the Hills) by Meathead Films
Tanner Hall (The Massive) by Red Bull Moving Pictures
Sammy Carlson (Reasons) by Poor Boyz Productions
Will Wesson (Head for the Hills) by Meathead Films
Will Wesson (Turbo) by Level 1 Productions
Best Male Performance:
Sage Cattabriga-Alosa (Under the Influence) by Teton Gravity Research
Mark Abma (Claim) by Matchstick Productions
Tanner Hall (The Massive) by Red Bull Moving Pictures
Eric Hjorleifson (Claim) by Matchstick Productions
Sammy Carlson (Reasons) by Poor Boyz Productions

Best Female Performance:
Ingrid Backstrom (Claim) by Matchstick Productions
Jamie Burge (Such is Life) by Rage Films
Marja Persson (Satisfaction Guaranteed) by Free Radicals
Jackie Paaso (AK the Hard Way) by Adventure Film Works

Best Concept:
The Fine Line by Rocky Mountain Sherpas
AK the Hard Way by Adventure Film Works
Hunting Yeti by Nimbus Entertainment
Hand Cut by Sweetgrass Productions

Best Editing:
Hunting Yeti by Nimbus Entertainment
Claim by Matchstick Productions
Under the Influence by Teton Gravity Research
44 Days by Kris Ostness
The Fine Line by Rocky Mountain Sherpas
Best Cinematography:
Claim by Matchstick Productions
The Massive by Red Bull Moving Pictures
Turbo by Level One Productions
44 Days by Kris Ostness
Reasons by Poor Boyz Productions

In addition to the Video Awards and the unveiling of the top 10 male and top five female POWDER Poll winners, honors will be presented for "Breakthrough Performance" and "Full Throttle."

The 2009 POWDER Video Awards and Reader Poll Presented by We Ski & Snowboard will take place January 24, 2009 at the Jerome Hotel in Aspen, Colorado. Attendance is by invitation only, but the event will be webcast live at www.powderawards.com <http://www.powderawards.com> beginning at 7:30 p.m. (MST) with live red carpet arrivals immediately followed by the live Awards show beginning at 8:00 p.m. (MST).

Special thanks to the sponsors of the 2009 POWDER Video Awards and Reader Poll: We Ski and Snowboard, Aspen Skiing Company, Helly Hansen, Pabst Blue Ribbon, and Red Bull Skiing.
---