BACK TO NEWS
Jetpilot Signs FMX Star Steve Mini to Apparel Roster
Jetpilot Signs FMX Star Steve Mini to Apparel Roster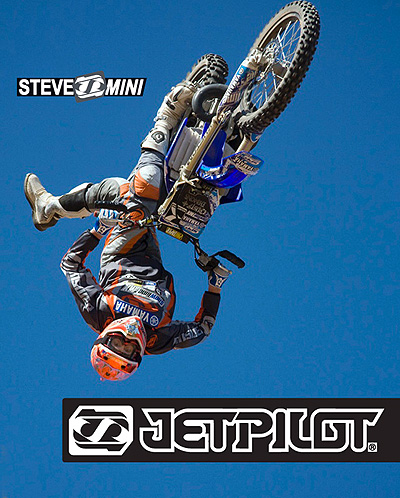 Jet Pilot has signed FMX star Steve Mini to its apparel roster in a move to continue its expansion, commitment and support in the FMX arena. This new addition also adds to the brands strength as a new breed, multi-action sport apparel company in the areas of Surf, Wake, FMX, BMX & PWC.
"We are stoked to have signed Steve as he is one of the sports true professional riders both on and off the bike, and we believe that he can keep Jetpilot at the forefront of the FMX movement" said Marketing Manger, Chris Apps.
Steve travels the globe riding FMX and has been a member of the Crusty Demons tour for the past seven years. He is also one of the main riders of the Yamaha Showtime team. "I'm stoked to be part of the Jetpilot team," said Steve. "Jetpilot is a company that I've always wanted to ride for even before my career began, and I'm excited about working with them in the future!"
Jetpilot brand apparel is quickly gaining momentum & popularity amongst the core youth of action sports today due to its reputation for creating premium, technical, cutting edge, rider inspired products.
---