Back to News
Ollie Pop and Protect Our Winters create All-in Charity Texas Hold'em Poker Tournament
January 19, 2009
Ollie Pop and Protect Our Winters create All-in Charity Texas Hold'em Poker Tournament

Hard Rock Casino Las Vegas- The POKER LOUNGE! Led by snowboarding icon: Big-mountain Jeremy Jones and Ollie Pop Bubblegum stepping up to organize the event, Protect Our Winters All-In Texas Hold'em charity poker tournament has sparked an avalanche of riders looking to bluff their way to the Grand Prize – a seat in a 2009 World Series of Poker event. Proceeds from the $150 buy-in event will benefit Protect Our Winters (POW), the snow industry's non-profit, dedicated to reversing the global warming crisis through a united front of winter sports enthusiasts and Poker players alike.
Protect Our Winters welcomes Full Tilt Poker who stepped up big-time as Tournament Grand Prize Sponsor making a substantial cash donation to the charity, and will be present representing the Poker community onsite at the Hard Rock Casino.
In addition to the Poker tournament, POW will recognize and identify several key brand efforts, products, practices, and draw inspiration from industry efforts to move towards a more sustainable business model. Whether it's using less toxic resins, using recycled fabric to create outerwear, reducing packaging and waste, or moving manufacturing back to the US; POW pays respect to efforts to work towards sustainability. Key brands include: Vans, Bluebird, Arbor, Bonfire, Ally Video, Bond Outerwear, Eesa, Rossignol, Bern, Oakley, and Back to the Tap.
Invited Guests:
Jeremy Jones- Activist/ Icon Backcountry Snowboarder and Founder of Protect Our Winters
Scott Ian- Guitarist for Anthrax
Trevor Graves
Aaron Biitner
Jared Bevens
Joni Malmi
Phil Helmuth
Neil Korn
Trishelle Cannatella
Chanelle Sladics
Marius Otterstad
Seth Morrison
Mark Carter
Dave Duncan
Sean Sullivan
Zach Dalton
Andre Cameron
Jesse Brown
Kim Hermon
….Only 150 seats available.
Capturing the poker faces of industry professionals and celebrities, Transworld Media will be streaming a live webcast from "The Dingo's Den" inside the VIP lounge. FUEL-TV will be on hand to capture the event for "The Weekly Update" program and the winner's check presentation to POW at the 10th Annual TWS Riders Poll Awards, Wednesday January 28, 2009.
Your registration includes a membership to Protect Our Winters, a donation, VIP access, a great gift bag, a first look inside the brand new Poker Lounge at The Hard Rock Casino Las Vegas. Room nights at the Hard Rock are available at a discount rate with tournament code (STEPR 95) for $95.00! Call 800-HRD-ROCK to reserve by phone.
Entrants will receive re-usable gift bags made of recycled materials. The event will also include door prizes and a Silent Auction to benefit the Ross Powers Foundation.
Seating is limited and filling up fast. For more information on the event or to get your company involved please visit Ollie Pop Charity Poker – registration - Romey Thornton 760 431 2767 branding- Gary Hansen 562 331 2249.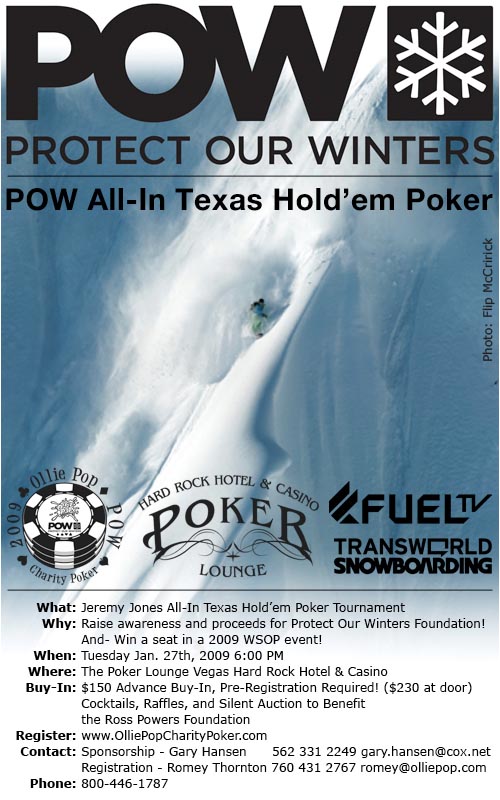 About Protect Our Winters. Protect Our Winters (POW) is a tax exempt, non-profit organization dedicated to reversing the global warming crisis. POW directs 100% of the contributions it receives towards educational initiatives and renewable energy projects. For additional information please visit www.ProtectOurWinters.org.

About Affectionate Brands. Affectionate Brands Corporation operates the Ollie Pop Bubble Gum Co. which packages great tasting bubble gum with cool collectible stickers of leading and emerging action sport brands. Ollie Pop can be found at skate, surf and snow shops throughout the world as well as major action sports retailers in the US and Canada. For more information, please visit www.OlliePop.com.
About Hard Rock Hotel and Casino. The Hard Rock Hotel & Casino, newly owned and operated under Morgans Hotel Group and equity partner, DLJ Merchant Banking Partners, is a premier destination entertainment resort situated strategically on Harmon Avenue, one of Las Vegas' fastest growing entertainment corridors. Built in 1995 and expanded in 1999, the property is currently undergoing another expansion set for completion in early 2010 more than tripling its current size. Hard Rock Hotel & Casino offers an energetic entertainment and gaming experience with the services and amenities associated with a boutique luxury resort hotel. The property is known for its innovative nightlife and music scene. Features of the property include an 11-story Hard Rock Hotel tower with 647 guest rooms; a 30,000 square foot casino; The Beach Club with swimming pool; Rehab, the trendsetting Sunday afternoon pool party; Body English nightclub; The Joint concert hall; rock lounge Wasted Space; restaurants including AGO, Nobu, Pink Taco, three cocktail lounges; several retail stores; and Rock Spa, salon and fitness center. For room availability and additional information call 800.HRD.ROCK (800.473.7625) or visit www.hardrockhotel.com.
---