Back to News
Tadpole Celebrates Women in Marketing
January 19, 2009
Tadpole Celebrates Women in Marketing at Red Bull Headquarters USA
Theme of the Night: Blow S*#t Up!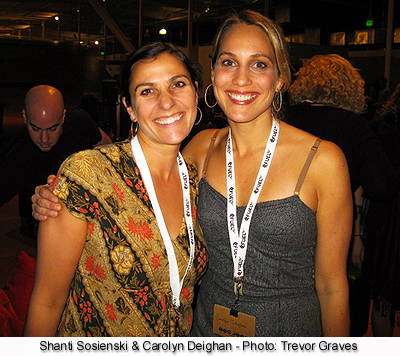 Tadpole Marketing hosted its first Women in Marketing event last Thursday at Red Bull Headquarters in Santa Monica, Calif., to celebrate women in marketing and their contributions to the action sports industry. The house was packed to capacity, with roughly 300 attendees.
"BLOW S*#T UP," an inspiring comment from Amy Stettler of OMD, was the widely accepted theme of the night with all the speakers. Perhaps it was the preliminary rounds of Red Bull-Belvederes and finger foods that ignited the inner flame of the speakers at the start of the evening, or better yet, maybe it was simply their love of their respective professions and industries shining through. You decide!
Among the speakers were the following: Shanti Sosienski, president, SOS Communications; Caralene Robinson, director of marketing, Boost Mobile; Circe Wallace, senior vice president, Wasserman Media Group, LLC; Dyana Kass, senior director of marketing, Interscope Records; Staci Levine, partner, SNL Communications; Amy Stettler, global director of communications, OMD/Apple; Kenna Florie, vice president of marketing, Roxy; Renee Lawter, partner, Eyerus Propaganda Kolektiv; Amy Taylor, vice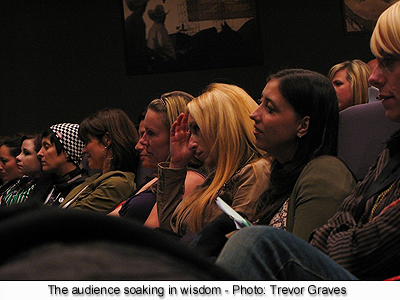 president of marketing, Red Bull North America; and Carolyn Deighan, founder of Tadpole Marketing and commentator for the evening.
The group commented on various aspects of their careers including how to climb the corporate ladder, what not to do, gender-specific challenges, and their journeys that got them to where they are today. The gender-specific commentary was pretty interesting, and the common denominator of each panelist's opinion was gender in the workplace really wasn't an issue and didn't play as big of a role as some may think. The majority concluded that everyone works collectively for the greater good of the company, and that's that. The dialogue from this highly successful panel of women pushed a positive vibe through the audience.
"What a dynamic group of women to be surrounded by...I had not anticipated that I would walk away so inspired!" said panelist Kenna Florie, ROXY's vice president of marketing. "Carolyn and Tadpole put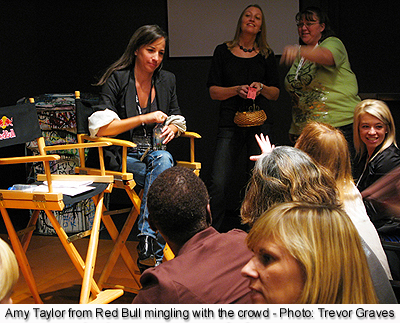 together a really amazing panel of women, and to be sitting with them was a great honor."
Red Bull Vice President of Marketing (North America) Amy Taylor felt the same. "It's rare that there is such authentic dialogue taking place in a gathering of professionals," said Amy. "I learned a great deal from my peers from phenomenal brands, and from brave entrepreneurs that have started innovative small companies." Amy also noted that Tadpole Founder Carolyn Deighan "practices what she preaches," and the size and caliber of crowd is a tribute to her and the credibility of Tadpole in the marketplace.
At the end of the discussion, the witty banter and comments seemed to circle around the "BLOW S#*T UP!" theme. Basically, this principle means don't be afraid to take a stand or have an opinion - a sort of "Get Yours!" if you will. In other words, ruffle some feathers, remind management why you're an asset, don't sit in the dust (go sweep it up), and take any challenge with an ear-to-ear smile.
There's no doubt the audience was absorbed, immersed and in tune with the panel. "As someone early in my professional career in action sports, it is encouraging to see women who are at the top of their game, holding high-up positions and killing it. The event brought together strong, smart and successful women and it was a great forum to hear their stories and advice in regards to taking the next steps in furthering my career," said Lindsay Robinson, account executive at SNL Communications. "And on top of all that, they were all funny!"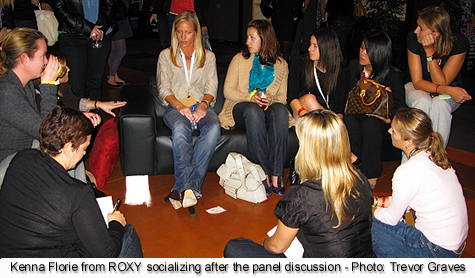 The panel discussion was followed up with break-out sessions where the audience was able to sit down and talk with the speakers on a more personal level – networking at its finest. Circe Wallace, senior vice president at Wasserman Media Group, LLC, summed up the evening stating: "The women at Tadpole put together an amazing group of Women. I laughed a lot and felt inspired by their words."
Trevor Graves, founder of Nemo Design, provides a video of the event:
Women In Marketing Jan 15, 2009
from
Dave Allen
on
Vimeo
.
Tadpole produced a "Not-to-be-Missed" event. To keep informed on the company's next move, be sure to visit its website, http://www.tadpolemarketing.com
---