BACK TO NEWS
Poor Boyz' Reasons and Sage Cattabriga-Alosa Take Home Biggest Awards at 9th Annual Powder
Poor Boyz' Reasons and Sage Cattabriga-Alosa Take Home Night's Biggest Awards at Ninth Annual Powder Video Awards and Reader Poll Presented by We Ski & Snowboard™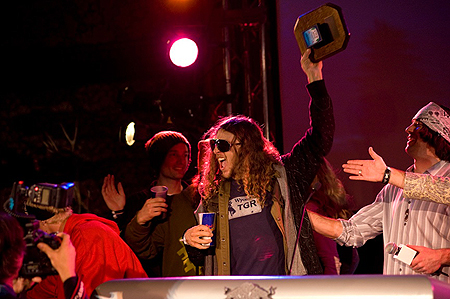 An overflowing crowd at Aspen's Hotel Jerome saw the greatest night in the ski industry unfold as Poor Boyz Productions' Reasons won "Movie of the Year" and Sage Cattabriga-Alosa won three awards—most notably, "Best Male Performance", "Best Point of View", and "Best Line".

"Tonight is the best POWDER Awards ever," said seminal POWDER Photo Editor David Reddick, who has been present at all nine POWDER Video Awards and Reader Polls.

The night kicked off with a heart-warming reminder of cinematographer Riley Poor, who suffered a spinal chord injury on January 10th, as the palpable emotion and communal energy of the ski industry overwhelmed every attendee. As is customary for the POWDER Awards, every integral member of the ski industry, from athletes to filmmakers to photographers to company representatives, was present under one cozy roof.

Aside from nearly everyone sending love and support to Riley Poor, ultimately, the night belonged to the most humble skier in the industry—Sage Cattabriga-Alosa. The Alta, Utah, dishwasher turned overnight ski celebrity won his second "Best Male Performance" award (2004) for his stunning segments in Teton Gravity Research's Under The Influence. From uber-steep Alaskan spine lines, to massive pillow skiing in Washington, to deep pow, to lofty airs and spins, Cattabriga-Alosa dominated. Additionally, Sage took home "Best Point of View" for his helmet cam footage of a dream line in Haines, Alaska, "Best Line" for his gnarly descent of "Hotel Room," a 55-degree line in Haines. He also finished third in the Reader Poll and was the skier in photographer Adam Clark's "Photo of the Year".

"I don't even know what to say right now, man," said Sage while holding all five of his awards. "I'm so happy and feel so honored."

As friends and fellow powder slayers Tanner Hall, Eric Hjorleifson, and Ian McIntosh guided an elated Sage off stage, the biggest award of the night was next—"Movie of the Year". Despite not winning a single individual category, Poor Boyz Productions won "Movie of the Year" for their documentary-style film Reasons. A shocked Johnny Decesare, the PBP founder, shook his head in disbelief along with co-director Tyler Hamlet and PBP's Cody Carter.


"I was so nervous, man," said Decesare. "Since we didn't win any other awards up to that point, I just didn't think we would win. But I'm so grateful for how it all came together." A week earlier, Reasons won "Best Core Film" at X-Dance.

By the end of the night as people shuffled out of the Jerome, friends and family were drunk with sincere happiness and united in love and appreciation for powder skiing.
Complete results are available at www.powdermag.com/features/news/2009-powder-video-awards-results/index.html.
---