BACK TO NEWS
Jetpilot with VP of Marketing & Sales Brian Jellig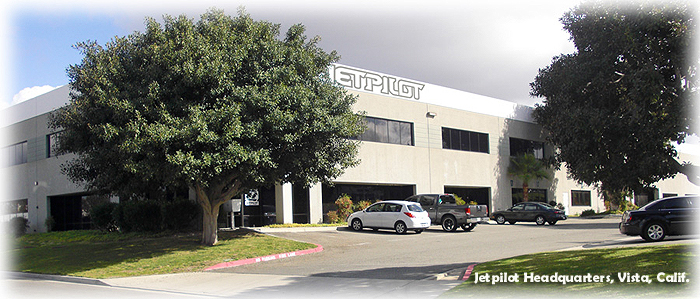 Jetpilot with VP of Marketing & Sales Brian Jellig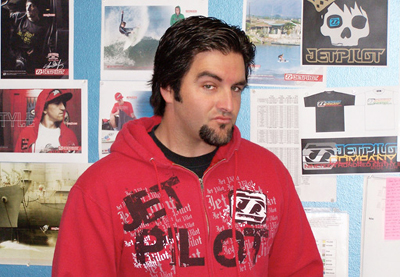 In 1986 Jetpilot started out in the industry as a company providing wetsuits and vests for the watercraft racing market. Today, Jetpilot has evolved its product line across the board providing the surf, wake, FMX and BMX markets with unique and diverse products; however, by no means did this happen overnight.
Brian Jellig, Vice President of Marketing & Sales, provides an in-depth overview of the roots of Jetpilot, its natural progression into different markets, the rationale behind providing such a wide range of products, some problems they faced along the way and how they were overcome. Without further a due, here's Brian to get you up to speed.

How did Jetpilot get started, and what factors built the momentum in the early stages of the company?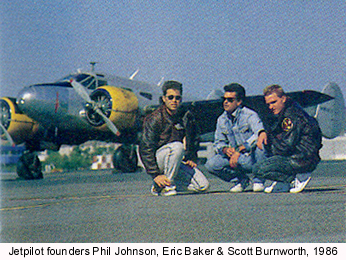 Basically, Jetpilot started in 1986 because the founders at the time wanted to create something unique and different. These original founders, Phil Johnson, Scott Burnworth and Eric Baker were all young SoCal natives and came from all areas of action sports surfing and watercraft, to professional MX racing. They chose to start by creating totally unique wetsuits and vests for the watercraft racing markets of the day, which had never been done before.
Success came early and fast, and as sales grew the teams of athletes grew as well. This led to the expansion of more products, soft goods and the eventual addition of new market segments like wake, surf, FMX and BMX. Our brand is much broader now than back in the early watercraft racing days, but the principles are still the same. We were founded on creating unique and different products back in 1986, and we still create unique and different products today; we're just doing more of it!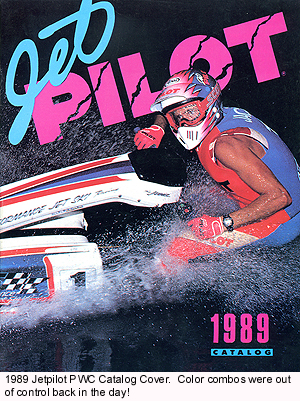 What's the story behind the name, and how does it show through the brand?
The name Jetpilot originated from our Watercraft roots. "Pilote" means "Rider" in French. Then, with Jet Skiing, it became "Jet Pilot." As we expanded into new markets, we easily could have changed the name, but we chose not to do that. In reality, the concept behind the name actually works across the board. Jetpilot is an action sports brand that is defined by being in charge of your own destiny, taking control of yourself and your own interests, and living the way you want to live. We believe the name has been able to remain fresh for so long because we are always offering new innovative product ideas and concepts. So in today's reality, the products as well as our stable of unique athletes define our brand, and the story of Jetpilot shows through those mediums by conveying a consistent message.
At what point did success really begin to show itself?
Success came really early for the company, about 1988. Then it slowed through the recessionary years of the early '90s when the market went literally black on wetsuits and "Grunge" on clothing and fashion. Jetpilot survived those years and came out with a broader brand base with the start of the wakeboarding market, as well as new distribution internationally - namely Australia, Europe and Japan.
Today, Jetpilot is doing very well! We have experienced exponential growth in the last five years here in the USA, as well as on the international stage. We attribute our recent success to being unique, innovative and diverse in a few key categories including: boardshorts, tops (tees & fleece) and vests (wake, PWC & Tow-In).
Jetpilot is currently based in Vista, Calif. How has Jetpilot maintained such a strong presence in wakeboarding while the majority of the sport gravitates around Washington, Florida, Texas, Northern California, et cetera?
Oh, it's been so simple and easy – yeah right! Good question. For wakeboarding, the brand chose to get involved in 1995. That sport had barely even started but we saw massive potential. So, we literally set out to first develop relevant, unique products for the sport, then build relationships within that market, as well as build a team of athletes there that can represent Jetpilot and its brand story to the wake market. Through all of that work, we were able to connect with great reps, great dealers and amazing athletes.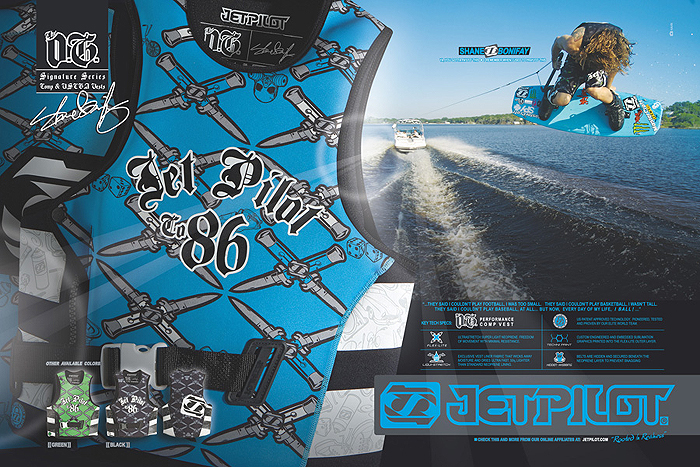 Our infrastructure there is built-out quite well now, and we really enjoy working within that market; the people are all so cool, so it's fun. The fact that we are based in San Diego, Calif., is actually a huge advantage. SoCal is where it all happens when it comes to action sports; we are ambassadors for wake in that sense. We bring a lot of new fresh cutting-edge concepts and style to that market due to our daily influences.
The staff here is into surf, skate and snow, as well as wake, but that influence is much harder to get for a wake company based way out in SoCal area. Fact is, we're on the pulse here from the inside out. We wouldn't want it any other way. Jetpilot has been in wake since day one and we'll never leave that industry. We're in it for the long haul, the good and the bad times. We have a lot more going on than just wake nowadays, but we're backing wake all the way for sure.
Product wise, what was the initial focus for Jetpilot?
Initially, it was wetsuits and vests, along with a few boardshorts and tees. From the start, the product tended to be really technical because the founders were influenced by the pro MX-race scene and surfing. The product looked like moto gear on the water. There obviously was a demand for it at the time because it just blew up out of the gates.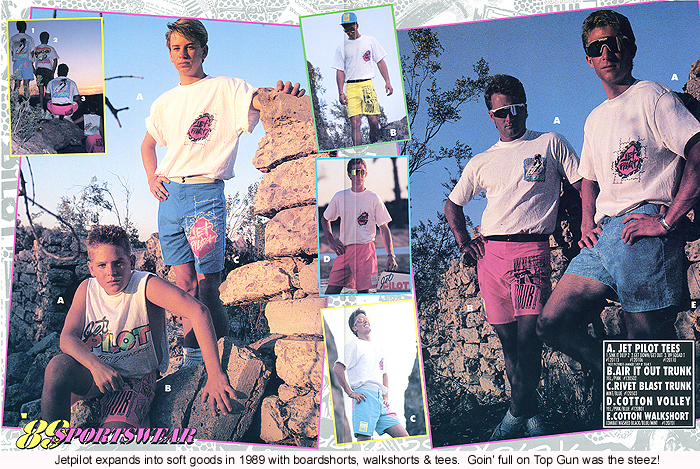 Jetpilot now caters to the surf, wake, PWC (personal water craft), moto and BMX sectors of the action sports industry. Give a brief rundown and timeline of Jetpilot's progression into these different markets.
The brand is broader today than when it started in 1986. Internally though, Jetpilot is separated by two main divisions. The first being wetsuits and vests for watersports (surf, wake, PWC). The other being lifestyle apparel inspired by surf, wake, BMX and FMX).

OK, the timeline would be like this: In 1986 Jetpilot started in PWC. By 1995 Jetpilot was also fully into wake with apparel, wetsuits and vests. By 1999 Jetpilot added tow-in surfing with technical big-wave vests. By 2001 we added the dimension of surf for wetsuits, technical boardshorts and lifestyle apparel. By 2003 we added FMX for lifestyle apparel, and in 2007 we added BMX for lifestyle apparel.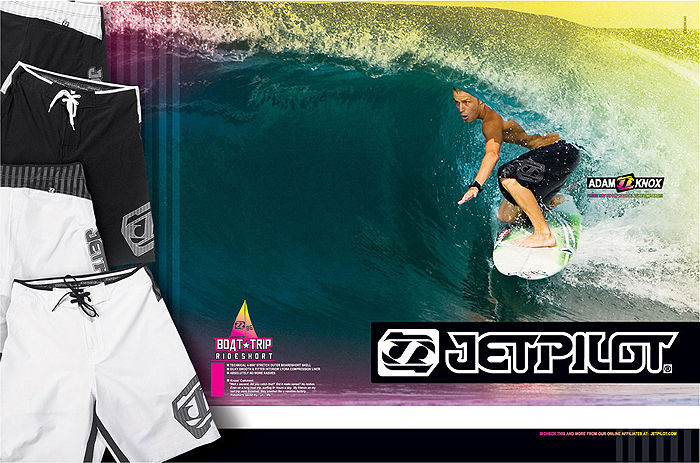 What problems, if any, were encountered while diving into these markets, and how did Jetpilot overcome them?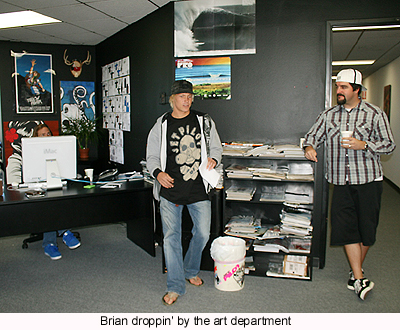 Well for us, the actual definition of being in business is "The process of solving problems." Seriously! If we didn't have problems that we were trying to solve, then we may as well not be in business because everything is just fine as is! When we dive into each market, we do so with great caution and analysis. It has to fit with our brand DNA and what we are trying to do as a company. We also like to ease our way in and be humble and respectful. We for sure don't blast onto the scene and try to bully our way around. It's interesting too because some markets have a much lower cost of entry than others. Other markets are huge on cost of entry, but not really that big on distribution.
Our overall big picture and goal is to not be stuck or defined into one sport. We are focused on being a new breed, where crossover influence rules. With that crossover influence, staying unique and different no matter what is a priority. Holding true to that is both a problem and an advantage. It's a problem when dealers or buyers see your unique position and get scared because they may see Jetpilot as a departure from their normal history of doing business. That's fine, but it's also a huge advantage though. We connect with accounts that embrace Jetpilot's unique position because we can then prove that the product sells fast. Once that happens, the rest is history.
We've seen a lot more dealers willing to give Jetpilot a chance in recent months to be quite honest. There's definitely a paradigm shift going on with brands in action sports right now. The specialty network is starting to shake things up again; we're stoked. Jetpilot is not at the mall and we for sure don't have our own brand stores and stuff like that. We strive to help keep specialty dealers looking special - get it. That was dumb, sorry, next question!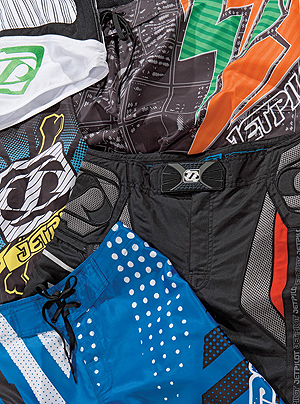 Jetpilot has a huge following with products in various sectors of the ASI. What are the best ways of consistently reaching such a wide audience, and how do you balance advertising?
We have a rule at the office: DO NOT follow any other brand in the industry for direction or influence! It's not easy for all employees to do that all the time, but the result is brand originality and truth. It definitely shows in our products and marketing story. We focus first on reaching the "active participants" that relate to our brand. We speak to them through endemic print media (ads) as well as online through integrated advertising and our own brand web-site www.jetpilot.com.
We also do a lot with our own fan database that we have collected over the years; it's huge for communicating with our audience. Another key to keeping the active participant involved with our brand is by being truly authentic, from the roots up. So, we work with a diverse and colorful roster of athletes which then helps create our product lines that we sell, not to mention the added demand of having our athletes wearing and using the product. The active participants who live these action sports know if you're true or not. When you are for real, you will succeed. Outside the active participant, everything else is overflow influence. We don't go out of our way to get mainstream media involved with our brand, it's just not a priority or what we're trying to do.
If Jetpilot jumps into the skate and snow worlds it'll soon be on its way to complete ASI domination – products in every category! Does Jetpilot plan on venturing into these markets? Why or why not?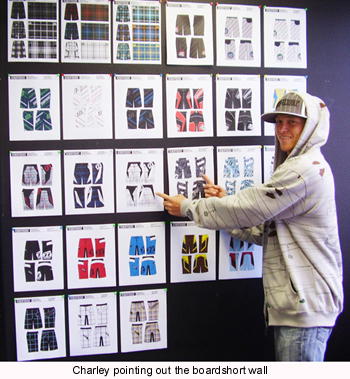 Currently, we have no plans to enter into snow or skate. We respect both these sports though. I personally grew up snowboarding and skateboarding and most the employees here are the same way. The Jetpilot brand is not looking to be the next "Surf, Skate, Snow" company. We currently have enough on our plate with all the other sports, and honestly, we love how these different sports are influencing our products and our brand position.
We're not aware of another brand out there that mirrors our footprint or competes with us directly in every category and sport we're in! We do it all under one roof as well. There are no categories licensed out and we're really stoked on that. It's the principle of being unique and different. We personally love and respect snow and skate, but have no plans to integrate them into the Jetpilot brand story.
Looking beyond: Seeing that Jetpilot offers various safety equipment for wake and other water sports, has the thought of creating technical, protective wetsuits for big-wave surfing ever come to mind (i.e. light protective padding, slightly buoyant materials, depth-activated buoyancy, heated wetsuits (Rip Curl), etc)?
Yes! Feedback from big wave, tow-in riders like Alfy Cater, Richie Vaculik, Laird and Dorian in the past has prompted us to consider wetsuits with integrated padding and floatation. We have proto-types at the office here. Our issue on the business side is how this would work at the retail level. There is really no retail market for tow-in, big-wave surfing, even though that edge of the surfing market is huge for us when it comes to marketing and product testing.
On further note, your average 14 to 19-year-old surf kid isn't and shouldn't be walking into a shop to buy a padded float-suit or a tow-in vest for the next 30 plus foot swell coming in. I mean, are you kidding me? What a nightmare that could develop into! So, we keep a lot of product strictly for our team riders as we market the imagery for brand influence and positioning. As for heated wetsuits, we have one right here in our office. We've had prototypes of that for over 6 months. We'll do something in that area, but it's not going to be a $1,000 full suit or anything like that. The $1,000 plus full suits can go to all the business execs with big money jobs. What if you blow the knees out on your $1,000 heated wetsuit! We couldn't do that to our market. We think we've got something though, you'll see.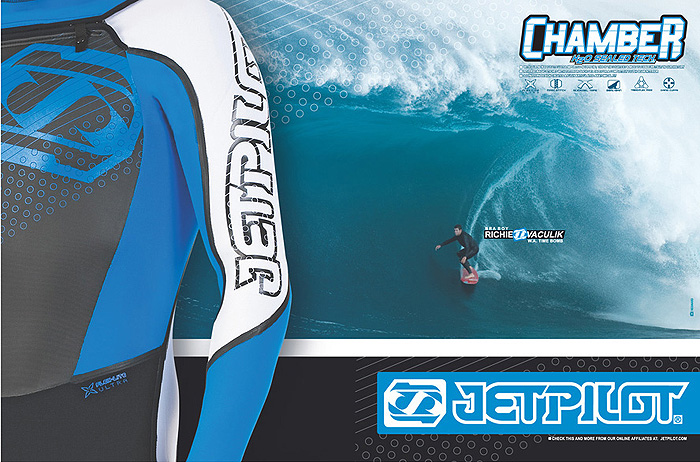 Are there plans of getting into technical racewear and protective gear for moto?
We actually have no plans to do this, even though one of our co-founders Scott Burnworth was a Factory Yamaha & Suzuki MX racer for many years. The technical, protective gear side of moto is a whole different world with different distribution, etc. Today, our inspiration and influence from moto goes directly into our lifestyle products, graphics and technical boardshorts. When you see our products, you see the MX influence for sure.
Will wake shoes ever get popular among surfers? Flip tricks are hot these days!
No way! Gosh, I hope not. I've surfed since the age of 10, and many here, including myself, pray every night for this NOT to happen - ha!
What should people look out for in the near future!
Wow, what an opportunity to answer with a bunch of marketing rhetoric jargon, stoked! Nah, the Jetpilot brand is honestly coming into its own as of late. We have a solid crew here passionately working on new products. We're fortunate to have great relationships with all our athletes in all our sports, as well as a solid network of great retailers.
Overall, focusing on holding true to our game plan is the key, and always has been. The results are self explanatory really! Take a look at our new boardshorts and rideshorts, they're crazy!
When looking to hire on new people, what type of person is Jetpilot material?
The perfect fit is someone who is preferably into action sports and very open minded by nature. We're not a one category "Surf Company" or a vertical "Wake Brand" that makes boards and bindings or something like that. When we hire, we look for open-minded, passionate people that are as diverse as the brand. The Jetpilot office is a really fun place to be. We work hard every day but we love to have a good time as well!
---