Back to News
Michele Kimbrough – Athlete Relations at the Wasserman Media Group
February 1, 2009
Michele Kimbrough – Athlete Relations at the Wasserman Media Group
Sometimes following your dreams means packing up your bags and headin' out west, and that's exactly what Michele Kimbrough did. Michele realized her best chance to break into the industry was 3,000 miles away, so she left Atlanta, Georgia, and moved to California in hopes of landing her dream job.
By no means was this a text-book fairy tale come true. Michele was holding down three jobs before she landed her first "industry" job at Sole Tech. Michele's experience at Sole Tech led her to a position at Boost Mobile; her time at Boost allowed her to establish a relationship with the Wasserman Media Group; and the next thing she knew she was working at WMG heading up athlete relations with some of the best riders in the industry. Hard work, dedication and perseverance are key to landing a job in any industry, and Michele's a shining example of the ladder. Here's Michele on her take of the tale.

What sparked your interest in action sports?
There was a kid in my neighborhood that had a ramp in his backyard and the neighborhood kids and I would hang out at his house. I also started hanging out with the skaters that hung out at the mall, so I was introduced into it through those guys. I was dating one of the guys and would hang out with his friends, watch them film and skate, watch videos, et cetera. It was something that was just fun to be around. My interest in skateboarding progressed from there.
When did you realize you wanted to pursue a career in this industry?
When I was a freshman in high school I went to Six Flags over in Georgia with some friends during spring break. There was a demo and they were having the "Dare to Air Stunt Show" with skating, BMX, et cetera, and I ended up hanging around the ramps while my friends went to play. Mike Frazier, Rick Thorne and Pat Parnell were few of the riders at the demo, and after talking to them it dawned on me that people can make a living working around skateboarding while having an awesome time; there was something else besides hanging out with the skate crew at the mall.
When I started driving, I helped with events at a small skatepark when Dave Mirra's Slim Jim Tour came through. I was talking to someone on the tour and they suggested moving to Southern California if I wanted to pursue a career in action sports, and that there was a company called The Familie (now WMG) I should look into. From that point my focus was set and I knew I was moving toward my goal. It was a no brainer that this is the industry I was supposed to be in!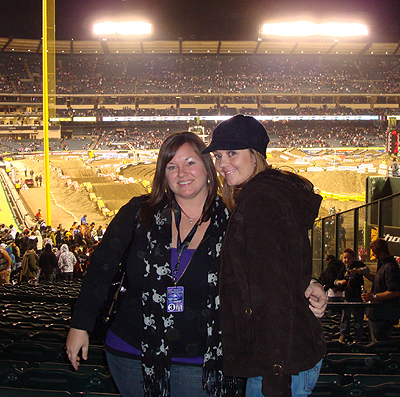 In 2002 you moved to California in hopes of landing a job in the industry. How did you get started, and who helped you out along the way?
There were a few people that have helped me, whether by inspiration of watching them work, listening to them and their advice, or by giving me a chance. I moved to Los Angeles at 23, and Jimmy Pargas gave me my first position at ADD Marketing & Advertising as his Action Sports & Music Marketing Intern working on grassroots marketing projects for new music artists and films. I was working 3 jobs – ADD, KROQ and a restaurant, and I decided I needed to focus on what I moved 3,000 miles for.
I left the restaurant and went to ADD full time and moved into a Jr. Project Manager role, and continued working for KROQ as well. Jimmy has been one of the most amazing and enthusiastic people I've known, and I am honored to have worked for him – he's still a good friend! His enthusiasm for what he does inspires me and reinforces why I chose the career path I did.
Beau Brown knew me through working at ADD and hired me at Etnies as the Teams Coordinator after I bothered him for almost a year asking for a chance to prove myself. Finally, the position re-opened and he gave me a shot. Both positions were an amazing start to my career and it has continued to get better and better.
I look up to Shimrit Swartzon at Listen as a woman in a male dominated industry who puts a lot of passion behind what she does. I read her Industrial Profile on Malakye.com and called her for coffee - after never meeting her before - just to pick her brain and talk to her about being a board-company owner, etc. She has become a mentor in many ways for me and we still keep in contact.
I am all about surrounding myself with positive people that share the same passion, as others should as well! Most of all, my mom was the one of the most influential people in my career. She knew early this is the path I wanted, mostly because I never shut up about moving and what I was going to do, and was there to support me when I needed it. She pushed me to keep going when I thought it may not be the right fit for me, and most importantly of all, she taught me work ethic.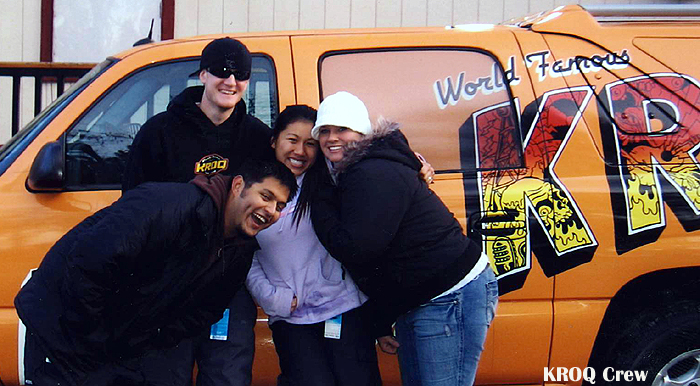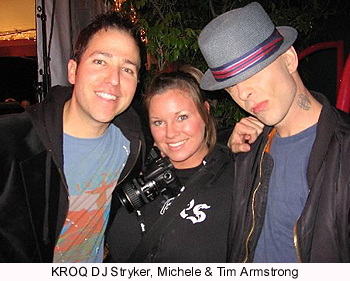 What were you doing at KROQ Radio?
I was working in the promotions department as a promotions assistant. We were the people that drove around the logo-wrapped vehicles and lugged the tents, stereo equipment and tables through the sand to set up at beach events. We would also work everything from artist signings, to handing out stickers and giveaways at McDonald's parking lots. When we did our three annual shows it was a lot of fun because we were able to work concert production roles with the on air broadcast, will call, backstage, etc. So we actually learned a lot as far as the behind the scenes running of shows and events goes. The best event I ever worked was a listener-only Jack Johnson performance at Paradise Cove near Malibu with maybe only 100 people there!
You now handle athlete relations for the Wasserman Media Group. What's the general run down of your duties and responsibilities?
In general:
• Athlete Media/PR Requests and Scheduling.
• Public Relations: Updating distribution list, writing and distributing press releases.
• Contract follow up and tracking.
• Assisting Circe and athletes on athlete specific events and projects.
• Assisting with Sk8site.com content and updates (Paul Rodriguez, Jereme Rogers & Terry Kennedy's website).
• Coordinating athlete travel.
• General Account Manager for Hart and Huntington: Ad buys and press releases for Hart Racing and H&H Clothing.
Is the job what you expected it to be?
I love it! Everyday is different and offers some sort of challenge. Working under Circe Wallace has been an amazing experience. The allows me to work for someone I completely respect and admire, while also working with some of the best action sports athletes in the world. There's always something that presents itself that I can learn from, and that's what keeps things exciting for me.
Are you strictly the liaison between the athletes and media, or do get to travel to the events and have a more personal relationship with them?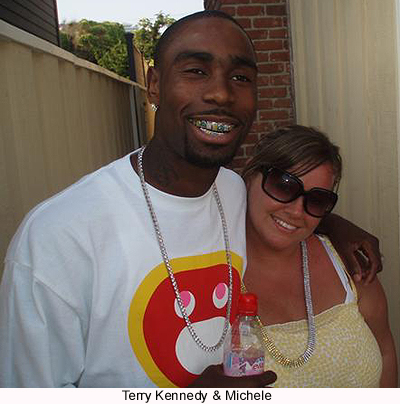 I do a bit of everything. Living in Southern California, many of the contests are local with the X-Games, Maloof Money Cup and other smaller events, but I also attend Dew Tour stops over the summer. During contests we are running around making sure our athletes are where they need to be for signings, meet-and-greets, sponsor commitments, have stickers, etc., so I am working when I am at an event.
Relationship building is important to me with everyone I work with. I am fortunate to have worked closely with Terry Kennedy, Paul Rodriguez and previously with Jereme Rogers while working for Boost Mobile, and Jamie Bestwick while at Boost and Etnies which helps with my working relationship with them now at WMG.
I have become close friends with a couple athletes which came from working together over time, so we can separate business and friendship. One of the guys I work with invited me to Christmas dinner because I wasn't going to be with my family, which formed a friendship with his family. It's nice working with people you have a close friendship with because it makes my job that much more special to me.
What riders do you work with?
I work with Circe who has a strong client roster; I assist with her all of her clients. I mainly work with Paul Rodriguez, Terry Kennedy, Jereme Rogers and Chaz Ortiz. I also work with Hana Beaman, Travis Rice and Jamie Bestwick. There are two of us with "Athlete Relations" positions and roughly 75 athletes, so we tend to jump in wherever we're needed and support each other.
Have any of the riders you've worked with had any outrageous requests?
I've never really had an "outrageous request." There are always last minutes requests and changes that come through – mainly with travel and making sure athletes get to where they need to be. I have had interesting excuses for needing something. The best excuse was when I was working for Boost and a rider needed a new phone 'cause "well, I won't lie Michele, I dropped it in beer," they said. I don't think I'd know an "outrageous request" if I came across one!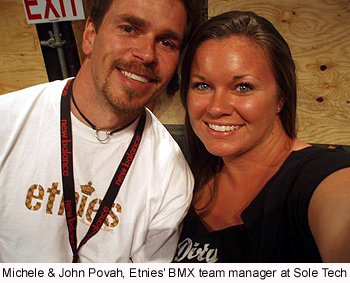 When it comes to working with the media, is any publicity good publicity, or do you sometimes have to act as the gatekeeper when it comes to media exposure?
We definitely act as a gatekeeper to a certain level. There is a level of privacy that our clients deserve and need as people, so certain types of questions that we feel are too personal, let's say about injuries, we advise them not to answer.
In general, what's your busiest time of year at Wasserman, seeing that action sports is pretty much a year-round gig?
The summer competition season is definitely our busiest time; it's non-stop between May to early October with skate, BMX and Motorsports all having competitions. Dew Tour, X-Games, and Maloof Money Cup are all in this timeframe, and then we have sponsor related trips or tours between competitions, so scheduling becomes very important for all of the athletes. With each competition there are a lot of media and sponsor requests for the athletes, so it's pretty hectic and non-stop during the summer.
I started WMG in May, the beginning of the contest season, and then it was October before I knew it. It seems like our team and the athletes are almost on auto-pilot mode!
Describe a typical day on the job.
No two days are alike. There is always something new to be done, a possible crisis to dissolve, media requests coming in, and contracts to be filed or sent out. My day has ranged anywhere from taking a last-minute flight to San Francisco, visiting the Russian Consulate to get four Russian Tourist Visas for a trip leaving in 2 days, to confirming appearances and fielding media requests.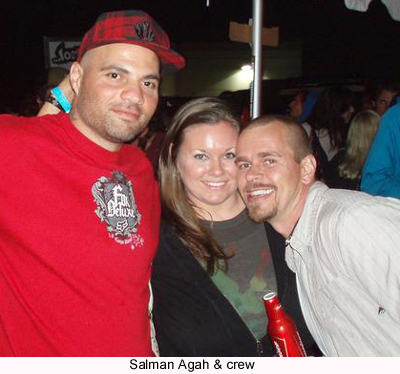 Typical days depend on the time of year since the summer consists of so many events. During events, my day actually starts the day before calling athletes as a reminder for appearances, signings, and media interviews – whatever they have a commitment for. The day of, I do an hour-prior reminder call, then a 15 minute call or text reminder, and so on.
X-Games is spent running around downtown Los Angeles and the Home Depot Center making sure the athletes and their guests have passes, shuffling appearances and media commitments, and making sure everything goes as smoothly as possible on my end with the athletes. Add in running around a venue, throbbing feet, 95 degree heat, and a crowd of people while having my Blackberry locked to my hand and ear, doesn't sound nearly as cool. Then after the event I jump on my laptop and get e-mails done that have come in and go through any changes for the next day.
Non-event days still start with looking for urgent e-mails, but I usually deal more with media requests for athletes, doing confirmations and reminders for commitments if there is something scheduled, then confirming scheduling with the athletes, and helping Circe with whatever she needs done. I work with a lot of travel arrangements with the sponsors and athletes, athlete scheduling, follow up on contracts and sponsor requests for athlete related items.
If people are traveling internationally, there is always the possibility you will get a 4 a.m. call. And, I have received them at 4 a.m. from a Copenhagen Airport while someone was trying to board a flight because of an airline mistake. If there is an early morning 8 a.m. east coast call time for on-air radio or TV, I'm waking up at 4 a.m. my time to do a reminder, another at 4:45 a.m., and then if there are no issues I can go back to bed. After all that, I go into the office and work all day. I also handle the press releases for the office, so I write and distribute them as contest results or special announcements come through.
Through your experience in the ASI, you've worked on various projects in the skate, snow and moto sectors. Which is your personal favorite and why?
I love watching and being around all of the sports, but skateboarding and motocross are my personal favorites. I grew up around guys that skate since I was about 12 years old, and there is something about the flow of it that I love. While working at Boost Mobile, I worked closely with the Boost Mobile Yamaha of Troy motocross team & athletes and was introduced to working my first Supercross season. Now I'm hooked and look forward to January when the season starts back up.
In the past, you've been involved with athlete management for the NFL. What was it like working on that side of the spectrum? How does it compare to the ASI?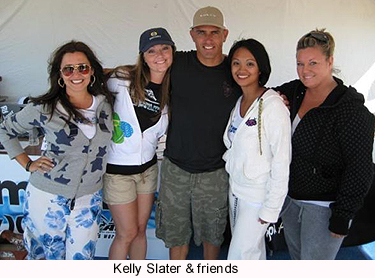 I was an office manager for a father and son NFL management agency in Atlanta and didn't know who any of the athletes were when they would come in. I didn't know anything about football and would spend most of my day searching Malakye looking at what type of action sports jobs were offered in California, and then looking at apartments in Los Angeles to plot my escape between answering phone calls. There was no doubt that I needed to move out there and try working where my real passion was; I made the right move! It was a totally different atmosphere. My bosses and I were dressing up for work - they wore ties - and that wasn't me at all.
What advice can you give people looking to find a career in athlete relations and management?
I think it's important and helpful to have strong knowledge of how the brand side of the industry operates since you work with them so closely with every athlete day in and day out. Athlete management and relations positions are limited to large agencies, so I suggest getting into the sports marketing or teams department of a company that has a sport that interests you first. This way you'll have a well rounded view of the action sports industry and strong background thereof.
It's important to know the position isn't always "the fun job." It can be a 15-17 hour day at its busiest, consisting of running around working an event, making your reminder calls for the next day while in a cab, then going straight to a party when you're exhausted for "just one drink," and reminding your partying athletes of their early morning live on-air commitment.
I think it's important to understand it's a business just like anything else and there are no small mistakes, only big ones once you are on this side of the fence. So if all of the above still sounds like something amazing to you, maybe you would be good in this type of position. There is always a give and take with any position and I wouldn't want to be doing anything else.
With anything, persistence is always the key to getting a position you want. Networking groups, sports marketing seminars and finding a mentor are great ways to continue to network, learn and educate yourself about the industry.
The When Game, Starring You:
You know you've made it when…
you have the career you dreamed of since were 15 years old, at the company you wanted to have it with, and work with some of the best in the industry. And, you know you've made it when you've been asked to do be featured for an Industry Profile on Malakye!
Time to call it a night when…
you're doing double-duty checking your MySpace and Facebook pages while watching a re-run of Sex and the City for the 20th time - just because you're up! That's a definite sign to go to bed. There are other signs, but I am pleading the fifth on that!
A person's ego is larger than their own body when…
their world isn't the same other people live in.
You know you watch too much reality TV when…
You're embarrassed to admit what you watched until someone else mentions they watch the show.
Life is like a hot knife through butter when…
You get past the 2 hour "I missed my flight" time window.
Fave 5: Which would you prefer?
1. Athletes or media?
They go hand in hand. I love working with both; it's one of the reasons I love my job so much.
2. "Traditional athlete" or "action sports athlete"?
No question, definitely action sports! I don't have the attention span for all of the rules that go into traditional sports, and it's fun to watch people do well that you have a professional and personal friendship with.
3. Hard ball or Queen Compromise?
Always best to have a combination of both. Stand strong, but know when to fold.
4. Lil' Wayne or Tyler Perry?
Lil' Wayne because I like trying to figure out what he is saying.
5. Launch Party or Contest?
That's a hard one. Usually at contests I am hot, running around and my feet are killing me, so I'll have to say launch party. An open bar with a cold drink is awesome during a recession.
---