Back to News
Grenade Puts New Tricks Up Its Sleeve for Magic Show
February 12, 2009
Grenade Puts New Tricks Up Its Sleeve for Magic Show
Features Grenade "Street" Collection at Exclusive S.L.A.T.E. Event; Booth Number SL8-20045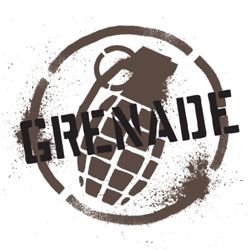 Grenade Gloves, a worldwide leader in action sports, is setting up camp in Sin City once again. The iconic brand will showcase its new line of street apparel and accessories at the Magic Marketplace, February 17 – 19, 2009 at the Las Vegas Convention Center. Grenade will be part of a special event called S.L.A.T.E. (Select Lifestyle Apparel Trends Emergence); a 40,000 square foot juried event featuring established and emerging skate, surf and street lifestyle brands. This is the first year for Grenade at both Magic and S.L.A.T.E., and represents a major step forward for the brand. To be included in S.L.A.T.E, brands must go beyond a trend and become thoroughly immersed in culture on a global level. The Grenade booth number is SL8-20045.
"You have to have a certain level of buzz generating about your product to be part of S.L.A.T.E.," says Joseph Condorelli, Grenade CEO. "This shows how highly-anticipated the Grenade Street collection is already. We can't wait to get the new product out into stores, and neither can our customers."
Grenade's decision to take its explosive style from the slopes to the street was based on customer demand and the natural evolution of the brand. In addition to t-shirts and hats, Grenade has put together a line of clothing and accessories inspired by the lifestyle and spirit of its loyal fans. Hoodies, jeans, belts and a new line of skate and casual shoes round out the Spring '09 catalog. All feature the same cutting-edge design and attitude that has made Grenade a global phenomenon on and off the mountain.
S.L.A.T.E. will also tap into the lifestyle of Grenade and other trend-setting brands with a VIP lounge and bar, curbside barbeques, the hottest DJs, fashion shows, a private concierge and much more. To see the latest Grenade has to offer, stop by booth number SL8-20045 in the S.L.A.T.E. exhibition.
---