Back to News
Cand Leads Charge for Guest Services at Mountain High
March 9, 2009
Cand Leads Charge for Guest Services at Mountain High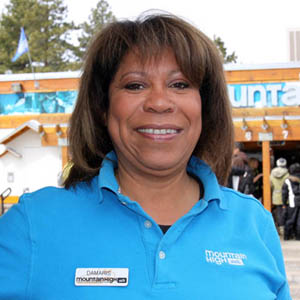 Damaris Cand, newly appointed Guest Services Manager at Mountain High, is the face of customer service at the resort. She is responsible for delivering an exceptional experience to half a million visitors annually.
From the moment one arrives at Mountain High, Cand's influence is evident. Friendly hosts dressed in bright uniforms greet guests as they visit the ticket windows. These hosts service visitors at the rental department, Winter Sports School, and beyond. In addition to the hosts, every front line employee is equipped with knowledge and a helpful attitude thanks to Cand's unique customer service training.
"Our main focus is to help our staff understand the importance of always exceeding our guests' expectations," said Cand. "Our goals include making guests feel important and treating them with respect so that they want to return."
Another of Cand's goals is to train and continually motivate employees by creating a fun atmosphere where they are happy to come to work every day.
"I like working at Mountain High," said 16 year old Nic Johnson, who works in the rental department at Mountain High West. "Compared to other places, everyone likes being here and they all smile and say hi in the mornings."
Mountain High is Southern California's most popular winter resort and attributes part of its success to the unyielding focus on customer service, especially in challenging economic times. Over the past few years the resort has undergone a number of physical changes including a complete base lodge renovation, increased snowmaking, upgraded tubing facilities, and more. But these improvements pall in comparison to Mountain High's commitment to the guest.
"Guests who haven't been here in a few years will see increased attention to detail and a happier atmosphere," explained Cand, who is looking forward to continued customer service and improvement in future seasons.
Photo: Damaris Cand, Guest Services Manager at Mountain High
---