Back to News
New Horizons In Store for Agenda
March 20, 2009
New Horizons In Store for Agenda
The Agenda Trade Show Picks Up and Moves to New Digs With a New Date, Look and Feel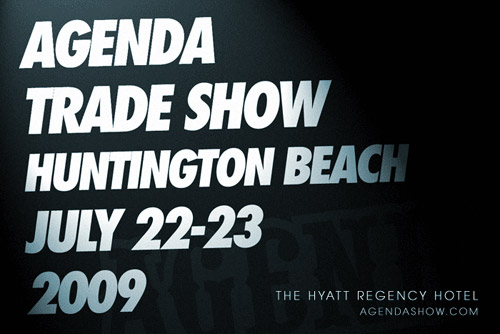 Agenda, the six-year old independent apparel trade show is relocating indefinitely from its long-time home in San Diego to Huntington Beach (California). The show will take place July 22 & 23 at the Hyatt Regency Hotel and will take place in conjunction with the U.S. Open of Surfing ­ the world¹s largest action sports festival.
³We are really excited about the move, and the ability to offer our brands an improved experience,² says Aaron Levant, President of Agenda. ³Agenda is setting the pace for all Action Sports trade events.²
Huntington Beach, the epicenter of the industry, will give Agenda the perfect audience. Agenda will be working closely with IMG Sports and Entertainment, the largest producer of sports and fashion events in the world (who owns and operates the U.S. Open of Surfing). Combining the tradeshow and the consumer event will offer a one of a kind experience that has never been seen before in the industry.
³We¹re pleased to have the Agenda Tradeshow embrace the U.S. Open of Surfing,² said James Leitz, IMG Vice President of Action Sports. ³Agenda¹s innovative blend of music, art, culture and fashion truly captures and complements the U.S. Open of Surfing experience. IMG will work closely with Agenda to maximize this exciting partnership.²
Stay tuned for more details, and keep a look out for additional brands that will be joining the Agenda movement. As with past Agenda shows, the trade show will remain closed to the public. For more information on Agenda, please visit www.agendashow.com.
---