Back to News
Let Transworld Snowboarding Help You Get to New Zealand
March 25, 2009
Let Transworld Snowboarding Help You Get to New Zealand
Great Qantas Deals Available through twsnow.com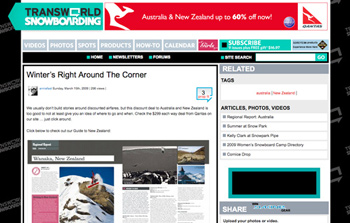 TransWorld SNOWboarding and Qantas Airways have teamed up again to offer a special promo fare for flights to New Zealand between now and October 24, 2009. Flight fares from San Francisco or Los Angeles to Auckland, NZ are as little as $299 each way (based on round trip travel). That's only $598 round trip!
The Qantas "Travel Stimulus" fare is a great way to get itineraries squared away early and save some stash - especially for everyone heading to the Burton New Zealand Open and Stylewars contests during the US summer months.
Check out twsnow.com and click on the red Qantas banner for more info and to book flights. The promo sale in partnership with TW SNOW ends on Friday, April 10th, so don't miss it!
---