Back to News
Grind For Life
April 1, 2009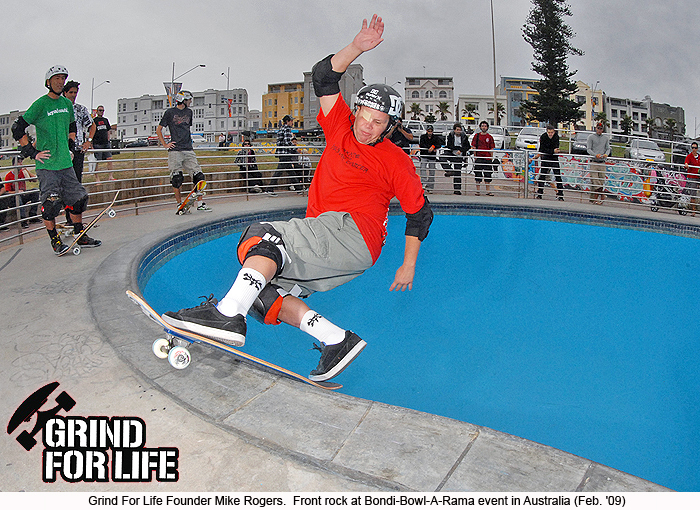 Grind For Life

Grind For Life, a non-profit organization helping people with cancer, was founded in 2003 by Mike Rogers. Mike, a pro skater and cancer survivor, brought the organization to life after experiencing the firsthand frustration and costs of traveling up and down the coast for treatments. That said, this is where GFL comes into play. GFL makes cancer patients' lives easier one step at a time by assisting them with the cost of transportation to and from the hospital, which for a vast amount of people can range from one coast to the other.
It's funny how one person's love in life turns out to be a catalyst to save others. Mike's love for skateboarding and his iron-will gave him a chance to make a difference in the world, and make others lives that much easier across the nation. Read on to learn more about GFL and to get involved in the movement that has helped so many.

What is Grind For Life and how did it get started?
Grind For Life is a 501c3 non-profit organization which helps people with cancer. Founder, Mike Rogers, is a two-time sarcoma cancer survivor and professional skateboarder. Due to his rare cancer, Mike needed treatment in New York City, but lived in Florida. From his experience, he knew people traveling for cancer treatment needed help and that is the reason Grind For Life was formed more than five years ago (2003).

What is the mission of Grind for Life (GFL)?
The mission of the Grind For Life Organization is to provide financial assistance to cancer patients and their families when traveling long distances to the doctors or hospitals. In addition, we educate and inspire people concerning cancer survival and recovery.
What qualifies a cancer patient for assistance from GFL?
For financial assistance, one must be a cancer patient currently receiving treatments far from home. We offer other types of assistance to all cancer patients like sending out GFL skateboards, t-shirts, DVD's, and brochures to cancer patients and their families when they contact us and have an interest in Mike's story of survival and recovery.
What is the ultimate goal of GFL?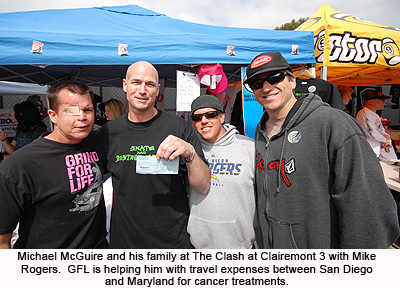 The ultimate goal is to continue our growth via the avenues and resources that have gotten us to this point, growing daily in our goal to help people with cancer through local and National events and other appearances to one day reach our ultimate goal of having a "Grind for Life House" (apartment) near Memorial Sloan-Kettering Hospital in Manhattan.
Why this particular hospital?
Memorial Sloan Kettering Cancer Center is the hospital where Mike Rogers was treated at age 37 when he battled cancer the second time - MSKCC saved his life. The hospital is located in New York City, so imagine being sick with cancer, losing a job, being broke, and then being told to go to this huge city that you have never been to before. Then, you find out how much a hotel costs in the city and cab fare. Now what? Mike was lucky enough to have his girlfriend's cousin let them stay with her and her husband in South Orange, New Jersey, for months while Mike was being treated. He had to travel in and out of the city by train, but at least he was being treated at the best place available to him. If not for their help, Mike could not have afforded New York for a week - forget about a month.
Grind For Life wants to offer these apartments to patients and family members who need a place to stay on the upper east side while being treated at MSKCC.
How close is GFL to realizing this goal?
Although this is a long term scenario, we feel based on our results and growth in the short five years we have been doing this that the goal is attainable. This of course will rely heavily on the continued support of not only the action sports community but other private sectors and donors as well. The more GFL gets its word and goals out to the public, the quicker we can attain this 'Ultimate Goal.' We would like to think a 5-7 year time period of hard work and fundraising it would be attainable.
If GFL succeeds in providing its desired level of assistance for patients at Memorial Sloan-Kettering, will the mission expand to include other areas?
Of course! We are open to helping as many people as we can as the organization grows.
Does GFL work in conjunction with any other non-profits sharing a similar mission to aid cancer patients?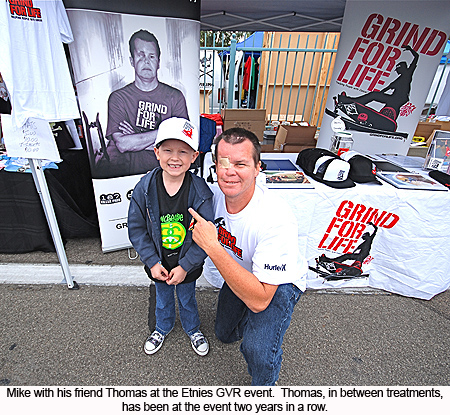 We have worked with other non-profits, not necessarily those sharing our mission. We worked with board members of the Tony Hawk Foundation to help a very special friend and fellow skateboarder, Ray Underhill, while he had to travel from North Carolina to California for cancer treatment. We do the skateboarding side of the Sean Slater invitational Surf Contest, which is a benefit for the World Skin Cancer Foundation. We also work with the Mission Valley, California, YMCA and do the Clash at Clairemont event there to fundraise for GFL and the YMCA.
We mange the skate events the Sean Slater invitational Surf Contest, which is a benefit for the World Skin Cancer Foundation. We work with the Mission Valley YMCA, in California via the Clash at Clairemont which benefits GFL and the YMCA. We have also supported Keepabreast.org and are always open to helping others combat Cancer.

Now in its sixth year, what are some of the key reasons GFL is succeeding?
The main reason is that we never stop. GFL has been in constant motion since the beginning in 2003. We believe through the hard work of our Board of Directors, volunteers and our outstanding relationships with our sponsors and donors that we can attain most goals we strive for. Our philosophy of not only accepting help through sponsors and donors is that we also emphasis our continued support and growth of the very industry that supports GFL. With programs and events such as "The Chill Zone Lounge" at ASR and the generosity of ASR we are able to offer to our supporters an opportunity to grow their business while helping our cause. Other yearly events that have had a profound impact on GFL are the Pacsun Clash at Clairemont event now just completed it 3rd year of success and that too offers companies big and small a opportunity to get in front of a captive audience while helping people with Cancer.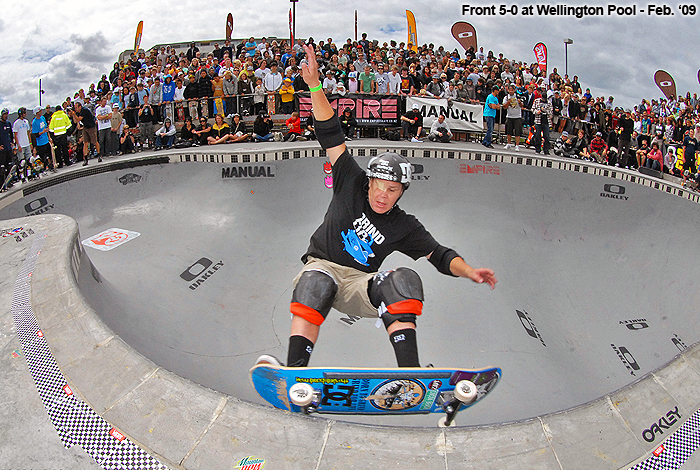 It's important to GFL to give back as much as we receive that's one of the reasons our yearly GFL contest series in Florida is so successful, it's a great platform for grassroots exposure, competition, family fun and industry recognition! We also recently launched the "GFL-Thrift for Life " store in Cocoa Beach Florida and it has been a great success and welcomed by the community. But ultimately one of the most important reasons for our success will always come back to Mike Rogers and his story of defeating cancer twice. Mike is always on the road meeting new people, skateboarding at a competitive level, making appearances at events like the X-Games and Dew Tour, and reaching out worldwide with his story.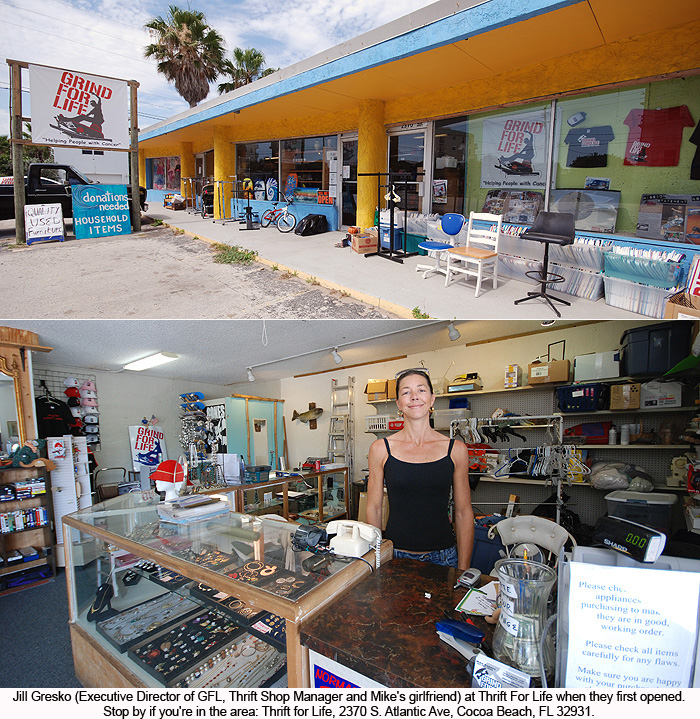 What are the most effective resources to spread the word about GFL?
Word of mouth and chatter are always the best. Grind For Life has been featured in magazines and newspapers, on television and the internet. We have a Facebook page, a YouTube page and a great website. Our ability to reach out through the Action Sports community is paramount. We constantly look for new ways to reach out to the masses... in fact we are doing right here right now!
What was the most successful event to date, and how did it affect the cause?
We consider any and all events a success however we have had great fortune to be aligned with a few key yearly events like the PacSun Clash at Clairemont for 3 years running. The GFL Contest Series and year end event in Florida really started it off all the way back in 2003 and connects with everybody from competitors, vendors, parents and sponsors. ASR and "The Grind for Life Chill Zone Lounge" has been great as it shows are dedication to growing the very community that supports us. Each time we inspire someone or listen to a cancer story, we are a success. Sometimes, people just need to vent or know that people DO live after cancer.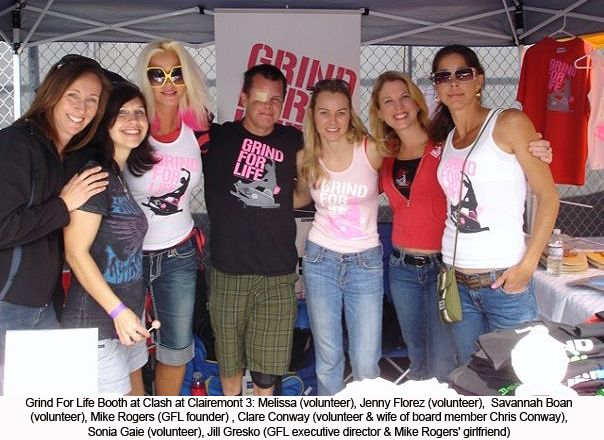 Where is GFL heading in the next six years?
Honestly if GFL can continue along the path we are on the sky is the limit! We want to retain focus on the events and relationships that have carried us this far as well as embrace new and exciting opportunities. Every week something exciting happens. The GFL House would be a dream come true!
Are there any major barriers to contend with along the way?
There are days when we see barriers …then we remind ourselves what we have been through, what Mike Rogers has gone through and realize that knocking down barriers is what we are great at! Like any successful business or charity we face issues head on, but its nothing hard work and dedication can't fix!
Does GFL have a full-time staff?
No. Mike's girlfriend, Jill, and her Mother manage the GFL Thrift shop. Jill is also the Executive Director of Grind For Life, but she does not get paid for her work as Executive Director. We rely heavily on the volunteered hours of our Board of Directors. Each Board Member works hand in hand weekly to attain our goals. These Board members have various responsibilities and are dedicated to make our goals attainable. We also rely heavily on volunteers and are thankful for their support!
How can someone get involved with GFL?
Simple. Reach out via our website at www.grindforlife.org, contact via email at [email protected] or [email protected], or call (561)-252-3839.
---