Back to News
Billabong's Out of the Pond Wake Film Debuts at Newport Beach Film Festival Tuesday, April 28th
April 14, 2009
Billabong's Out of the Pond Wake Film Debuts at Newport Beach Film Festival Tuesday, April 28th
"Out of the Pond," a New Groundbreaking Wake Video Makes Its West Coast Premiere at the Lido During the Prestigious Film Fest With Stars Attending

Billabong debuts their new wakeboard video "Out of the Pond" at the prestigious Newport Beach Film Festival at 6:15 PM Tuesday April 28th at the famed Lido Theater, as part of the Action Sports Film Series. On hand will be the director and several of the wakeboarders who star in the movie, who will sign autographs and interact with the audience in a Question & Answer period directly after the film finishes Tuesday night.
"We are really happy with how the film turned out and getting a chance to premiere it here in the heart of the Boardsports community is a great opportunity," says Chris Heffner, the film's director and head of the Billabong Wake Program.
The Newport Film Fest is one of the largest and most well-attended film festivals on the west coast. The festival is celebrating its 10th Anniversary this year.
"We are excited to have a Wakeboarding film in the program, says Leslie Feibleman Senior Film Programmer / Director of Special Programs & Outreach at the NBFF. "We are also very happy to have Billabong involved with our Action Sports Film Series."

Exploring the contemporary progression of wakeboarding, the film will feature radical action, unique travel locations and many key personalities of the exploding sport.
A core team, which includes some of the best in the world, have been filming for more than a year now, traveling, setting up new situations, and trying to capture the most radical maneuvers many of which have been either invented or elevated by the boarders themselves.
"We're definitely trying to push the envelope and include some things that have never been seen before," says Shawn Watson, who stars in the film. "You know, we're trying to be different – just like everyone else." That, say many who have witnessed the footage, would be an understatement.
There are still tickets available but the premiere is expected to be a sell out. Check out our web page and the Action Sports Films on NBFF Bside website pages – http://newportbeach.bside.com/2009/films/outofthepond_newportbeach2009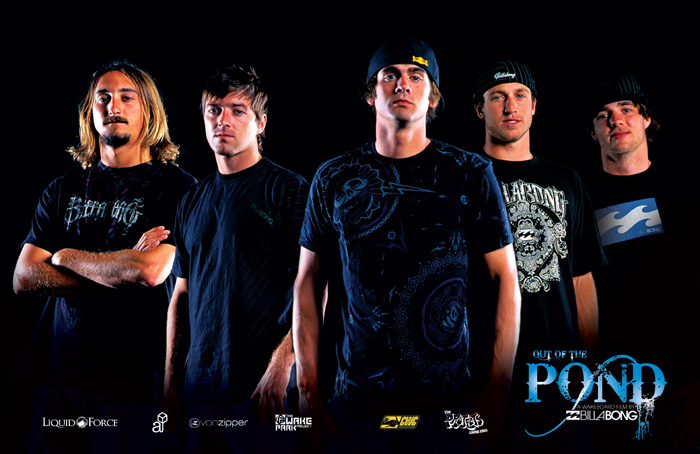 ---