Back to News
Corporate Brand Manager Pushes Life and Brand to Extremes
April 16, 2009
Corporate Brand Manager Pushes Life and Brand to Extremes
Steve Jugan Crowned Executive Level Crossover Athlete 2009 Push Champion
When Steve Jugan Allied Brand manager for Hansen's Beverage Company decided to make Lost Energy the title sponsor for an ultimate actions sports adventure game, he decided to show his true and pure dedication by walking the walk or should we say Board, Ride, Bike, Skate, Wake and Surf. Jugan from Yorba Linda, California joined a group of other action sport junkies to do something that has never been done before and be part of The Push-Lost Energy invitational. The Push is a one day, non-stop "Hexathlon" of action sports designed to literally push an athlete both mentally and physically from one event to another for 15 hours straight across 160 miles of some of Southern California's most beautiful locations.
Jugan, the self-professed action sports enthusiast and native of California, has spent most of his life in the snow, dirt and surf, so when the founder of The Push Bob Krause and partner Marco Thompson approached him he was sold. "I get a ton of pitches from people with a lot of ideas, but I had never heard of an event quite like this one," said Jugan. Convinced that the event catered to hit his target demographics and psychographics, he offered his event prowess to the table and became the title sponsor. "The Push is a wicked combination of six of the most popular action sports - Snowboarding, Motocross, Downhill Mountain Biking, Skateboarding, Wakeboarding and Surfing - all mixed up into a day long adventure," says Krause, the creator of The Push. This concept was devised by him and his 18 year old son Ryan as the ultimate father-son bonding experience in which they completed 23 non stop action sports while traveling over 300 miles across southern California all in one day.
The Push was held on March 28, 2009, participants included Amateur and Pro athletes as well as a mix of sport enthusiasts and business executive types all hoping to be crowned the worlds best crossover athlete. Participants arrived Friday night March 27th at the Lake Arrowhead Resort for an evening of schmoozing, food and some basic training. At 8am the next morning they were on the slopes and ready to roll. From that point on participants drove from location to location showing off their very best to the judges while the event organizers had every type of board and bike waiting for them at each location.
"I can't wipe the smile off my face, 2010 is going to be unreal," says Jugan. "Only in So-Cal can you be on the slopes in the morning, ride the desert in the day and then surf until the sun goes down.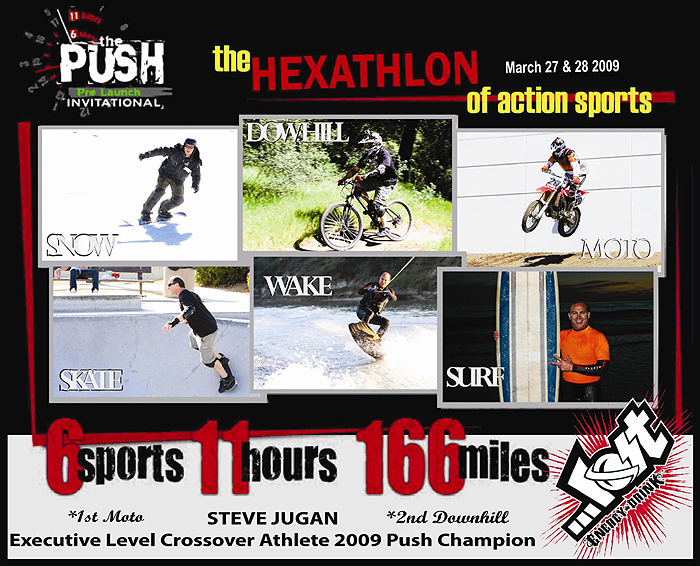 To learn more about the Push, go to www.lostenergydrink.com/news www.thepushgames.com or check out their blog at http://thepush09.wordpress.com
---