Back to News
MIKE'S MASH-UP!!! March Archives
March 31, 2009


Michael Akira West is the Owner and Creative Director of 686 Technical Apparel. The following are some of his experiences inside and out of the industry across the globe.

FWY LOV'N
March 30, 2009

It's crazy that I live in LA, all my homies are in LA, I hang in all parts LA-BUT, the office is in OC, only 100 miles away roundtrip, spending 2 hrs each day in the car. If you do the math, that's about 10hrs a week, 40hrs a month, 480hrs a year, etc. Can someone please knock me upside the head…
I remember reading somewhere that the 405/10 and 110/10 fwy intersections are the most busiest in the world. It only took be 1-1/2 hours to drive 20 miles to LA-I think I must have misread it-I was fly'n!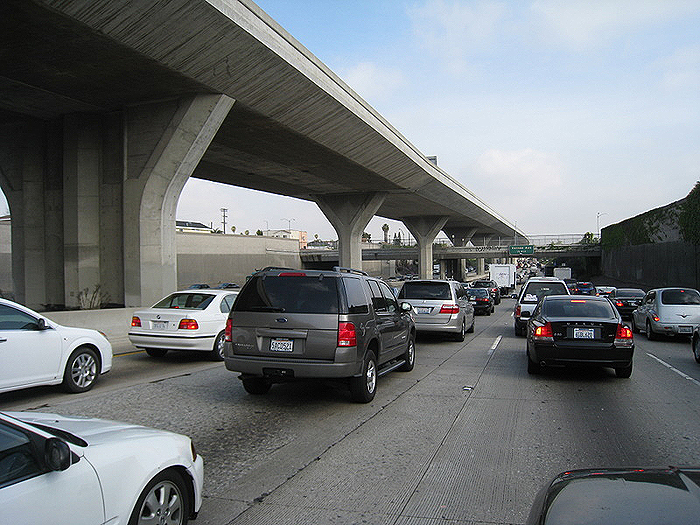 Rolled by a my boyz place in Hollywood to say whats up. Dalton runs LAX. I went to High School with D and ever since, he's been in the restaurant/bar/club biz. Besides running a few other places like Islands and Swingers, he opened LAX many years ago. LAX was one of the premier club establishments in Hollywood, before it became too commercialized. Its mellowed out a bit, but still throws some decent weekly events like DJ AM and Steve Aoki's Banana Split Sundaes.


Stocked and ready to go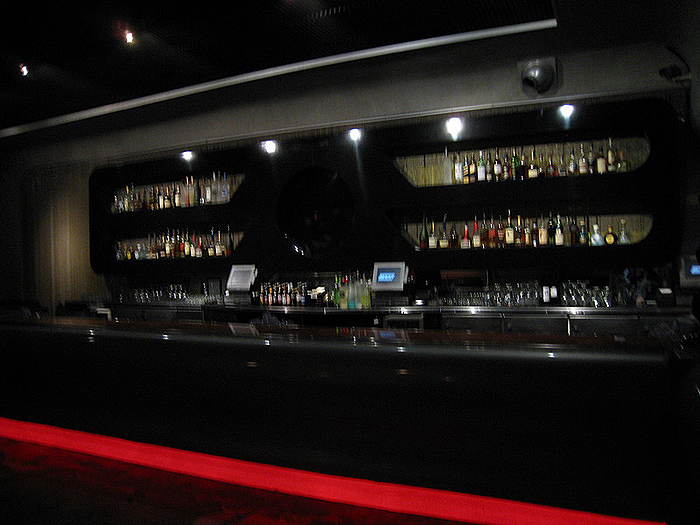 How the hell did that get there…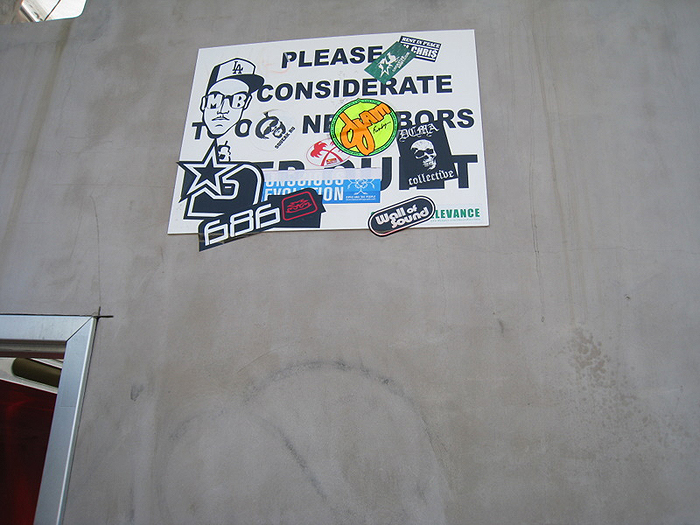 Down the way, stopped by to see Aaron from Agenda. Check out Revok repping Joel/Benji/Tals DCMA Collective.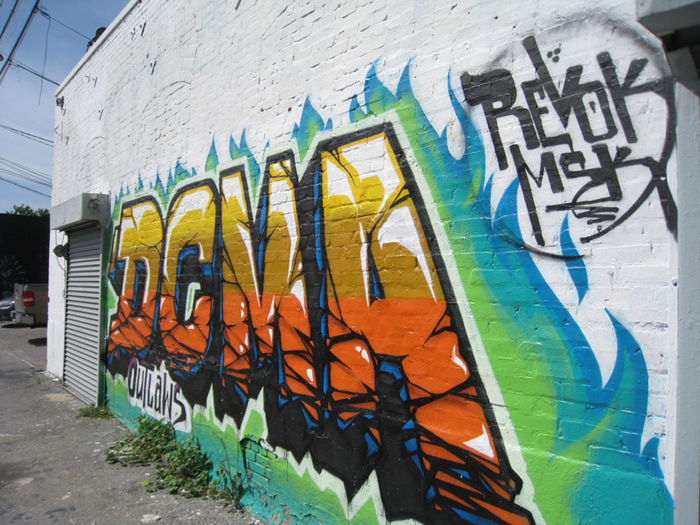 On the corner of Martel and Melrose-check the line.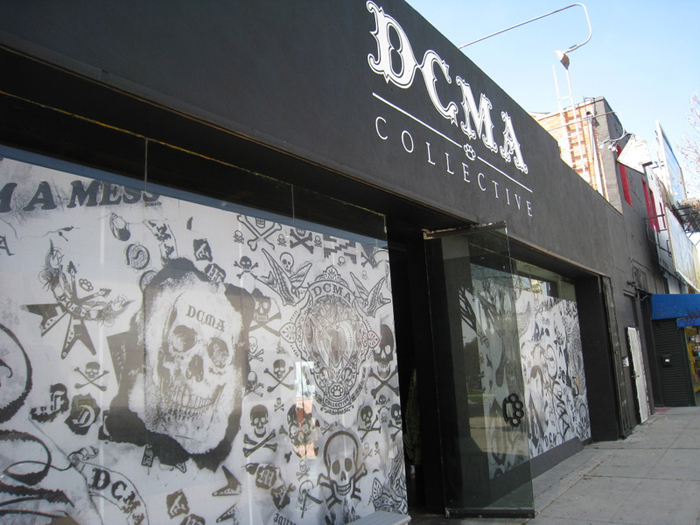 Aaron was telling me about the new changes at Agenda this year. If y'all don't know, Aaron started Agenda tradeshow years ago as an alternative to the stale format "the other shows" offered. Starting in July, he's moving the scene to Huntington Beach to do his own thing. So far, the leaders in the industry have committed-the Nike group, Crooks & Castles, the Hundreds, KR3W, Supra, 10 deep, New Balance, to name a few (you just might see 686 as well) Please support the independents that are doing it for the right reasons.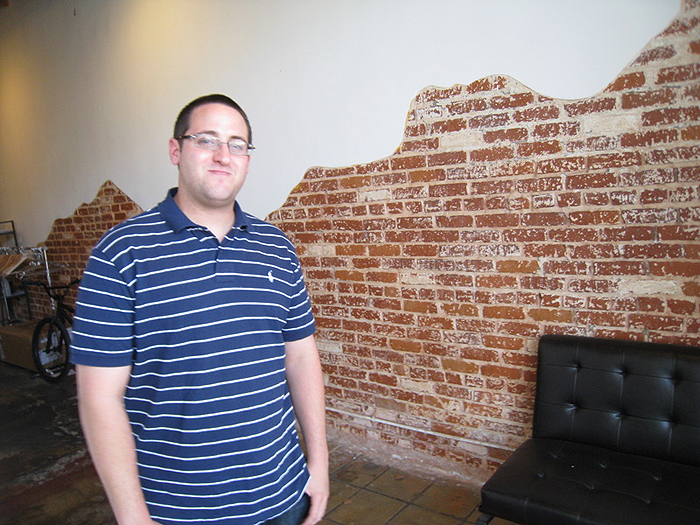 Season Ender
March 28, 2009
It's sad to say that the 0809 winter season is probably the least amount of days I've shredded on the hill. I don't know if its cuz it was a late season or I was busy doing whatever. Regardless it's a sorry-ass excuse and I need to change it up next season.
It was so sorry, that I couldn't make it up to Mammoth this past weekend to check out the Roxy Chicken Jam. Blue bird, great conditions, Santogold and Cold War Kids playing, a bunch of homies that were representing, and I was stuck in LA picking my nose. Oh well, check out the picts to see what I missed.


Party in the back during the Cold War Kids gig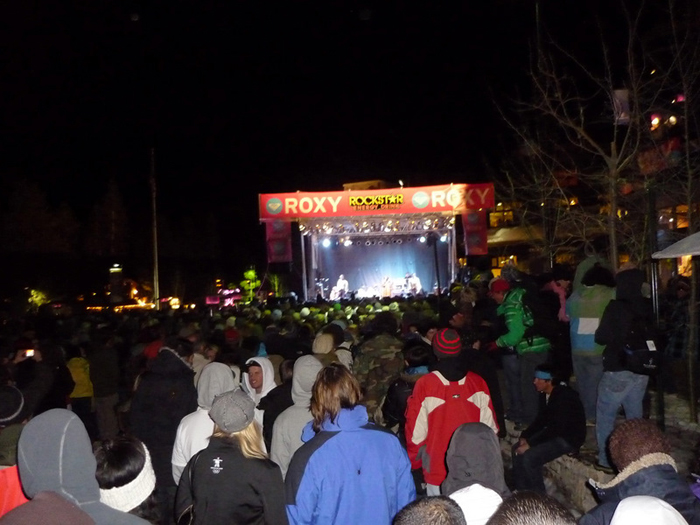 Santogold doin what she does


This is Louie Vito. If you don't know him, you suck. He not only rips and is on the 686 global team, he can get down and party like no one else's biz. He just claimed the Overall Grand Prix Title for the second season in a row and hopefully on his way to the Olympics in Vancouver. If he's not killing it on the hill, running with Lil Jon's BME click or Danny and the Grenerds, you'll catch him slapping high fives to just about everyone else, as he's one cool dude. Cheers Vito!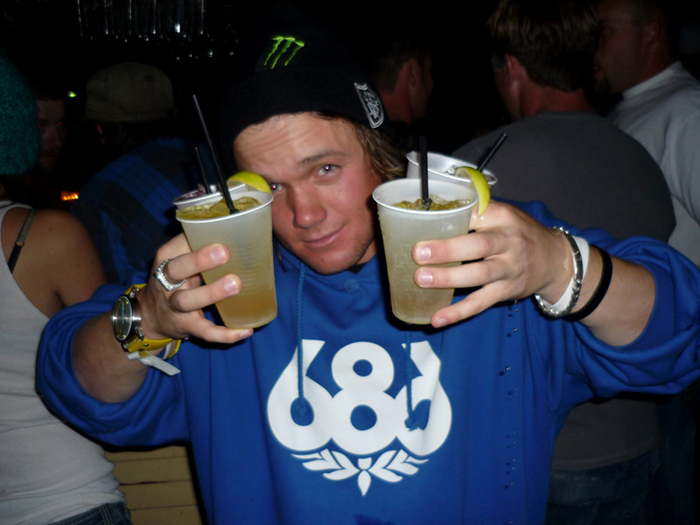 Here's Connie Bleicher. She represents 686 on the Women's front in Germany. She wasn't planning on coming to the event, let alone enter the contest, but she placed 6th in pipe-and she doesn't even ride halfpipe?! Oh well, congrats!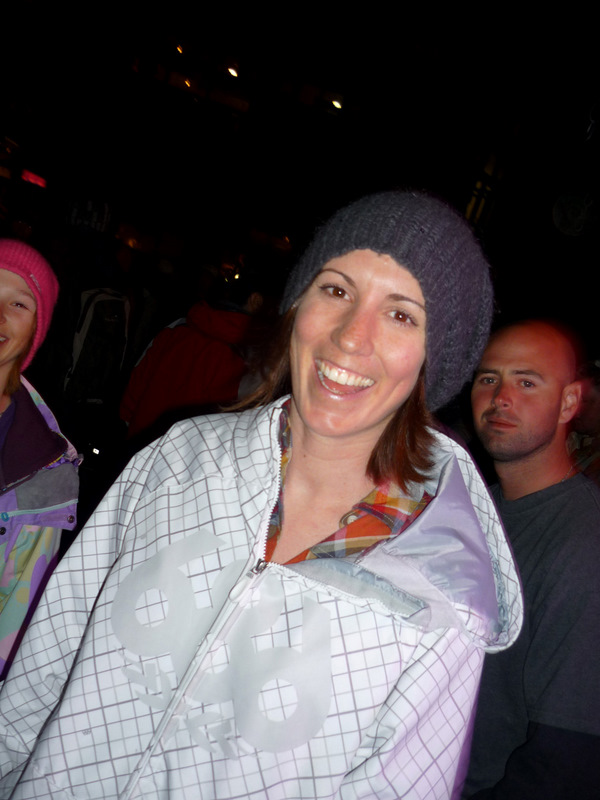 Alma No Matter What
March 26, 2009
Hot damn-I'm on a roll. 2 days in a row people actually want to hear the things I do? When I think about it, I don't get it as everyone has something interesting going on; good or bad, big or small. Many years ago, I went to this little school in South Central LA, called USC, you may have heard of it? Unfortunately, 'm a poor example of an Alum, as I've been back to school about two times since I graduated.
Hey, check me out- I'm that guy with the dark hair.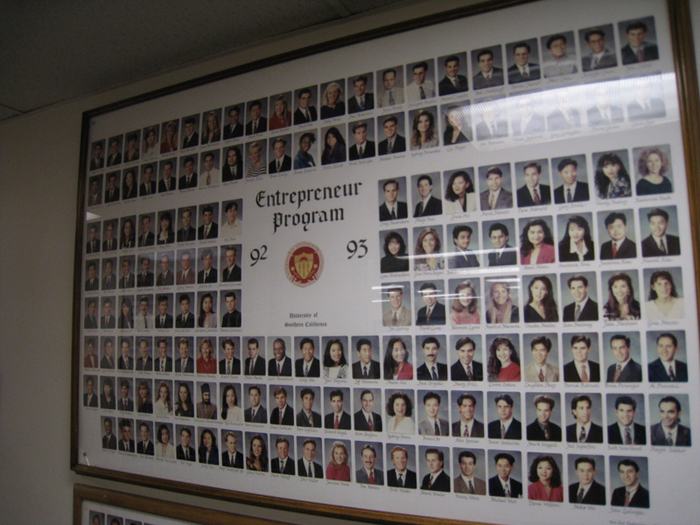 When I graduated, it was a different time in LA. The riots had just happened, the football team was in the gutter and internet wasn't even available. But I took this biz course run by one rad professor named Mac Davis. Mac was a no BS type of guy, he told you straight up what was up, or "DO THE SHIT THAT MAKES YOU HAPPY." Besides all the crazy things that happen at college, snowboarding and good design made me happy. So I listened to Mac and the rest was history.
Crazy enough, one of the speakers during my class was a guy named Tom Knapp. Tom is a very passionate dude that was the closest person I met in school that was doing the things I wanted to do. He was running one of the top Volleyball Apparel companies at that time, Club Sportswear, around the same time Mossimo was doing his thing. Tom also started and sold a few other companies like Honolulu Surf Company and Initium Eyewear. Today, Tom is teaching a class at SC and invited me to come back and speak.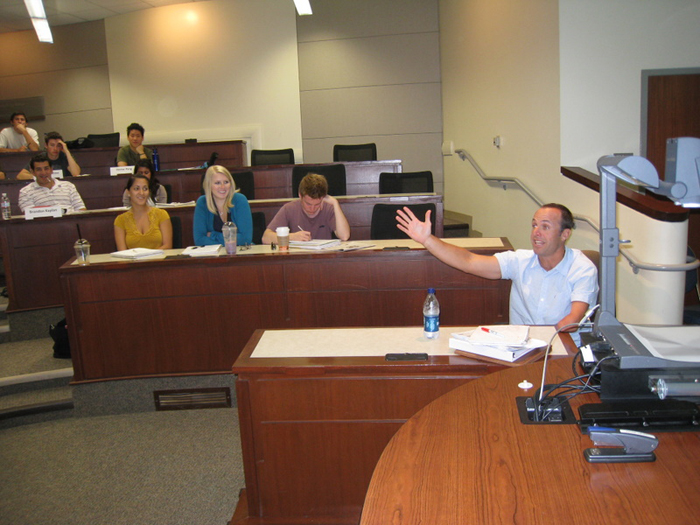 Time flies faaaaast. Just a few years ago, I was that kid at the back row, not knowing what the hell was going on.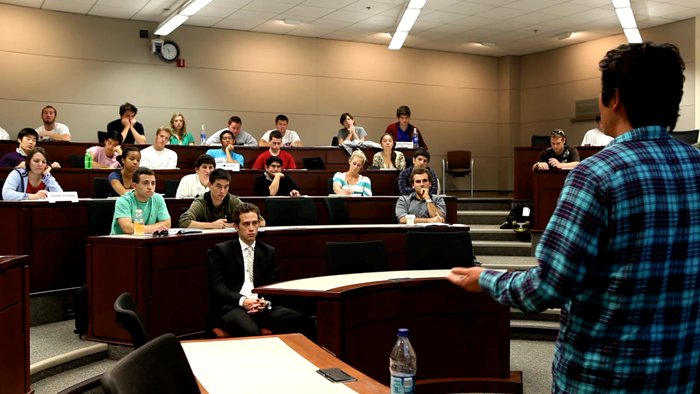 One thing was for sure, the quality of students was absolutely incredible. The questions, the attentiveness, the drive; all were A-level. I was blown away by how smart they were.


South Central's next Top Model, come on down!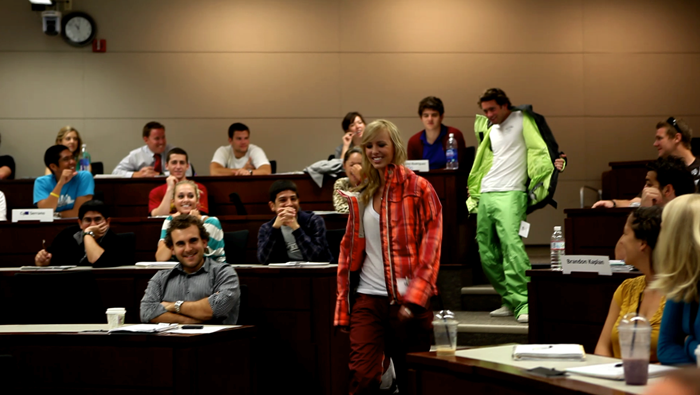 The one and only Tommy T.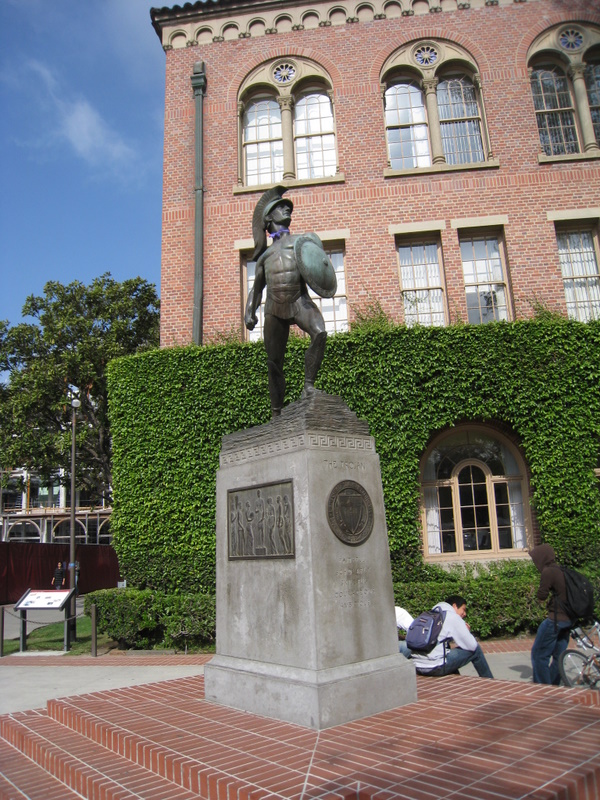 SC was actually going to name this West Hall, but my $35mil check bounced, so they called it Hoffman Hall instead.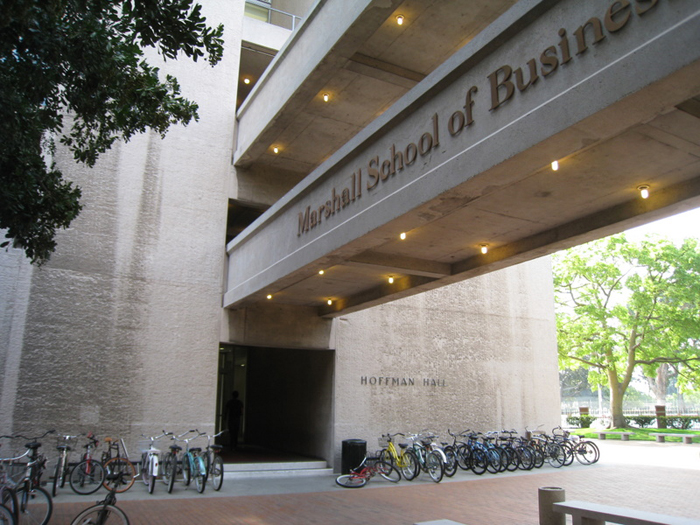 Say whaaat?
March 25, 2009
A lot of things run through my mind on a daily basis - "Is this project going to get done on time," "Did the attorney make sure they cross filed the docs," "Did the sales team properly communicate with the marketing dept," "Did she say with cheese or without." My girl even complains that I keep her up all night cuz I talk in my sleep. Although my life involves interacting with lots of peeps, public speaking is not my thing. A few days ago, the marketing /communications networking program, Group Y, run by Mark Sperling and Liz Randall contacted us to talk about brand collaborations. We just do our thing, but it's cool when some people want to listen to the weird things we do. The panel involved New Era, one of our previous Times partners, so it was all good.
Braden from New Era, Rob from Transworld Business, Kristin from 686 and some ugly dude.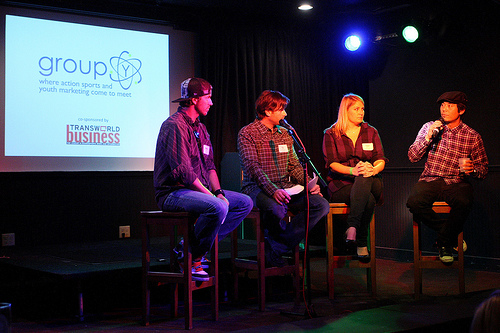 Braden asking the audience "where's my two dollars!"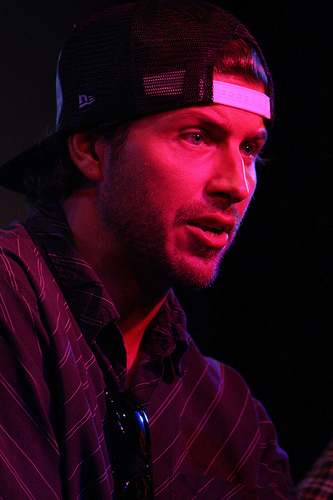 Industry folks looking like they're 'Intrigued" by our awesome intellectual presentations.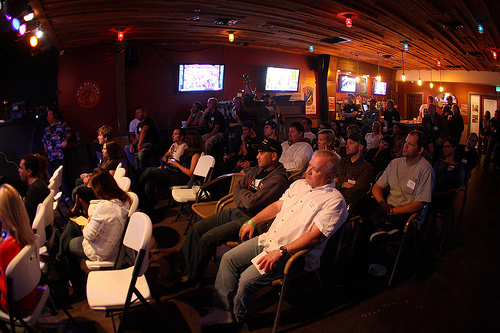 Legendary surf master, PT and old school skater/Woodward Skate Director, Neal Hendrix saying "hey now"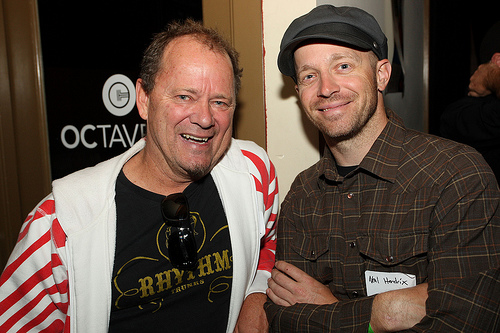 Sky-High
March 22, 2009
Its been a crazy few years for this trio. Scott, Scott and Angel are the heads in One Distribution, the parent company that owns and operates KR3W and SUPRA. We met up for lunch to talk BS on random things like retail, travel, riders, Hollywood happenings and the special project we're about to drop with them. Check out the shitty picts from the camera phone.
Scott squared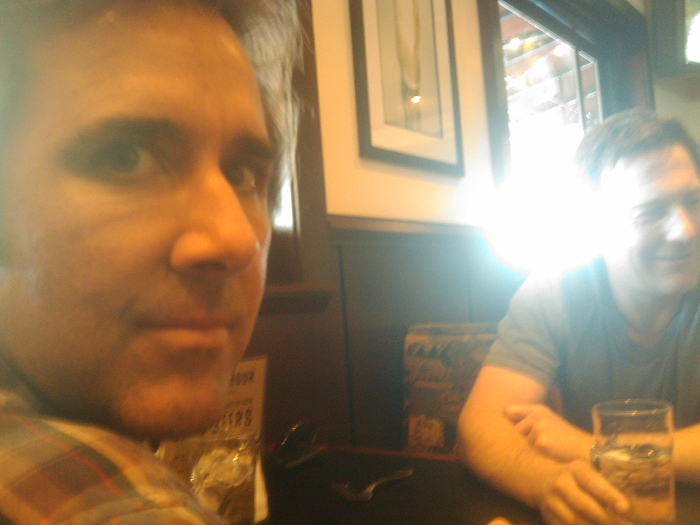 Here's the Stubbs box Supra did with Spin and Factory 413 for SXSW. Shit went crazy, who would have known.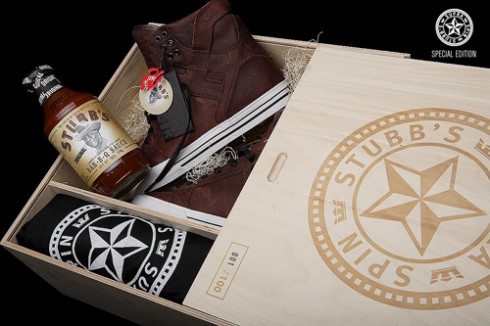 Angel cracked out on the Blackberry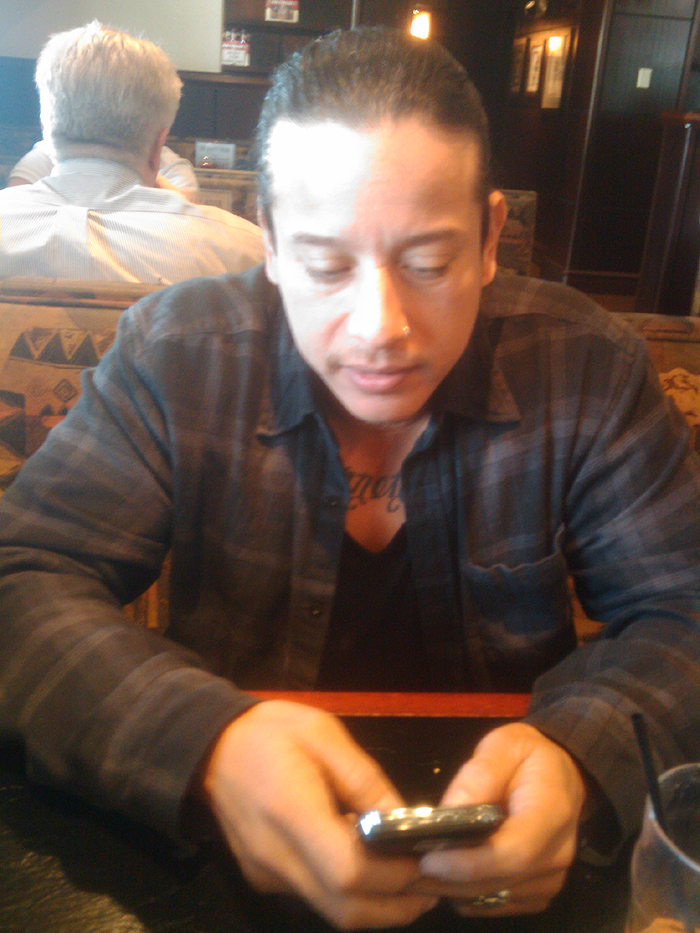 Last on the list of topics over lunch, we rapped about the special project we're working on. Dropping in Sept 09, KR3W x 686 will be producing an insane collection. The premium line will be only available for a limited time at certain locations, tba. Check the blogs and websites in Aug to see what and where. For now, here's a small peek.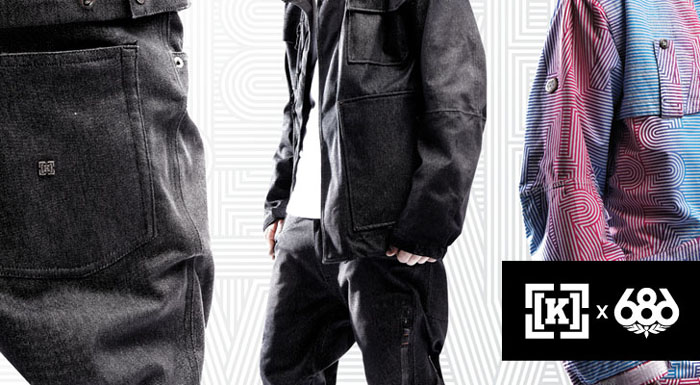 Sciontist
March 21, 2009
Spent the day with an old friend, Jeri. We go back well over a decade and a half, when she was at the Marriott doing her thang. Now she's the chief marketing sciontist at SCION. If you're not familiar with Toyota's youthful car division, let me give you a brief summary. No other international automotive company has been as successful in supporting the aggressive youth market as SCION. From continually supporting emerging and established creative/musical artists ( David Choe, Mr. Cartoon, Haze, Futura to working with every relative and hip publication/media entity (Frank 151, Complex, etc) on a worldwide basis, Scion has pioneered the true meaning of youthful progressive marketing in the automotive world. Crazy enough, it all started and is continually running with Jeri (with her incredible team behind her of course) Damn, I sure hyped her up, even though we argue way too much.
These days when we frequently meet, it's less on biz and more on what's going on with her personal gig. Funny she's moving down the street from me. Got lots of dirt on her, but she would equally show my dirt, so let's just keep it quiet for now… Jeri looking at me kinda weird.


Ah how cute-Shambone, her doggy dog.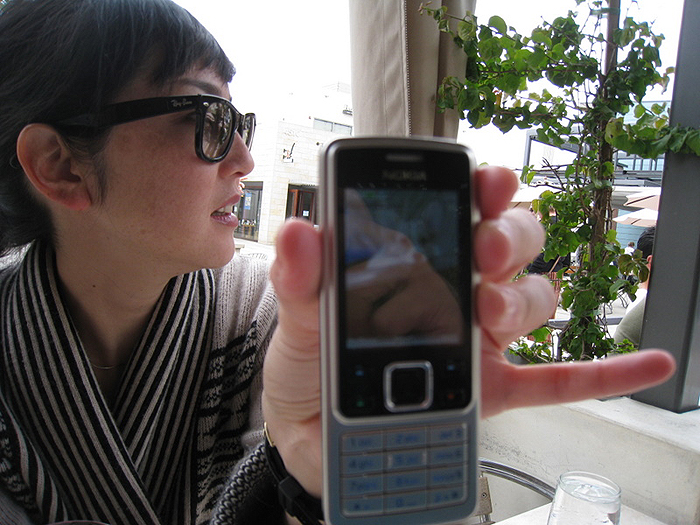 Check out her Opening Ceremony Black Patent gloss G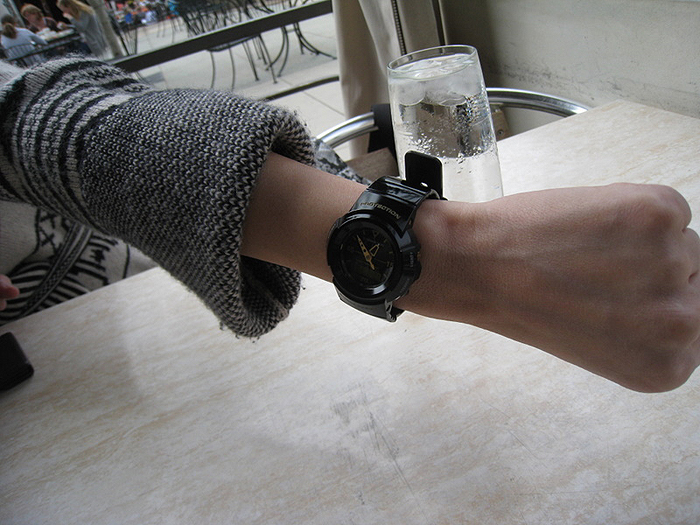 Something she picked up during a gig in Berlin-She's got the whole Porter reptile collection.




COVER BOY
March 20, 2009
Just wanna give a BIG UP to our Japanese rider, ATSUSHI, for getting the cover of the latest FREERUN mag. Check him out in the Purple/Lime "SPIRO" kit dropping in Sept 09.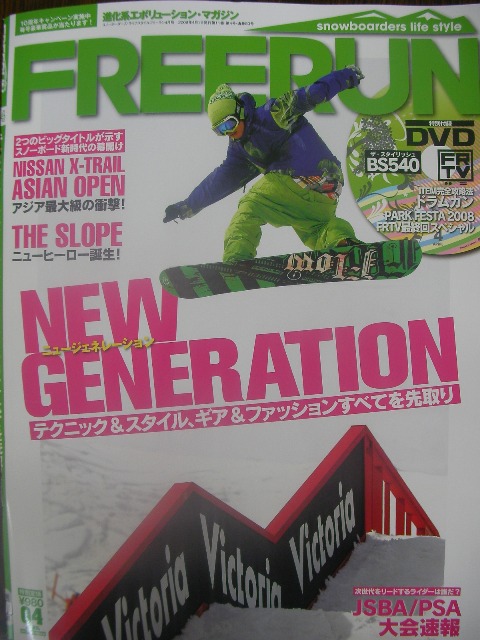 Take that, take that…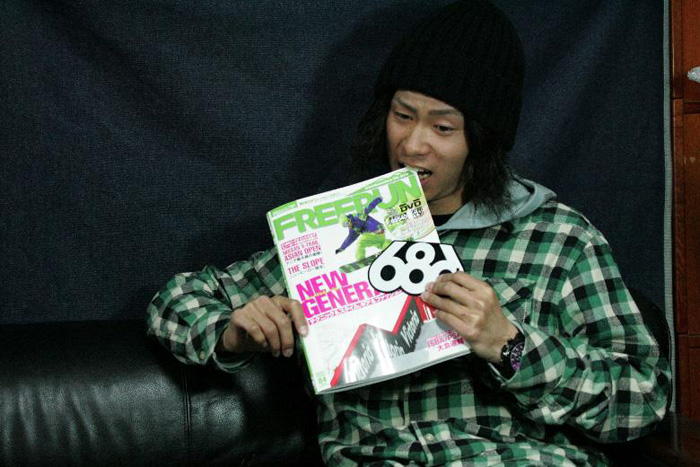 Nissan X-Trails a few weeks ago-Another stroll in the park for Atsushi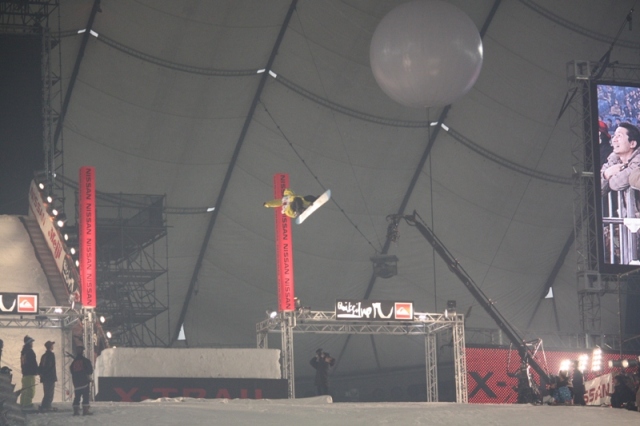 Wus Up Eh!
March 19, 2009
I remember when I was younger, going to dinner consisted of a bag of chips, a Mickey's 40 on the run, followed by a bar/club crawl checking out what's happening on the DJ scene, followed by a few more 40's. Now that I'm older, going to dinner has stepped up to something you actually sit down to and hang with peeps-What a concept. Anyways, stopped by for dinner and met up with some friends I see a few times a year. (Damn, I'm on a roll with catching up with people!) Eden and Kenny are some cool cats that are in the biz of selling hats and marketing swimwear for ladies (oh yeahhhhh) Kenny's the So Cal rep for Goorin Bros and Eden is the head of Marketing for Sunset Separates. Back in the day, Eden and I were partners on a women specific outerwear line called Eden Basics. To this day, we still get hit up on where they can get the product.
The Mr. and Mrs.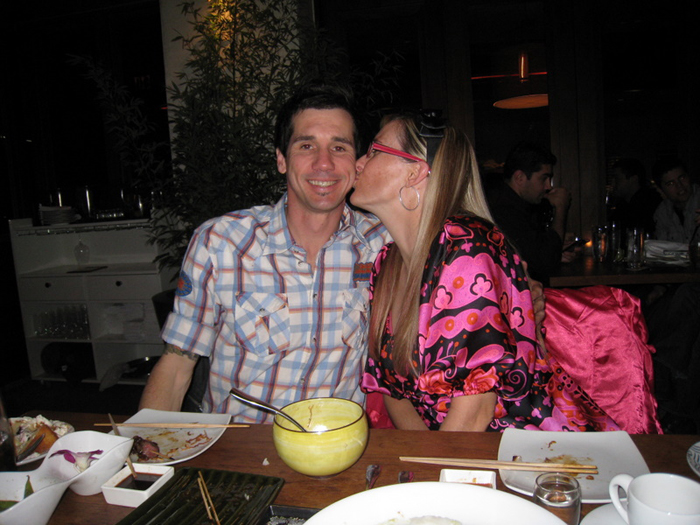 With all the latest postings, this blog mix seems like a restaurant review. However we had dinner at this incredible place called Kokekokko in J-town LA. Its run by this master of Yakitori (Japanese version of shish kabobs), Tomo-san. If your around, pls check it out.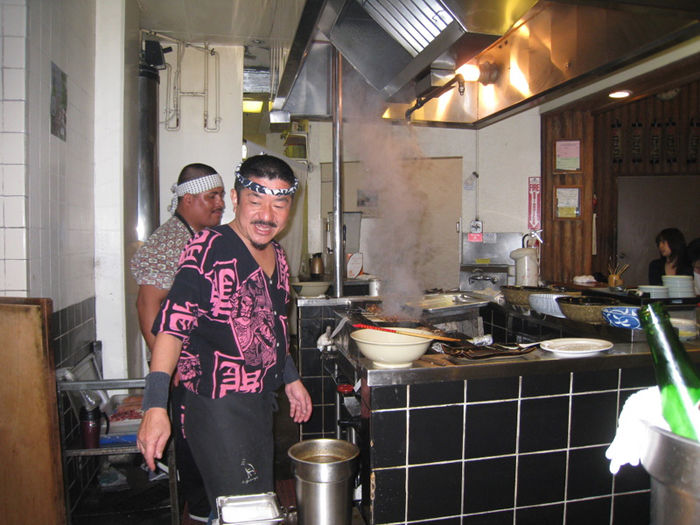 FYI-The taste is all in the coals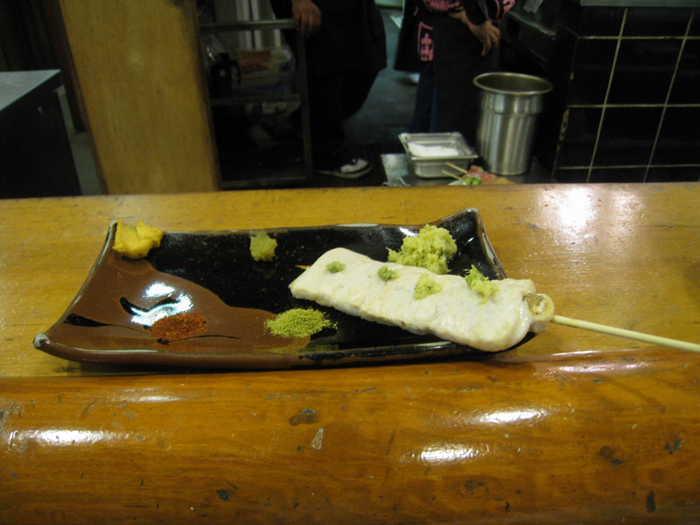 Down the way, I had to stop by my boyz Eric's place, Archrival. It's the best place to get your fix on the best goods in the downtown J-town sector. If you're on 2nd, look for the sign that says FISH MARKET (pretty neat) They just finished a mixer for Hellz when I rolled by.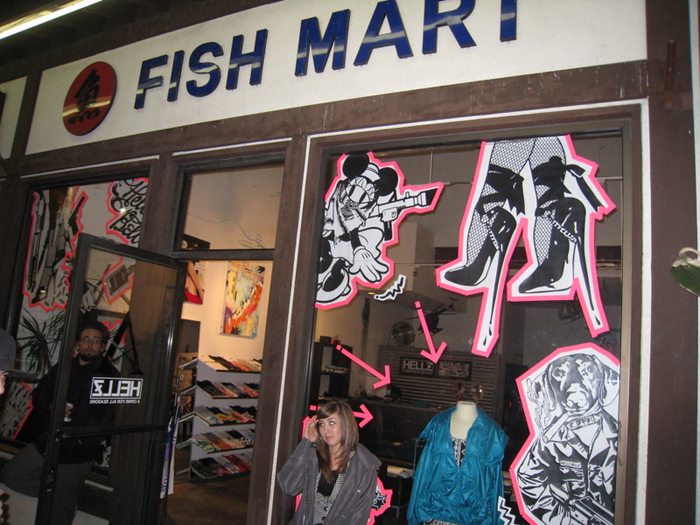 I tried to take a pict of Eric, but he escaped my super powers. I'll get him next time-huaaaaaaaa!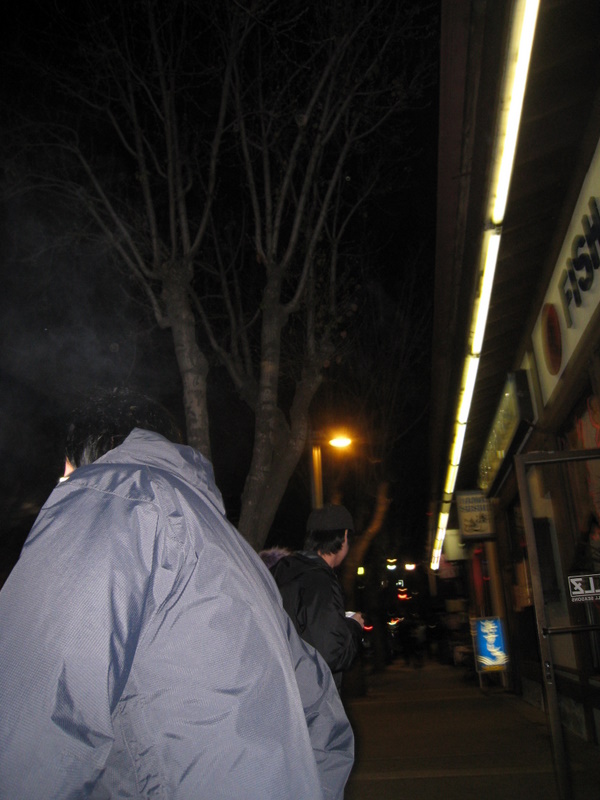 Last on the list for the night is a BDAY bash for a guy named FRAN. He's the production director for Podium Distribution (Matix, DVS, Lakai) So sad, he's turning 4-0. I was thinking about bringing him 40-Mickey's 40's, but I think I made the right decision to just get him a shot instead(not to mention he was so F-d up, he wouldn't have known the difference).
Fran here (with Johnny from Podium) not even knowing what the hell's going on. Cheers!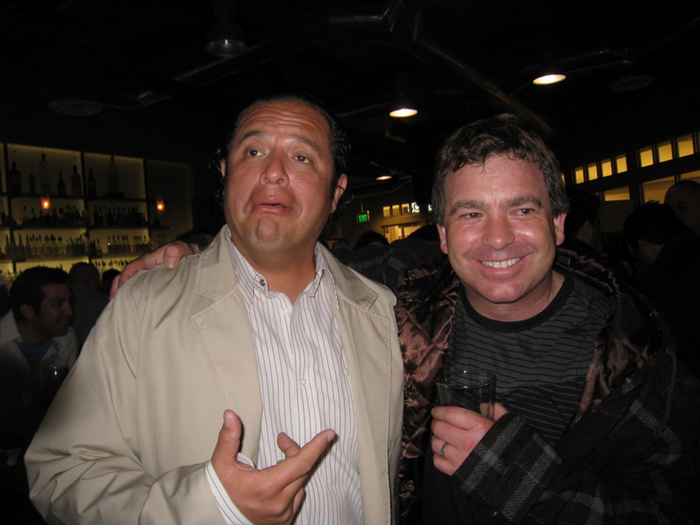 I Love LA
March 18, 2009
The best thing about traveling is coming home. Traffic, smog, earthquakes, floods, fires - I love LA. NO, really, I do. You have everything you need here, you just have to drive 45 min to get to it…it's all good!

An hour after I landed, I headed to meet some friends at a gallery opening. I got invited to Freddi C's new gallery Cerasoli. Freddi worked with us on our past ACC (Artist Collaboration Conspiracy) project and is one damn cool chick.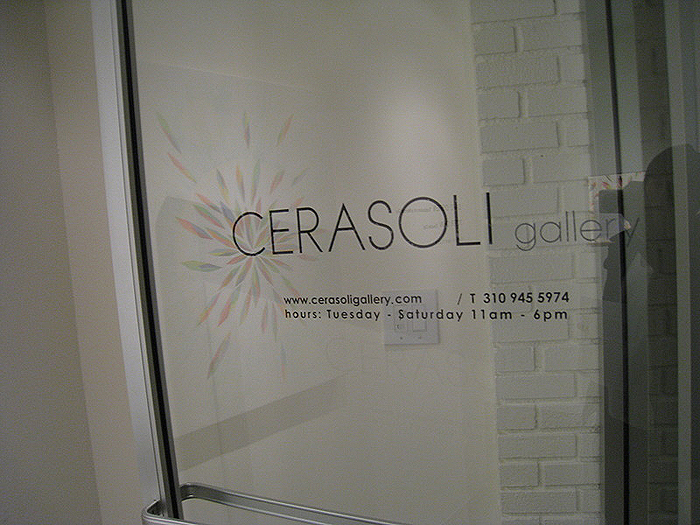 That night was the opening of Tofer Chin's Double Dip show. If you haven't heard of Tofer, you will soon. Besides his eclectic tastes, his work is precise and reflective on his great personality. Check some looks.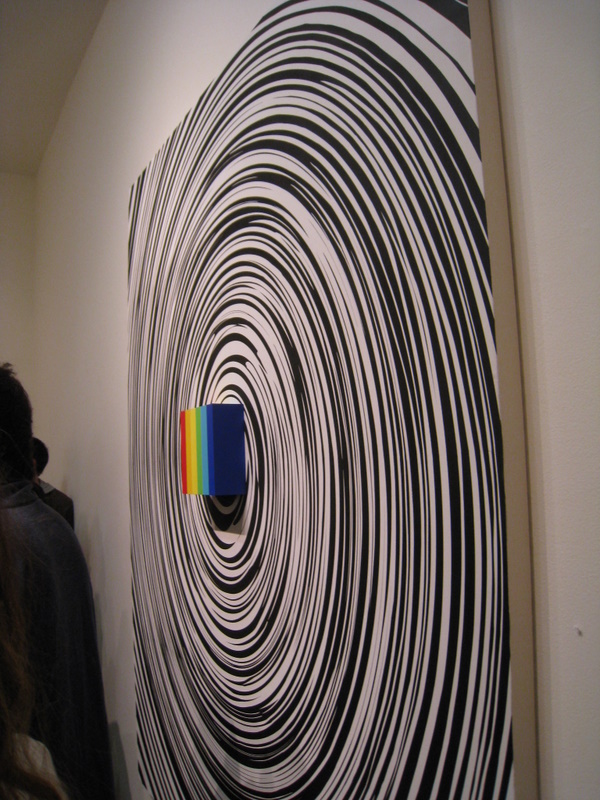 Remember kids, this is all done by hand.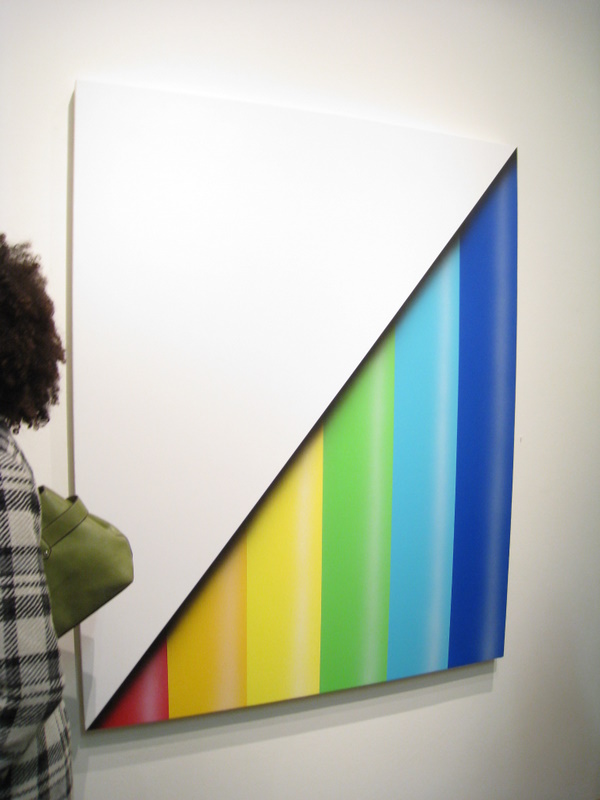 That same night, I rolled by another show on Fairfax. ICONOCLAST run by a mutual friend I haven't seen in a while, Christian Strike. I've known Christian from his past days running core Ohio skate and snow mag, Strength. He's done a lot since those days, including Beautiful Losers, with Aaron Rose, a documentary showcasing our generations DIY artistic movement evolving from the skate, graff, punk, rap lifestyles we come from. Please get the book and see the movie.

Funny how things come together. That same night, I saw a few other heads I haven't caught up in a while. Trent Bush is a talented designer I've known in and out for over a decade. When I stated 686, Trent and his brother, Troy, were running one of the premier outerwear brands out, TWIST, as it was before it's time and ruled the snowboarding universe. Interestingly enough, that's how I learned about Evan Hecox from all their artwork. Trent is now co-owner and lead designer for a bunch of snow brands from Nomis to Tech 9 to Sound. Here Trent and Christian and I catch up on the good ole days.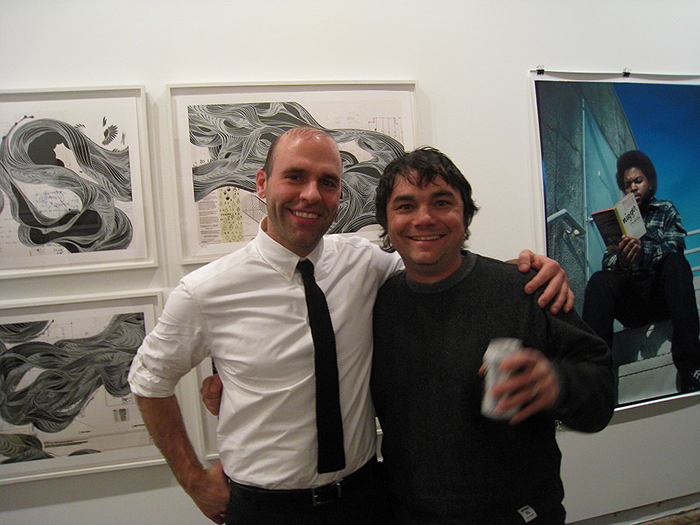 It seems like a reunion of cats I haven't connected for a bit. Down the hallway, I ran into Amanda and Shepard Fairey. There's no need for an intro to this power couple, but I guess I'll give you a super small one. Both of them run a super successful agency called Studio Number One, as well as their own gallery, Subliminal Projects an apparel collection, OBEY and just about anything that you might find on the corner of 6th and Alameda to the Smithsonian. When I first started our ACC Project project over 8 years ago, Shepard was one of my first artists to work with. This was when Shepard and Dave Kinsey formed BLKMRKT and was not a household name. Fast forward many years, they are still very busy, but most importantly they have two lovely baby girls in their lives. Shepard and I were talking about many things from how retailers are going bonkers from the crazy economic environment to how much his kids demand their time. Having just come back from their media blitz in Boston, Amanda said it was so cold, she forgot her 686 gear and had to buy some Patagonia. Next time, we'll fix that. We were trying to catch up, I forgot to take a pict of Shepard and his standard issue Levis, punk rock T and shelltoes. Say cheese Amanda (with my other half).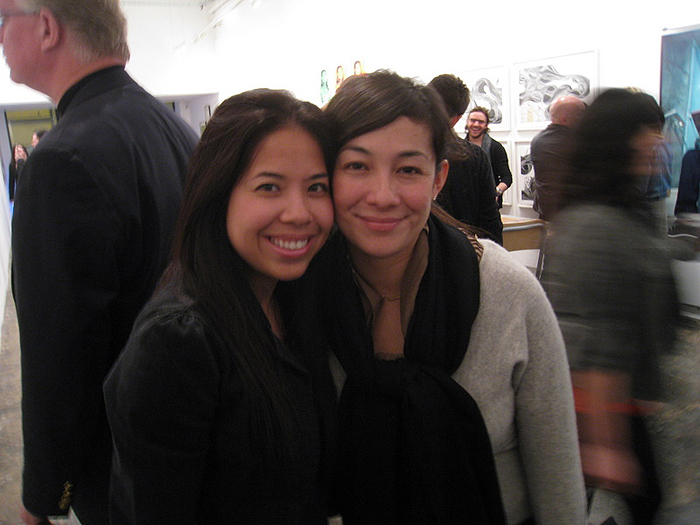 Check out some more looks from the ICONOCLAST show. If you haven't heard of photographer Shawn Mortenson, please check him out. The one and only GONZ.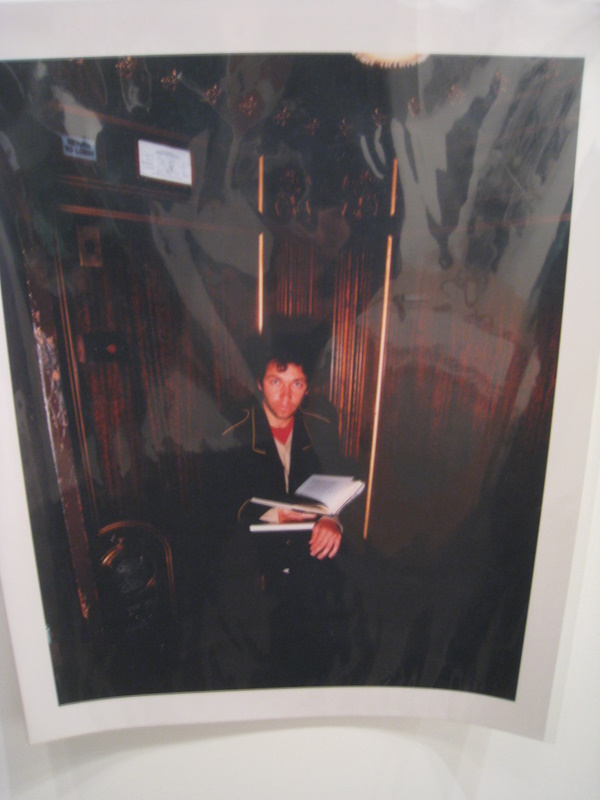 How about this one. Wes Humpston from Bulldog Skateboards doin' it like it he does. Wes goes way back as truly an icon in skateboarding. Not only is the original DOGTOWN artist, he was one of the originals from the Venice skate days. Before I started snowboarding, street skating was my life as I roamed the Venice Pavilion with the likes of TA, Hartzel, Jesse Martinez, Natas and so on. Wes also was on our 686 ACC project with Shepard. Much respect.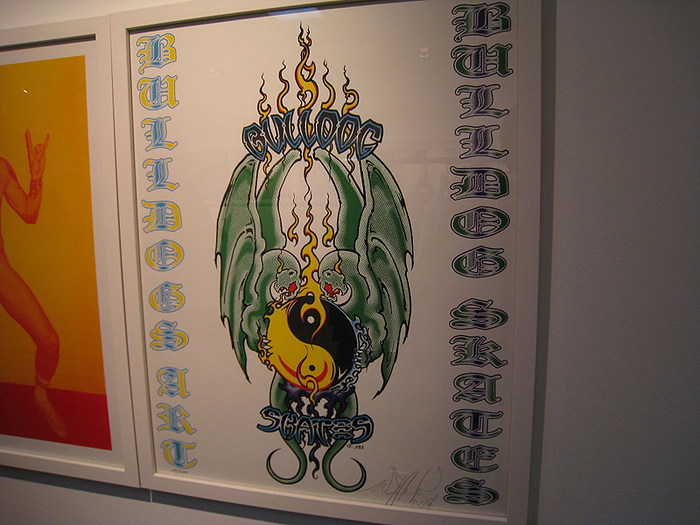 Let's do this!
March 16, 2009
Sad to say, it's my last day in Japan. But the good news is that I'm heading to the mountains for our 686 event called LETS DO IT!
Since day one, we've been working with our exclusive distributor in Japan, Blue Achieve. It's run by two incredibly honest, hard working, all-around rad guys named Hiro and Shun. They also have two other brudas that make everything happen-Takashi and Junichi. Together they are just the best.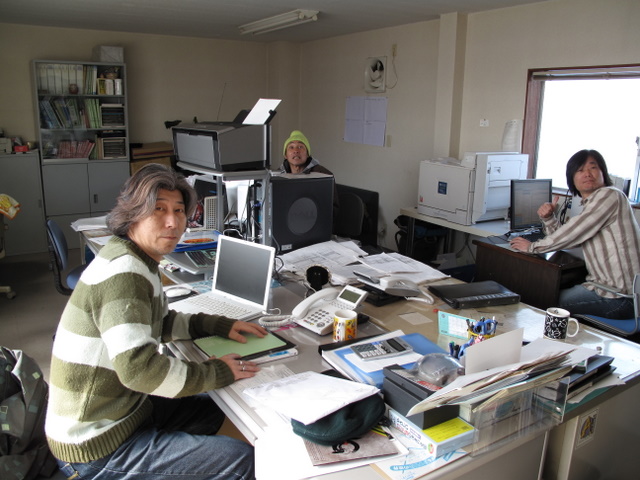 We've been working with Blue Achieve so long, I get reminded of all the things we've designed, good or bad. This is one of our old school logos, you decide..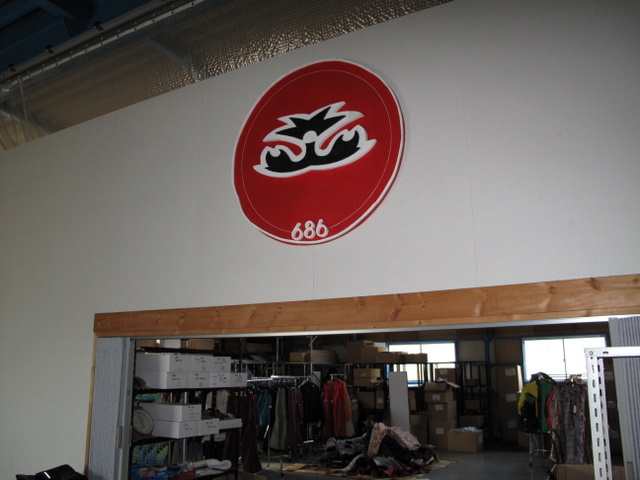 A 6 hour drive from Tokyo and we arrive at Takasu mountain. I've been shredding in many places in Japan, but Takasu was a little different. They straight up support snowboarding from front to back.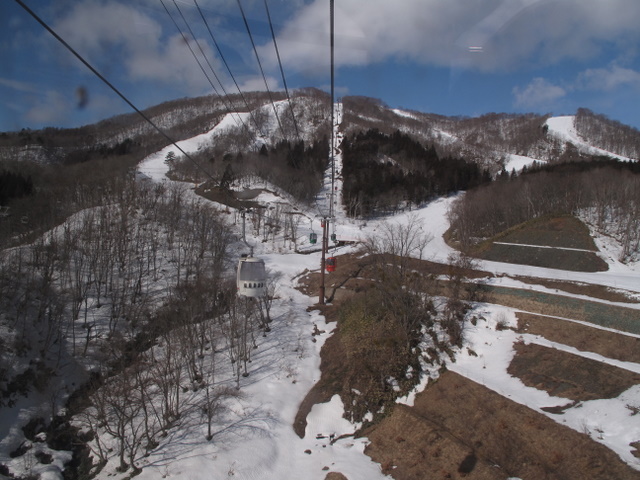 Lets do this!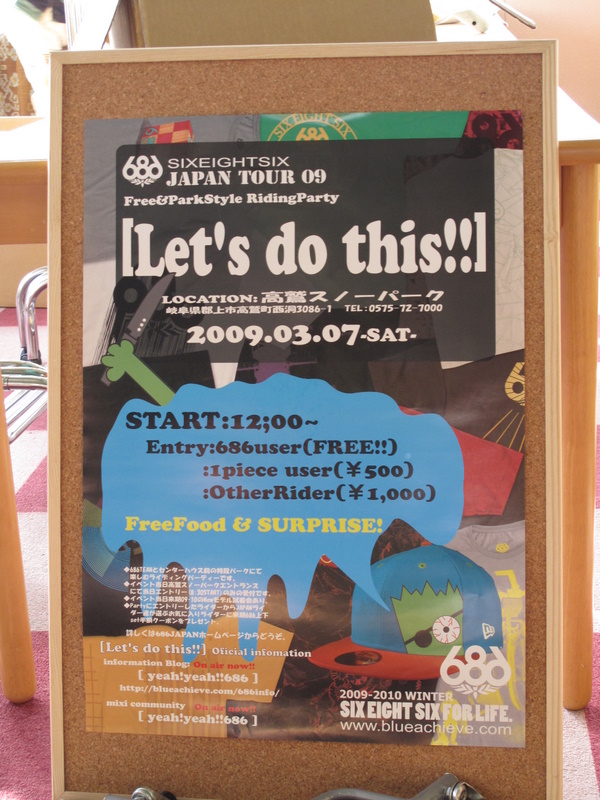 Singles?!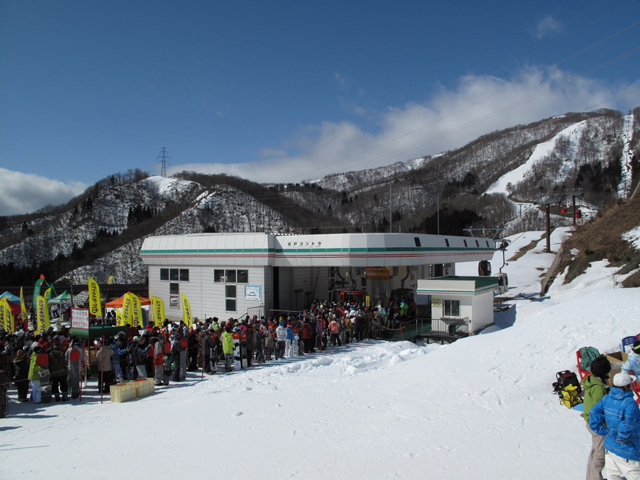 Some Japan 686 lov'n-Can you say Snaggletooth!!!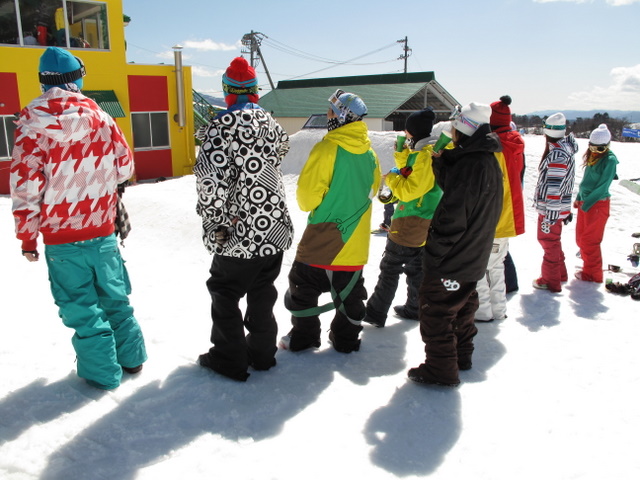 Check out these two girls rocking the 686 fleet kit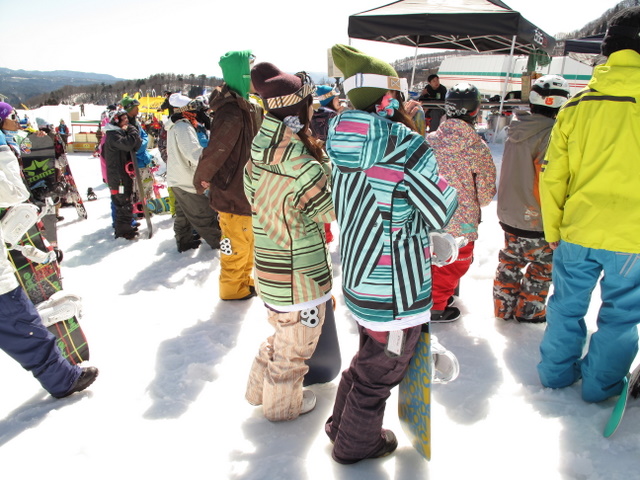 The calm before the storm…the Rider's meeting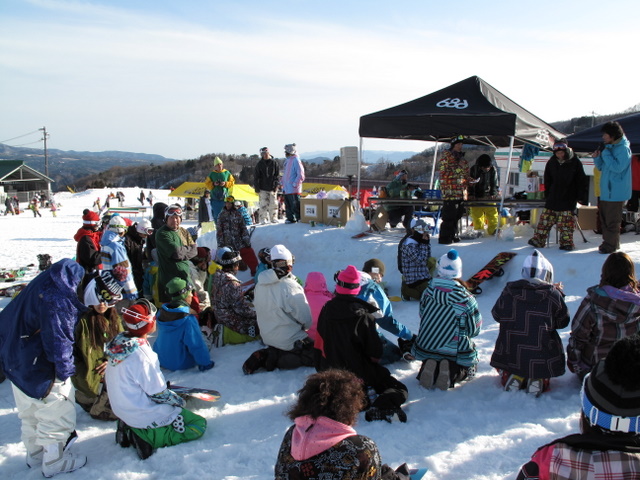 One or our 686 Japan riders putting the finishing touches on the rail death drop (you can't see the backside, but if you overshoot the slider, you drop about 20ft to your death!!!!!!)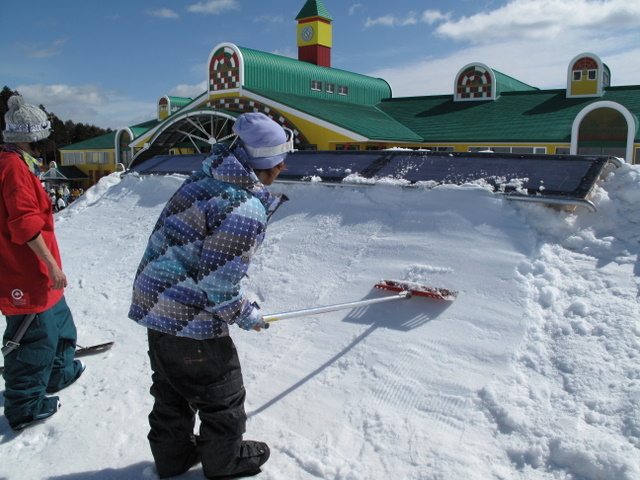 Man, where do I start? This dude is named Toshi, not only does he run one of the best stockists in Japan (trickstar.tv/) and is down with 686 for a long long time; he also runs an awesome accessory company called KFC or Kicker Fucker Chicken. Yeah, I know, only in Japan eh?
He was sport'n this dope leather jkt made in the UK, once worn by Sid Vicious from the Sex Pistols. He said we should do something with them, what do you think?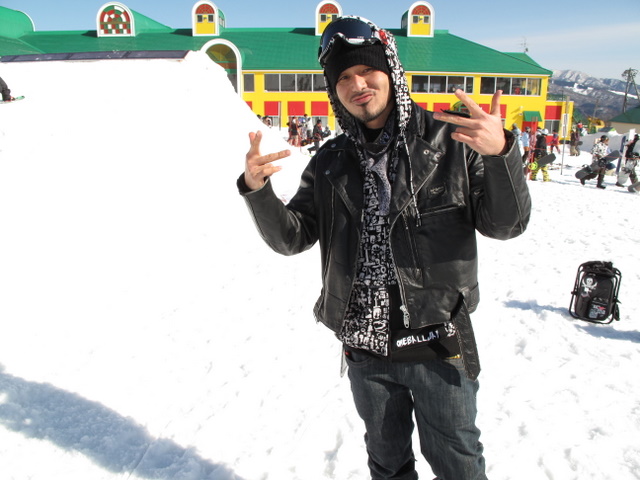 Start em young!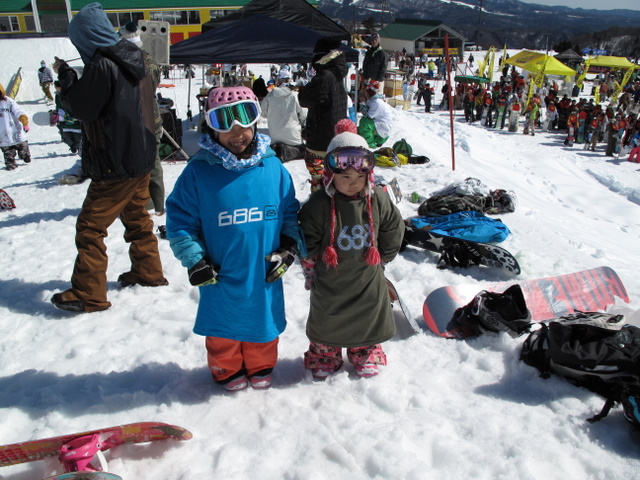 Hiro represt'n T-K-Y-O. Check out the haze in the background from all the smokers.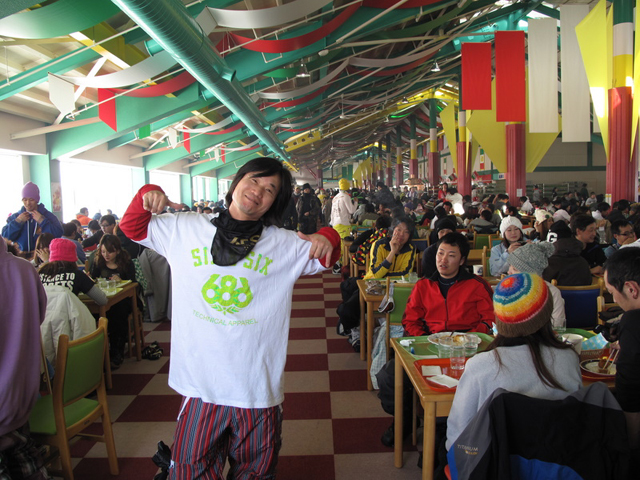 Japanese people do things different. Here's one example of an air blower to get the snow off your board. Damn, why don't we have this here?!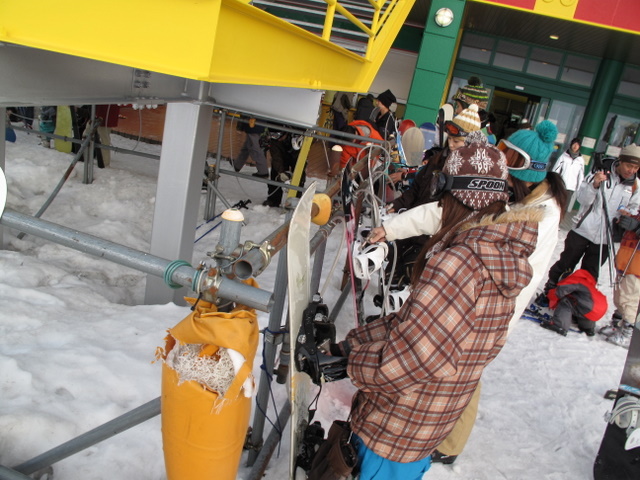 686 RIDERS UNITE!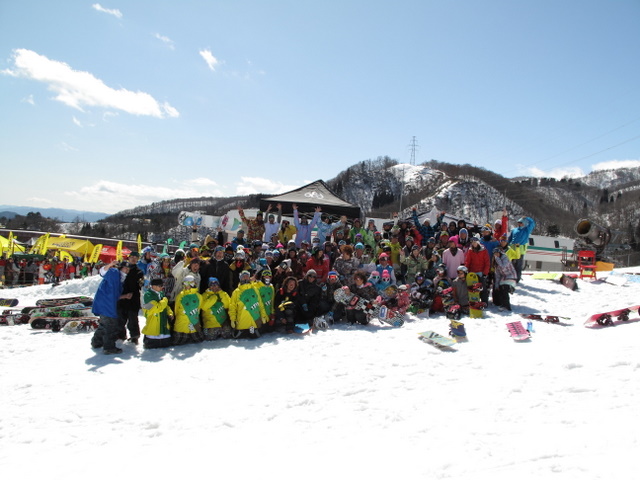 Our posse's last supper-can you find me?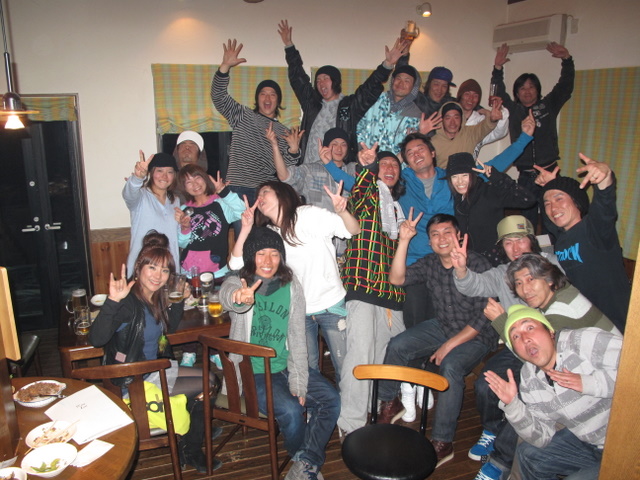 Made in Japan
March 15, 2009
Tomorrow I head out of Tokyo for our main snow event. Before I leave, I wanted to take a few shots of some random Japanese sightings that you can only find here.
Shibuya pre green light. Umbrella wars attack!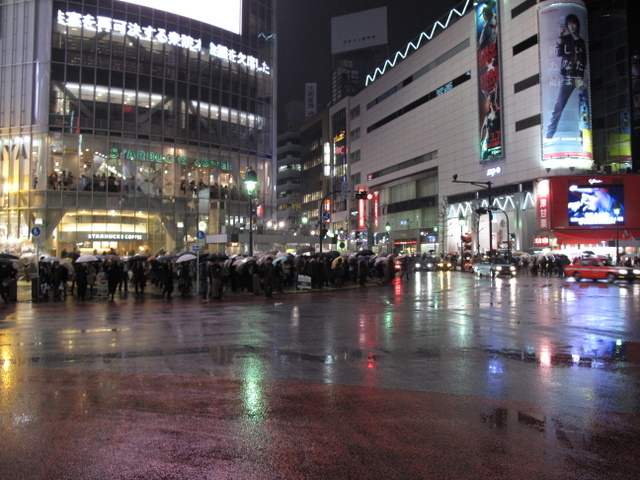 Supreme x Lou?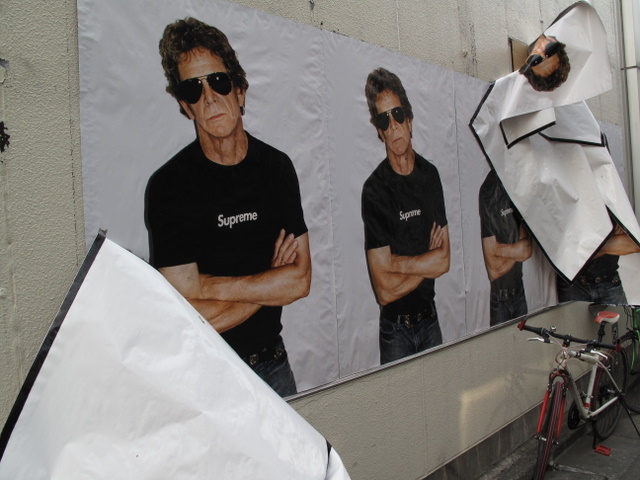 Porta-Ramen-Shop (I want one at the office!)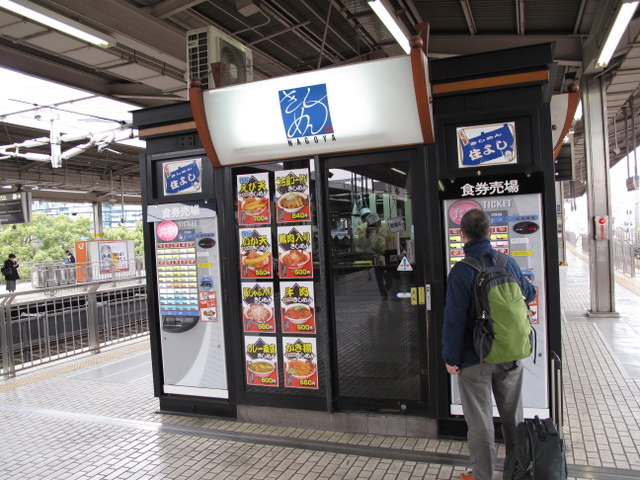 When I was little, I dreamed of riding the Bullet Train or as Japanese call it, Shinakansen. It was once the fastest train in the world.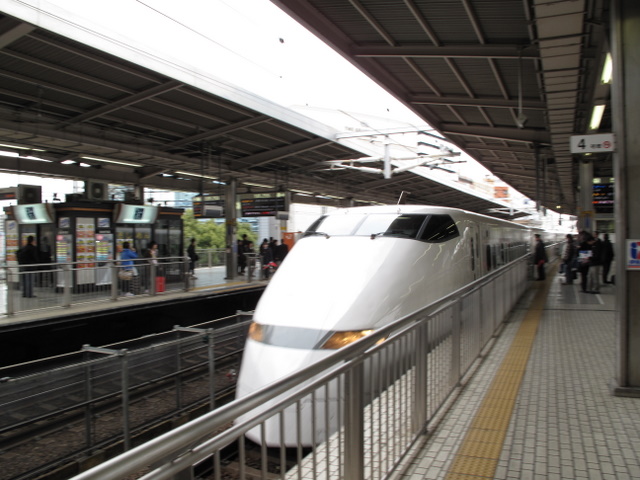 The one and only; Harajaku-Japanese street fashion at the core.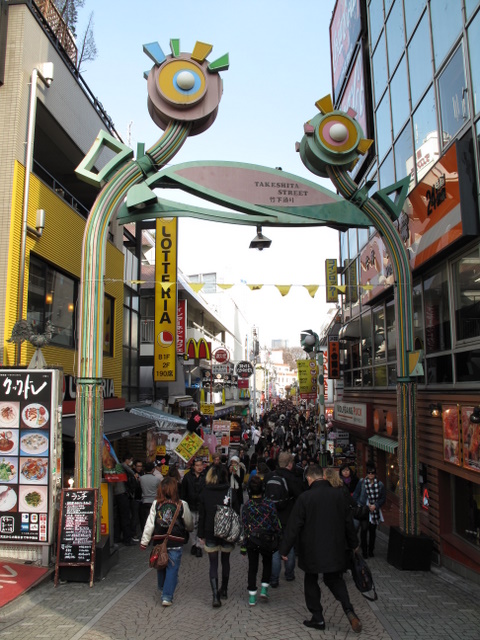 686-the # of the beast? I mean 666…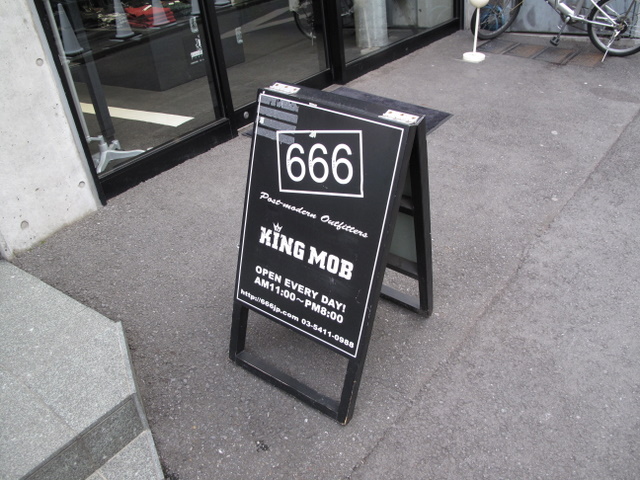 Omotosande street - where Paris,NY,London and LA meet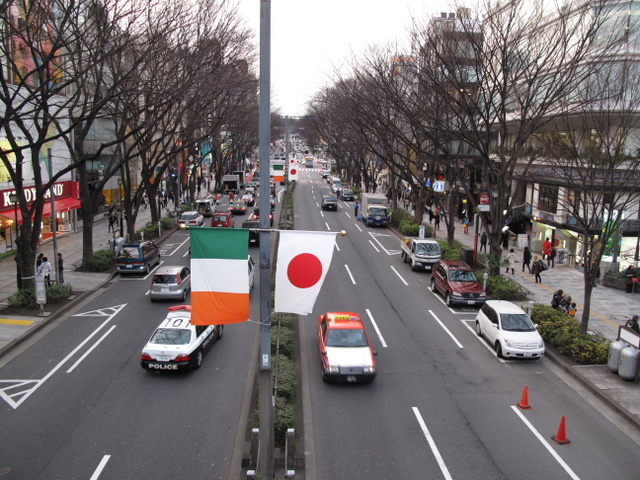 Few things are synonymous with Japanese culture and Cherry Blossoms are one of them. In Spring time, this river is incredible.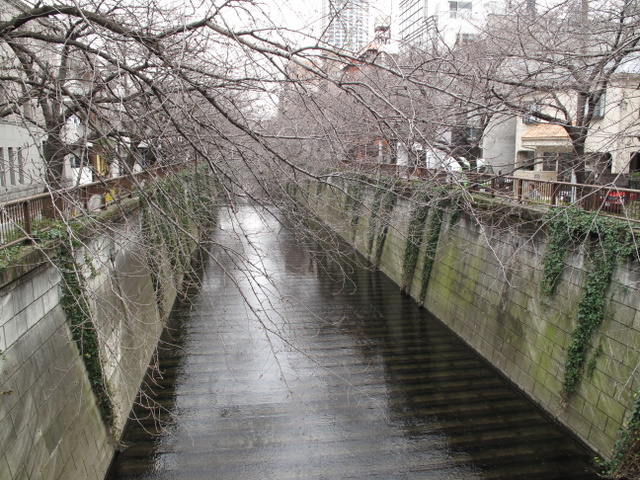 The Japanese drink a lot of beer. Here's where they end up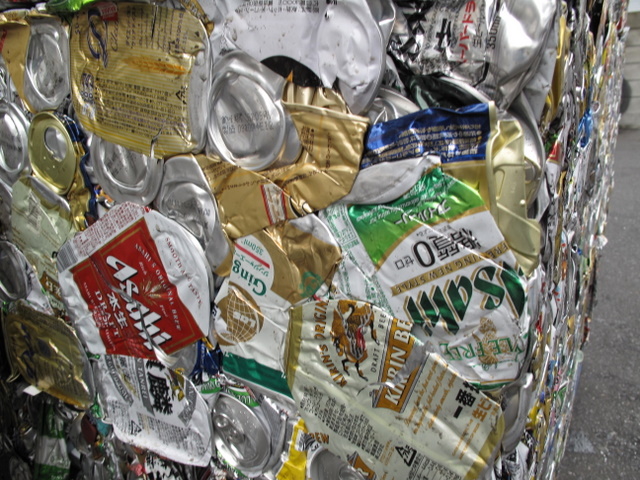 Lights-Camera-Shibuya!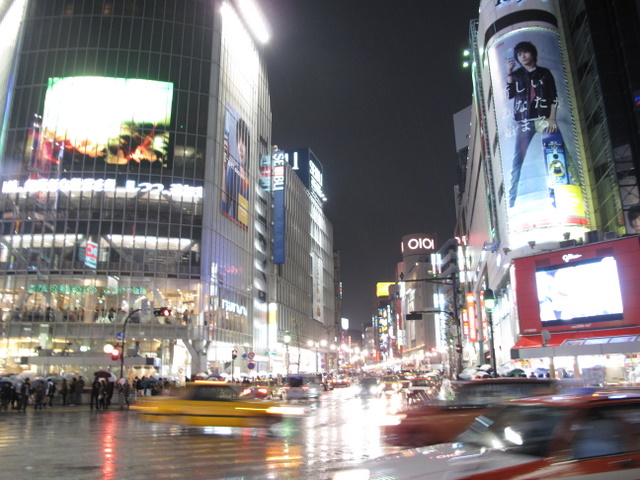 Can't get enough of this shit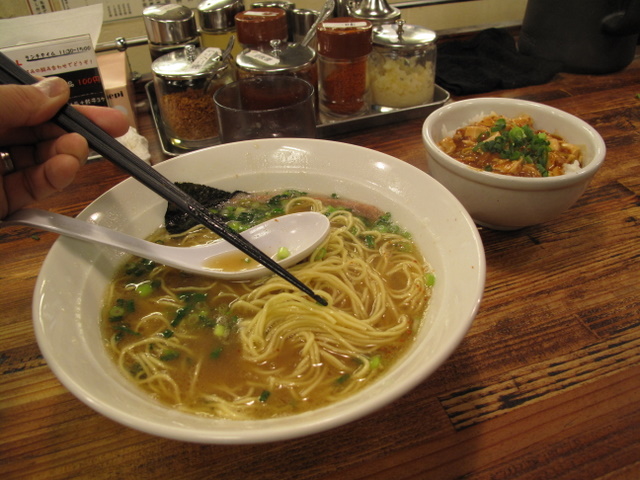 Japanese natural beauty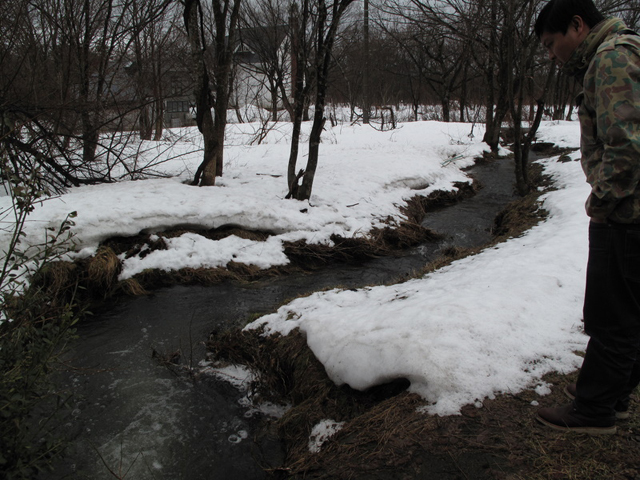 Chalk one down for Invader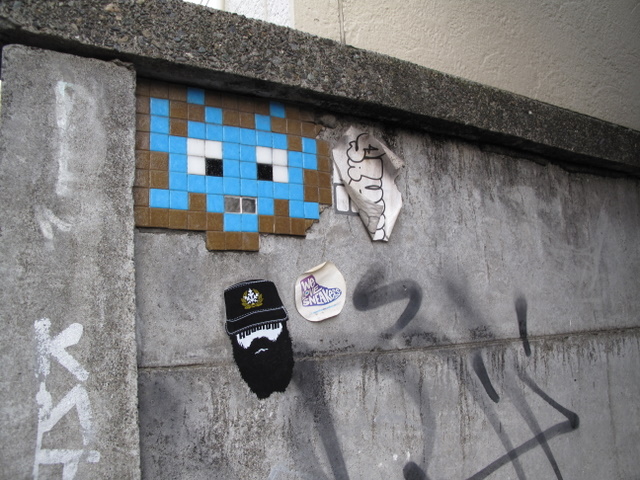 Catch'n up
March 14, 2009
I come to Japan once a year so I try to catch up with heads I rarely see. The first stop was an old friend named "SOHN" (pronounced Sahn). I've known Sohn since I started 686 over 17 years ago. He was one of the main Japanese distributors of all snow, skate, surf products. The company was called YTSA (You Trust Sohn Always-very Japanese and very Sohn) Today he's out of the boardsport realm and now the top distributor of premium eyewear and watches in all of Japan. Nixon is one of the top brands he commands and charges big time.


Sohn, standing in the white collared shirt with his key management staff


A snapshot of his back office dudes saying wus up eh?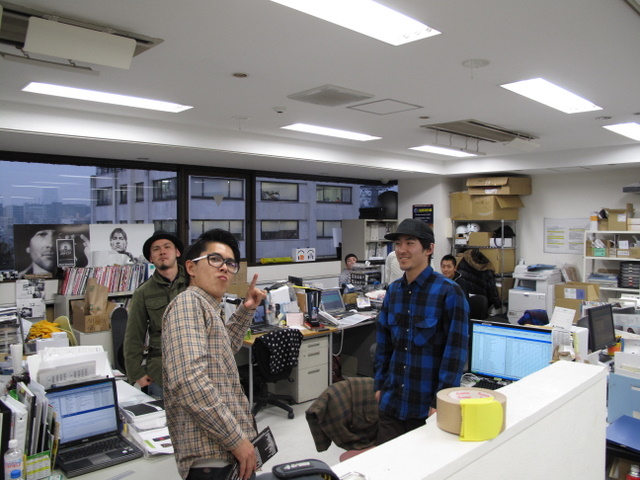 Next stop were a couple of rad peeps named Lalaka and Gin. I met them in LA through one of my best friends Mike Maceda-aka Atomic Mike, aka Plain Sane (I won't go to much in-depth about him now as he'll for sure come up later). Besides being super cool, creative, and giving, congrats to them for their new baby boy! Check out L and G cold kick'n it live.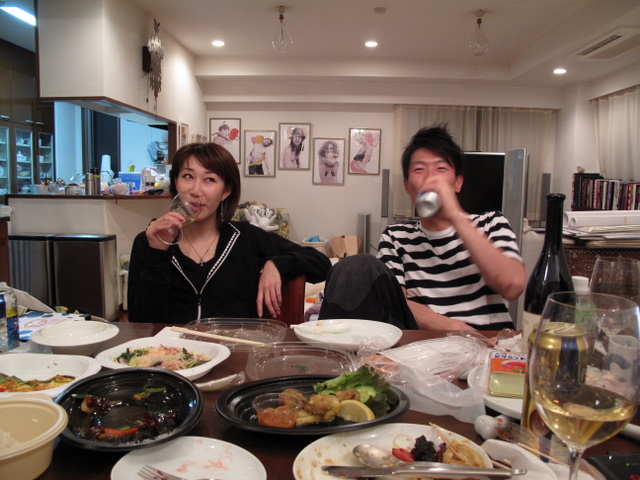 Some of their creative tastes-KAWS represent'n back in the day before he was on everyone's radar.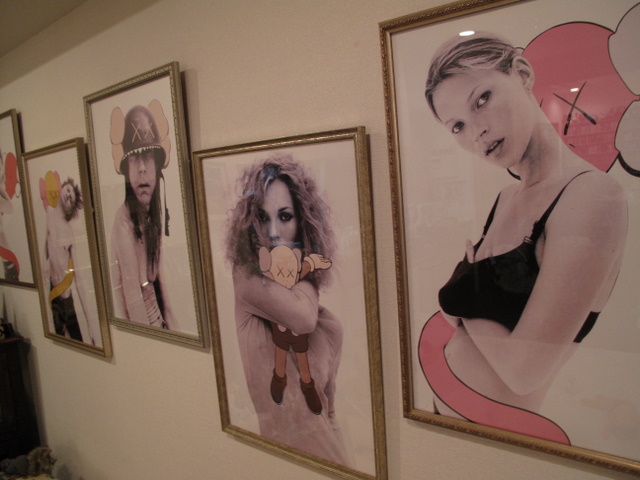 This is the coolest. When L and G had the baby, Kaws personally sent them a custom drawn motif of the hospital pict.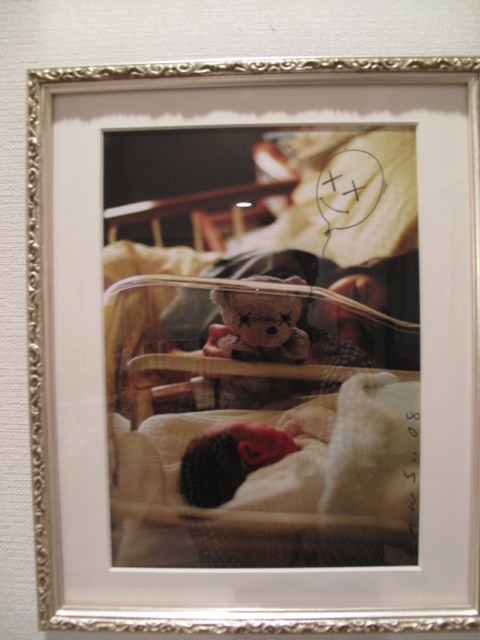 The one and only Banksy always up to no good, but so damn goooooood.


Lastly some of Shepard's oldies but goodies.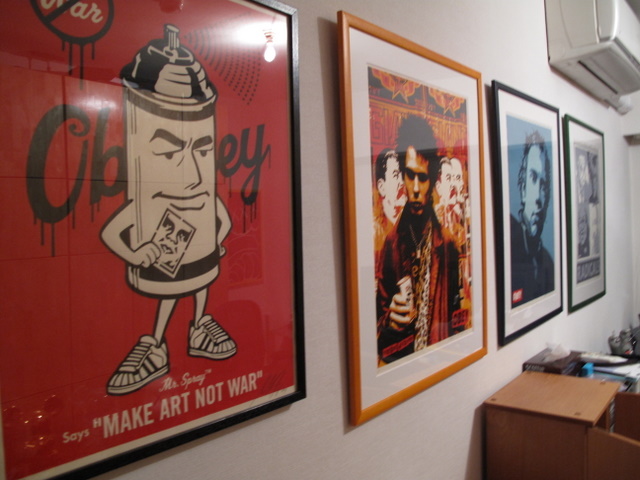 Last stop of the day was Agenda Japan. The LA-based show for selected streetwear brands had a mini capsule show in Daikanyama and I rolled by to see a friend I don't see enough. Funny how you travel across the globe to see peeps that are in your back yard. NIN TROUNG is one of the most creative, busiest, yet mellowest heads I know. He runs too many things to mention, but I'll try. From one of the best sneaker-skate-fashion boutiques in Seattle, GOODS to an independent skate line , MANIK to an uber street apparel collection made in Japan, MAIDEN NOIR to his own Creative Agency, WKND. Interestingly enough he's one of my first team riders for 686 many eons ago and we've remained good friends since. Big ups to Nin, Krista, Sweaty, Paul, Steve, Suto and the rest of the Tokyo/Seattle family.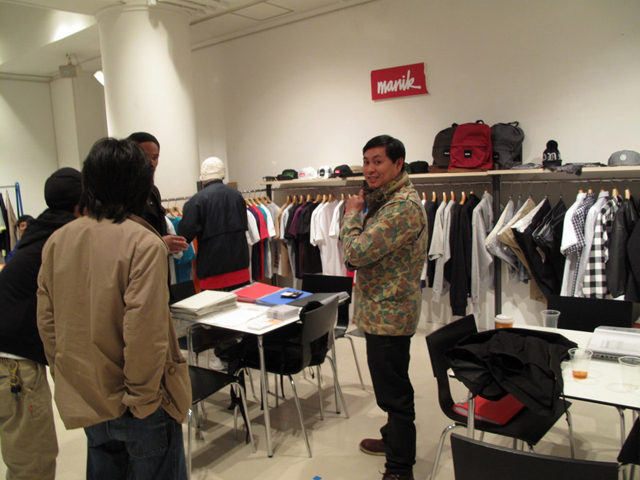 Say "cheese" Nin, while we're being pushed inside the train during rush hour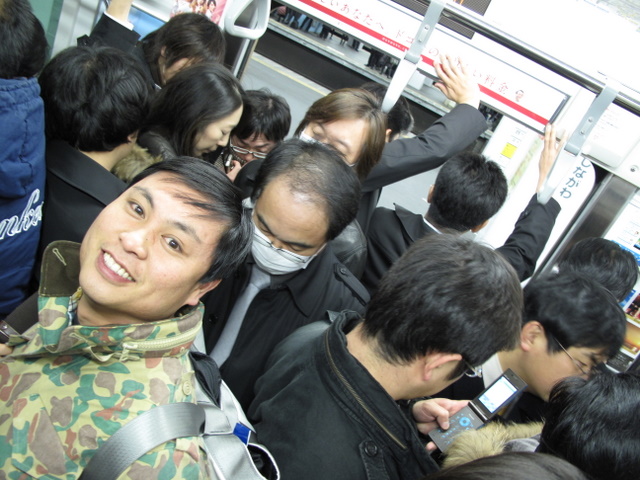 Shop-by's in Japan
March 13, 2009
Anytime I head to Japan, I try and hit up shops from high to low. I only had one day so I headed to Harajaku, Aoyoma, Daikanyama and Shibuya. Here are some looks in no particular order.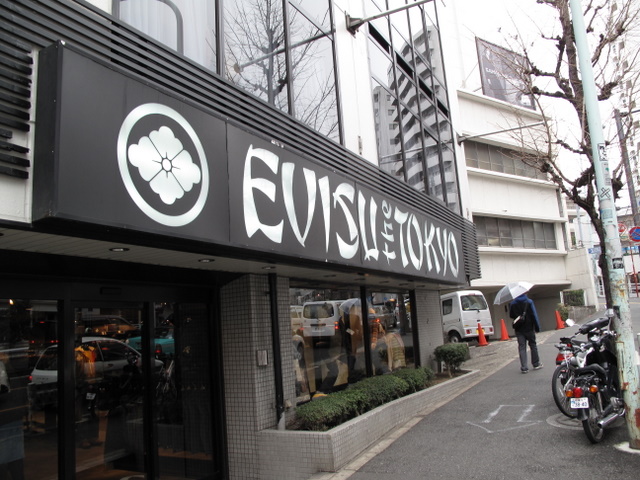 Although my tastes have changed over the years, Japanese denim brand,
Evisu
still represents quality and vintage style workmanship.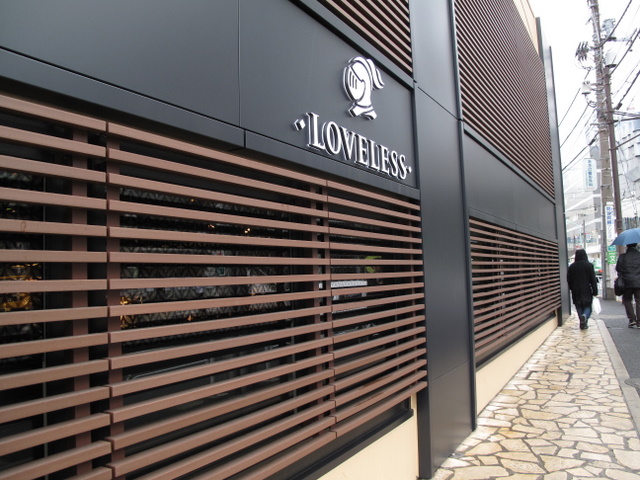 One of the best all around high end Japanese style boutiques,
Loveless
.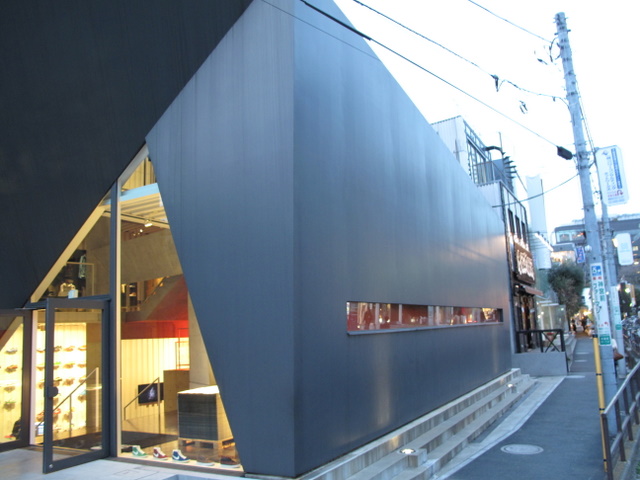 Nike Sportswear's
(NSW) interpretation on minimalistic means to maximize your closet palette.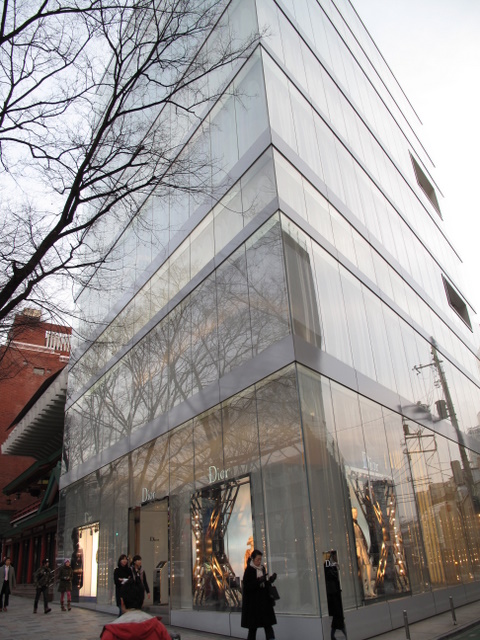 A glowing beauty,
DIOR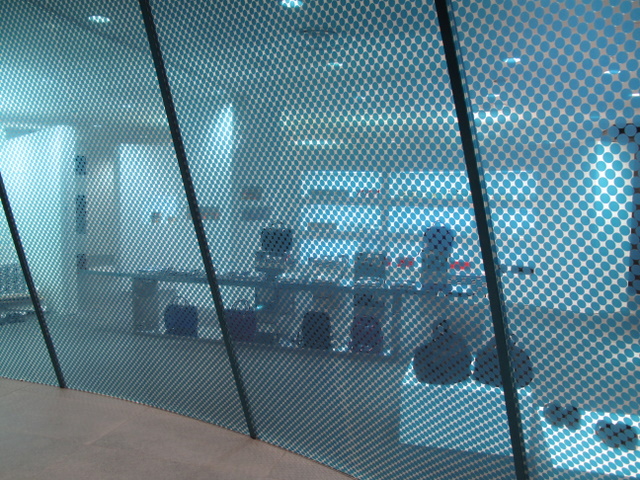 One of the best designers on the planet -
Rei Kawakubo's, Comme Des Garcons
. A solid foundation for Japan and the rest of the world.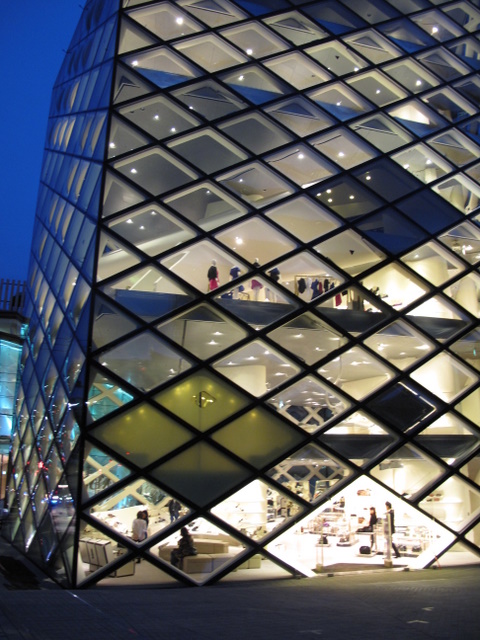 An architectural phenomenon; the
Prada
building.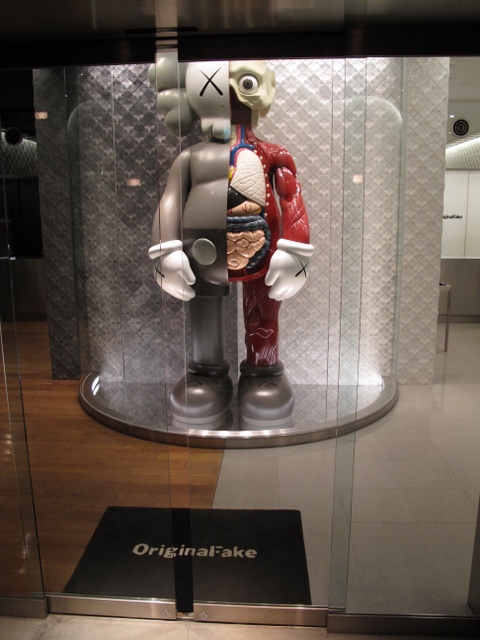 NYC meets TKYO meets Kaws meets the world;
Original Fake
.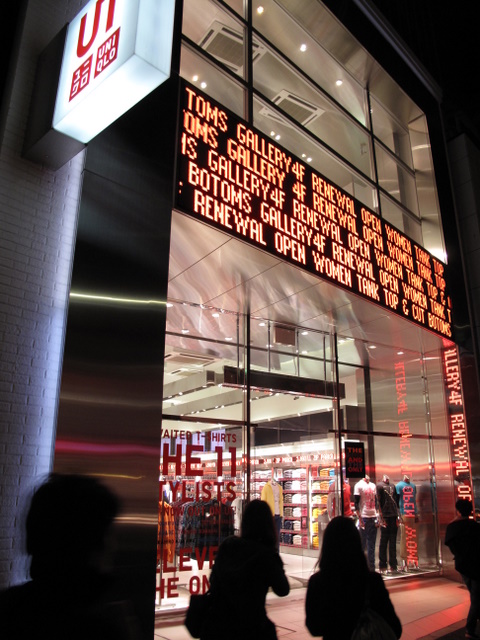 H&M x Gap x American Apparel x Japanese Culture x 100 =
UNIqlo
.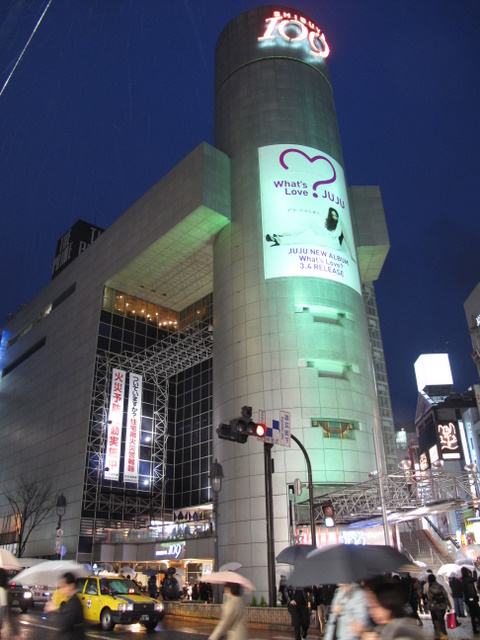 The core source for trendy girls aged 18-25-from hip hop to punk rock to panda style to whatever is happening, 109 in
Shibuya
.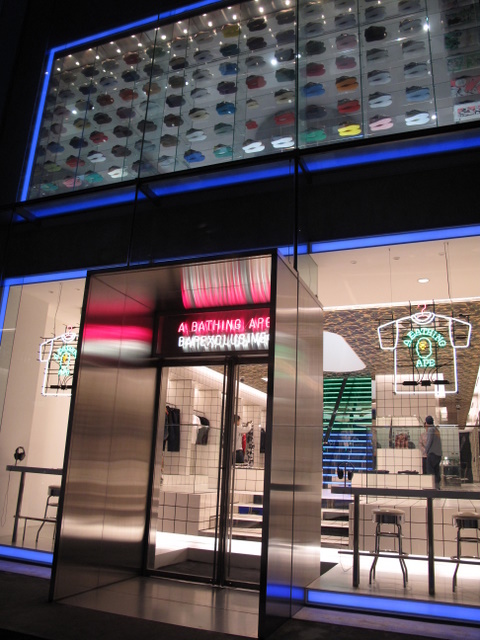 It's blown up and then blown up too many times to mention, but Nigo and his
BAPE
lifestyle continues, now it's only outside of Japan.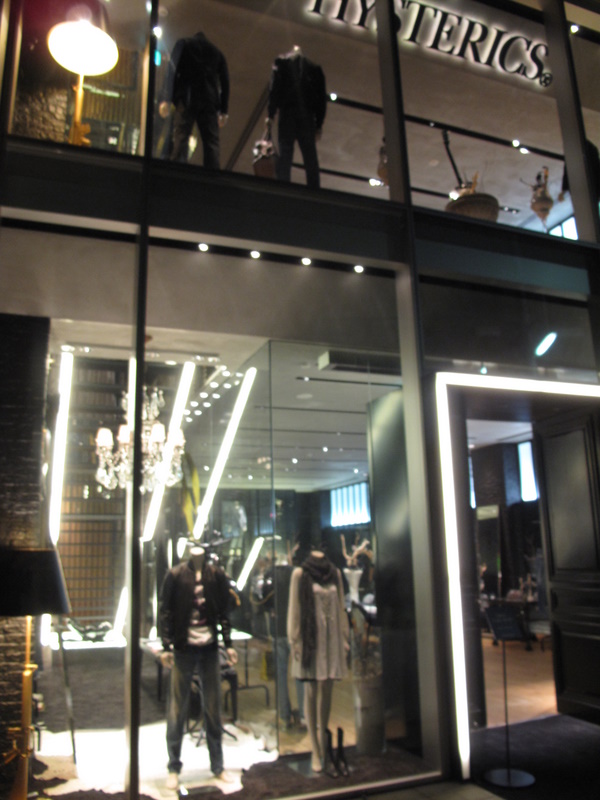 Japanese style glam rock meets old school NY punk.
Hysteric Glamour
.
One of my top 5 brands from the land of the rising run, Neighborhood.
I THINK I'M TURNING JAPANESE-Oh snap, I am.
March 12, 2009
The next day, I took off to Japan-the land of the rising sun, the land of anything electronics, raw fish, street fashion, gundam, sneaker land and just about everything else cool. That night, I met up with a buddy of mine, Spanky. Talk about the ultimate Hustler-He speaks Cantonese, Mandarin, Japanese and Spank-English (his own version of English) and hosts just about every high end musician that comes to Japan-from Pharrell to Jay-Z to Michael Jackson. But his real job is running a premium fitted hat company called 7UNION (www.7union.com) The quality and detail are impeccable and he has all the best stores in Jpn locked down.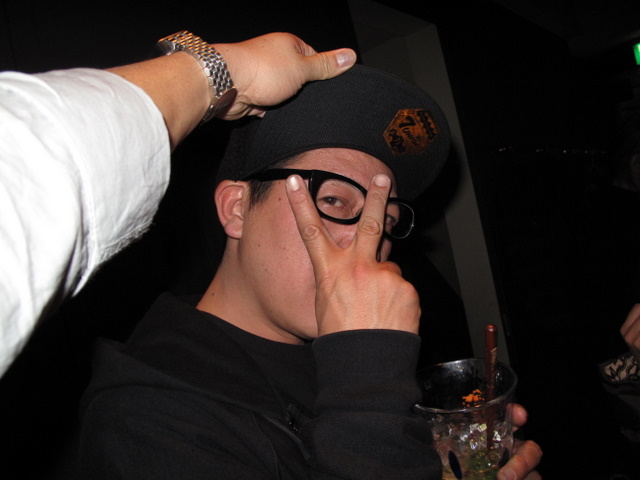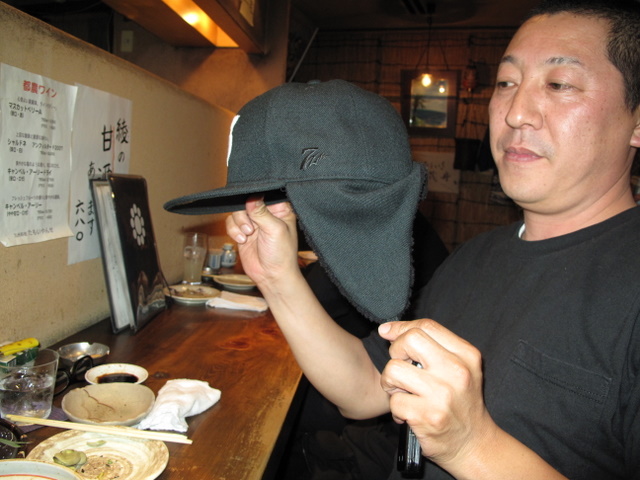 Looks like, smells like-sorry its just beans.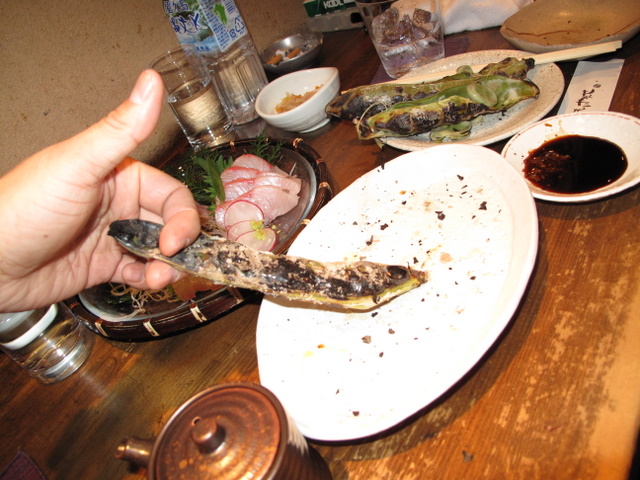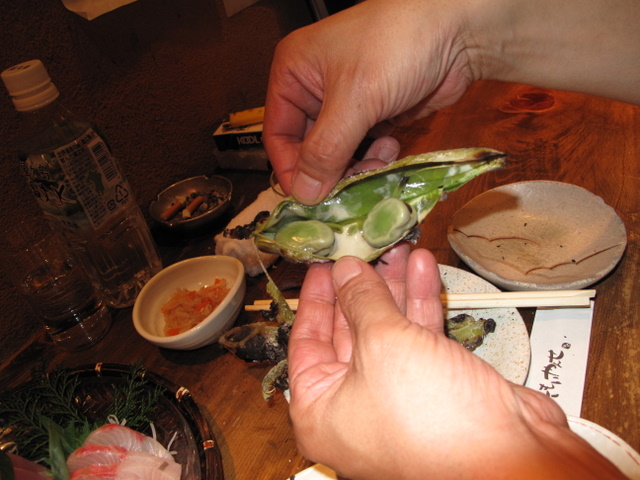 SLEEP! (well at least a few hours…)
March, 11, 2009
After all the traveling to HKG,CHINA,TAIWAN, the countless meetings, lunches, dinners, drinks, I get a few hours of shut eye. There's nothing better to recharge the body, mind and soul, than sleep.
Game time-Started off fresh with the main meeting with our team in Taiwan. This is where most of our development, sourcing and other misc things happen once we design the products in Cali. Its run by a nice lady named Ingrid. Her right hand man is a dude named Gordon-aka Mr. G, aka My Bruda, aka Hot Head, aka ABC Hustler, aka Get Shit done. Now, once he finds out that he's in this, he's gonna get pissed cuz he absolutely hates being in the public eye. Since G knows I love him, who gives a shitJ
Poker face? Ingrid on the Right and My Bruda on the Left.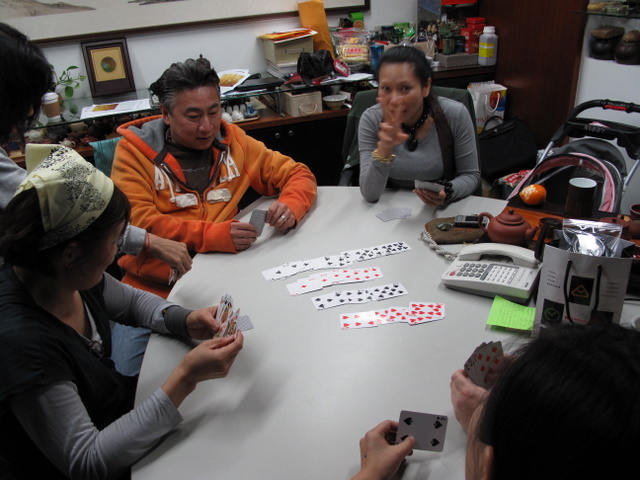 Lots of stuff going on. Final approvals of Winter 10-11 in the mix. Check out our Director of Apparel-Julie in Red. I'll introduce her later on, as her story is off the chain.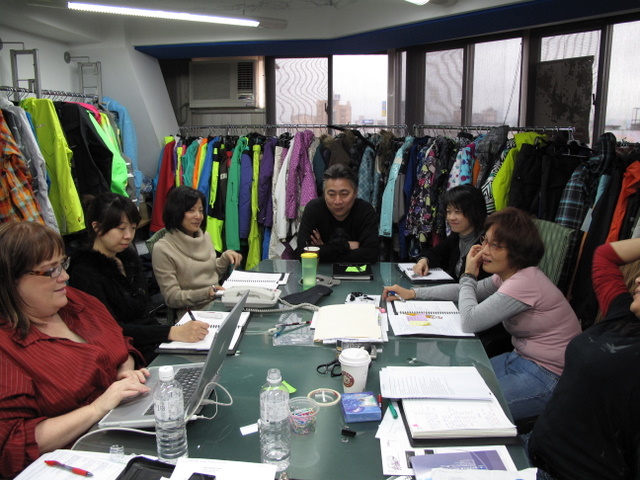 Like I mentioned earlier, meals are an important part of what goes on in Asia. We can go into the office and battle hardcore, but when it comes to lunch or dinner, its all good until the bell rings again.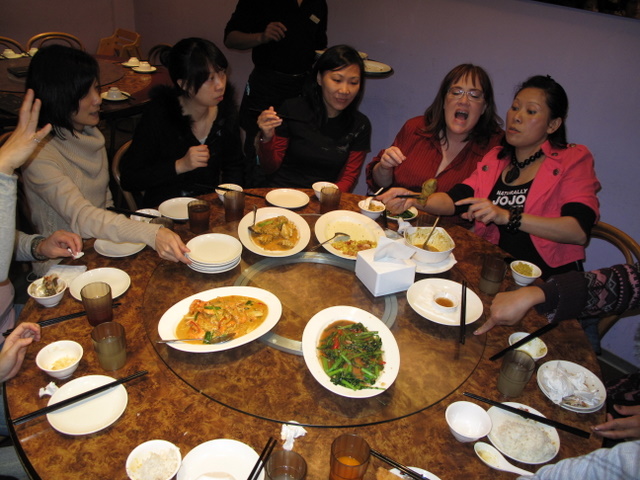 Good luck? Chinese people say it's good luck to eat the head and tail of a fish-especially the eyes-yum?


When I met Mr. G, he was a Young Hustler with a full head of Shiny Black Hair and no grays-Time fly's and I think a lot of this was from me-sorry G.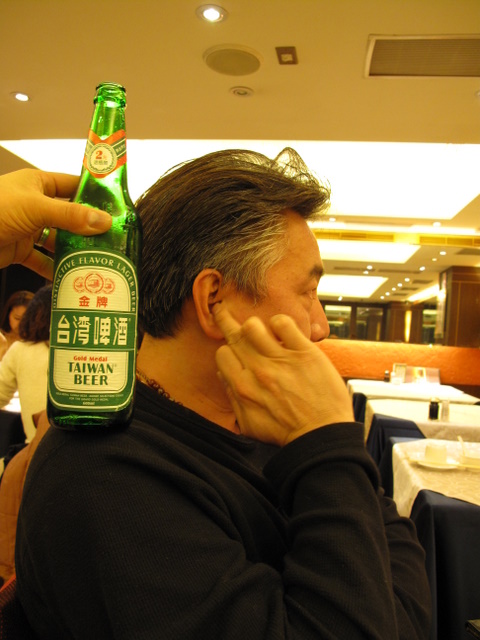 Taiwan Bound
March 10, 2009
I think it's been over 48 hrs of no sleep, but who's counting. After saying wus up to the Hypebeast Crew to the break-a-break-a-dawn, I took a flight to Taiwan. Taiwan is a little island off China, or ROC-which is the Republic of China. I'm here more than HKG, as this is where most our communication and development is sent from the states. Taiwan is also the main supplier of any technical fabrications of Nylons and Polys. That night, I had dinner with an old friend, Jack Wang, who runs IS EYEWEAR (www.ISEYEWEAR.COM) with Devun Walsh and company. We chatted about random things from shredding in the 90's to how the "industry" has changed. Jacks a stand up dude and knows his shit.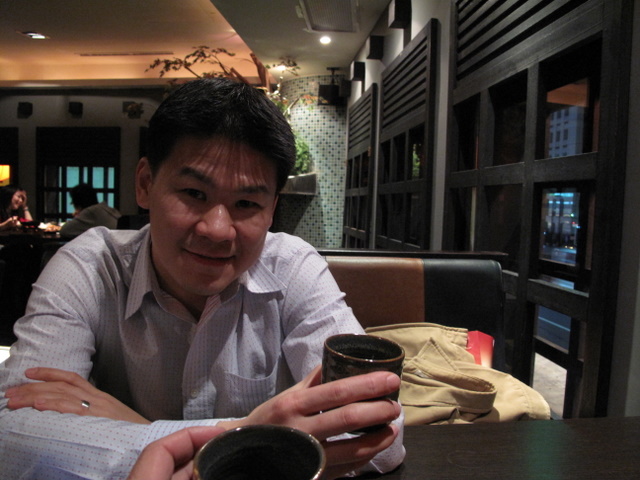 Later that night, I had another meeting. This time it was one of my fabric suppliers. Can't tell you the name of the company, but its run by a crazy ass dude named Johnson-Crazy, meaning incredibly creative and progressive, but a Crazy good personality. I've known him for well over a decade and seen his company become a small start up to one of the LARGEST Fabric suppliers in the Snow and Surf industries of Nylons and Polys. His rad, but gotta do something about his teeth and all that tobacco beads he chews.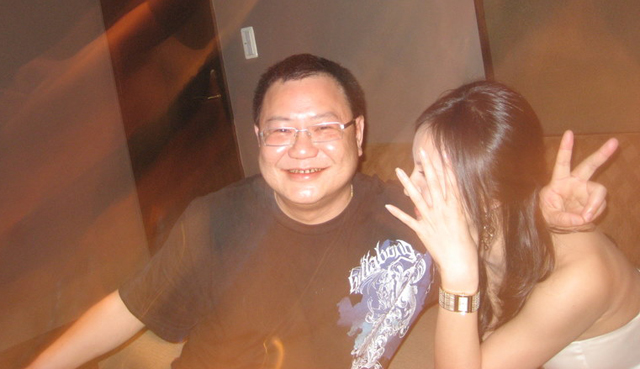 When I started this so called "Blog" experience, I wanted to do two things. The first is to NOT show my face or put attention to myself, but more my experiences. The second, is to be 100% Real and keep it raw.
Now before you think about something else, let me explain. Doing biz in Asia gets done at all levels. This meeting, we're at a Karaoke place. For those that have no idea, it's not what you think. Karaoke places in Asia are different than those in the states. For this one, we're all chill'n in a private room with food, drinks, music and some lady friends. The girls job is to hang out with us, sing songs and drink with us-that's it! Growing up in the states, this was totally different for me-why pay for girls to just hang out?! Well, its different over there (not to mention, I'm not paying…) Clive, here, is one of the sales guys working for Johnson. It's funny when I talk to them, considering I don't speak Chinese (Mandarin). They are confused because I don't "look" American, have a last name that's American, but I am American. There just not use to that stuff. Nonetheless, it was cool to catch up with the fabric dudes.


The Beast of Hype
March 9, 2009

Immediately after the China factory, I took the train back to HKG and met up for dinner with the Hypebeast family (www.hypebeast.com) In my mind, there's only two main sites in the Street-Fashion-Footwear Culture and Hypebeast is one of them. Eugene, Jason, Season and the rest of the posse rolled deep and showed me what HKG had to offer. Kevin was out in Jpn so he missed out this time. If you've never been to HKG-its something like NYC x Tokyo x LA x London x China all rolled into one, but not really. It's the epicenter of Asia with everything and anything there-most importantly, great places to eat.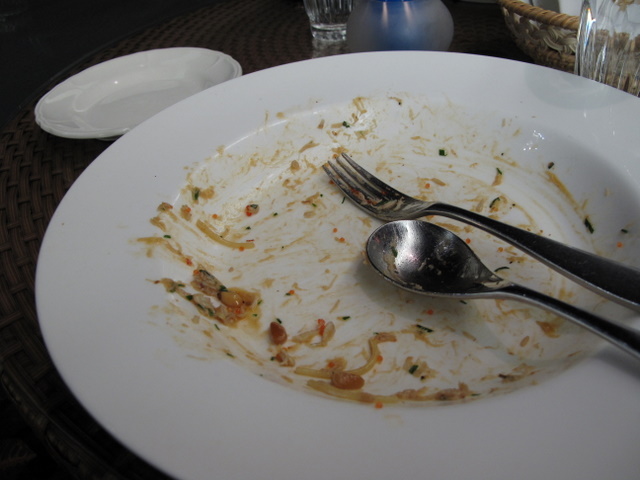 Hong Kong view from Kowloon side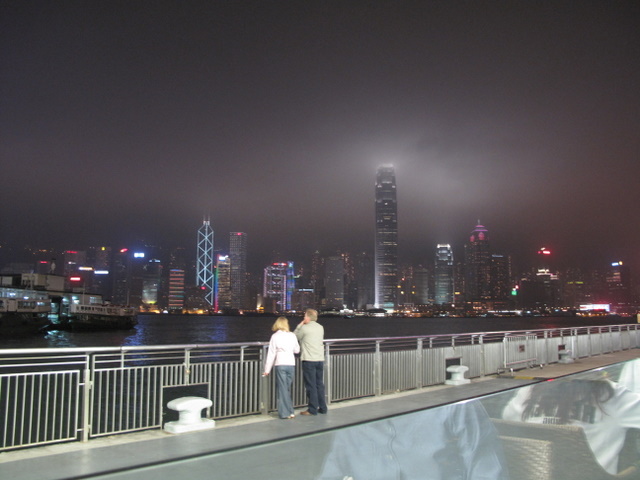 Don't ask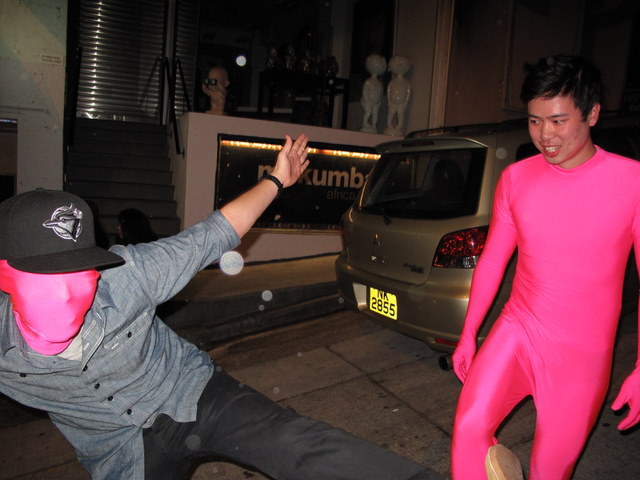 In deep somewhere between Africa and China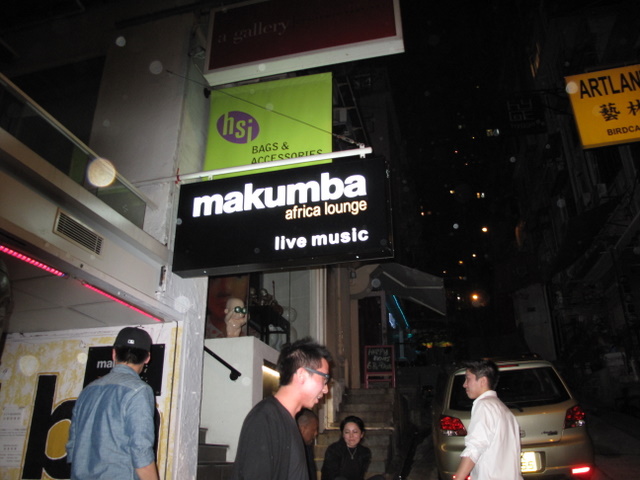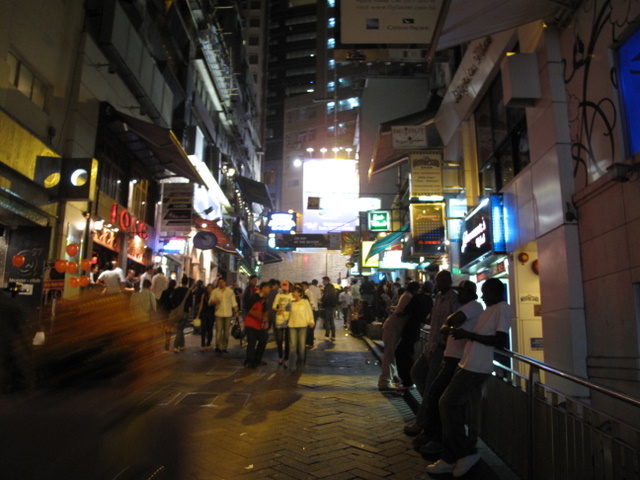 LA 4 life, fool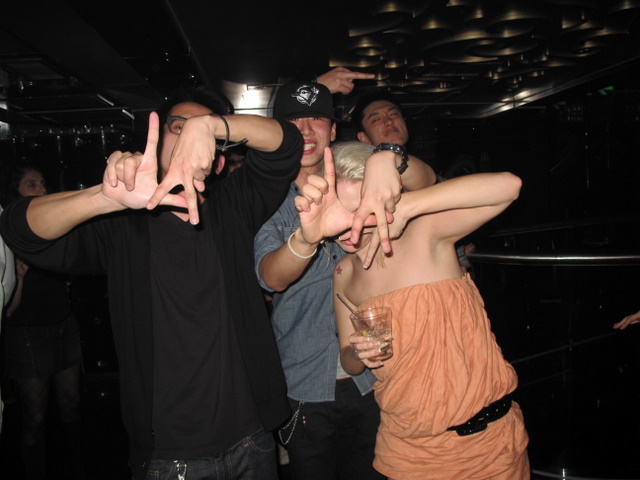 "6 in the morn'n police at my door…"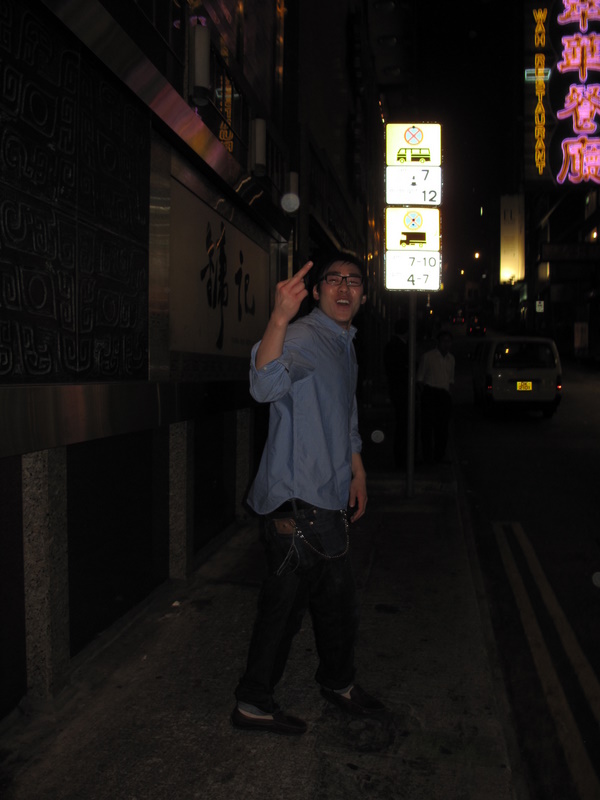 72+ hours of no sleep
March 9, 2009

I usually take about 5-6 Asia trips a year for misc things like production, development, marketing, sales, etc. This time around, I hit up HONG KONG-CHINA-TAWAIN-JAPAN for a quick 8-day tour.

1st stop CHINA

I took the midnight flight out of LA to arrive in HKG the early morning-hoped on a train to CHINA to check out our Boot factory. Some of you may know, we're dropping a special partnership with NEW BALANCE (www.newbalance.com) , producing BOOTS, SHOES and OUTERWEAR for a September 09 hit. Very special and limited the first year. (stay tuned for ltd drops on www.686.comin August)
Working with one my lead designers from Austria, Michi makes the rounds. He's a super talented dude that knows his shit. Together, we've refined final comments, working with New Balance's strict Codes of Conduct, the boot factories timelines, as well future ideas to make the program even better. I'm from the apparel production world, so boot and shoe development is a quite new to me. I know exactly what I want, but the talented team of designers, developers, engineers, testers and production mgrs are my core-together we make it happen. Check some looks.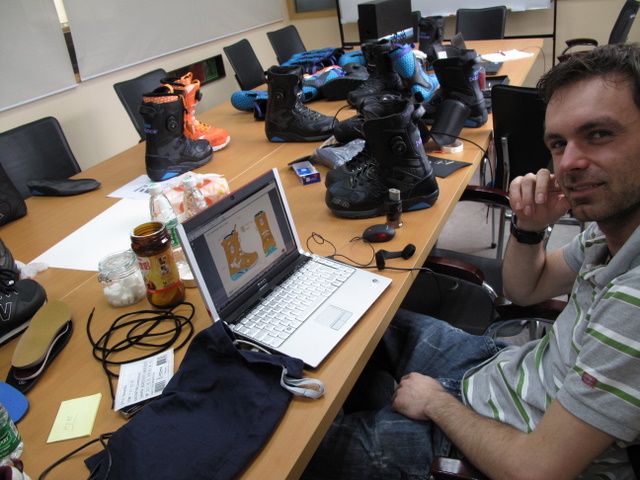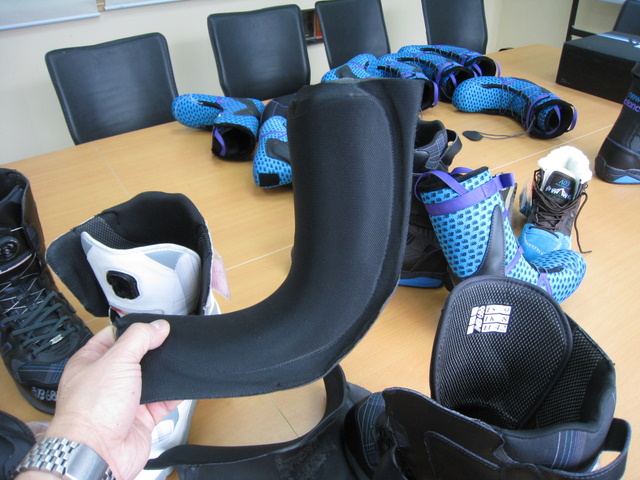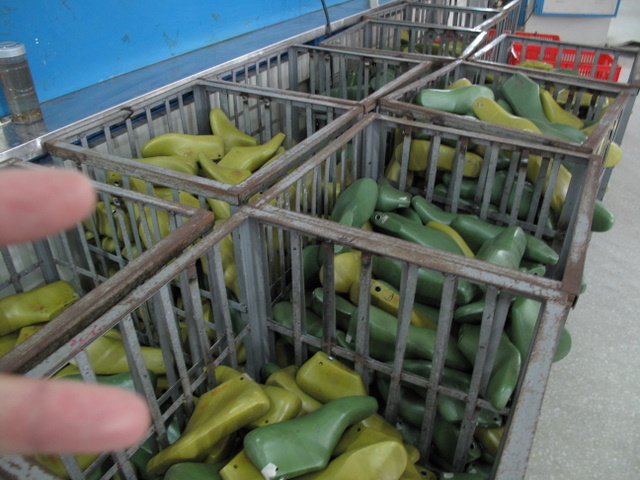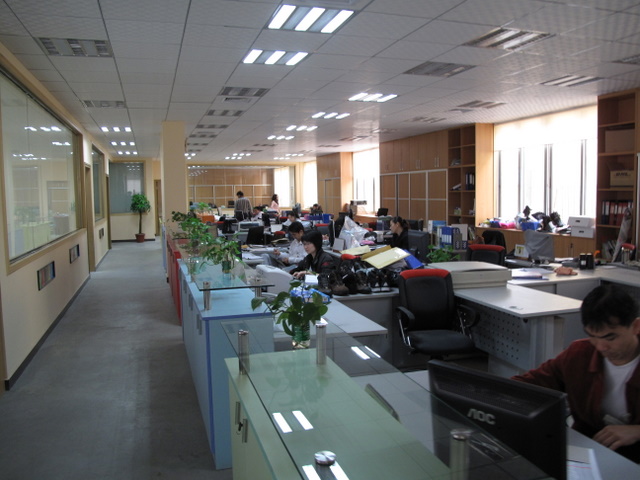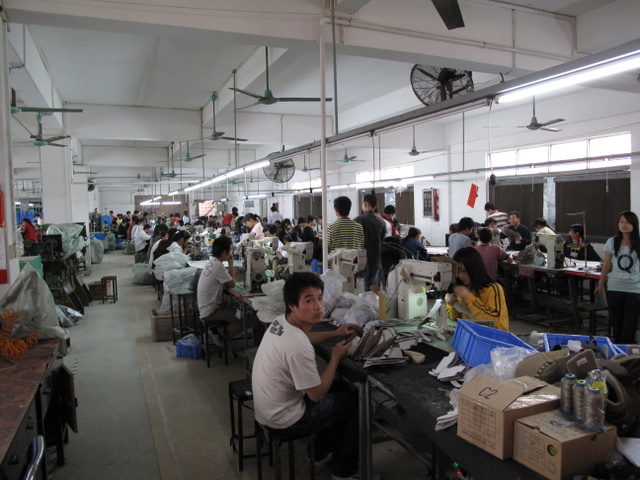 686 Rolls Deep at Office Booyz '09
March 6, 2009
Our crew rolled up deep to Office Booyz on Friday, March 6 at Bear Mountain. Mike was still in Asia, but the 686 marketing team of Kristin, Gary and Doug made sure to hold it down proper. The day started off with some hardpack but super fun park-mob-runs with a crew of about 12 people from various corners of the industry. Once the contest got started, lots of companies were well represented and it was cool to see guys like Jared from Vans and Cody Dresser from Monster tearing up the course. Just because you sit behind a desk and can type 80 words per minute doesn't mean you can't rip! Of course, there were plenty of people who chose to sit on the sidelines and have some cocktails, which is completely fine, especially when contestants started to break themselves off. Check out the video and photos to see some of the action first hand. Thanks again to all the guys at Malakye for putting on a great event. You can bet we'll be back next year!
A bluebird day out of the office. Ahhhhhh.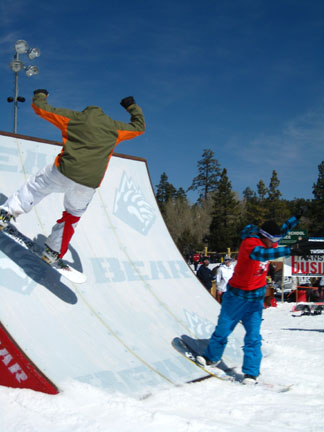 Gary Wyman from 686 and Dave Schmidt from Monster on the wall ride.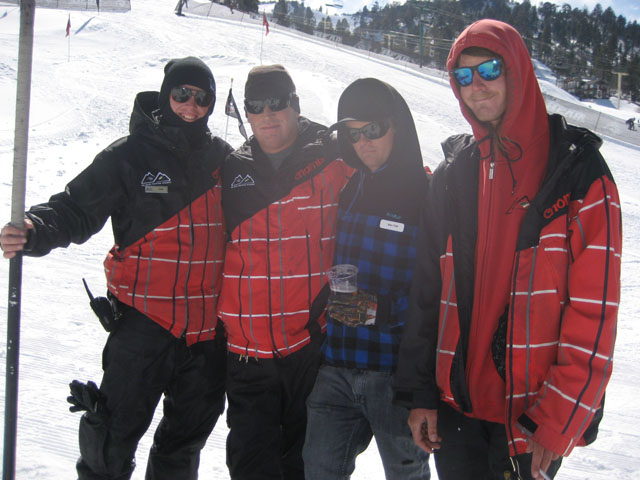 The hard-working Bear Park Staff. Thanks guys!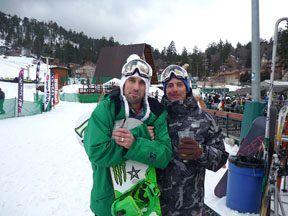 Mr. Cody Dresser and Mr. Dave Sypniewski.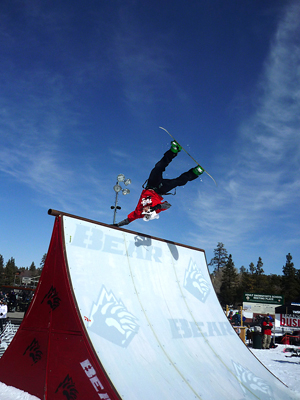 Cody Dresser on the wall ride.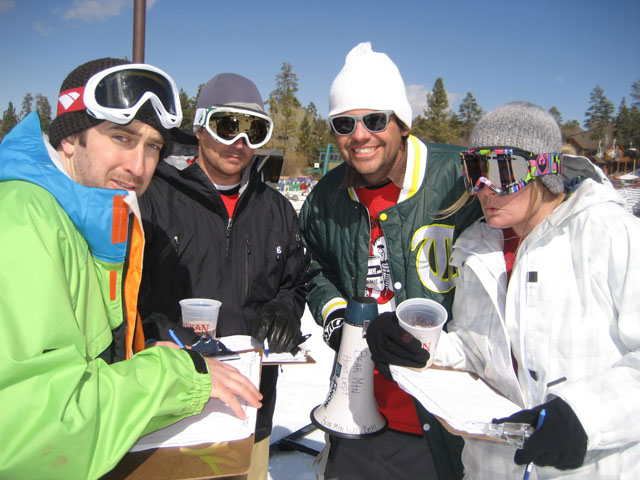 Office Booyz official judges: Josh Lewis from Malakye, Jason Bump from The Machine, Justin Cobb from New Era and Kristin Cusic from 686.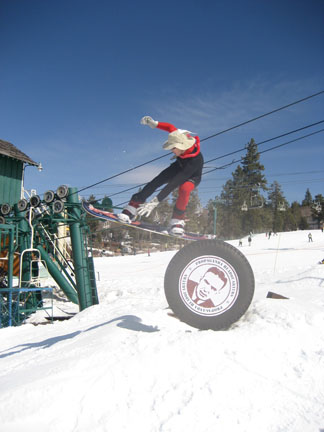 Teddy Monney gettin' some in a wetsuit!
"Those Suns of Beaches" in full effect! This was one of two costume changes that day. Check the boards too. Nice job, guys!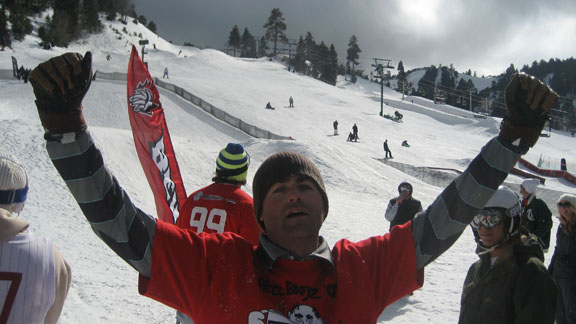 Rob Campbell is my hero.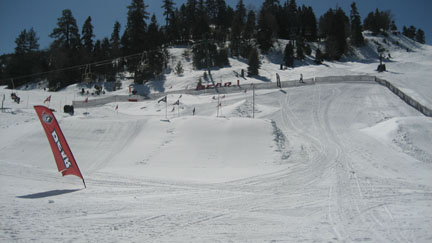 The Office Booyz course claimed many…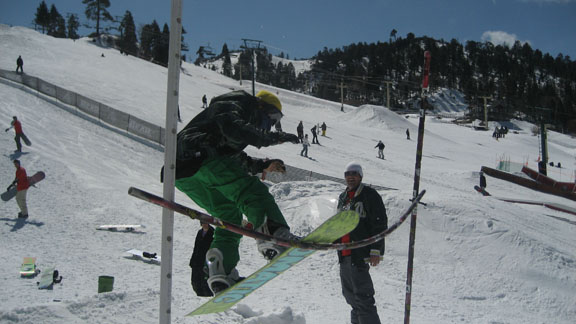 Tanya Otero from O-Matic keeps up with the boys but wrecks the hippy pole!
Mash-Up Archives:
January/February '09

Most Recent Mash-Up
---