Back to News
ahlivv
May 1, 2009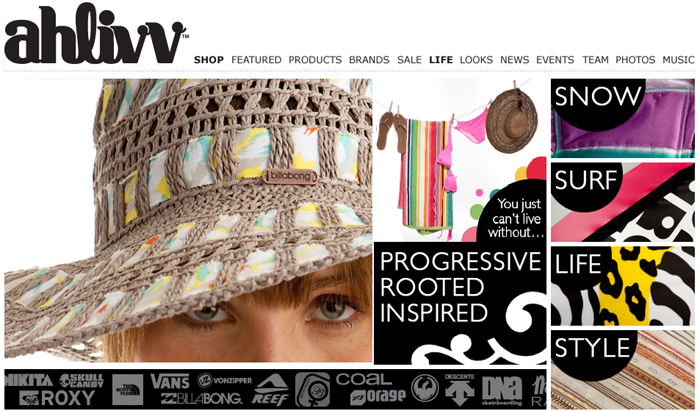 ahlivv is an online marketplace dedicated to the wide world of women in action sports. ahlivv is more than simply a one-stop shop for women to purchase goods online, it's a community where women can keep up to date on events, news, the latest trends and fashion tips, and the brands that resonate their active lifestyle - on and off the hill.
Read on to learn more about the roots of the company, what the ahlivv crew is presently up to today, and what to look out for in the near future as ahlivv branches out and captivates the lives of women in action sports across the globe.
What inspired the creation of ahlivv, and how did the company get started?
Pronounced "olive," ahlivv originally started as CoreActionSports.com by sisters Courtney and Lisa (Clore) Pugh. The girls grew up very active in the boardsports' world while sharing a love of fashion. Courtney and Lisa wanted to find clothing that spoke to their fashion and active sides while being highly functional. At the same time, they wanted this progressive clothing to express who they were as individuals. Feeling like they were not alone in this desire and recognizing the gap in the market, they launched www.ahlivv.com.
The name was recently changed to ahlivv. What inspired the new name? Why the change?
We realized our company was much more than Core Action Sports' apparel, and that we needed to fully capture our brand: Progressive in Style, Rooted in Action Sports, and Inspired by Life. With this fresh and inspired name, ahlivv has multiple meanings. As pronounced, the name ahlivv is symbolic of the olive tree, the most basic sign of peace in the world. And the spelling, 'Ah…livv' resonates "Live life to the fullest" and defines 'Inspired by Life', our action sports' roots and the notion that life is about finding joy in the simplicities: the people, the outdoors, the style.
The ahlivv woman may only ride once a year, but she embraces the lifestyle while also expressing her own unique style – and that is the ahlivv brand.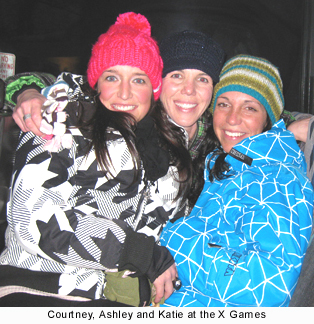 In a very short time ahlivv has brought on some of the most notable brands in the business. How did this success happen so quickly?
Truthfully, the result of four factors: (1) our women specific and fashion centric niche, (2) our buyer, (3) our marketing and partnership efforts, and (4) our commitment to genuinely communicate the uniqueness of each brand. When we originally launched CAS, we focused on spreading awareness about the uniqueness of our niche in the online marketplace. At the same time, the industry was en route to embracing and investing in the women's segment. So naturally, ahlivv was a great fit and niche to be a part of in the online community.
Then, Allyson Rhoads joined ahlivv last fall as our buyer, bringing her experience and expertise in retail and buying to the table. Allyson has been integral in "mixing things up" to provide customers with a solid and unique product and brand offering. In addition, Katie Brown and Ashley Masin joined ahlivv marketing and focused on building solid relationships with the brands we carry. We value our brands and view our brand-retailer relationship as a partnership. We work alongside each brand's marketing team to genuinely and professionally communicate each brand's "story" and uniqueness on ahlivv.com. And that has made "ah-livv" the difference.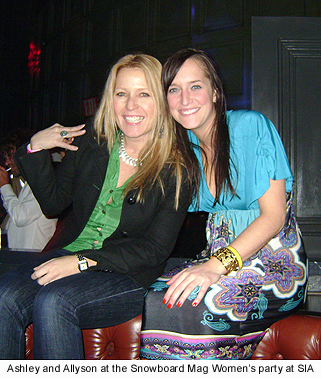 Being solely an online resource, what marketing tools have proven to be the most valuable (i.e. event marketing, social networking, online advertising, etc)?
First and foremost, customer service and word of mouth prove to be our most valuable marketing tools. We ascribe to the golden rule and treat our customers how we like to be treated when we shop online. So we always provide the best, most memorable experience each time someone visits our site. Happy customers return and might tell a friend. And happy returning ahlivv customers become ahlivv customers for life and always tell a friend. Second to customer service is our commitment to creating an online shopping experience which includes our ahlivv Life site. Effectively a blog, the ahlivv Life site is also a resource, community and amazing organic marketing tool. We also promote ahlivv through several online marketing avenues, including social media and much more. From a grassroots perspective, our amateur team of athletes, community involvement, and ambassador program provide a meaningful way to connect and promote. We are constantly marketing ahlivv – we could go on and on for days, but we will spare you for now!
ahlivv Life showcases content that connects consumers with the products, brands and lifestyle. Are there plans to expand on this by adding more content or community features?
Yes, our ahlivv Life site is a top priority, right up there with the ahlivv Shop. We want to create a community environment on the ahlivv Life site so people visit us to shop but also to read, check out events, and get tips on everything from snowboarding in the backcountry to seasonal style tips. The Life site is part of the ahlivv vision. It is not all about selling, it is also about creating relationships and offering a platform for ahlivv women to express themselves. We want to be the site that a woman looks forward to visiting each morning to get her tips and trend updates and connect her to the lifestyle she loves. We have integrated contests, and information sharing. We love interacting with our customers, seeing their photos and hearing their stories, and the ahlivv Life site give us that opportunity. We continually add to our video and photo libraries, and welcome our customers and readers to contribute. We are also currently working on getting our music live, and have a few other applications up our sleeve, so keep a look out!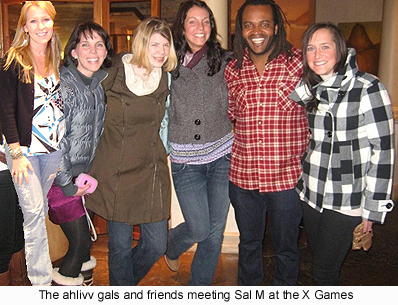 What is different about ahlivv's e-commerce model?
We don't want to just "sell" stuff. We are truly genuine in our dedication to providing the resources and style for everyday of an ahlivv woman's life - from work to play and life in between. ahlivv offers a really unique product mix, catering not only to boardsports' apparel, but to what the ahlivv woman wears/does when she's not riding. We offer harder to find boutique brands, alongside mainstay action sports' brands. We personalize each shopping experience with our packaging and personal notes to each shopper. And we try to minimize the challenges of online shopping by offering resources like buying guides, a look book and accurate size charts. We also strive to play active role in building women's action sports at every level.
Was it a complicated process to put all of the pieces together (from front-end website to order fulfillment)?
(Smile) Yes. Each day is complicated. But piece by piece each process and all the pieces come together. Any startup company would probably tell you that every day is a learning experience, especially when it comes to putting all the pieces – from front-end design to back end order fulfillment- together. Most big online retailers have staff for each of the 25 jobs each of us handle on a daily basis. In that way, it's unlike a big company because not only do you bring your strengths to the table, but you also have to be flexible and master a boat-load of other skills in order to be successful. But it's way more fun. And each day we have to be creative and always ask ourselves "what else?" Especially online where the business and retail worlds change at warp speed. It's a blessing and a curse. And as we grow, we continue to face new challenges when the pieces that worked are no longer sufficient. Luckily we all love what we do. We are such a close team, and everyone is committed to ahlivv's success – which includes putting these pieces together as fast as possible!
Does ahlivv have plans of creating its own private-label line?
It's definitely a dream of ours to create our own line. That said, manufacturing is not our core competency. And we love what each of our brands brings to the table. It makes us who we are, speaking to our target girl in all aspects of her life. We would love to have the ahlivv line be a part of that product mix someday, but we want to make sure to do it right. For the time being, we are focused on successfully growing the ahlivv brand through selling the brands on our site.
ahlivv's core focus is catering to women in action sports; however, this almost totally eliminates the male audience. Are there plans to one day expand into the men's market?
We like to make it a rule to never say 'never', but as of right now, we are committed to the women's market. Our niche makes us who we are, and makes us unique in the industry. That said, we have plans to incorporate the younger female audience – and add ahlivv girls into the mix.
Does ahlivv currently target the male audience or have plans to (i.e. events, gift options for sister, mom, girlfriend, etc)?
Yes, we love the idea of integrating the guys in the ahlivv woman's life. We've heard through the grapevine that shopping for women can be a challenge for a male, but the ahlivv niche and our roots in action sports are things that men understand. We definitely are committed to these male customers and their ladies. We have so much fun with gifts and "personal shopping" for men who need that special gift. Some things you can expect to see are gift guides for men and more emphasis on personal shopping for men, but we are open to hear what men want – sometimes it's one of those Mars vs. Venus bits where what we think men need and/or want is not exactly what they're thinking.
What is ahlivv's ultimate goal?
We want to become a verb, a noun, an adjective. Let me explain:
ahlivv: v. To live an inspired life by expressing progressive and unique style and/or a love or action sport. To be 'in the know' in the lifestyle and fashion community.
Ex: I'm usually ahlivv on the weekends. You know, check out new fashion trends, snowboard and enjoy my friends.
ahlivv: adj. Progressive in style, rooted in action sports, and inspired by life.
Ex: I'm going out on the town tonight, and I'm getting all decked out, ahlivv style.
ahlivv: n. A community and brand based on progressive style, action sports roots and life inspiration. Ex: ahlivv's got some rad stuff going on this year; community events, contests and crazy deals for their community.
Our main goal is to become a brand and a community. We are really starting to gain steam, but we also have a long way to go to reach our goal.
What will be the first department(s) to bring on new hires when the time comes?
It's tied between web development and data entry, then operations and inventory management. Currently, we are hiring interns to support marketing and operations.
When ahlivv looks to hire new talent, what qualities and experience gets you in the door?
We look for passion, work ethic and drive, combined with attention to detail, commitment, the ability to multi-task, and a positive attitude. We appreciate involvement with the community, through charity work, networking, or other channels. Each of us feel like we own a part of the company. It's our business – our work, sweat and tears and each new hire should be ready to embrace ahlivv 100 percent.
Visit www.ahlivv.com today!
---