Back to News
Liquid Force's Relentless Weekend at Kansas City Watersports May 15-16!
May 5, 2009
Liquid Force's Relentless Weekend at Kansas City Watersports May 15-16!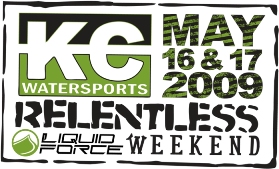 The Liquid Force Relentless Weekend is an annual event held at the KC Watersports Wakeboard Park. The event started 5 years ago with one simple goal, to bring professional wakeboarders and local wakeboarders together in a friendly, social riding environment. Regardless if you are a beginner or a mega baller, everyone will have a blast participating.
This years event features Wakeskater James Balzer, World Champion Cable Rider Tom Fooshee, and wakeboarding legend Shawn Watson.
The Weekend starts on Friday May 15th with open riding on the cable from 2 PM - 8 PM. Everyone is invited to Hooters in Olathe to hang out with the riders and other special guests.
Things really heat up on Saturday with open Riding beginning at 10 AM. At noon, all of the participants will get together and teams will be drawn. Each rider is to select a trick that he or she would like to learn that day. From noon to 4 riders will practice their trick, and the Liquid Force Pros will be on hand to offer tips on how to land the trick.
At 4 the competition begins. Each rider gets one try to make his or her trick. The judges rate the trick on a scale from 1 - 5 and the points go toward the team total. The team with the most points will win great prizes from our sponsors.
Following the competition, everyone will head to the Scion Lab at Grinders in the Crossroads district of KC for the Midwest Premier of the Billabong Team Video "Out of the Pond". The party starts at 7PM. For directions to the event go to www.crossroadskc.com, and there is no cost to attend the video premier.
The cost for the event is as follows:
3 Day Pass (Friday - Sunday) $60 Includes all open riding sessions and event entry Saturday Only $40 - Includes riding and event entry Season Pass holder price for Saturday event $20
Open Riding continues on Sunday from Noon - 6PM
For questions call KC Watersports (913) 783 - 4300
www.kcwatersports.com
www.relentlessweekend.com
---