Back to News
Matt Moore: Graphic Designer/Artist, Founder of MWM Graphics
May 15, 2009


Matt W. Moore: Graphic Designer/Artist & Founder of MWM Graphics

Matt Moore, graphic designer, artist and founder of MWM Graphics, sets the bar high when it comes to originality and taking design and art to the next level. Working inside and outside the industry for clients such as Burton, Nike SB, O'Neill, the NFL, Microsoft Zune, and Scion Motors is a true testament to his abilities and range of composition. With 10,000 hours under his belt and a wealth of experience under the table, Matt has the skills and know-how to land jobs with the industry's finest.
If you're an aspiring graphic designer looking for insider knowledge and tips, Matt lays out the fundamentals to help you get there. Whether it's creating a name for yourself, the best ways to approach potential clients, or laying out a game plan for your next project, Matt touches base on these topics – and more - and illustrates the story that led him to where he's at today. The canvas is set, so here's Matt to liven it up a bit.
What sparked your interest in art and graphic design?
This has been my path since I was a kid. I've always wanted to be an artist and communicate visually. In my teen years, when I learned about the differences and similarities between art and design, I decided I wanted to do both. Art and design are a universal language. I've known all along that this is what I want to do with my life.
Were you traditional schooled or self-taught?
Both! And I think I can speak for all art school kids when I say this. I definitely went to school for art and design. I learned how to swing a paintbrush, mix colors, lay out a newspaper page, design a typeface, and a bunch of other typical design foundation projects. But what really makes my work "Me" are the thousands of hours of exploration and experimenting on my own. At the end of the day, you can't teach "creativity," and you can't teach someone to have his or her own style. But you can learn and prepare by paying attention to how others do their thing. I wouldn't be where I am now without the design and art foundation I learned at school and in the streets with my graffiti crew.
At what point did you realize you could turn your interests into a career?
When I was in High School, I used to obsessively doodle in my sketchbooks. I had dozens of them filled up with graphic style illustrations and graffiti blueprints. Family and friends were always encouraging me to go this route. Once I saw the potential for combining the different disciplines, while still doing my traditional art on the side, I had my crosshairs locked in. Ten thousand hours later, things are going quite well! But there was definitely a whole lot of PB&J and PBR in my world until a couple years ago – haha!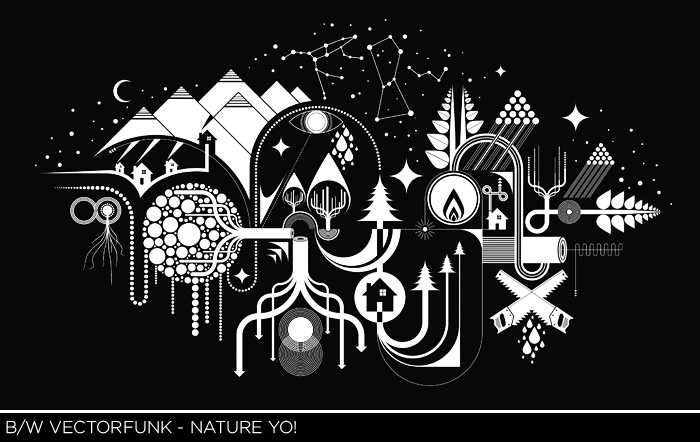 Vectorfunk is your signature illustration style. What exactly is Vectorfunk and how does it translate into your work?
Vectorfunk is one style of illustration I have been developing over the years; thus far it has been my most well received and most commercially-viable aesthetic. Essentially, the ideas, compositions, and colors are the same as in my other art and design, but the Vectorfunk work is 100 percent digital illustration using Adobe Illustrator. Wild asymmetrical compositions, bangin' color combos, geometry, psychedelic flow, and dynamic optical illusions. My lifelong plan is to translate these ideas, and the momentum from this work into all areas of design. I've done a grip of fashion and textile design with this style. In the coming years I plan to go 3D with it and do architecture, sculpture and motion graphics with it. I'm dying to get synced with more projects like this. The possibilities are endless!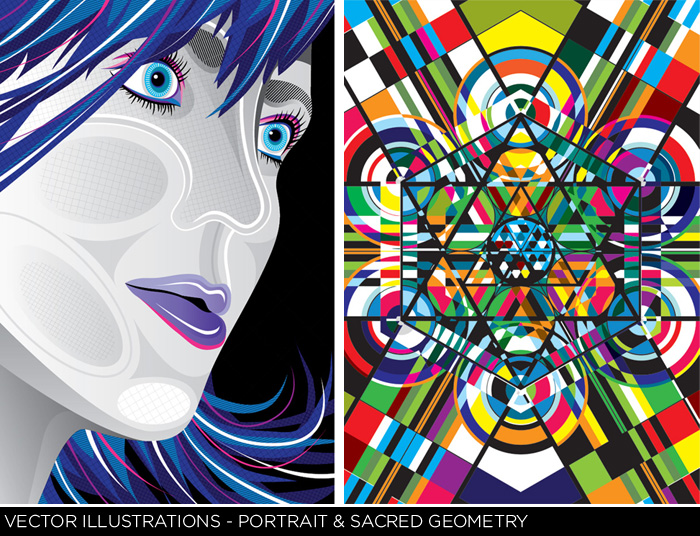 Though cliché, where do you draw inspiration for each project at hand?
Man, inspiration is everywhere. I just stay open and dig deep for things that I find interesting. I look to the past, daydream about the future, and stay honest with myself. I'm always trying to contribute to the future and never do things because it's "hot" or "trending." I strive to be the first wave crashing in, creating and contributing to the future.
When approached with creating a new design idea, concept or campaign, what are the fundamentals of outlining a game plan?
It's crucial to be on the same page with the client, their objectives, their market, and their brand history. I always do my research and collaborate with the Creative Director on a meaningful brief for each project. My website has over a thousand images, so this helps a lot. Oftentimes I will get an email loaded with images of mine that resonate with client's objectives, and descriptions of how they want me to rock out.
What are the "Do's & Don'ts" in the field of graphic design?
The list is endless; I don't know where to start. I am always saying: "Art has no rules. Design has many rules." At the end of the day, the core design principles rise to the top of the list: composition, pacing, contrast, originality, and relevance. It's an interesting balance when doing illustrative or artistic design because the line between aesthetics and message are spliced. This is my playground. I love creating work that not only looks dope, but it also communicates on some level with the viewer.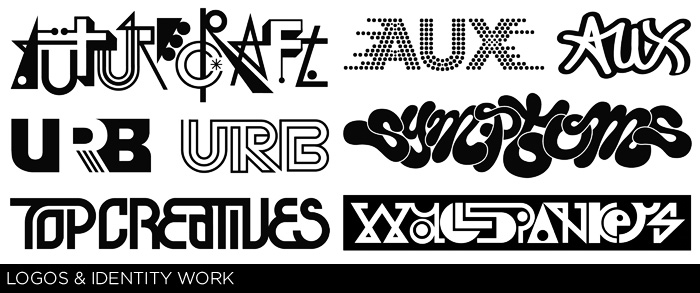 You recently launched your own line of apparel, GLYPH CUE. What inspired you to launch your own line?
In the past five years I have worked with dozens of street-level brands on apparel designs. I've been fortunate to see the inner workings of the industry, and contribute tons of designs to street-level fashion. These are my favorite projects to work on. With the momentum and knowledge I have now, it is the perfect time to go for it and drop a line. Some people balk at the idea of launching a new endeavor during an economic slump, but I believe that it is the perfect time. We can be agile, get our infrastructure dialed, and our relationships established. Then when the pendulum swings back, we will be in a healthy position.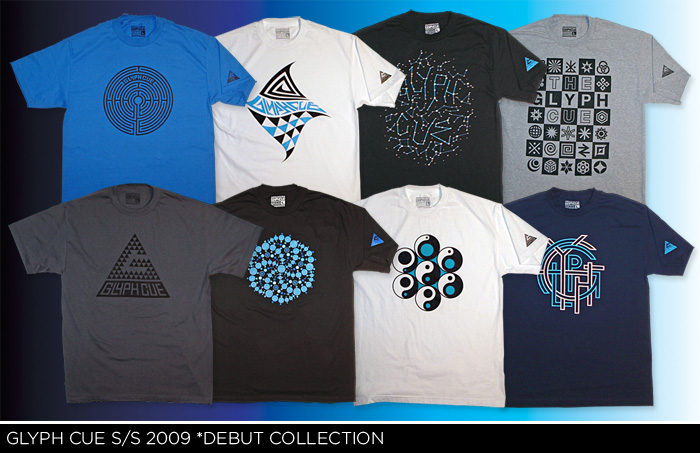 You've had the opportunity to showcase your work at shows across the globe. How have people reacted to your work, noting different cultural perspectives, beliefs and values?
That is always fun to think about, and it's fun to talk about at my openings. Generally, my work is abstract, so it communicates on that level and doesn't get lost in translation. At the same time, my work is often very geometric and super colorful, so each city I go to has a different reaction. The folks in Barcelona were really feeling the geometric mosaic aspects of my work, and the LA folks loved the psychedelic flow and colors. My work exploring sacred geometry and timeless graphic syntax is fun to look at for some, and incredibly meaningful to others, depending on their interests and history.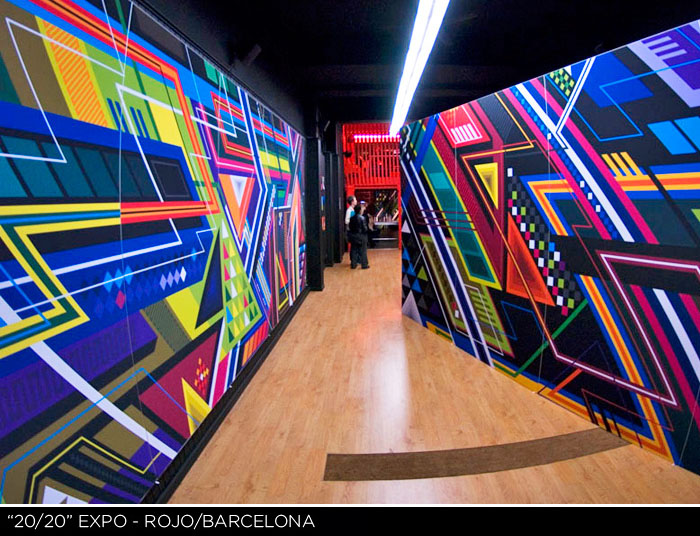 You've worked for various heavy hitters in the industry including Burton, K2, Nike (Dunk, SB, Soccer), O'Neill, Ecko, Gravis and more. When approaching companies for full-time or freelance work, what is the best strategy to follow? How do you get the employers engaged?
I'm fortunate to have a great community of industry folks in my circle, and have been blessed with a bunch of press and visibility. Most of my client work these days comes to me, and I aim for the fences every time, so clients return for my twist on their next seasons offerings. As for advice on getting relationships going, I'd say nothing will ever take the place of a good night of drinks at Magic, or even better, Bread & Butter. These friendships have become my most meaningful industry connections, and it is always an honor to meet people and brands I've had on my top shelf for years.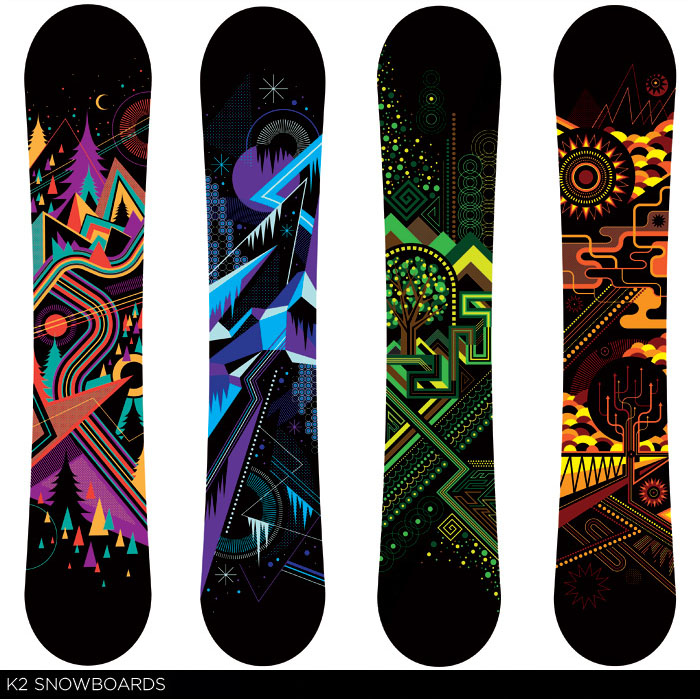 Besides talent and a proven track record, what other qualities does one need to land a freelance or in-house job?
It's crucial to be a team player, be able to process feedback and deliver consistent quality work, and be a fun person to work with and have drinks with. No one wants a lemon in their circle, especially for 60+ hours a week – haha!
Your portfolio is pretty extensive, ranging far beyond action sports (i.e. Scion, Citroen UK, NFL, Microsoft, Walmart, etc). From your experience, are there significant differences in working in both sectors? Explain.
Every project is different. Even working with the same brand can have an entirely different objective from one project to the next. I never categorize until I am informed and understand the end goal. Obviously, some jobs require a timeless and clean aesthetic, and other projects need to look like 2017. It really depends on the what, when, where and whom. Mega Corporations want to hit a certain illusive demographic, and Micro Brands want to expand from their niche. Everyday is an adventure in my world!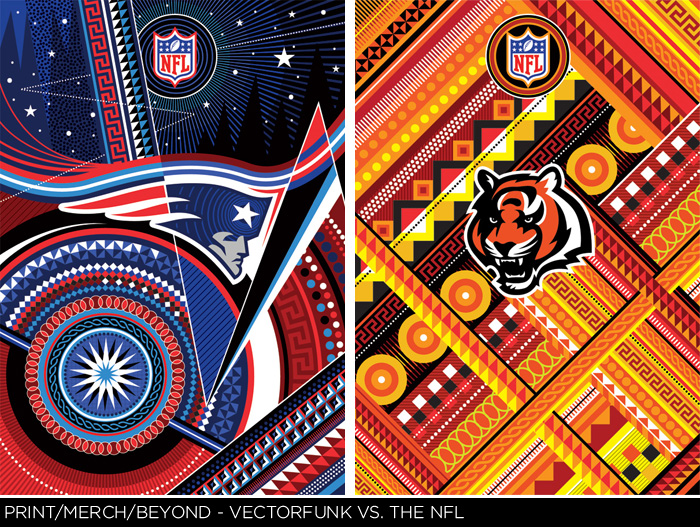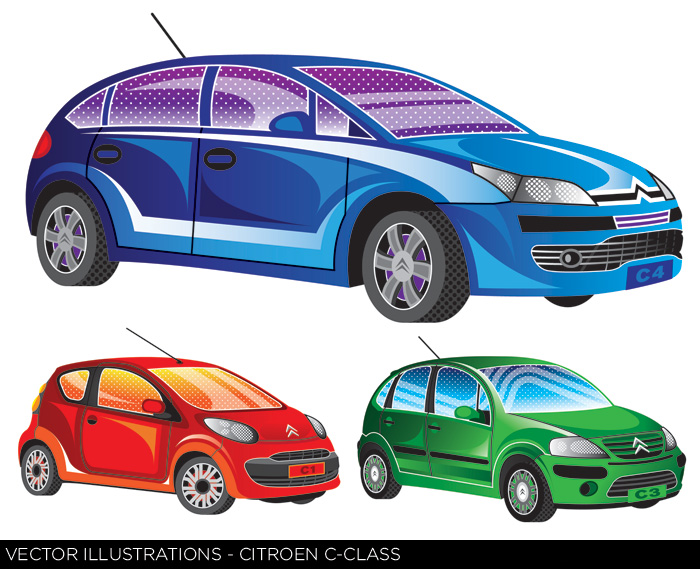 What advice can you give to others looking to get noticed and recognized in the wide world of art and design?
Grind hard. Stay true. Do "You." Figure out what you love, how you can spin it, and how you are going to contribute to the future of this culture. It's 2009, and it has never been easier to pump your work to a massive audience. But at the same time, there has never been so much to see. Figure out your angle and dominate it. Make work that doesn't need a signature. Make work that people will know is yours. And most importantly, have fun and lace up your kicks tight. This is a steep uphill hustle eight days a week. For real!
The When Game: Starring You!
You're in the best creative zone when…
It's late at night with no emails or calls coming in. Music's on. I'm in the zone. Preferably after traveling to an exotic land.
Deadlines are stressful when...
They creep in from the initial briefing. I'm never the dude panicked the night before. I always make sure things are realistic from the client's side of the table, and my own.
You know your work is top notch when...
People start having seizures and dance with no music on!
"The Big Bucks" are in reach when...
It's a brand my mom has heard of.
Fave 5: Which Would You Prefer?
1. Have full freedom, or elaborate on direction provided?
Depends what I am doing. My personal work is definitely "Personal." Client work is always best when it's truly a "Collaboration."
2. Working solo or with a team?
I enjoy having a well-defined role within a larger team. Much more can be accomplished, and I am able to focus on what I am good at.
3. Freehand illustration/art or computer generated graphics?
I need both. The balance keeps me sane. If I had to pick one, it would be handmade art. There's more heart and more power in it.
4. Work for an endemic or non-endemic company?
Global reach is always a good thing, regardless of quantity or market saturation.
5. Freelance or full time? What are the pros and cons of each?
Freelance trumps full time, but freelance is often double-time. It is great to be called upon to shine on projects that I am the perfect fit for. It can be stressful at times, but I wouldn't trade this lifestyle for anything. A smoothie a day is my new healthcare plan – haha!
---