Back to News
MIKE'S MASH-UP!!! - April Archives
April 30, 2009

Michael Akira West is the Owner and Creative Director of 686 Technical Apparel. The following are some of his experiences inside and out of the industry across the globe.
MI VIDA LOCAApril 29th
From Beantown to where?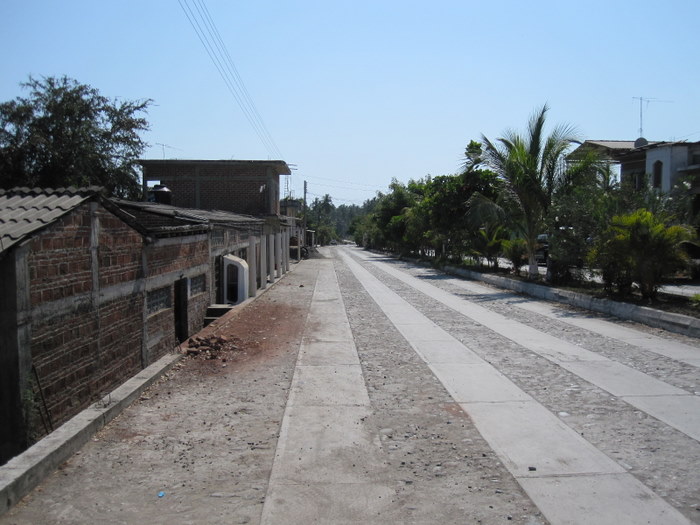 Any ideas?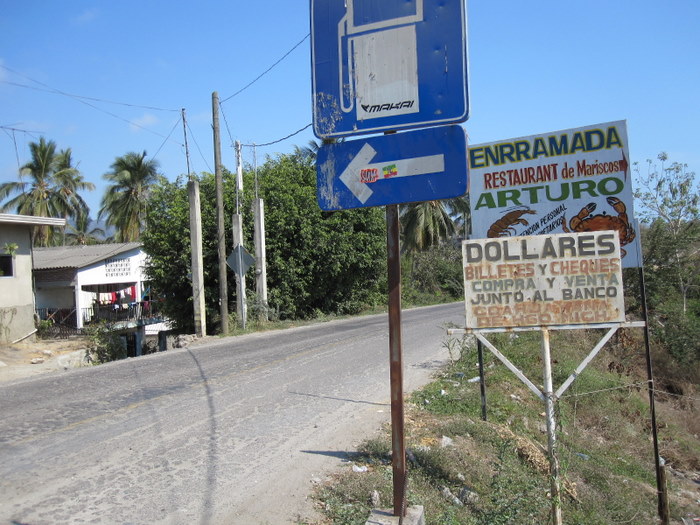 No, it's not my fav
restaurant
down the street from my pad. I headed to Manzanillo, Mexico for my buddy's wedding.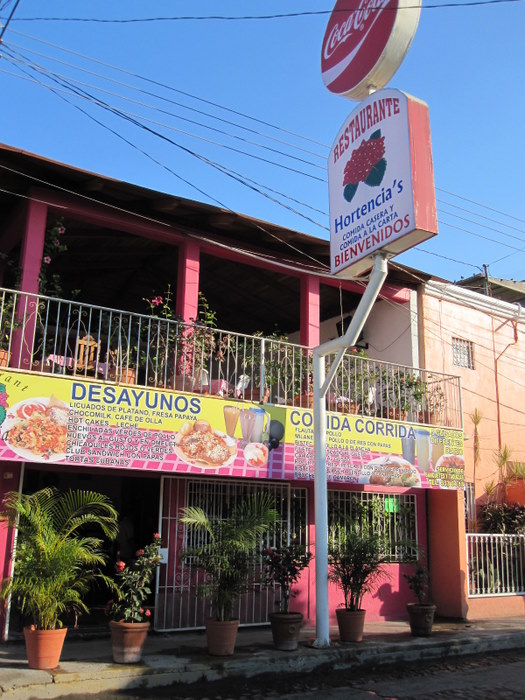 Did a quick surf sesh with some gringos-Packed the suburban and headed down the coast-little did I know what lay ahead of me.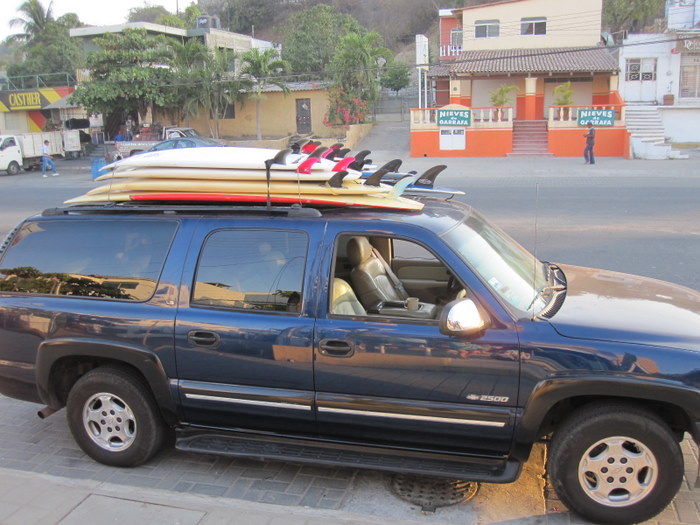 Good waves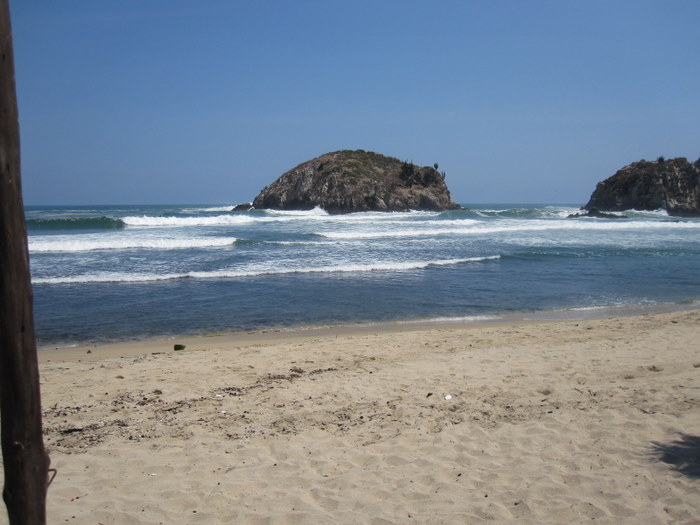 Good Beer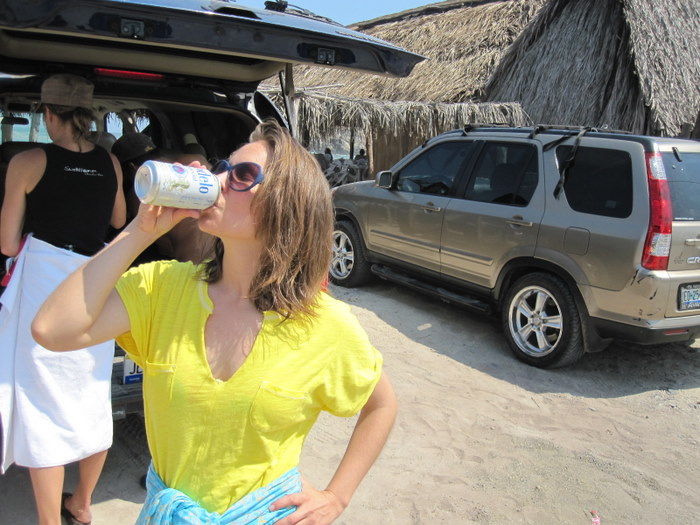 Not so good banos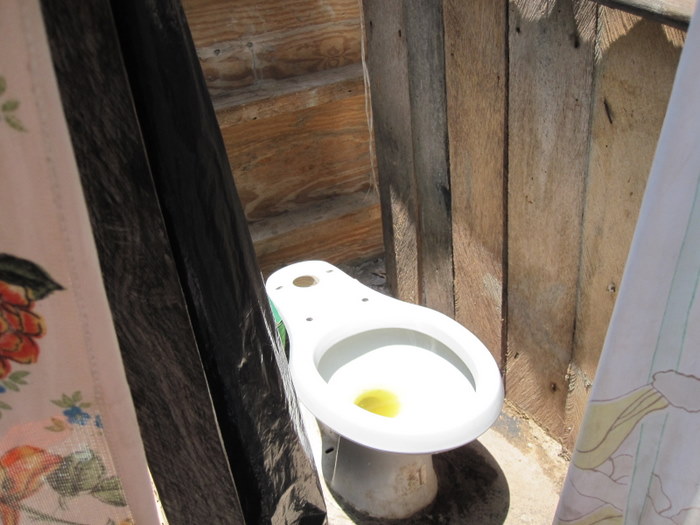 But most importantly, the
Federales
were in full affect. (sorry for the shotty pict, but I didn't want to get shot for pulling out my camera) I guess a bunch of homies filled in a truck with boards on top is a full target to mess with. We got stopped big time and searched from head to toe-back to front, side to side, over and under,
inside and out.
All the while, they had AK's pointing at us-Besides getting grilled and hassled, we were worried about them "setting" us up for something. Shit, times are tough nowadays, so a
little coin
seemed to help the situation. In the end, we were all good-but next time, I'm gonna cruise down with a local and my board in the car. Check out the bunker with one bad dude.
We made it back just in time for the wedding extravaganza-Congrats Reid and April!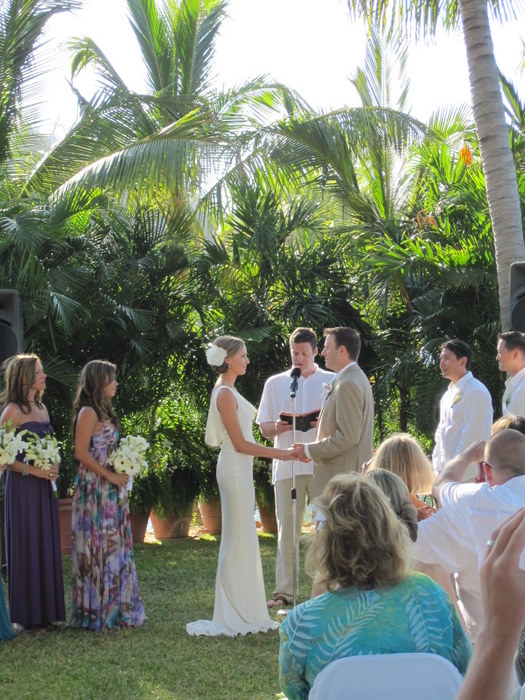 We just heard of the
Swine flu
mess, so we outta here! Laters eh.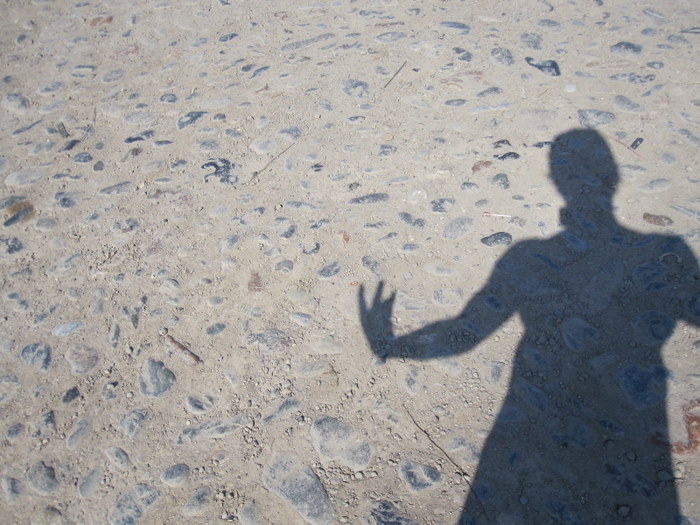 THE BEANTOWN BALANCE
April 28th, 2009

Guess where I am?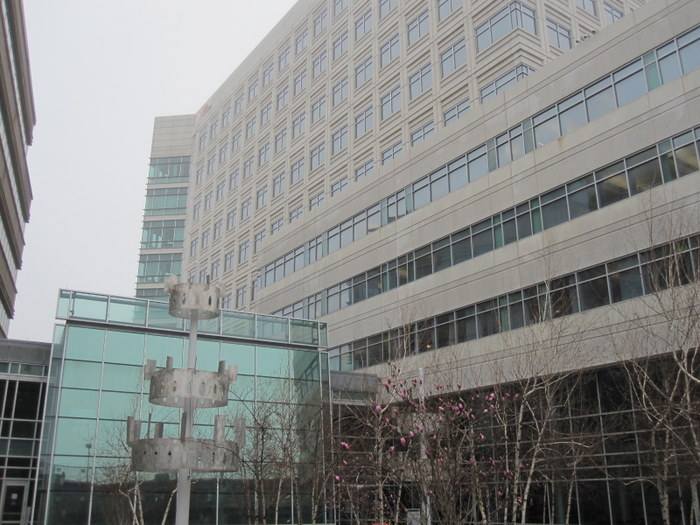 How about now?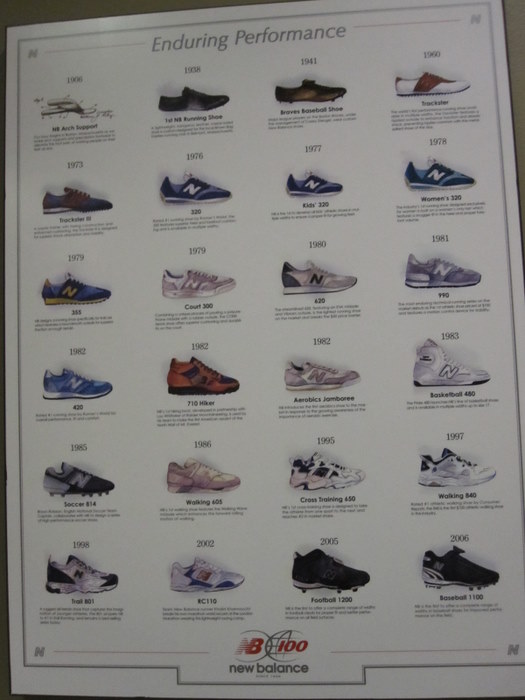 Ok now? Aight, I took a 24-hr red eye to see some heads at New Balance. NB is the largest privately held global footwear company in the world-they've built a strong foundation around fit and function and have been around longer than all your other fav brands.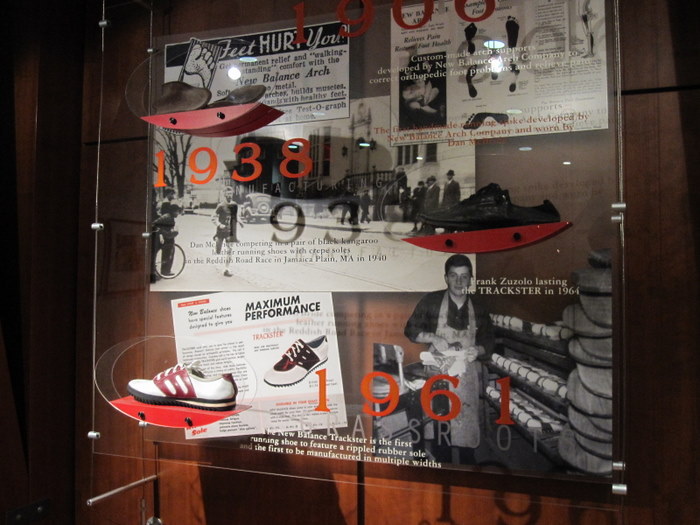 I've mentioned it in my past mash-up posts, but coming in Sept 09, 686 is producing a special collection for NB, focused around outerwear-boots-footwear (Yes, boots!) One of my contacts on the Product side is Jennifer-Hey there Jen!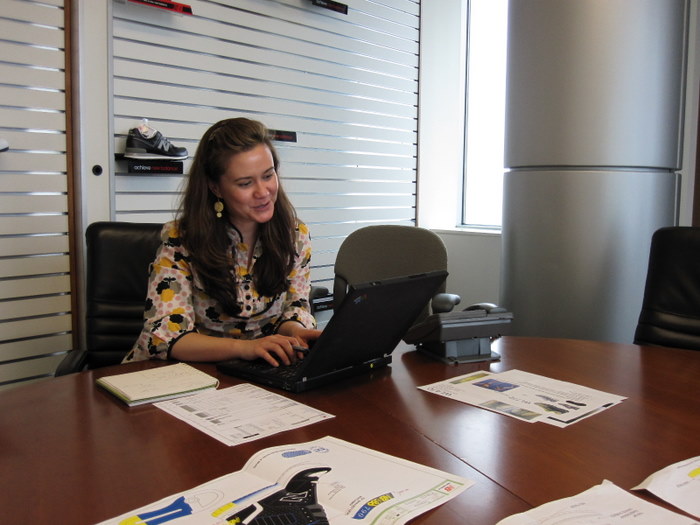 The other contact and my main man on the biz side, is Joe. He's read my mash-up and wants no part of it-So I told him to just chill and look busy. Hey look'n busy Joe!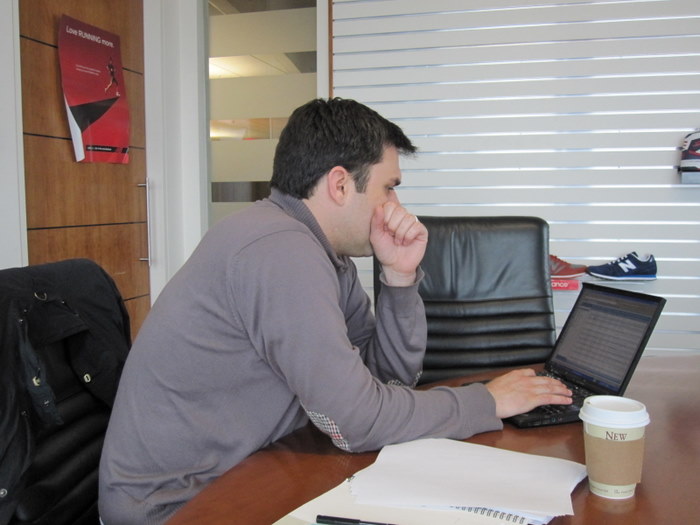 Joe's the head of New Balance Lifestyle (as well as PF Flyers) on a Global Basis-So you might say he has a handful, but always makes time for his little dude.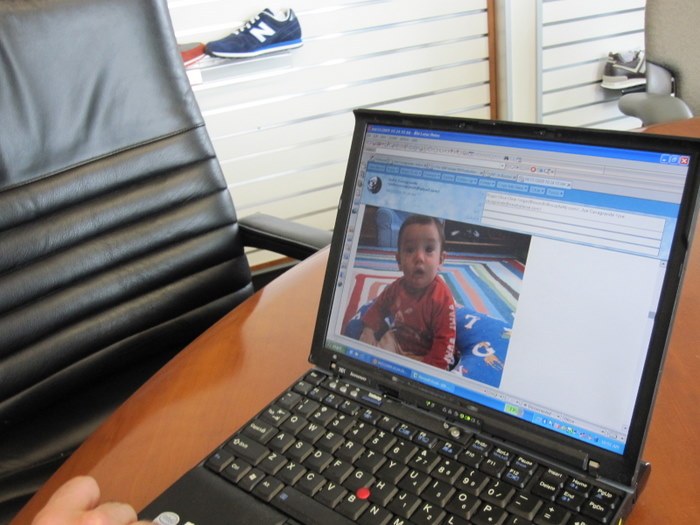 On the product side, we also work with Sharon (she's on vaca, so I couldn't say whats up). I met another guy who's a senior developer and we ended up knowing the same people back when he worked for DC. Check out Ken's certificate of achievement.
Ken's rack of goods.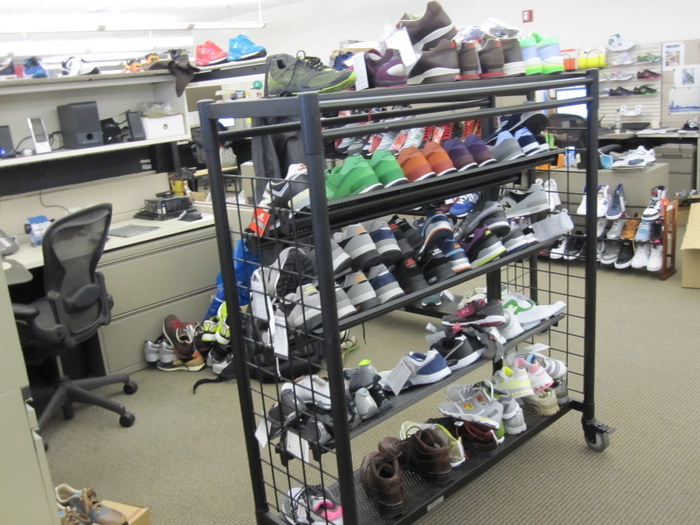 Some more goods (check out the Hundo backback)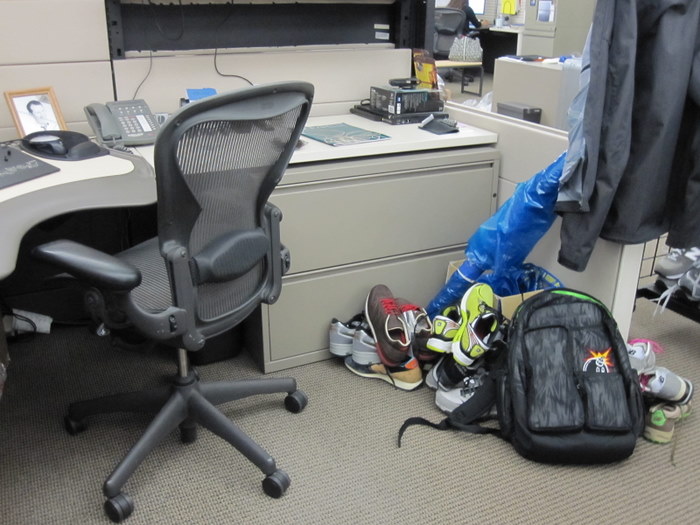 We have a similar poster at Westlife, but it says "GET YOUR SHIT DONE NOW"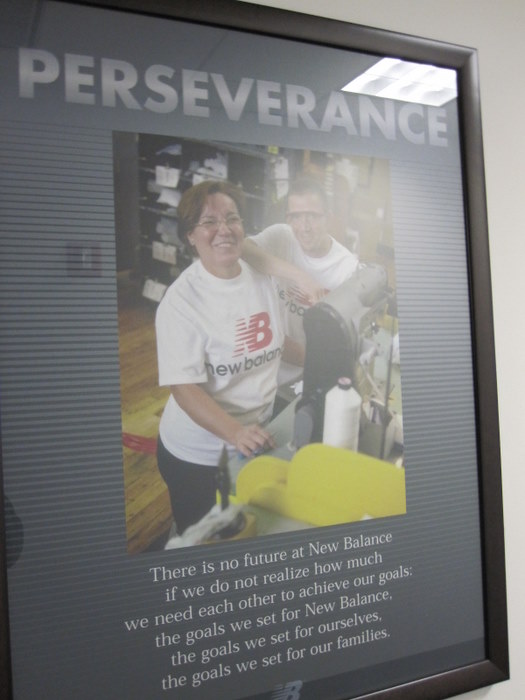 CUT & PASTE
April 25, 2009


Jeri from
Scion
gave me heads up that she's doing a show at their Studio in Culver City. I've never been to this location since they moved from Washington to Helms. Ducked into see what the hell goin on.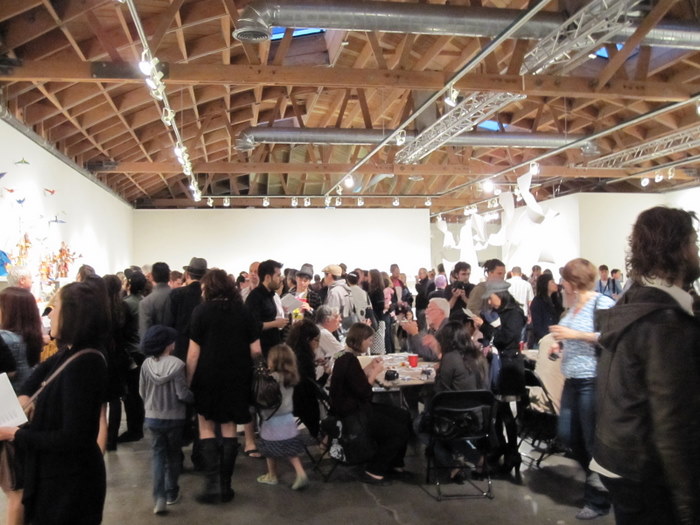 Giant Robot in association with Scion hosted the event. Paper Shapers showcases a tight group of artists who bring their creative force to surface by means of cutting and pasting paper-but it's something like you've never seen before.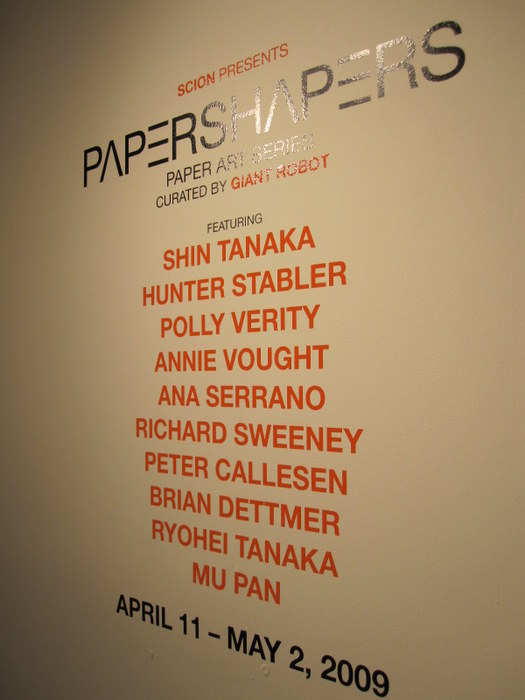 Don't remember this guys name, but it was awesome.
Artist Mu Pan's Indian figures. Look at all the attention to detail.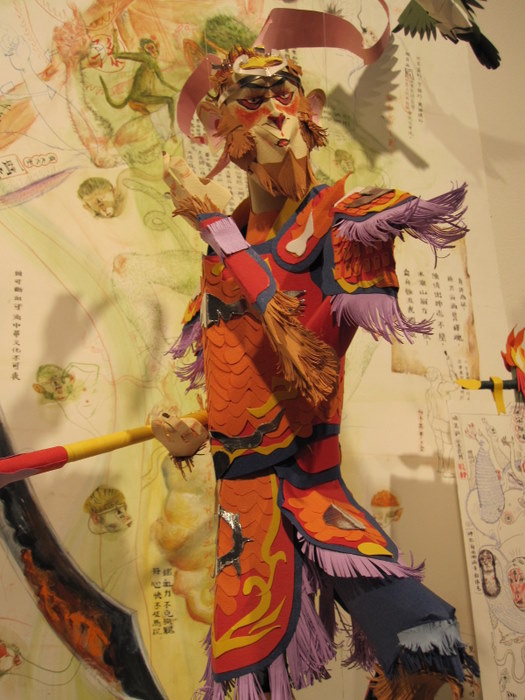 Not your ordinary book of art.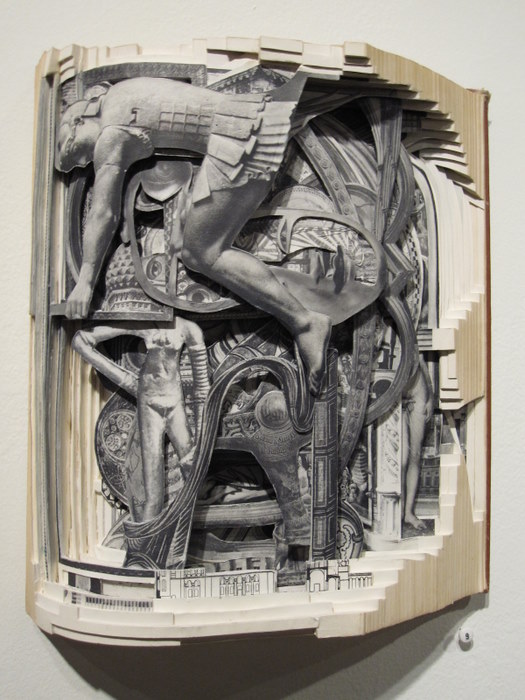 Ana Serrano's city within a city.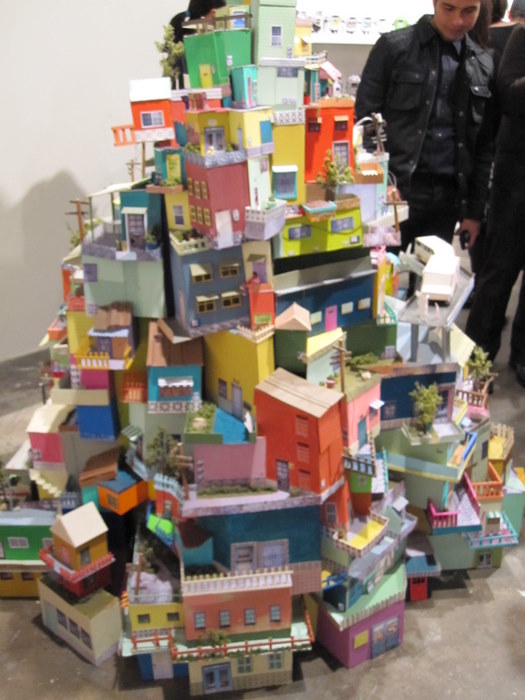 Shin Tanaka was the guy Jeri was telling me about. I've seen his work in some of Scion's mags. From a far, you can't tell its made by paper.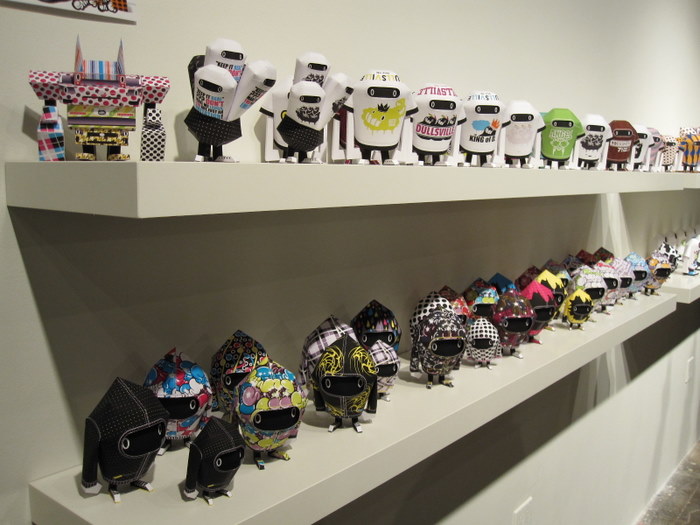 Actually, close up, you still can't tell its made by paper-or by hand!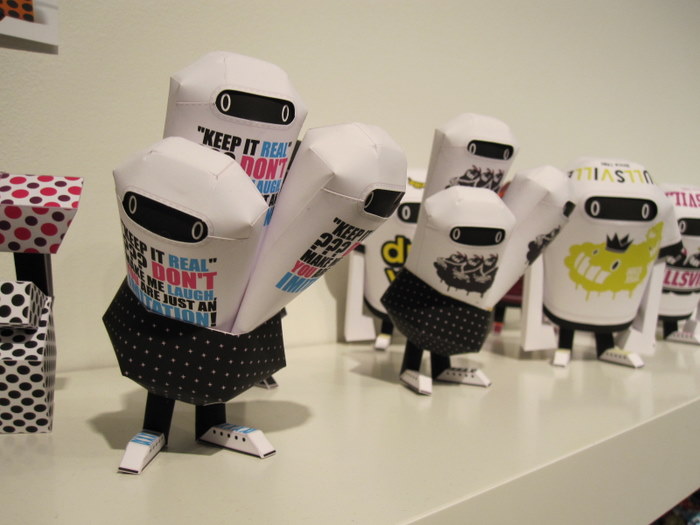 There was a live demo by Ryohei Tanaka-peeps were in awe.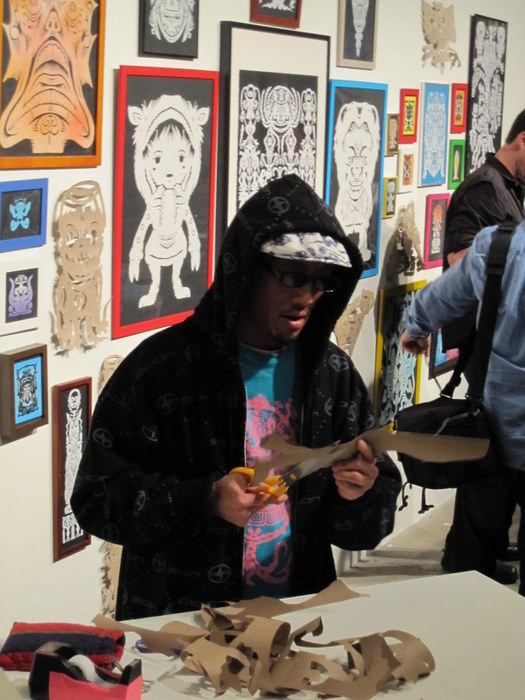 Check out his work-Overall great show-thks Scion , GR and all the artists!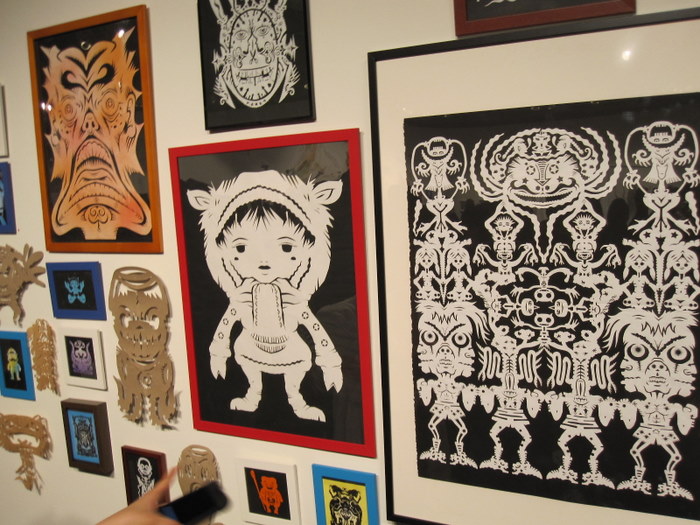 P to the F
April 23, 2009

Got heads up from a Chris that PF was doing an exclusive launch at Conveyor for Fred Segal-Since I was already going to be in the area, why not say wus up to some heads. Low and behold, it was the 1940 Sportshu Archival Reissue, which is made in Japan.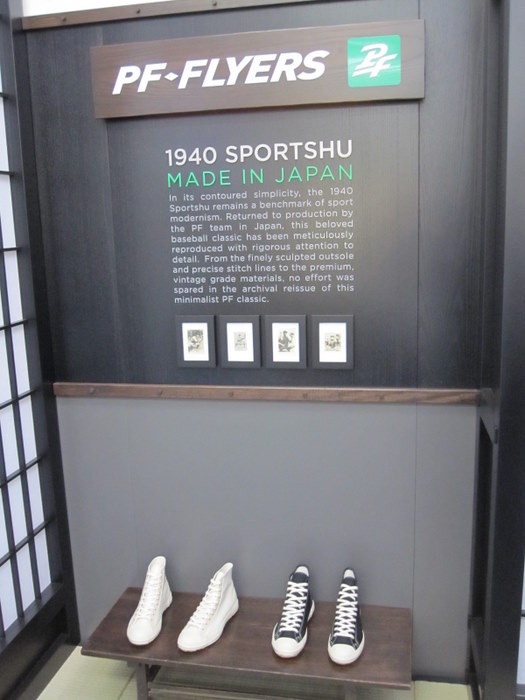 As you may already know, I'm into all types of footwear-I don't consider myself a sneaker head or a collector, as I like to actually wear my shit, but shoes in general is something that inspires everything I do. The older I get, the more my tastes have been refined into quality classics, with a twist. PF does it well with this minimalist baseball reissue, meticulously handcrafted in every detail by PF Japan.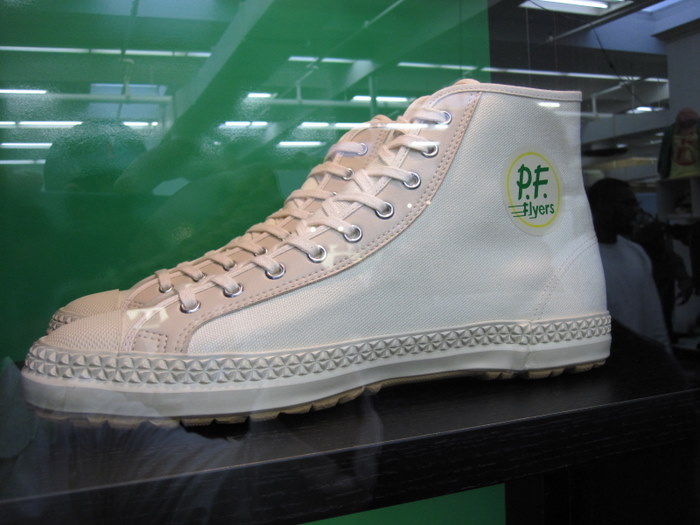 They did a good job merchandising the collection with the same Japanese baseball theme it was founded upon.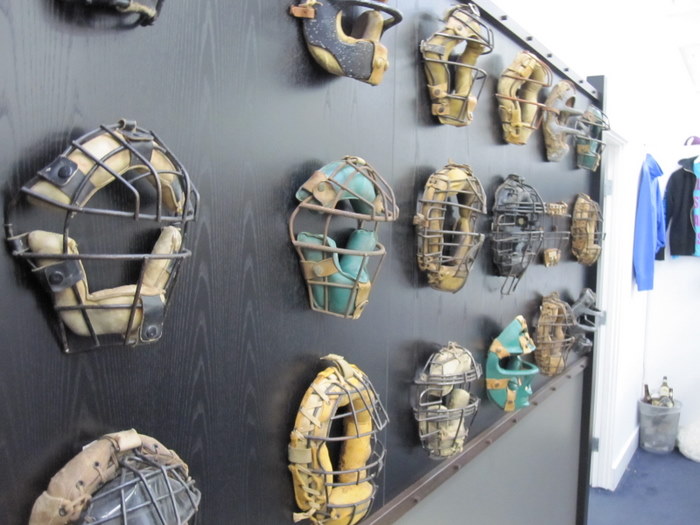 The crowd was hyped-Check out DJ Hapa on the wheels of steel.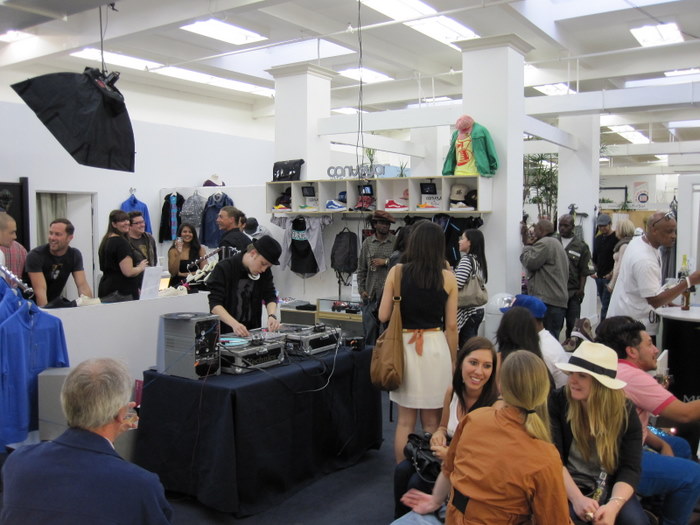 Look! It's a bird, it's a plane, no its Super Chris (the superhero that put it all together)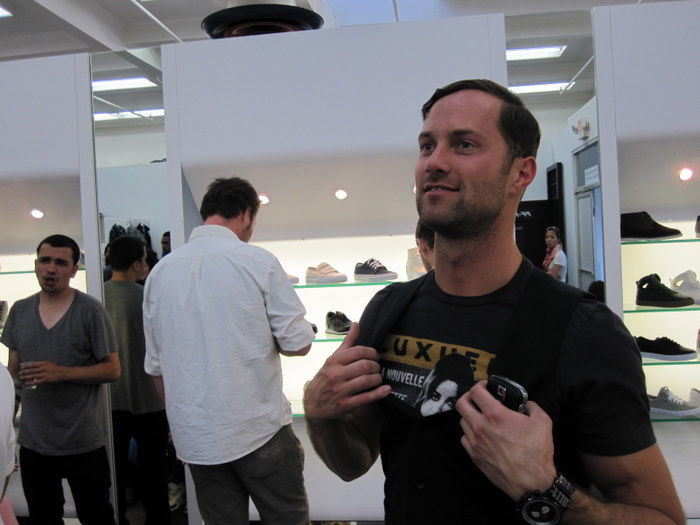 Forty Oz's
April 22, 2009

Recently a few of my friends have been turning the big 4-0 (I gotta a ways to go-yeahh) To some it's just a #, to others it's the end of the world-To me, it's one more bday I gotta to deal with. However one of my best friends, Mike Maceda is making Forty come in style. Mike was one of the main reasons I started 686 back way back when. He was the kingpin in this industry when he ran and operated a company called Plain Sane. Most of you guys probably have no idea, but back then, it was Dakine and Plain Sane ruling the accessory world of leashes, straps, pads and you guessed it, jester hats! Mike took me under his wing and showed me what it took to start your own thing. But today, I'm here represent'n his thing.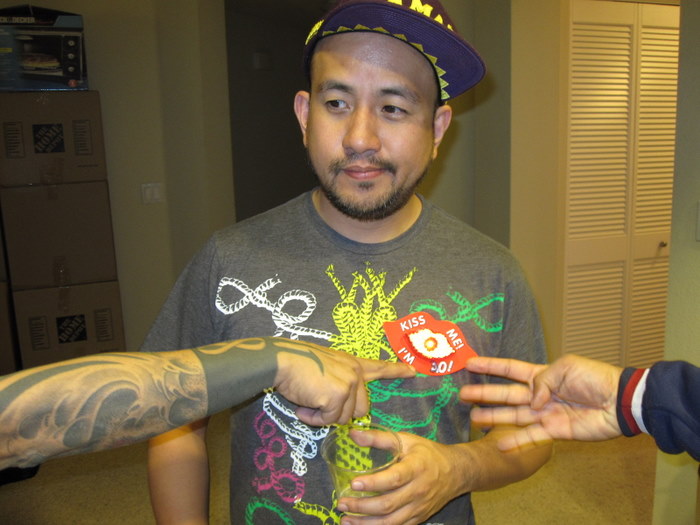 Mike's usually not that shy-as he's now a famous DJ and Military Bag Designer. But for some reason, he was speechless. Check out Masaki giving his some grief. (btw, Masaki's one hell of an art director-He won a Grammy for the best album design-and it was for Black Sabbath!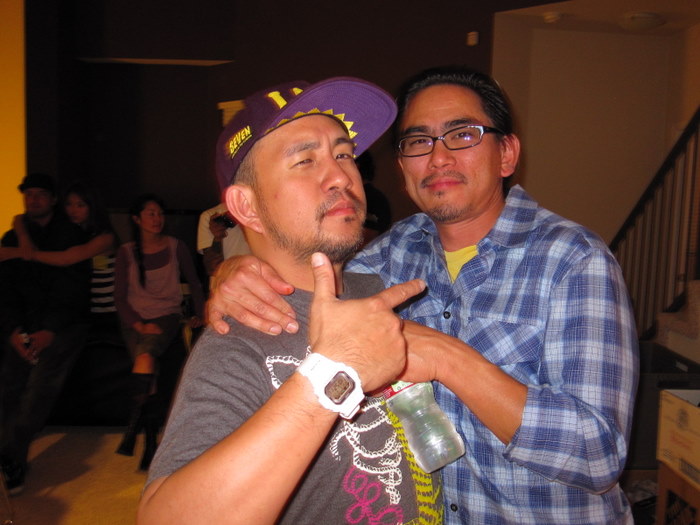 Lots of heads came out to say wus up to Mike. Here's West, on the phone as usual. West handles sales for 7UNION CAP COMPANY and just got in a little argument with his girl.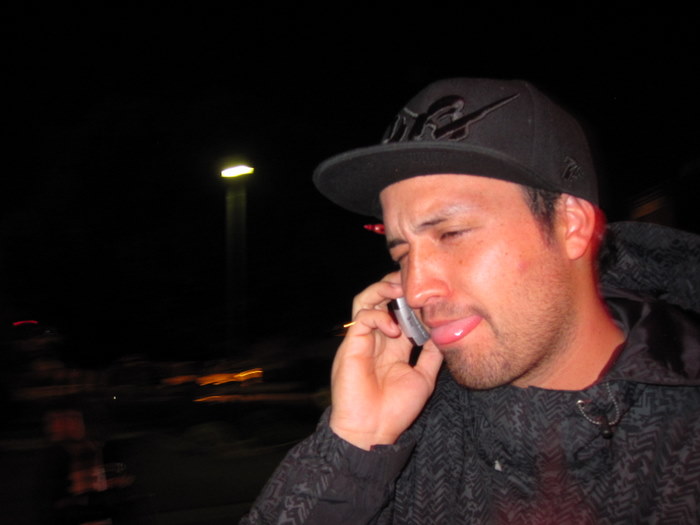 Speaking of which, Mink, West's girl was over it-so she cheered herself.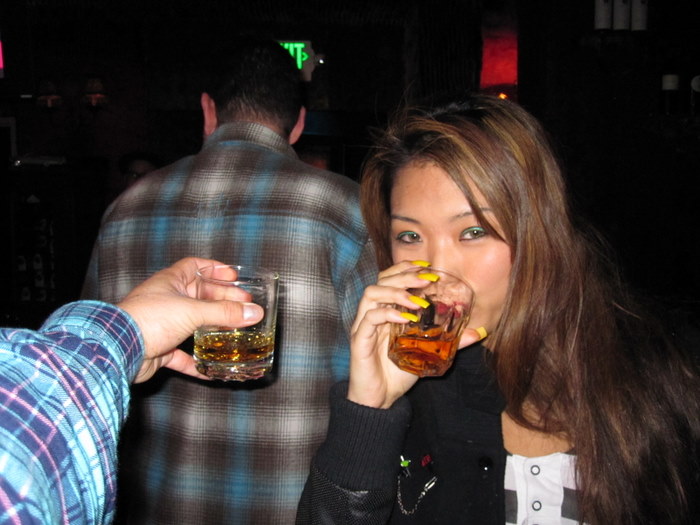 Mink works for Hellz and was represent'n well..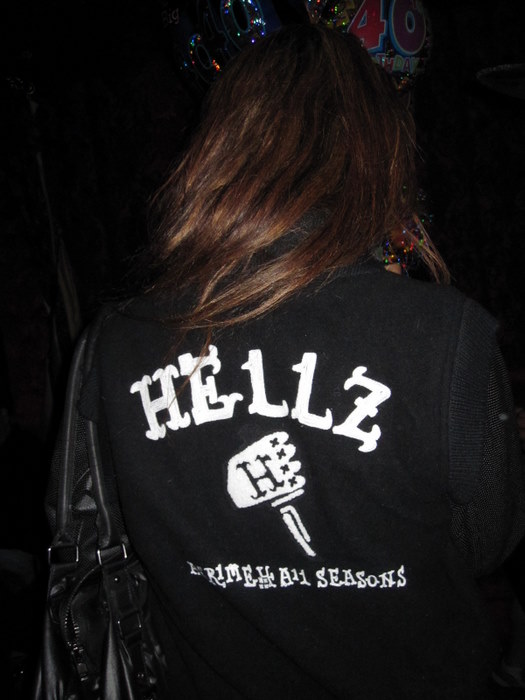 As the night went on, so did lots of other drama-but it was all good in the hood. Here's artist, Marco Zamora, saying I need just one more!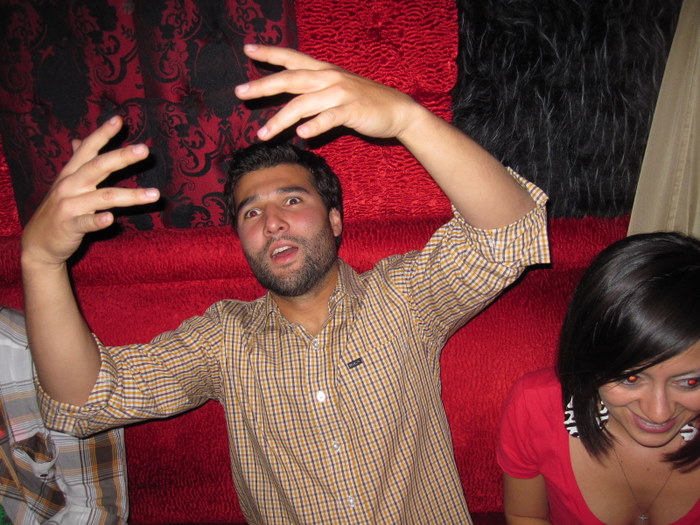 MIGHTY MORPHINE ATTACK!
April 21, 2009

If you read this fly-by-night-mash-up-shin-dig, you probably know a few things. 1) I take random short trips everywhere 2) I'm always hustl'n and 3) I've been trying to connect with peeps I haven't seen in a while. Well, I had dinner last night and met up with some friends who ride all over downtown. Good enough, I ran into an old friend-Padee. We met a long time ago, when I was working at the mtns at Bear. At the time, she was going to school and also doing some work on tv-Give you as hint-It involves a pink suit, saving the planet and lots of fighting…the POWER RANGERS are here to save us all!
Padee then…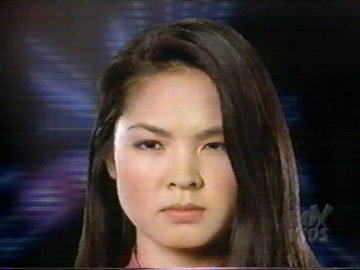 And again…


And again…Btw, she's done quite a bit since her PR days (Crazy it was 10 years ago). Within the past 5 years, she's been involved in more than 40 commercials, such as Wells Fargo, Tostitos, and soon to be (http://www.fanime.com/guests.html#PatriciaJaLee) and the list goes on and on. This isn't including all the other side things such as video games or other movies. It's tough to be constantly working in LA-but P's done good for herself and I'm proud of her.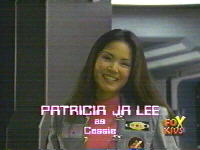 Padee now… (I told her to strike a pose-as she's usually never this serious) P's very crafty, as she has this interesting way of putting things together-she even made this top outta some leftover fabric.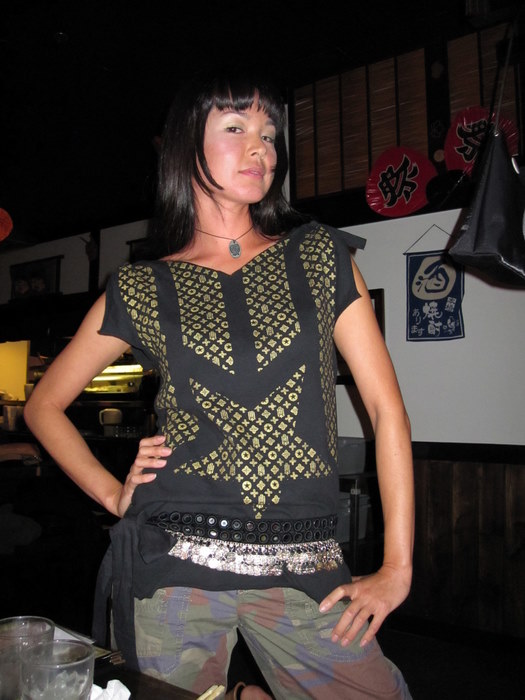 She even has her own bike…well kinda.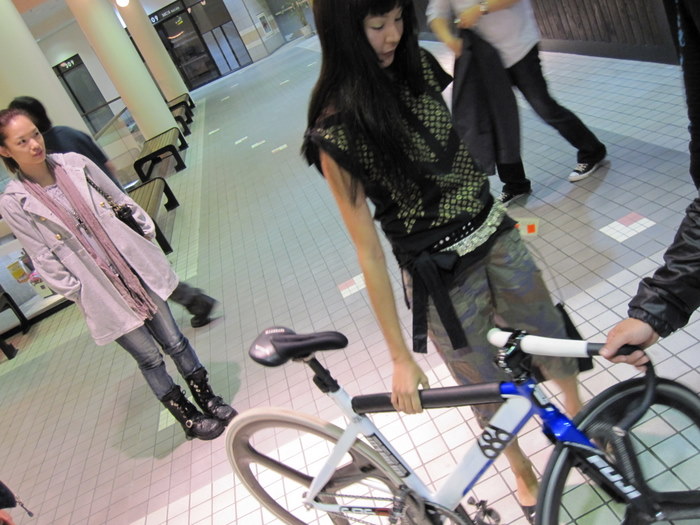 Hmmm, a custom 686 fixie com'n your way???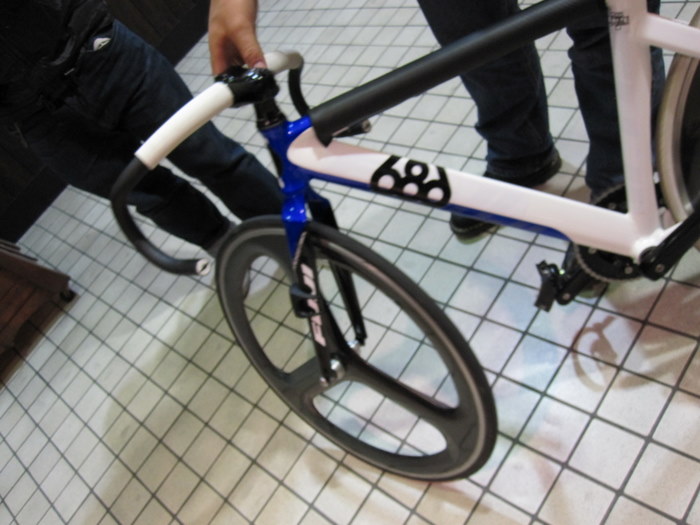 LIVE LIFE
April 20, 2009

It's an old saying-But most people tend to bitch about all the things they don't have in life. Not until something crazy happens in your life that you realize that the most important things in life is just that-LIFE. A good friend of mine, DJ HIDEO, was recently diagnosed with Stage 4 Colon Cancer. Contrary to the statement above, Hideo ALWAYS lived life and will continually do so. I've known Hideo for over 16 years back in the day we use to freestyle to all the old school shit. Nearly all of yesterdays and today's hip hop artists have at least once been inspired from this dude.
He just started Chemo and it makes his body severely cold 24/7. Fortunately our gear keeps him a little more comfortable. Anywhere, anytime, Hideo is all smiles, regardless of what's going on. How's it Hideo.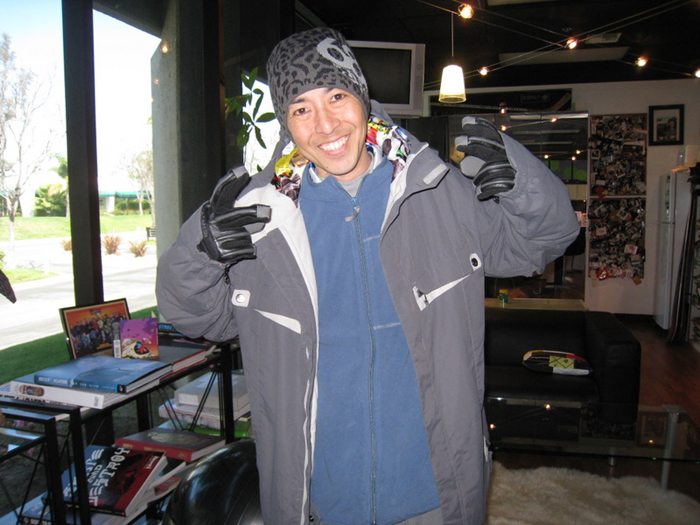 Back in the day, he threw the best gigs at the world famous Mayan theatre in LA. This past Thurs, the Mayan and a bunch of heads in and out of the music industry put on a benefit for him. Countless artists from Defari, Spinderella, Rhettmatic, Bobo, Mr. Choc were on stage to represent and give props.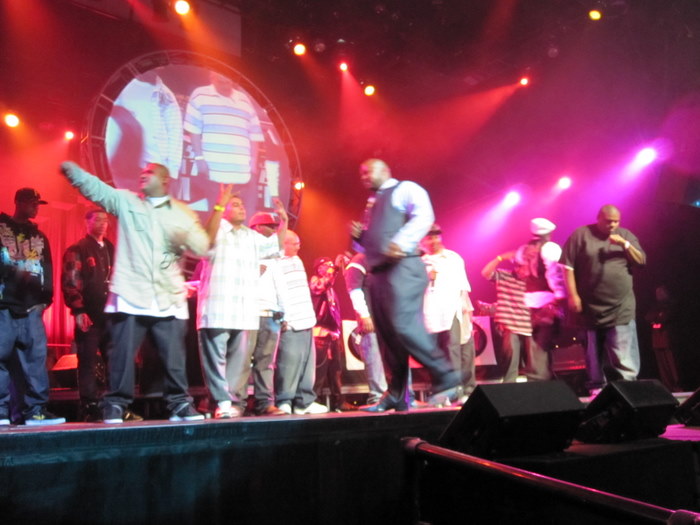 Bringing it back-way back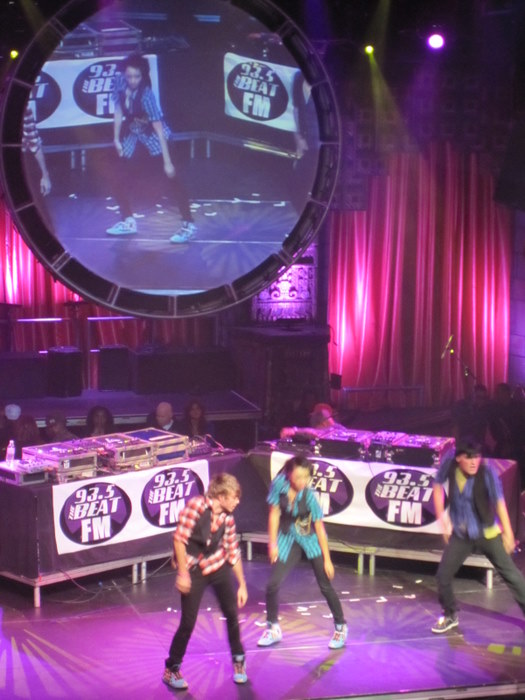 Reyes from SF, made this specially for Hideo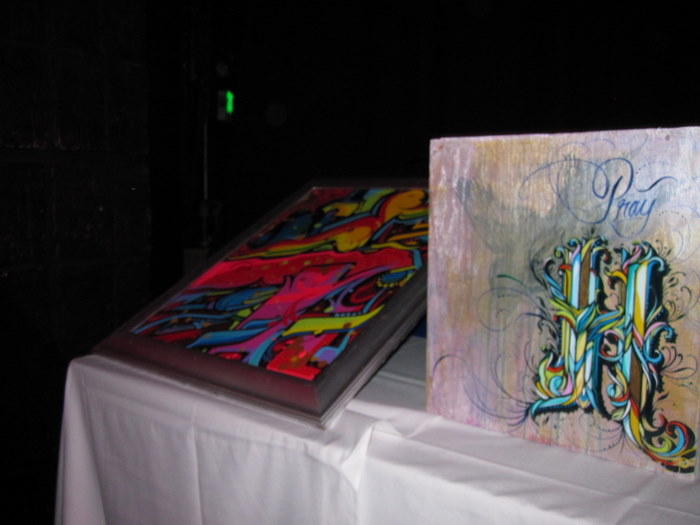 Raul Gamboa's rendition of Hideo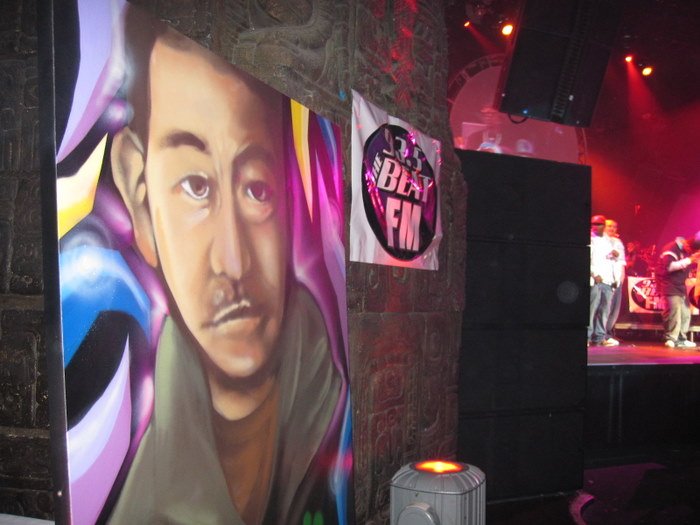 WHAT THE HELLA COACH?
April 19, 2009

This past weekend was the world famous COACHELLA Music Festival, held a few hrs from LA, in Indio Cali-next to Palm Springs. If you've never been, think of Woodstock meets Lollapalooza meets Warped Tour meets Burning Man meets College Fraternity Party meets Hipster Hollywood = Coachella. Basically it's a melting pot of everyone having a good ole time. On the drive up, you pass by "Windmill Valley." It's pretty dope seeing hundreds of mills all powered by mother nature.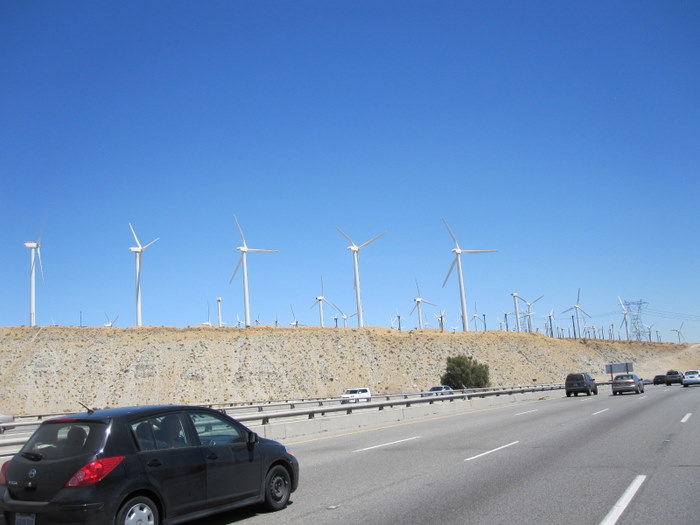 Parking was terrible, as it probably took over an hour just to get settled and enter the massive polo fields. Coachella started in 1999 and 10 years later, its going stronger than ever. The Line Up


I guess this is where all our pallets end up.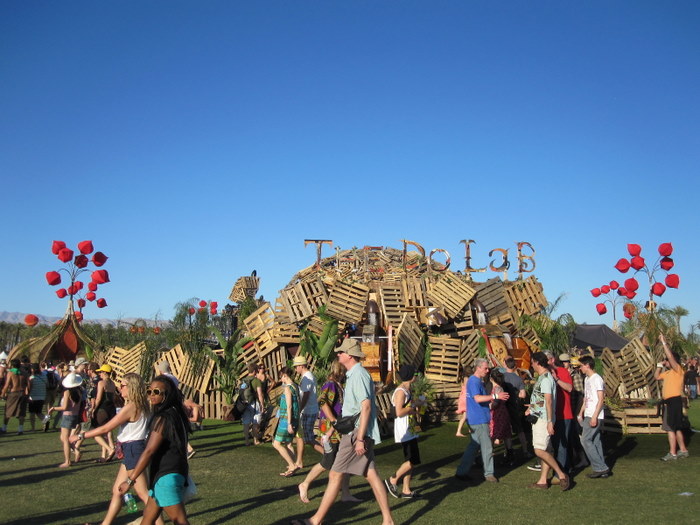 The area was surrounded by many hand-made fixtures, some cooler than others.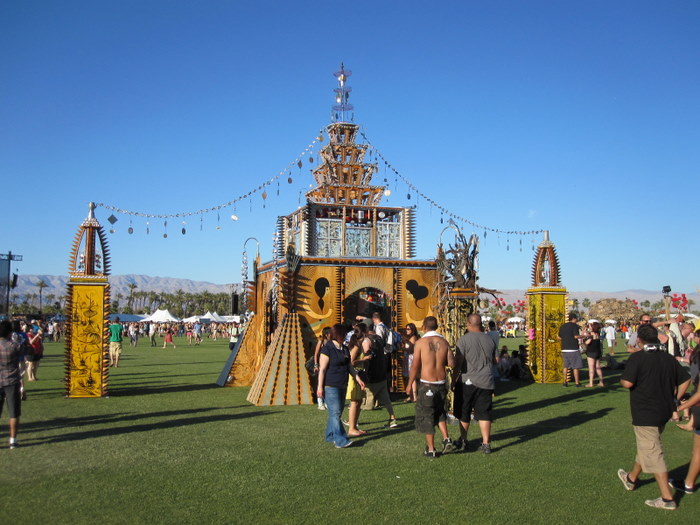 1 down, 8 more to go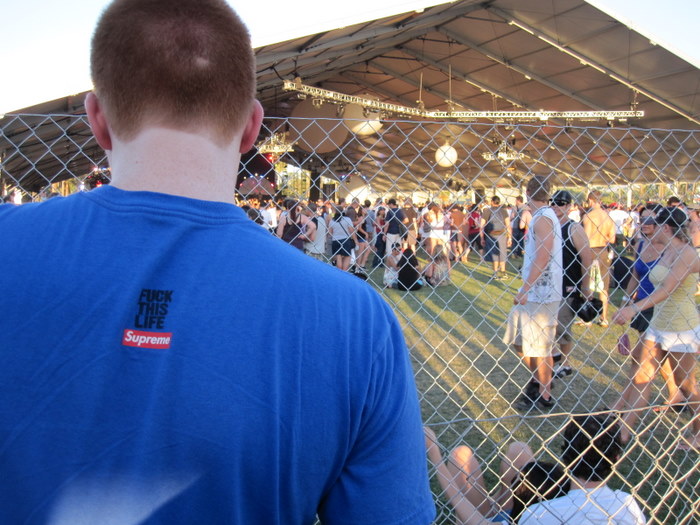 Aoki's Bloody Beetroots tore shit up-literally…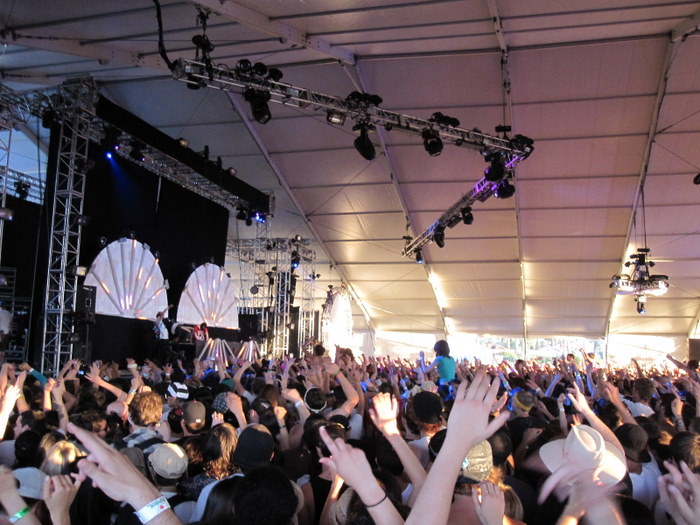 This past season, Travis Barker and I hooked up to do a limited collection-the stuff was gone before it hit the shelves. Haven't seen him for a while and glad to see he's back up and healthy again. TRV$DJAM's set was alive and kickn' and hit it at all angles.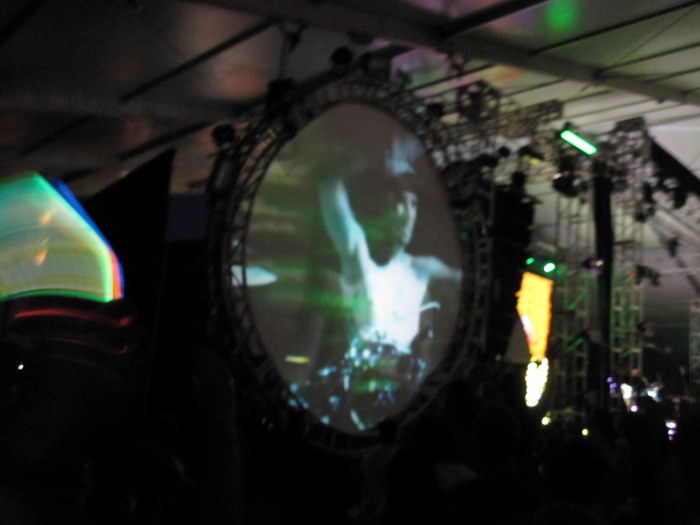 The kidz were diggn the mash-up. Didn't get a pic, put LBC native Warren G even did a cameo.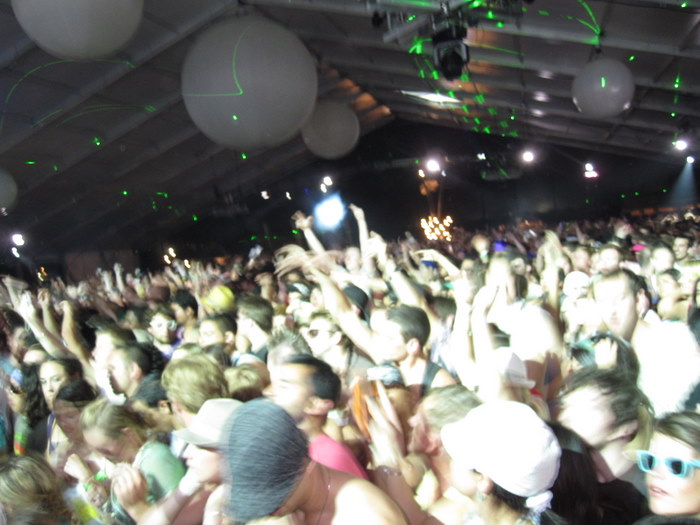 check out the video

I spent most of my time, wandering around the tents to check out all the gigs-from big to small, from electro to techno, from rad to sad. Got a minute and peeked my head into the so called VIP area-It reminded me why this area sucks.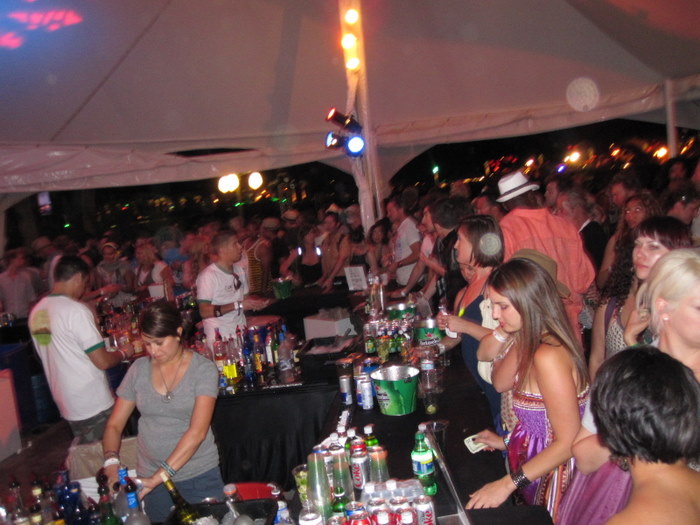 "Day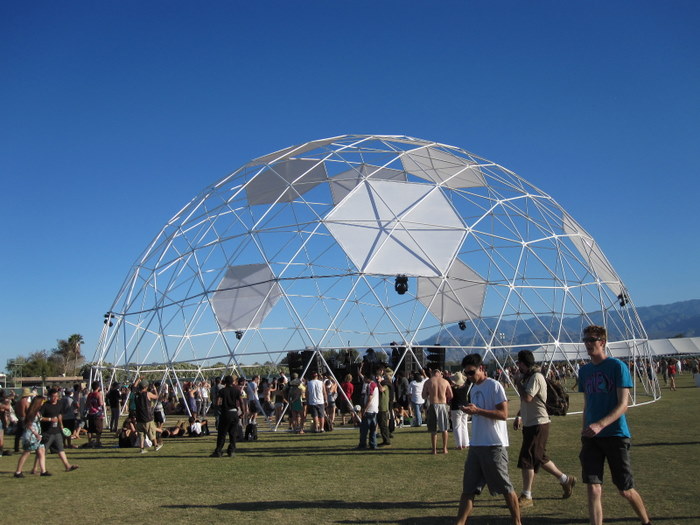 N' Nite"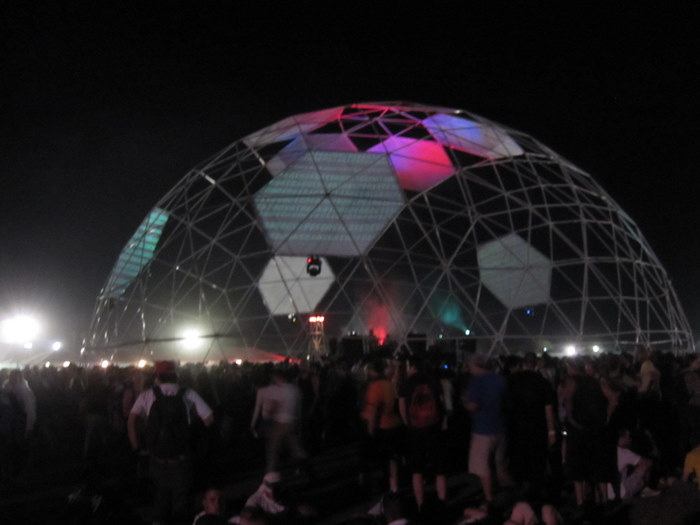 ("I toss and turn, I keep stressn' my mind, mind" )

"Day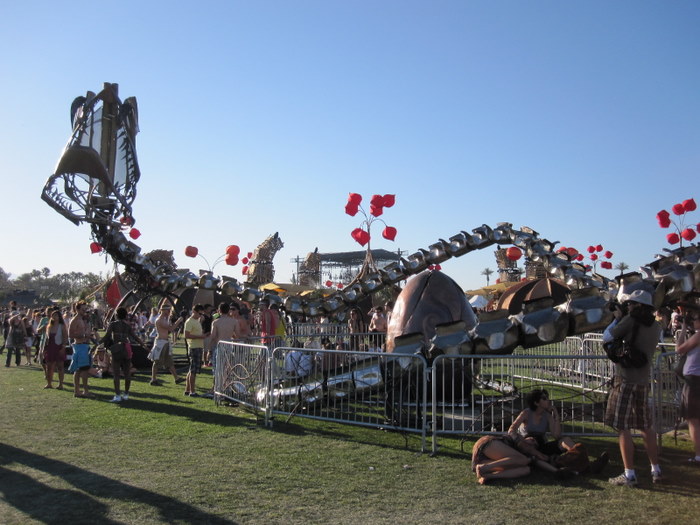 N' Nite"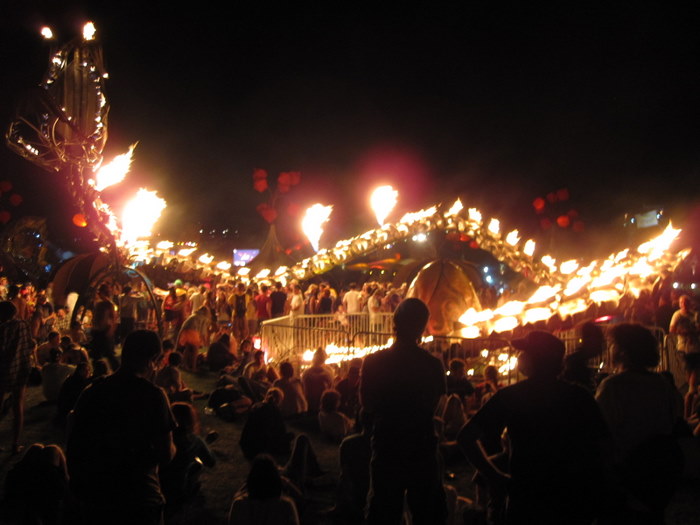 Shazaaaam-love and peace until next year!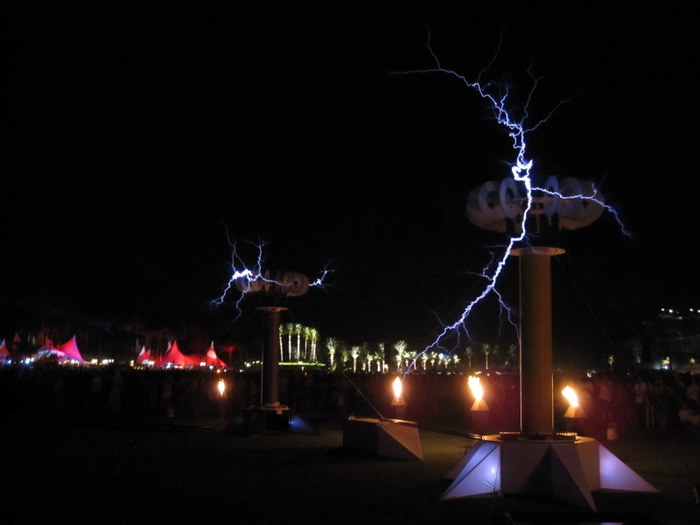 LOVELAND
April 17, 2009
Keepin' your love locked down, your love locked down… (Well, kinda sorta). If you've been checkin' this little side show blog mash-up, you probably know I like taking these 24-hr trips. It really doesn't matter how near or far it is, I just do it. This time around, it's to Colorado. We had a recent US team shoot at a few places we rep; to knuckle dragger haven, Echo, to world famous Breckenridge and to the locals only Loveland.
Wherever whenever, say hello seis ocho seis.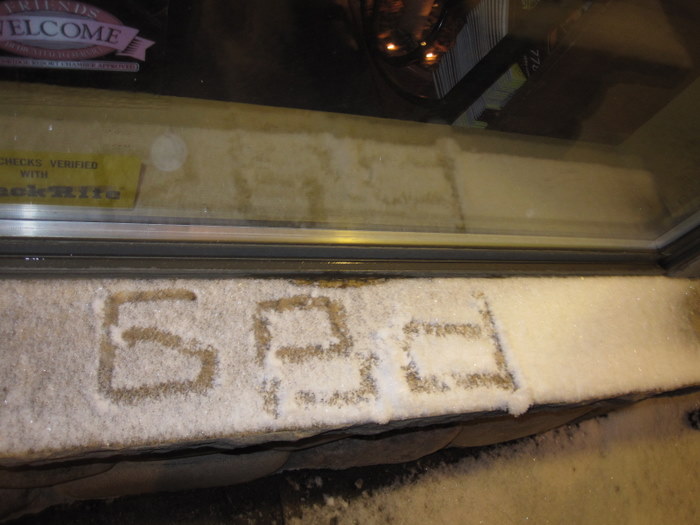 What up?! First warm up sesh!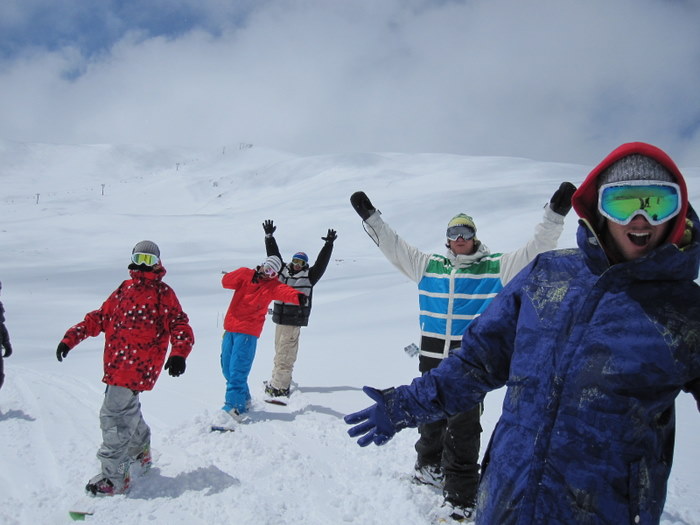 The weather was a tad funky. One minute, blue bird, the other you couldn't see shit from shingle.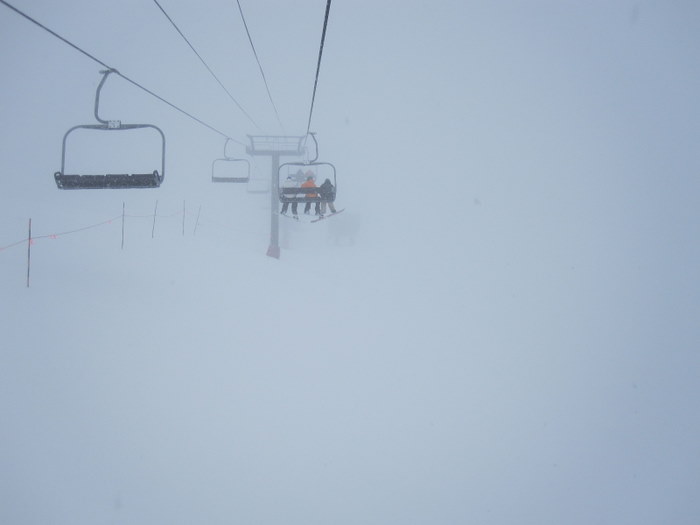 After filming enough to cover a few parts, we headed to Breck and got comfy. All the team immediately jumped to their Twitter and Facebook pages. Pat, Forest, Louie, Ryan and Nick saying wus up.


Headed to dinner at a posh place where we just ate and ate and ate (also drank and drank and drank)
Hey Pat!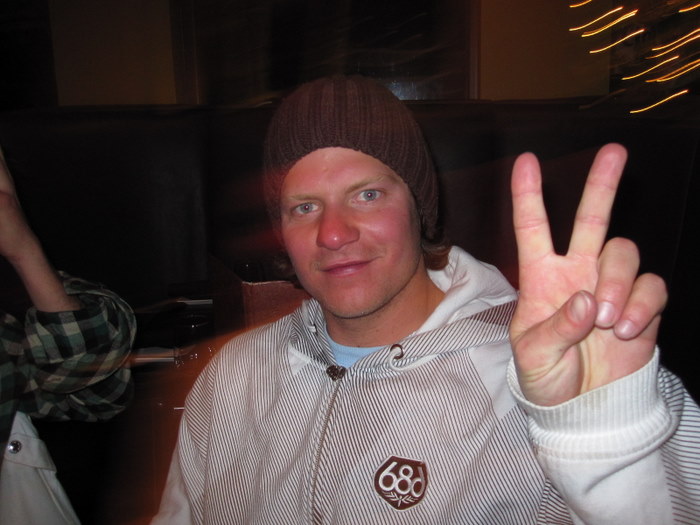 Hey Nick!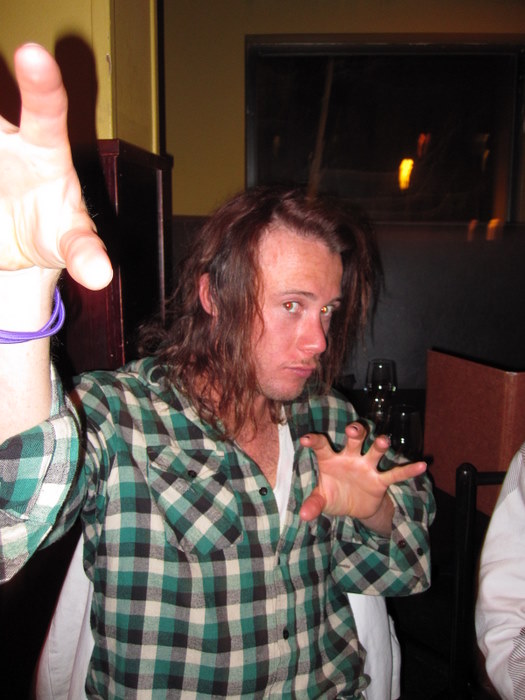 Hey Gary!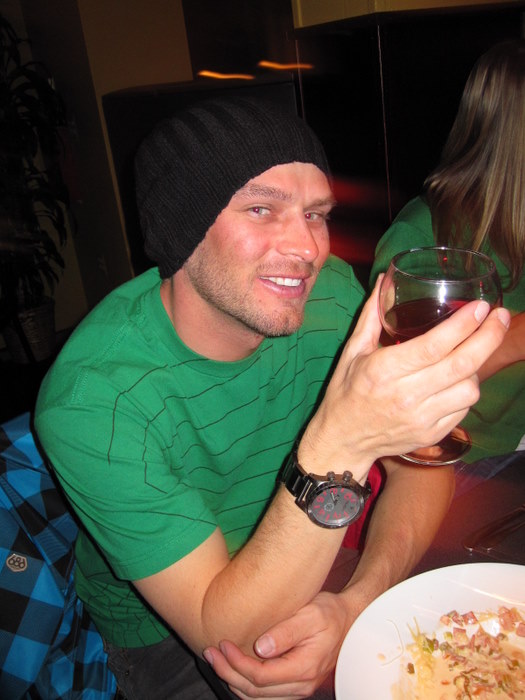 Hey Derek!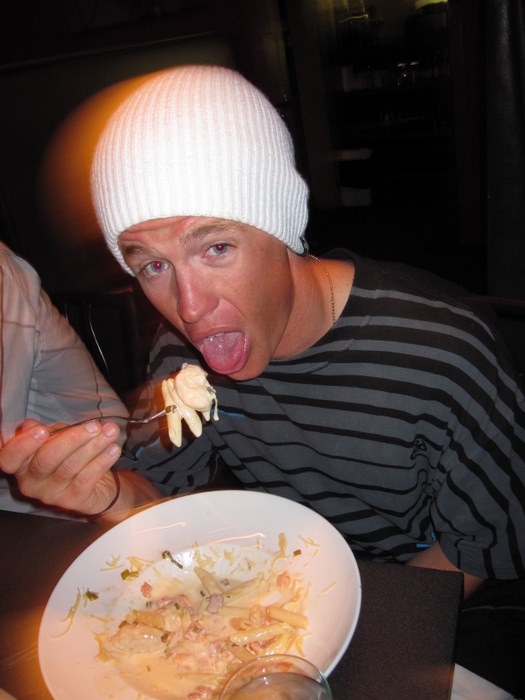 Hey Kris!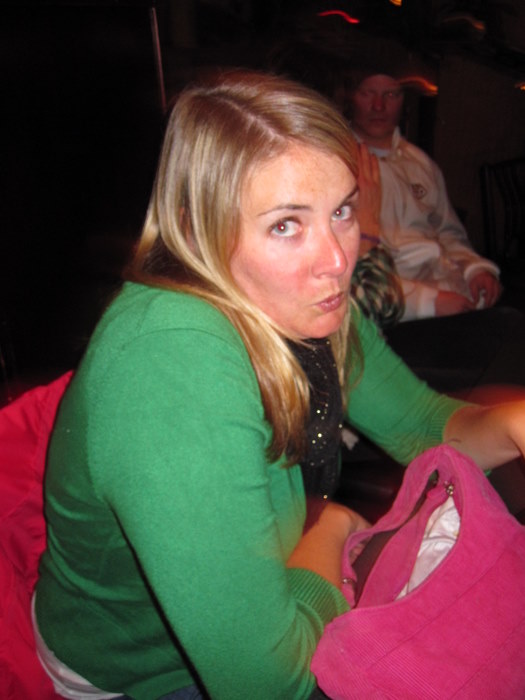 Hey D!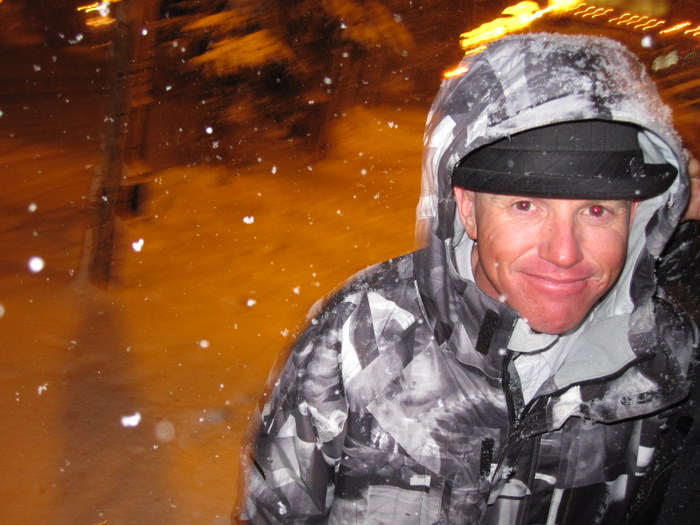 They caught me ridn' dirty…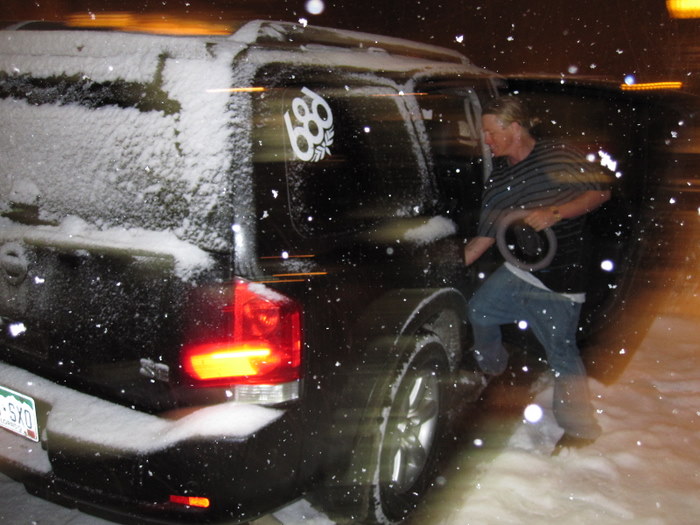 Heard Transworld was doing a "Good Wood" test for the 09/10 season. ( A grip of pro riders test the new boards and rate them for the buyers guide. ) Coincidentally, Aaron Dodds was showing his latest photo project. Look who Gary ran into-Ryan "RT" Thompson. Congrats RT on the recent engagement!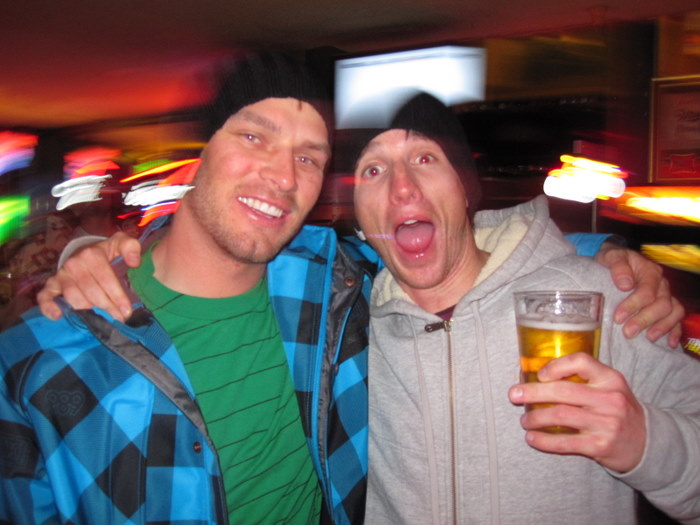 T-Dubs Ring leader and Editorial Honcho, Annie Fast enjoying a cold PBR and a nice break.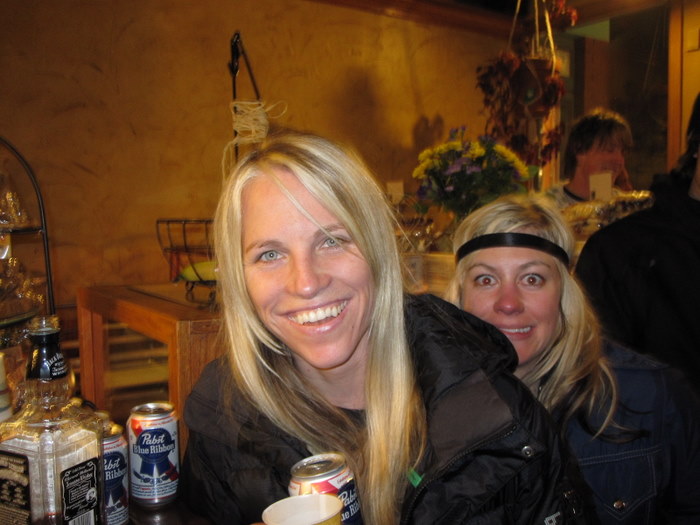 If you have a pulse in the snow game, you probably heard of a guy named Blotto. I've known Blotto for well over 13 years when he was an early 686 rider. Hailing from AZ, he's really made shit happen. Today's he's probably one of the most well respected Photogs in the industry and is a road dog for about 200+ days a year. Even though he's the Big B's principal photog, he still rulz.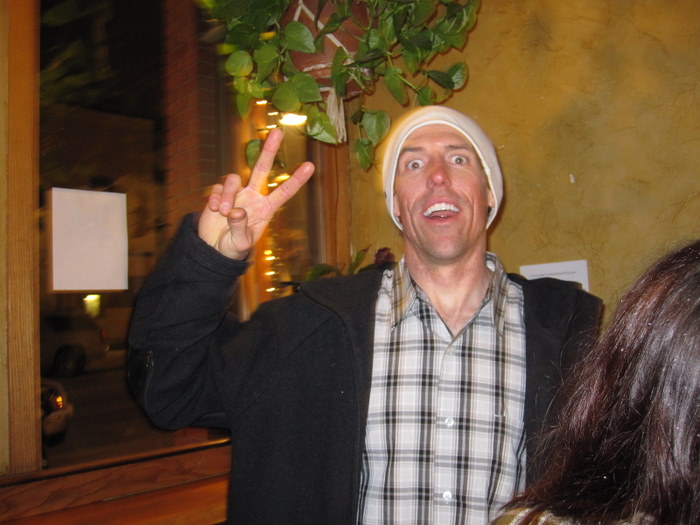 The night became blurrier as the drinks and good vibes continued, but one thing for sure is that tomorrow is gonna be good.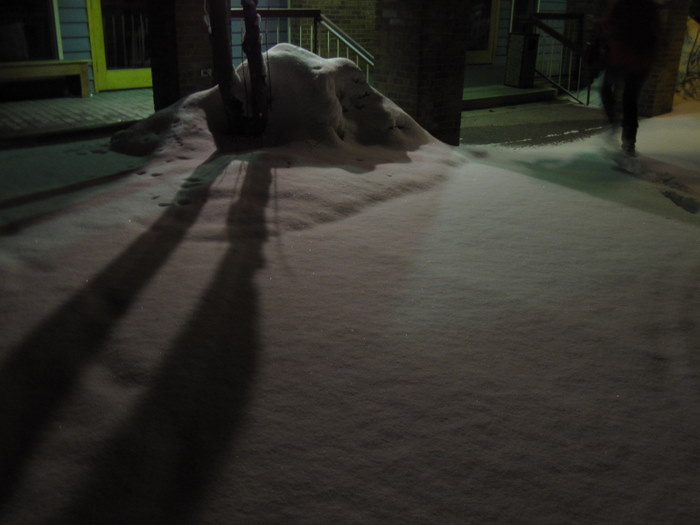 ES-EF
April 16, 2009
Took a quick trip up North-Guess where I am?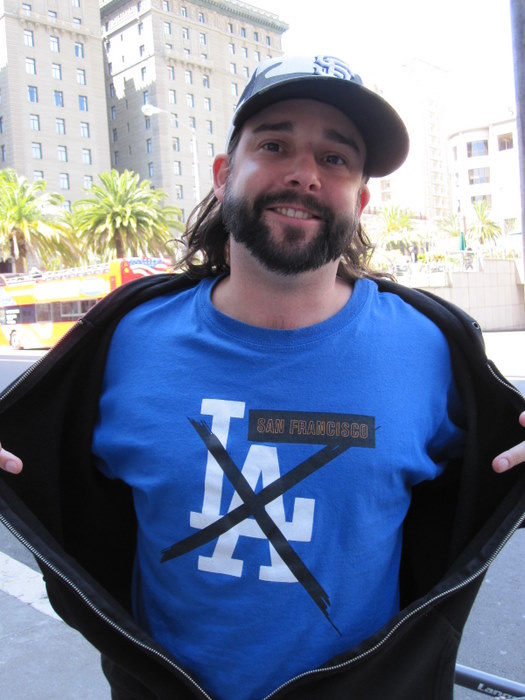 Ok-pretty obvious. If you know me, y'all know that I rep LA hard. But the city by the sea, is a nice place to be. SF has lots of shit that LA has and then some. Here are some random sites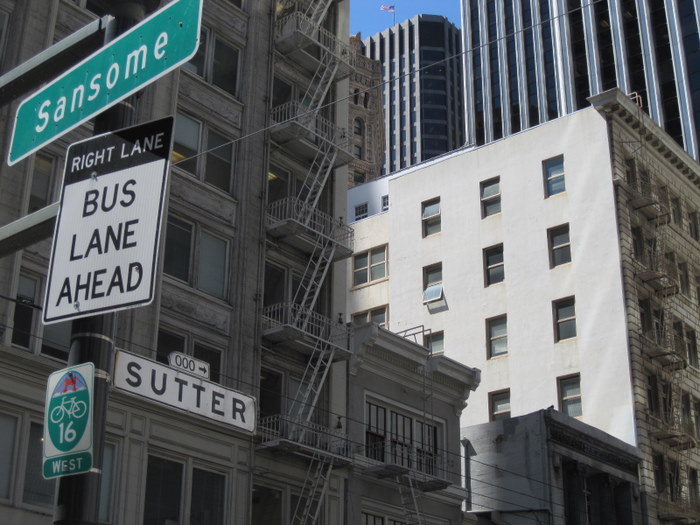 Some mores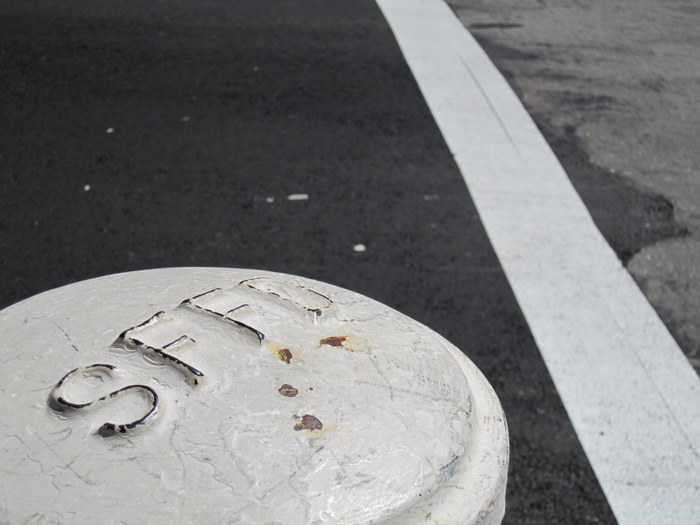 This is how you get around SF-period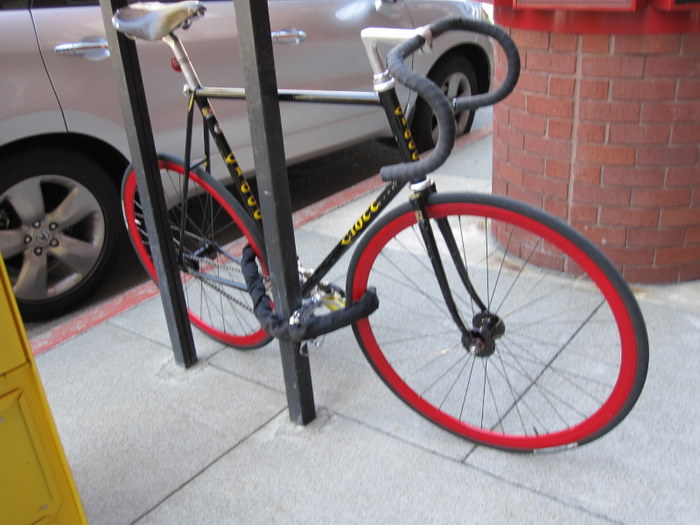 Oh btw, I'm here to see…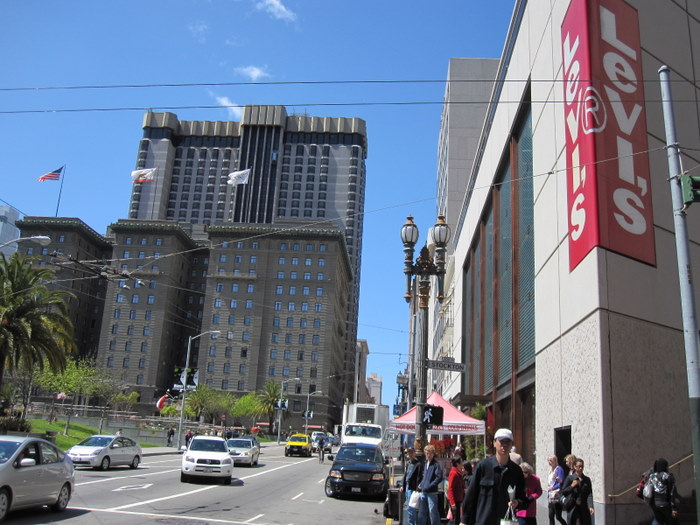 Few things are synonymous with San Francisco-Embarcadero, Gonz, Fisherman's Wharf, China Banks, Thrasher and the one and only Levis.
Ding Dong-One of Levis front doors laced with a giant shank (damn who's that dude in the background?)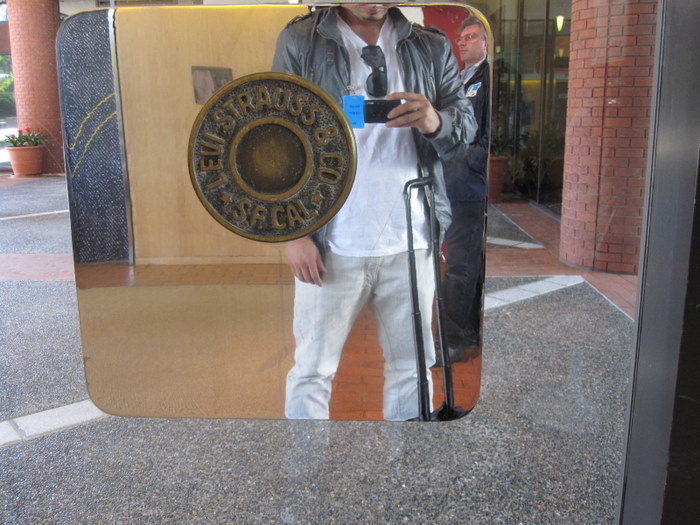 What your seeing is one of the oldest pair of denim jeans in the world-and its Levis. Let's see if someone can replicate this 120 year-old pair of jeans.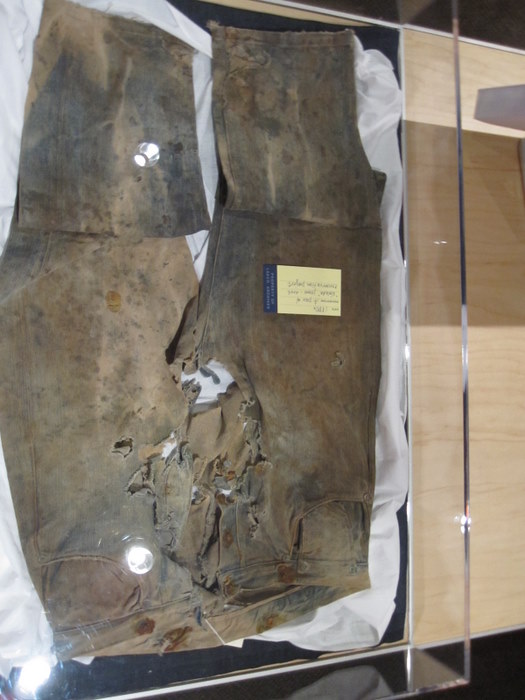 The tools of the trade


Look closely kids…"Process 686" in full effect. Some top secret shit going on.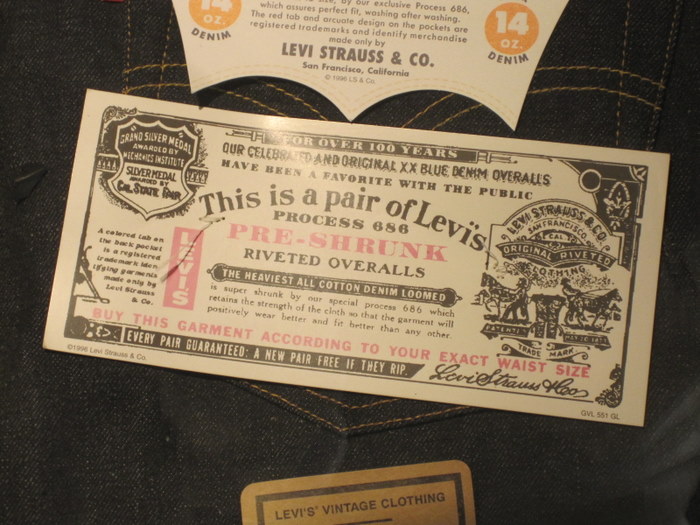 The sundries graveyard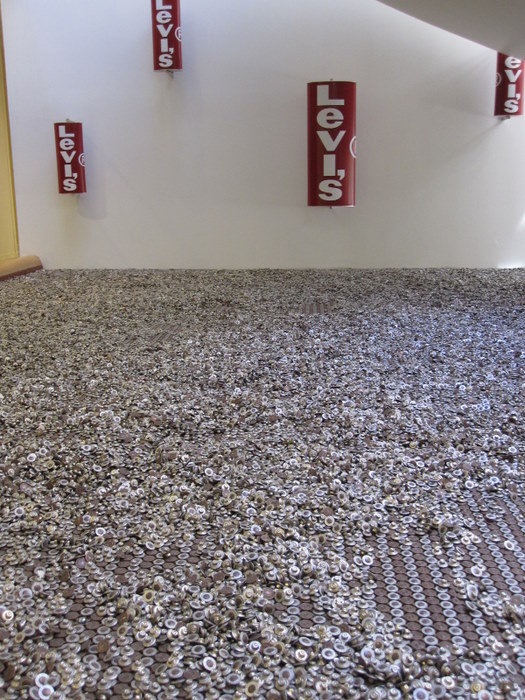 When Levis and 686 started our global partnership last year, I was working with the Head of Global Creative, Caroline Calvin. She's basically a legend in the denim world and repped Levis for over 20 years. Recently she took a leave of absence to surf the world. However it was pure luck that we both connected as Levis does not work with other brands at the level we've done. Most of the projects you may see are one time hits that come out of Japan (most of which are pretty dope like Fenom, Comme de Garcons, etc), but in the case with 686, it's something very special. Only Nike and Damien Hirst/Andy Warhol has done something similar. So I'm proud to be working with such good company. During this process, I met an incredible person-Jamie, as she's the lead mens design director and is beyond talented, I can't even comprehend.
Hi Jamie on the computer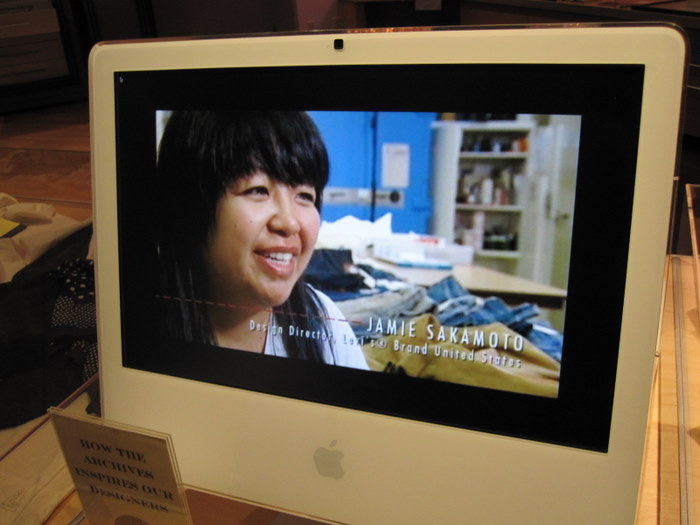 Hi Jamie in person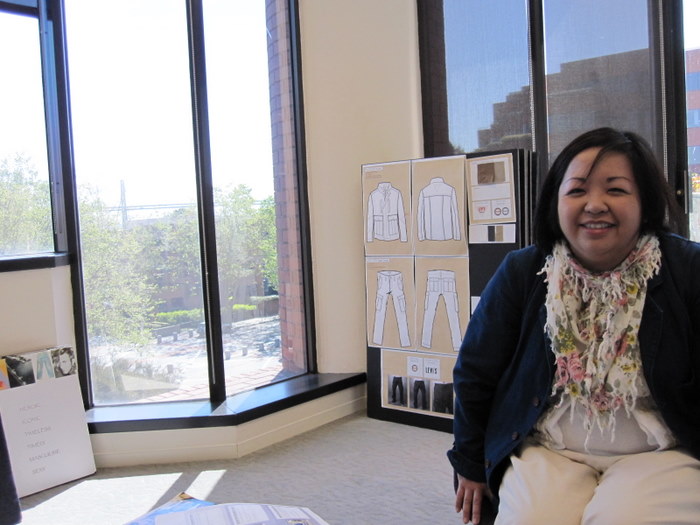 A glance of the design war room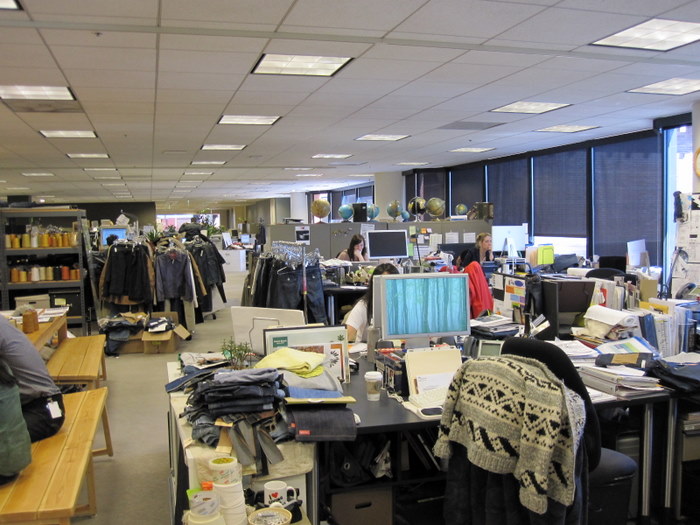 Jamie's one of my liaisons on the creative side. On the biz side, I work with Maryann. All I can say about Maryann, is that not only is she cool and knows her stuff, but she has lots of things on her plate.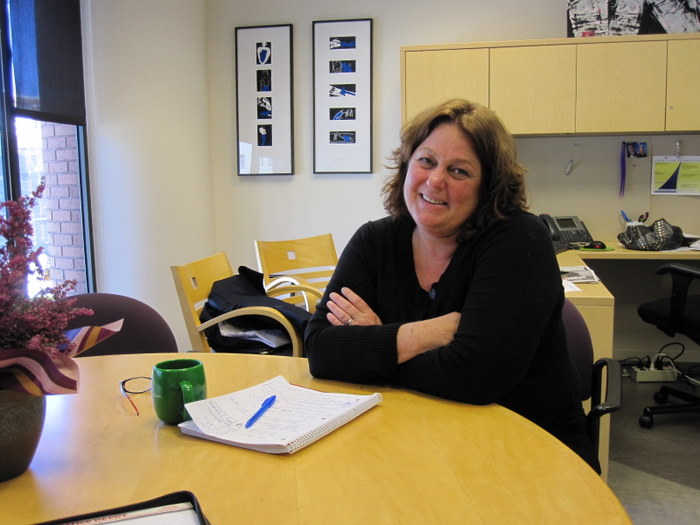 What a coincidence-the Levis x Damien Hirst x Andy Warhol project. I don't know if you'll see this on ebay, as there's probably too many 0's behind the price.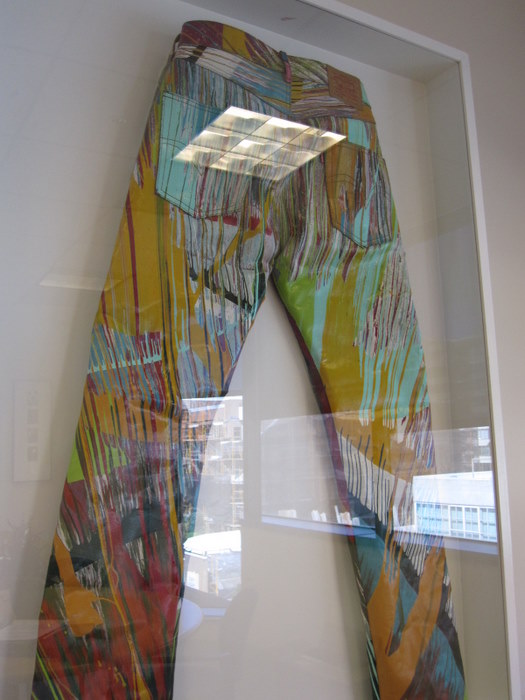 OBEY AND REPORT
April 14, 2009

Lately, I've been making efforts to catch up with some homies rather than seeing them for a few minutes at a tradeshow or random event. This past afternoon, I met up with Rob and Chris at the Rooster Café, a cool place with good eats.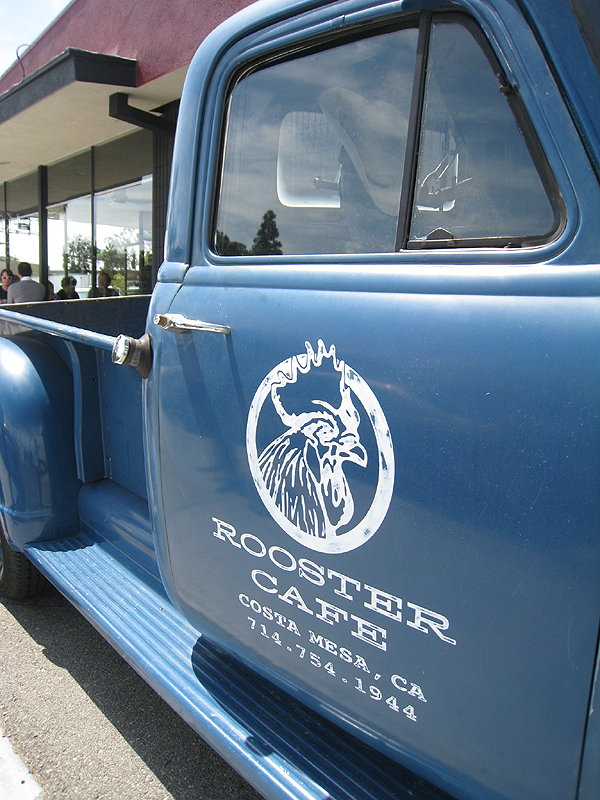 This shit is a must have for any meal, the one and only Cholula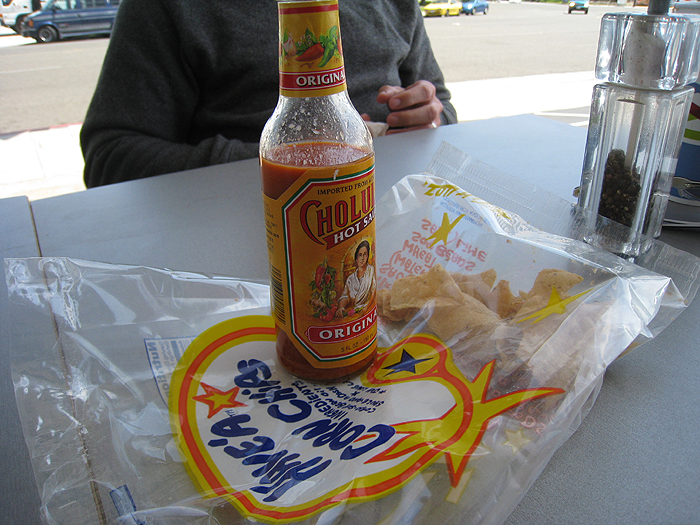 Rob, on the left, worked at the Program (you know, the Burton owned group that's made up of Forum, Special Blend and Foursquare) as the lead designer for almost a decade. During his tenure at the B, he made a deep impact turning shit around, and is one damn talented dude. Today, he runs his own gig with a few other good guys, Bond (the first carbon neutral outerwear company) and Salvador (minimalistic quality apparel).
Chris, on the right, is one of the partners to Obey clothing. He used to be in charge of all the production aspects, but now he's the marketing lead. Just in case you've been living under a rock, Obey has been slaughtering it on many angles. They have a good posse and I'm stoked for them.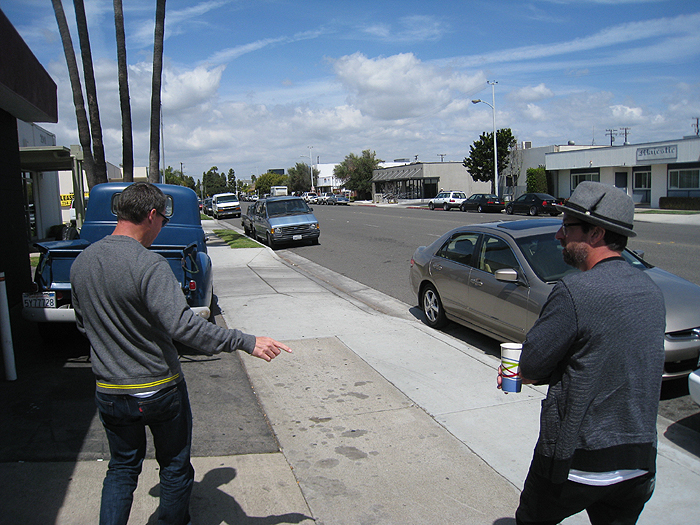 Rob showing some details of his baby, SLVDR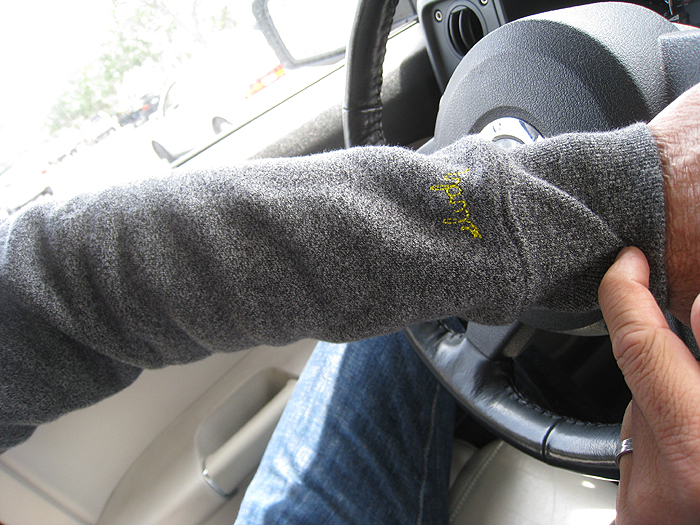 Chris, bringing it back to the Sperry days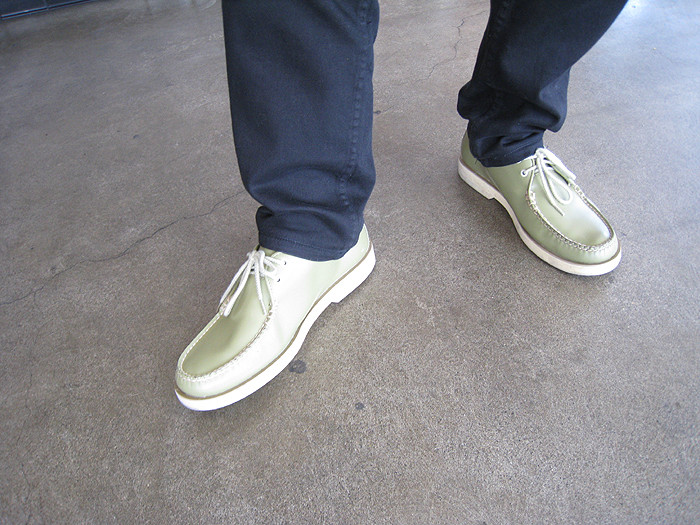 The hidden gem of Obey, Mike T's (lead men's designer since day one) lair.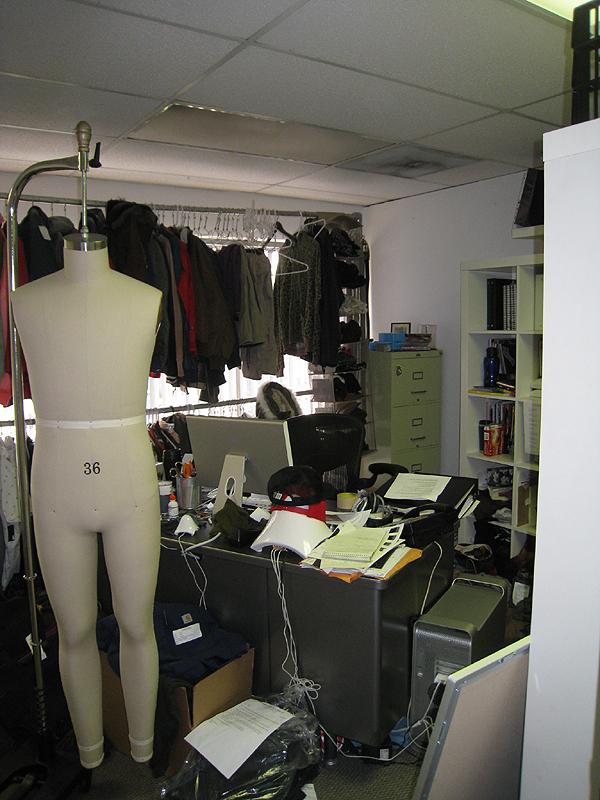 One last Pose for the Posse (check Don on the right)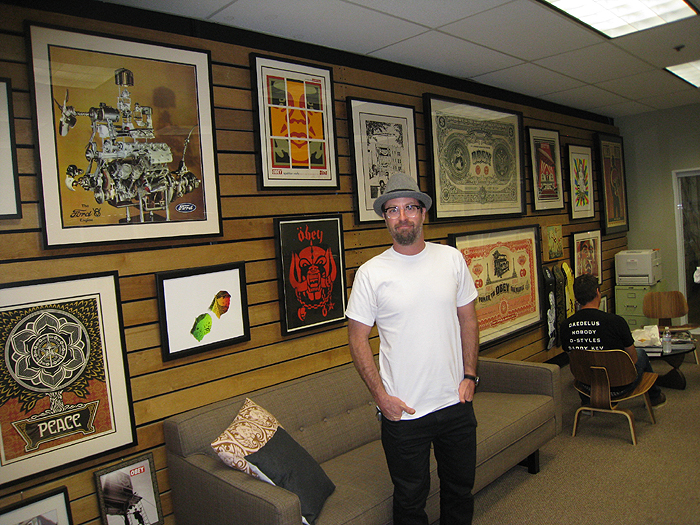 MALA-TO THE-KYE!
April 13, 2009

You know you gotta check yourself when just about everything you do has to be put in the calendar (or else, it won't get done). I don't know if it's getting "old" or just being more of an "ass" (It's probably both, as I have a lot to look forward to…) We'll I wanted to say what's up to the crew at Malakye-You know, the main job source for our industry and the one who's actually making this mash-up happen! The crazy thing is that the offices are about 1 mile from my pad, but still haven't been able to get around for a minute.

Who's that I see? Josh and Bill making magic happen! J-dizzle's represents the LBC and been skating pretty much his entire life. Bill's come up via the same program at SC-He also has his super duper blog mix-check it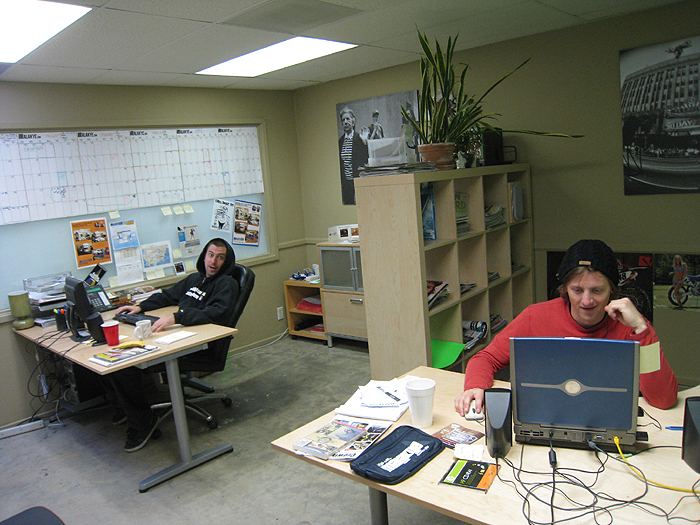 The one, the only, the Chad. Looks like he's seriously working on a new B2B master plan that's gonna take over the biz worrrrrrrrrrrrrrrrld!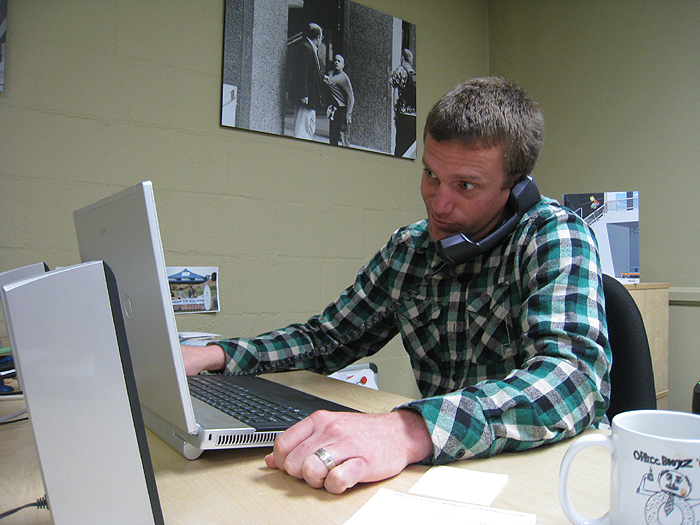 Since day one, Malakye has been dedicated to supporting our industry by making sure it contains the right mix. At the same time, it's always had casual and humorous approach to things. Here's one example of what life is with Malakye.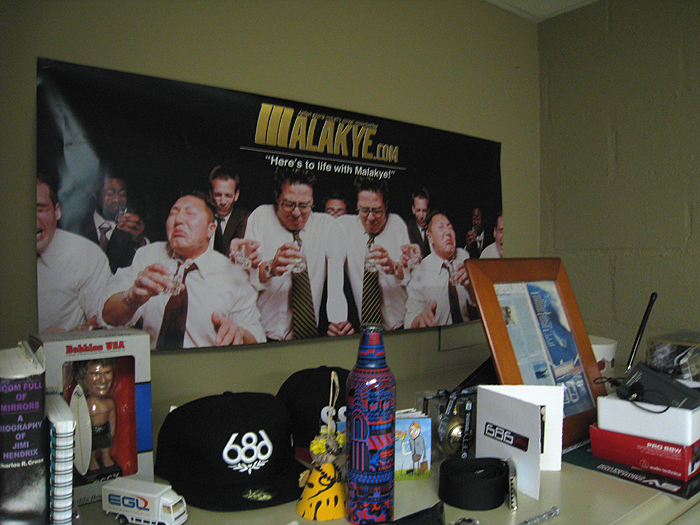 If you know Chad, he's a pretty funny dude-However he's also super creative when it comes to "hooks." Another example of last year's trade ad campaign. (Damn! My camera sucks-better get a new one soon-sorry)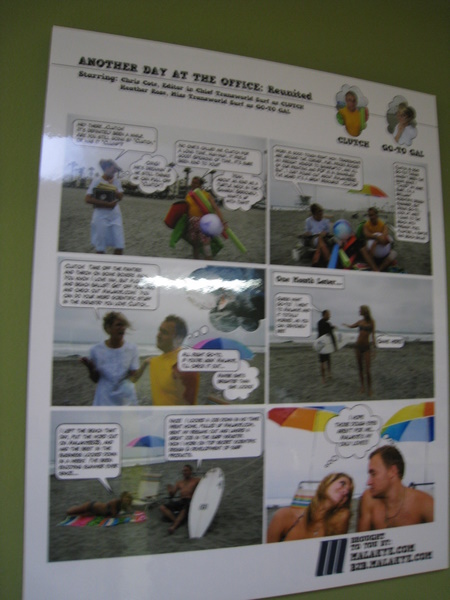 Chad did this career day for kids a little while ago. I'm sure he killed it with his approach-but what was super cool, were these hand-made thank you cards-can't get any better than this.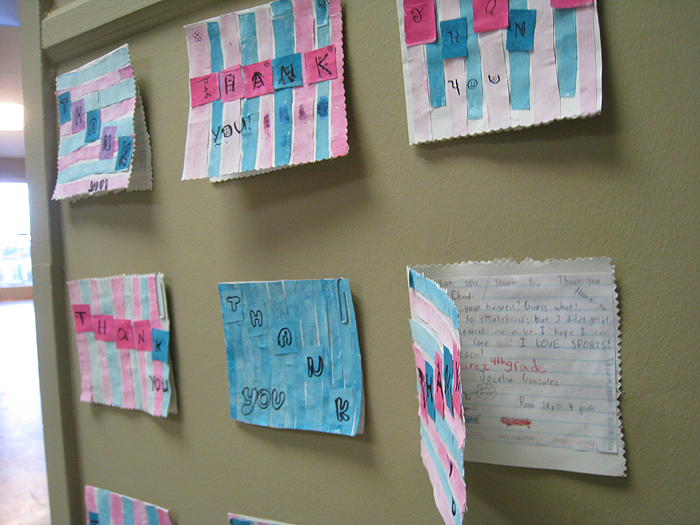 Snaggletooth says catch you laters brudas…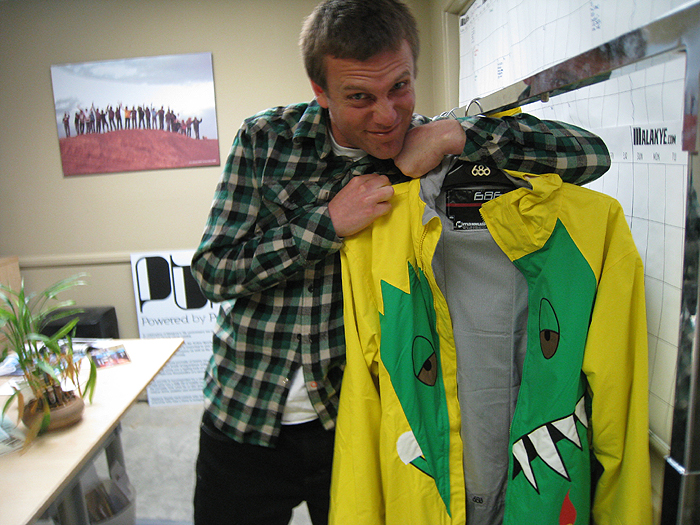 The Chalet
April 8, 2009
Part of my responsibility is to make sure our retail relationships are tightly held. Jono, our SVP of Global Sales, is the man when it comes to leading this charge, but I peak my head in once and a while to slap some high fives. Since we're a specialty brand, our distribution is specialty, as we cater to our core markets first. There's only a few points we touch that's more open and one of them is Sport Chalet. We've been partners with them for a while and forged some strong bonds as they've listened and grown with our terms. After all these years, this is the first time, I've been to their headquarters down the way.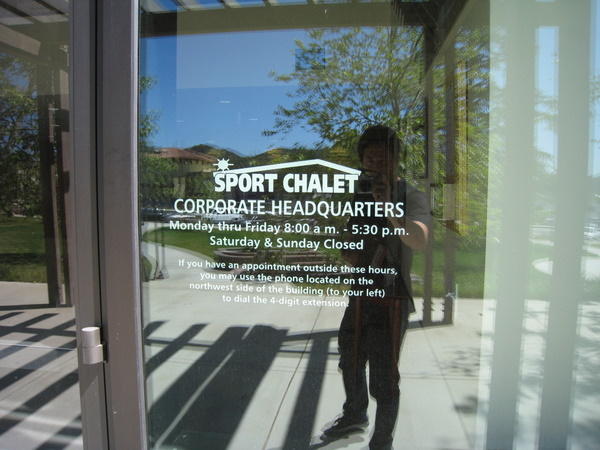 Paul (aka: Smed) has been our main contact, as he's the lead buyer for a while. Big ups to Smed for taking the time and working with not only our brand, but a lot of others in the industry to strengthen these relationships.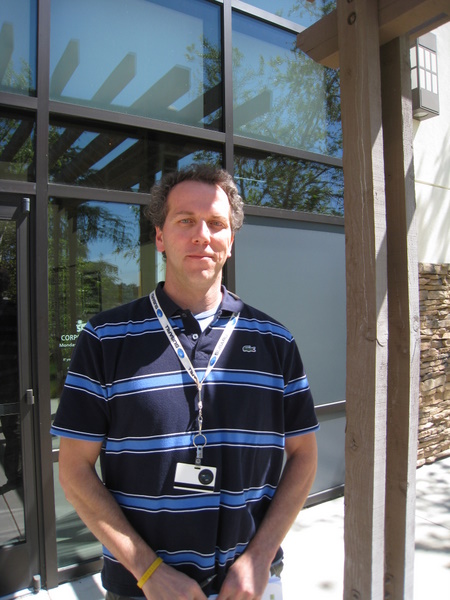 Paul showed us their initiative with keeping their core brands special. Basically a shop within a shop, totally dedicated to the kids that live what we do. Its called Project 59 - here's a look.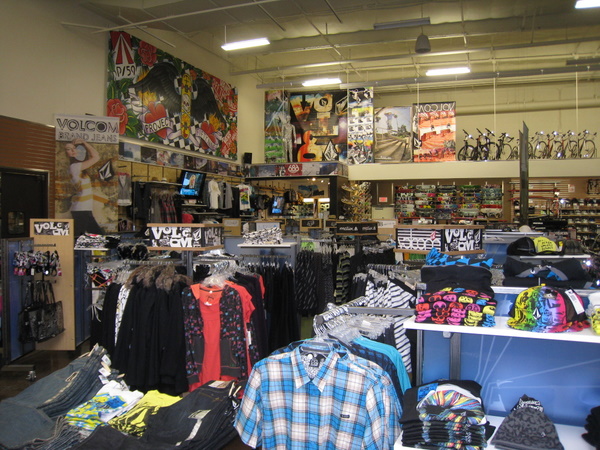 Is that 686 I see…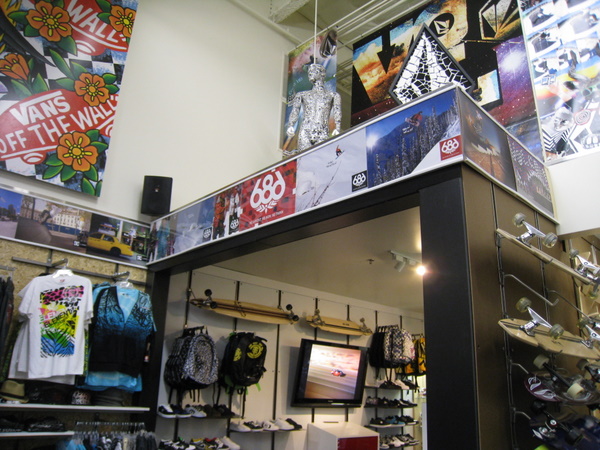 We had a meeting with Craig, the CEO and Tom, the SVP of Merchandising. Of the many things we spoke about, we wanted to make sure that both companies can stay true to their roots and basically do good biz. Proper communication and respecting each other's objectives are the top of the list-Big ups to these guys for doing just that. Check out how Jono and I called each other in the morning to wear the same outfit. What the hell is that Blockhead doing on me-you can't see me?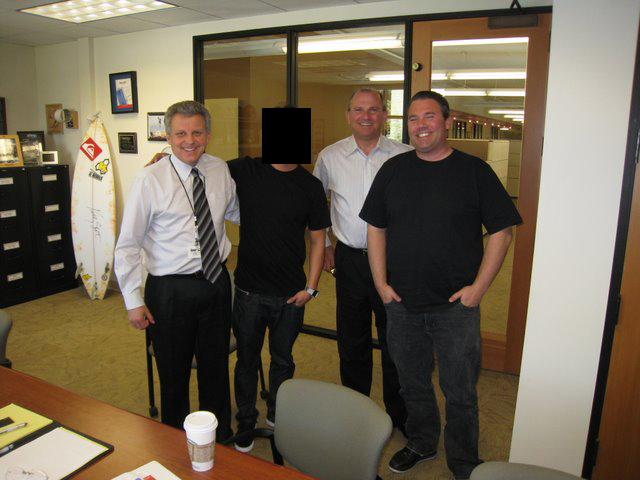 I-N-D-E-P-E-N-D-E-N-T
April 7, 2009

If you've been checking my little blog mash-up, you probably know that we do shit ourselves-Meaning we're not backed by another company that is backed by another company who is backed by a ski company that is owned by a soy sauce company, that is backed by a company starting with the letter B, etc, etc, etc. So myself and the Westlife family that makes up 686, is proud to be Independently rider owned and operated. It's definitely not easy, but after close to 17 years, I guess we're doing something right.

This is probably the first and last time, I'll post something that has my ugly mug in it, but possibly worthwhile to showcase that anything is possible.

CLICK HERE TO WATCH THE VID' ON HYPEBEAST!!!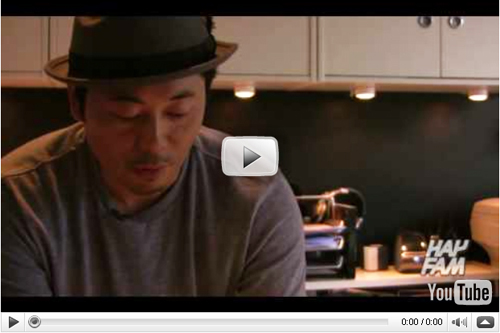 "YOU GOT CHANGE FOR A HUNDRED"
April 6, 2009
Fresh back from my trip, I stopped by to say wus up to Bobby at the Hundreds. I haven't been to his new office, so it was a trip overdue. The office/warehouse was in a non-descript location right smack in LA's garment district. Many years ago, I was running around getting my patterns made from a lady down on 9th street to the miscellaneous fabric jobbers like Michael Levine's on Maple, just to make my small collection happen. YES kids, I made all my stuff right here in the City of Angels and didn't know what the hell I was doing-BUT listened and learned. So it was a little reminiscent coming back here and checking what Bobby and Ben have done with their growing gig.

Here's a few shots of the digs-Check out their Jags print on the window to the warehouse.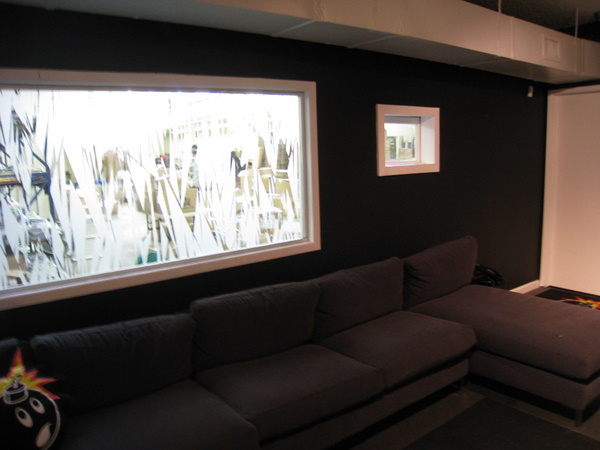 Yes, that's Kaws 4ft matte black figure next to the doorway.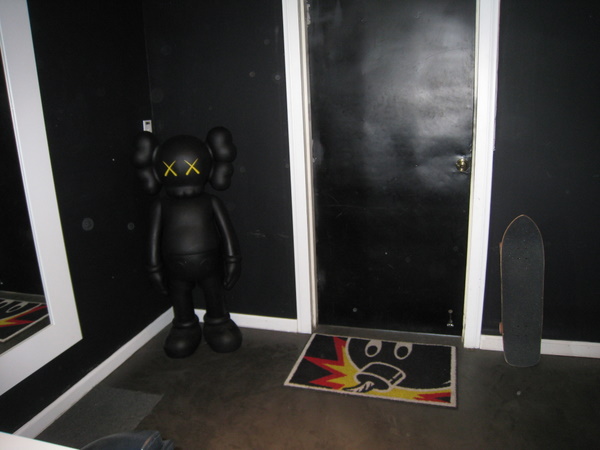 Across the way was their very own arcade-stocked with Streetfighter of all things. At 686, we use to have a set up like this until a guy named Endo jacked it up-thks E!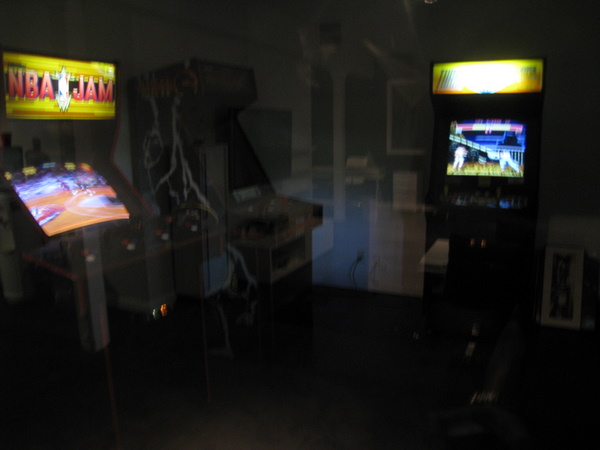 Bobby's 5D is permanently attached to his body. Just last week, he had this special surgery that added the strap to the back side of his neck. I said cheese, while he said cheese. (although his little blog mix has about a hundred million more visitors-but who's counting)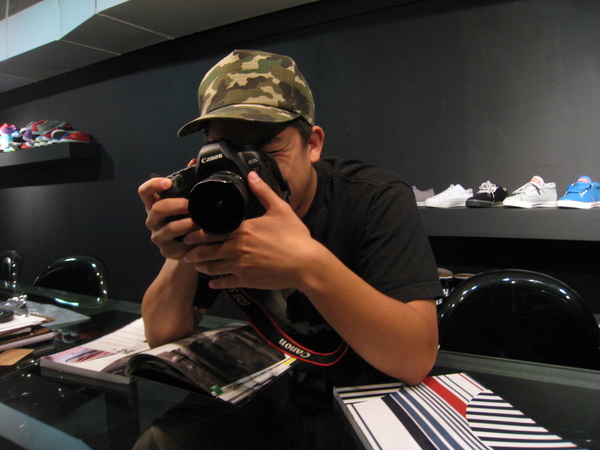 VAN-EVERYTHING-COUVER
April 4, 2009

If I had a choice to move my ass outta LA, there's a short list of places I'd like to head to - Vancouver being one of them. Where else can you find a city surrounded by mountains, ocean, city, culture, and opportunities, than Vancouver? I'm sure they have their issues just like any other city, but it's definitely a place to check out. I was in town to crash a college buddy's Bachelor Party, or like they say in Canada eh, a Stagg. However; before I head out, I wanted to peep in and say hello to the IS guys. Hey Devun, how you doin'?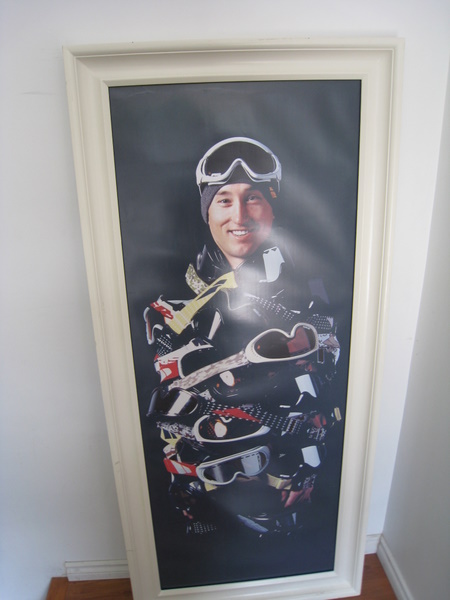 Dave and Karl from IS took me out to this one joint, forgot the name, but for some reason all the girls there looked really uh, pretty… Oh, I almost forgot, Karl and company are putting on the Original Canadian Office Boyz on Thursday at Grouse. I'm sure you checked out the US gig at Bear Mtn, but you ain't seen nothing until you see the Canadians go at it.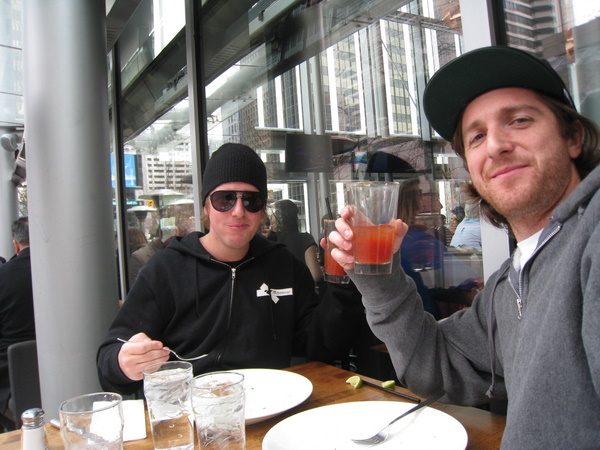 When I go to different cities, I like to see what they have going on in the streets. I guess the new craze are these Hot Dog stands run Japanese style, a-la JAPADOGS.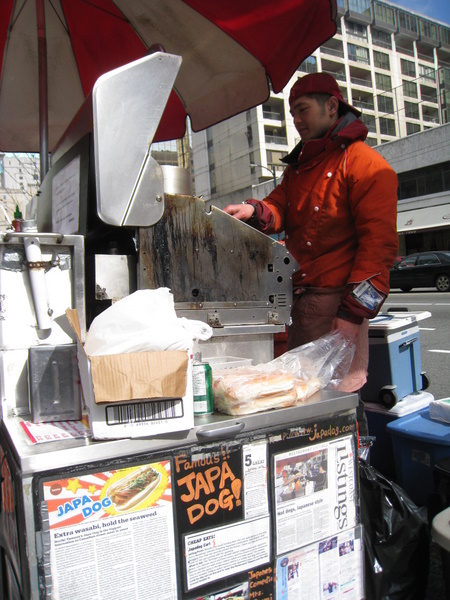 Wow, I'll get one dog with mayonnaise, teriyaki sauce and seaweed, hold the relish please. You think it's funny but the line was hella looooooooooong.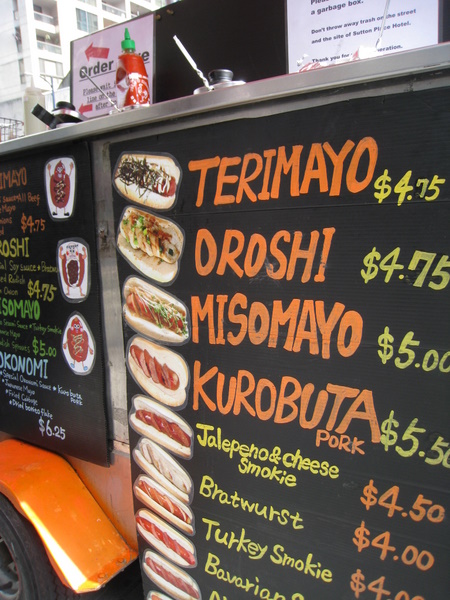 Rolled back to the hotel to say what's up to Jeremy. He lives down the way and is a freelance designer. Jeremy was the original head designer for Nomis since day one. Now he's on his own doing a bunch of good work for different heads. Check him out, he's multi-talented.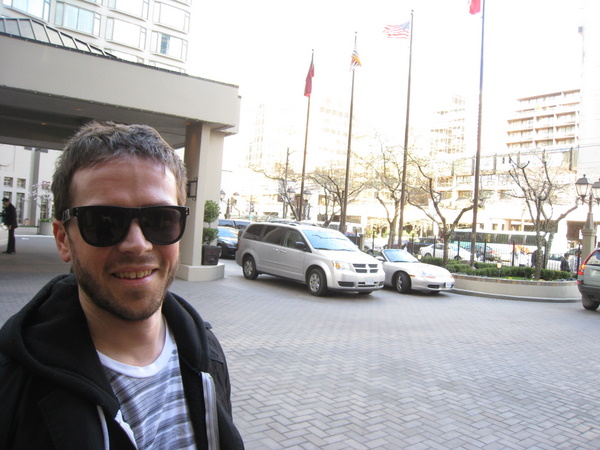 I wanted to do a quick shop-by to a few stores in town. Here's a few in no particular order. El Kartel on Robson.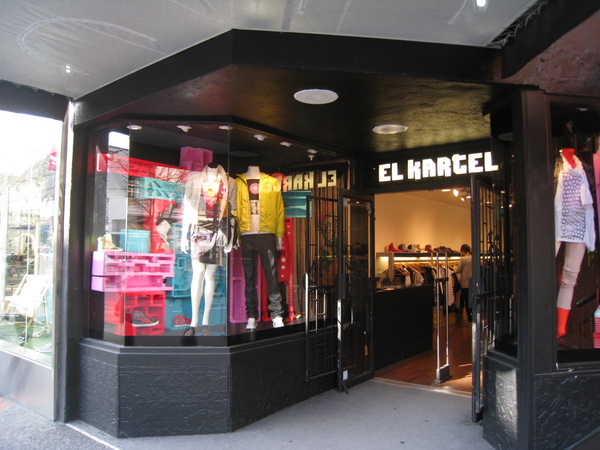 Roden Gray was featuring the new collection from Band of Outsiders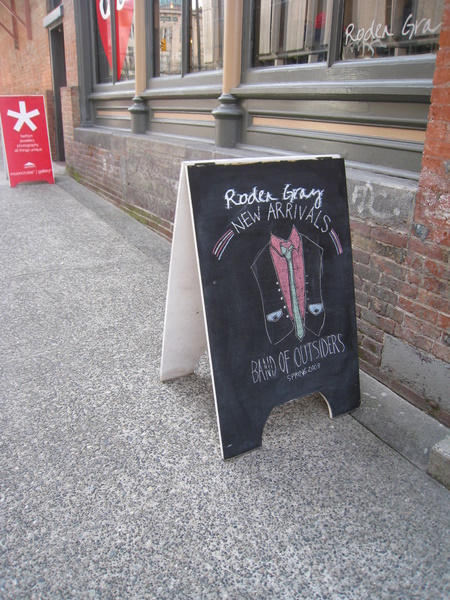 Ain't ALIFE grand?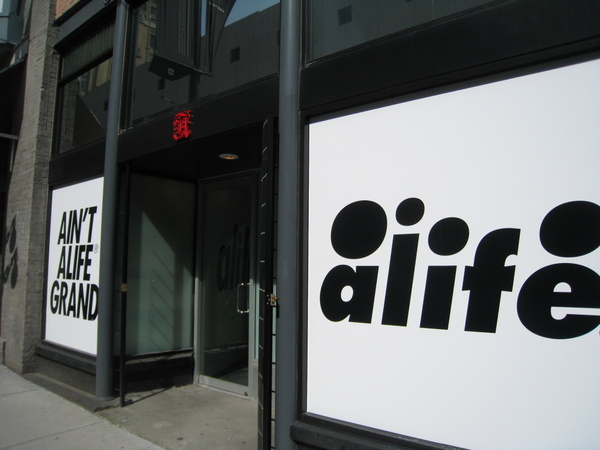 What foot? Oh, Goodfoot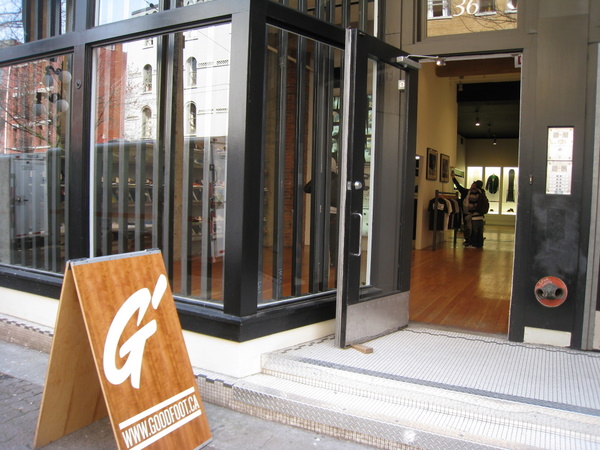 Stussy's Vancouver Chapter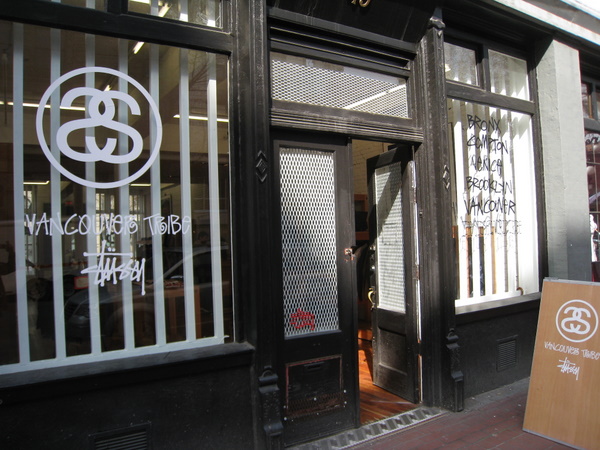 Mousier Louis Vuitton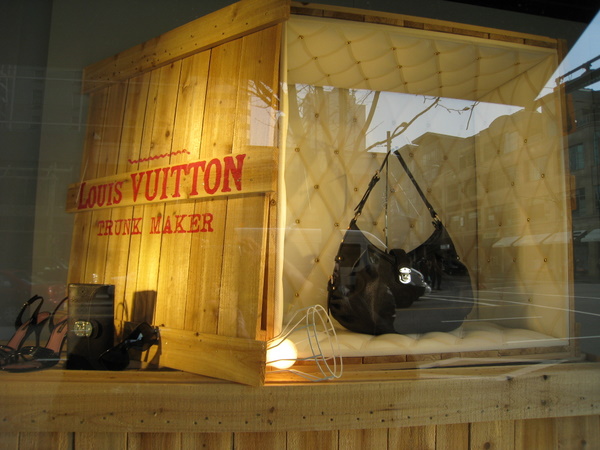 Headed to 4th street and met up with our kick-ass long time agent, Chris. He's been with 686 for well over a decade and absolutely kills it. Chris has this authentic "laugh" that's reminiscent of one Spicoli and is into hockey like no one else's business. We said what's up to the crew at Livestock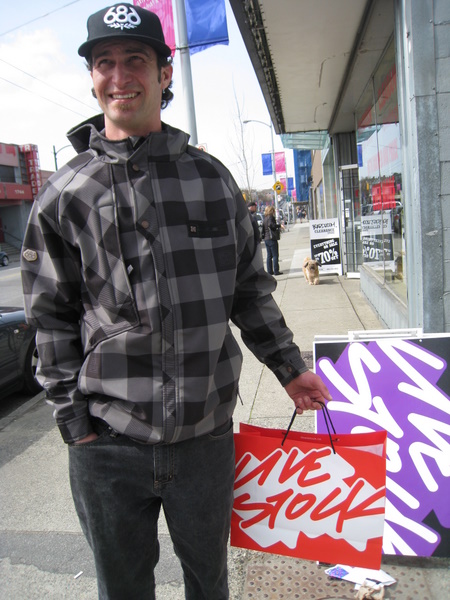 Earlier this morning, they did their Air Yeezy Launch. You know, Kanye's glow-in-the-dark shoe inspired from the movie Back to the Future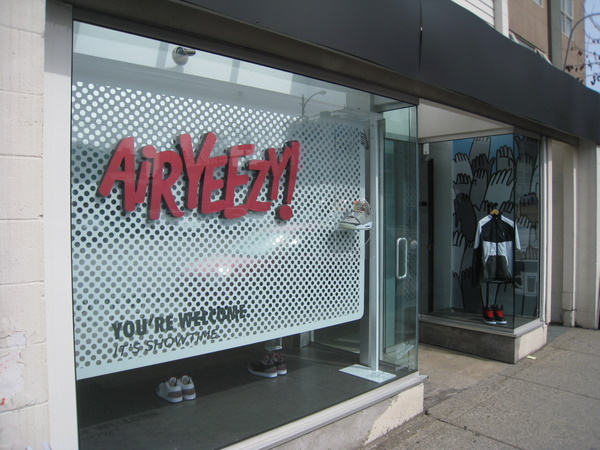 However, he passed on the moonboot and picked up a pair of timeless 574's. I told him I could get him a pair, but like a good agent, he's supporting the stores.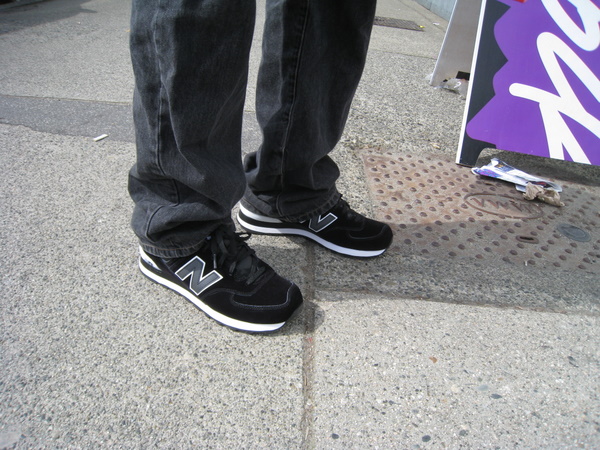 There's three main snow-skate-street stores on 4th. Showcase across the street, Pacific Boarder and Boardroom on this side. 686 is down with "this side." Over the years, Boardroom has grown exponentially, while keeping their core roots firmly in place.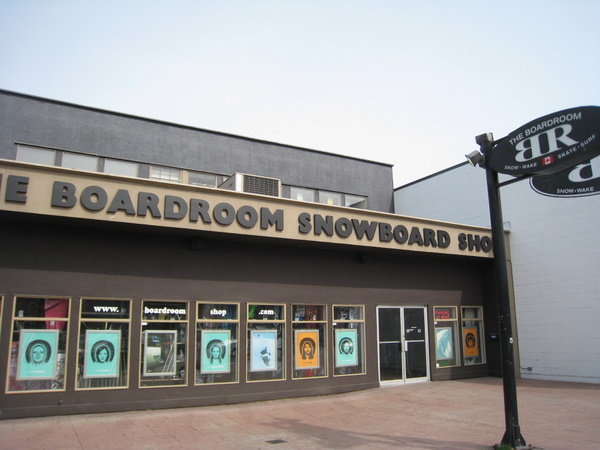 They have an incredible staff who knows what's up. Over 20 years ago, it was all started by a guy named Murray (with the broom). You know their strong reputation is held tight when the owner and operator is out back sweeping. Just like here at 686, everyone makes it happen, from the top to the bottom. Murray not only runs the Boardroom's retail ops, but he's also the exclusive distributor of brands like Never Summer, Endeavor and Sector Nine.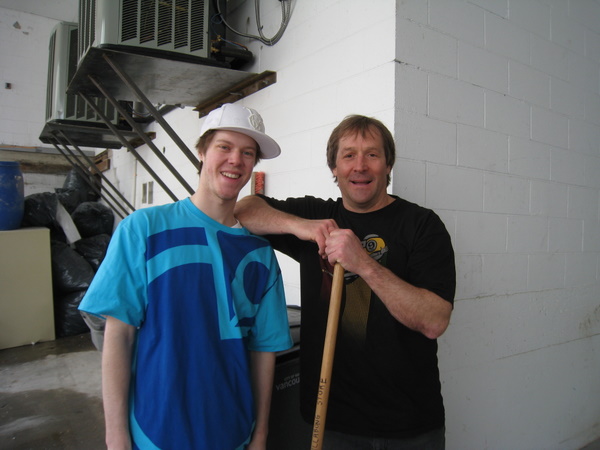 I think I've died and gone to heaven…Boardroom's shoe wall.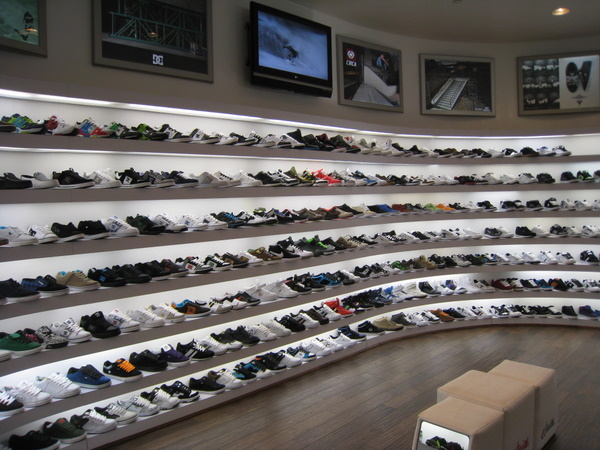 Next door, there's Pacific Boarder. They were one of our first retailers in Canada that believed in what we do. A great all-around establishment for the whole fam. Thanks for the support!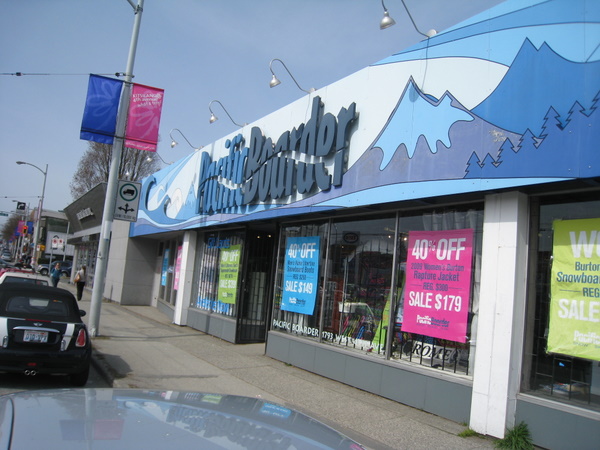 Hey Louie, how you doin?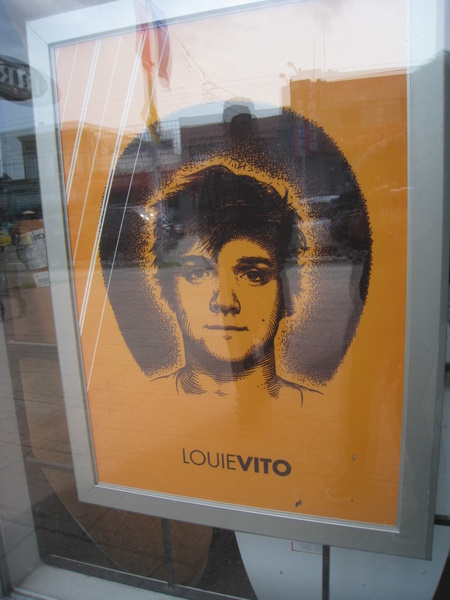 Oh yeah, I almost forgot why I'm in Van, for my buddy's stagg. This is all I remember from the night. BEFORE…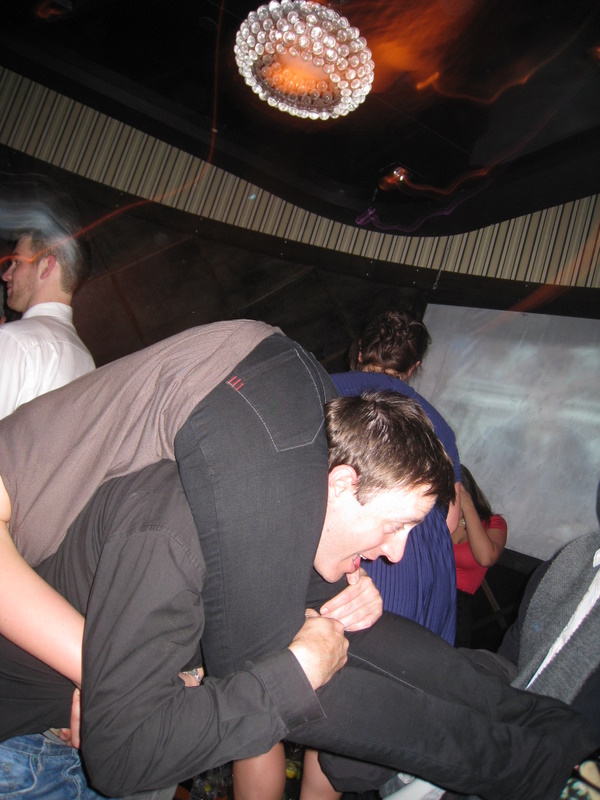 AFTER…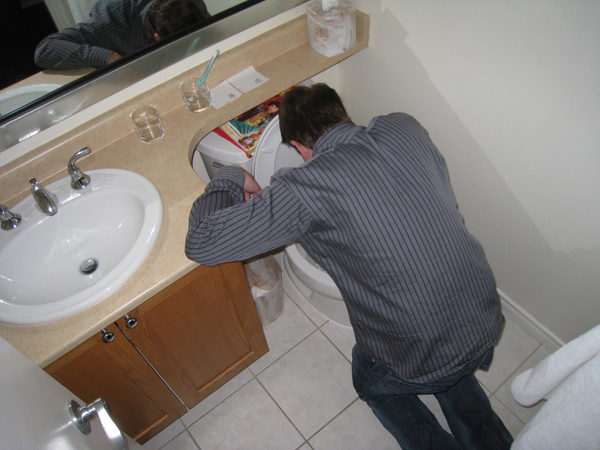 A Not So Loooong Day
April 3, 2009

I don't know if its ADD, ADHD, HGTV that I have, but when I'm out, I want to maximize my time and see/do as much as I can. My girl gets pissed off, because she likes to take her tiiiiiiiiime and loooooooook at thinnnnngs for a loooooooooooong time. Myself, on the other hand, I get shit done fast. After Nike, I went to see a few other friends in Portland. First stop was Columbia. Yes, Columbia Sportswear, the giant outdoor company with all those Ma Boyle commercials.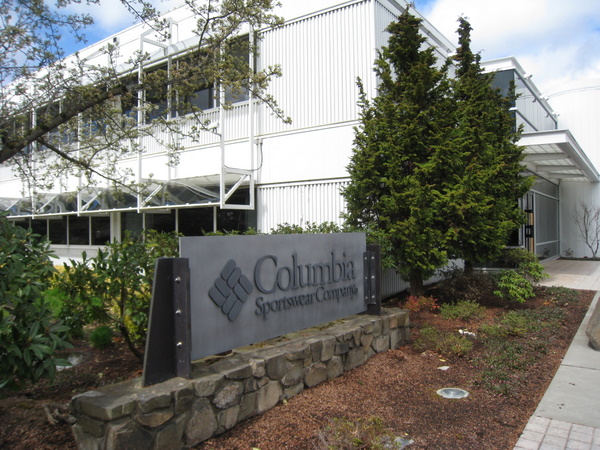 Hey look, Ma Boyle.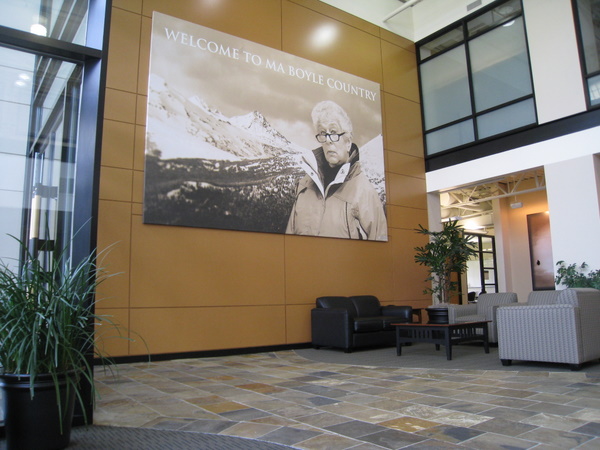 I visited one of our old designers, Andrew, or as we called him, "the Goose." Goose is a little different, but in a good way. He's always scheming, looking at things and thinking how he can re-design it. He also has this Crip-like, slouchy walk, a mellow voice, and always wants to stand out in his own way. Goose is the senior designer for Columbia's Titanium division, their most technical line. He comes from skateboarding and snowboarding and fit in very well at 686. However with Columbia's corpo culture; he may be slightly different. You decide!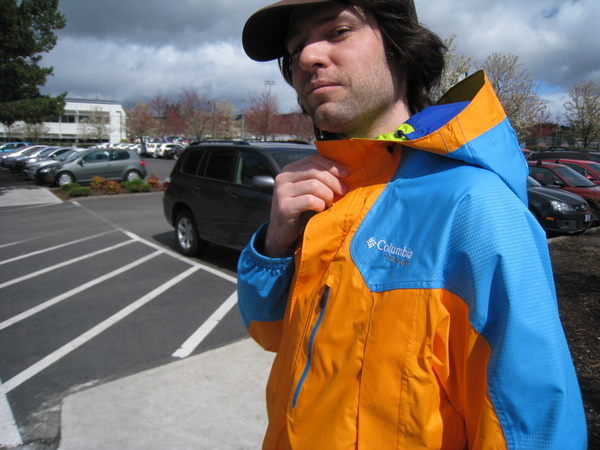 Goose represent's Made in the USA - New Balance 1400's in Black Patent/Suede -we did a NBX686 gig in Vegas a few months ago and he copped this. Damn, I didn't even get one…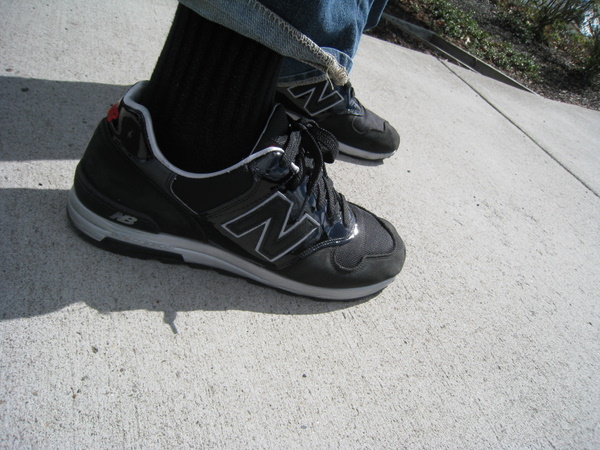 Next stop, Grenade Gloves. Danny and Matt Kass bought this building on Stark Street a few years back. Check out the Fatigue Army Green color with the tour bus on the right. If only those bus walls could talk …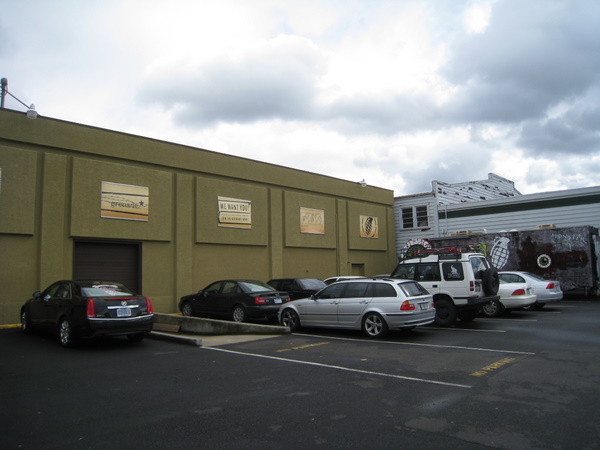 Said wus up to Joe or "JC" and the rest of the Grenade Army. JC and I were shoot'n the shit about this past season, their expansion into other categories and some other top secret military ops. JC's a straight up, no holds barred, energetic person. Try and get to know JC, he has a lot to say and even more plans to make it happen.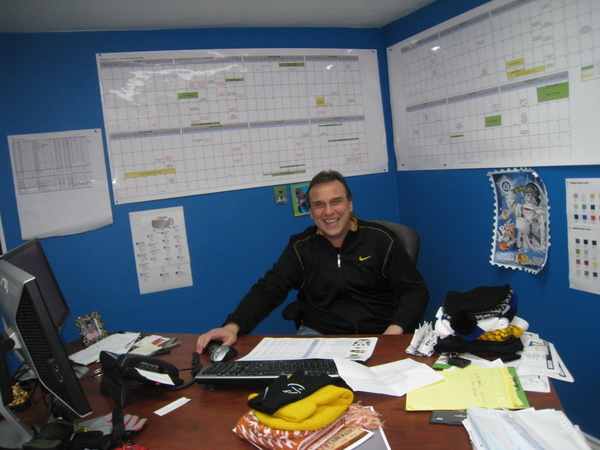 Danny always at his side.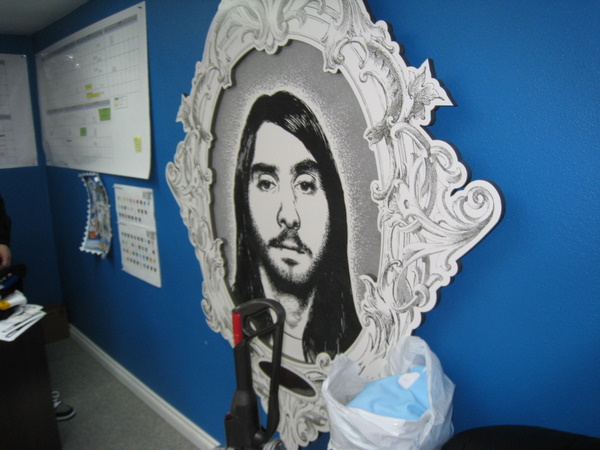 Took a quick tour around the warehouse - product, people, skate ramps, dogs, and interesting enough; their own print shop for all those grenade stickers, banners, window displays and whatever else you need.


Getting ready for their annual 4/20 Games. This time it's in Whistler… Canada that is (can you say l-e-g-a-l)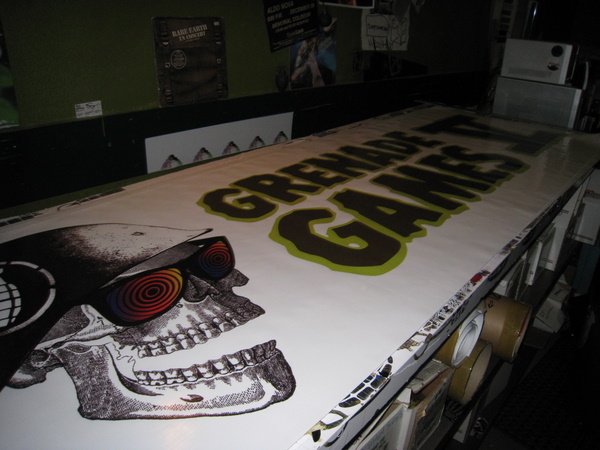 Last stop, HOLDEN. Very different styles and stories from the other two stops, but that's a good thing. Holden's run by two incredibly talented people, Scott and Mike. What stokes me out even more is that they are doing it completely by themselves and in their own way. Snowboarding is all about DIY and having fun at it. If you have this opportunity, take it for all its worth. Even though we're in the same category, it's all good when it comes to mutual admiration of each other's craft.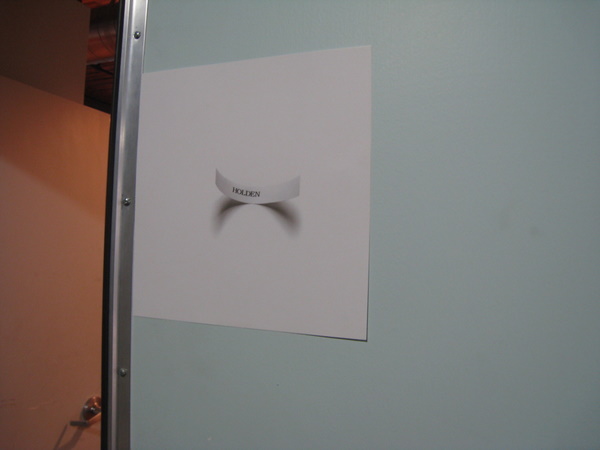 I wanted to check out the Pearl district, so Scott took the time to show me around.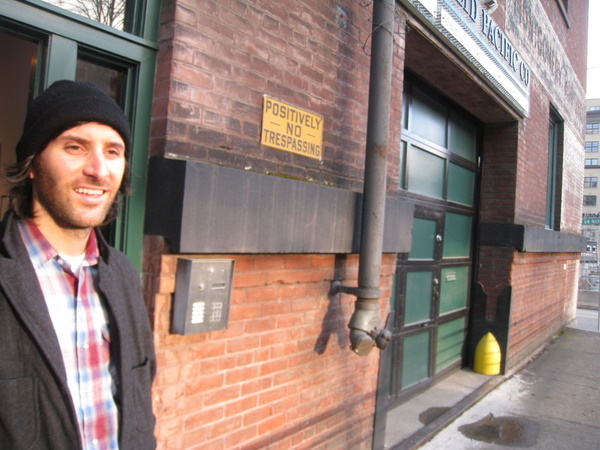 Down the way, the ACE hotel. If you're not aware of this place, please check it out. Minimal, Vintage, Modern, Original, Playful, Artistic are just some of the words I would use to describe it. A few years back, 686 did the Fall photo shoot here with T-Dubs Nick Hamilton. A cool place to stay and has more than one location.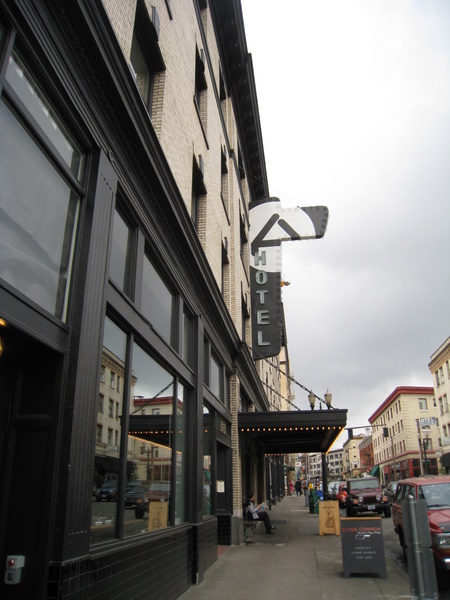 A good place to get your grind on, Stumptown.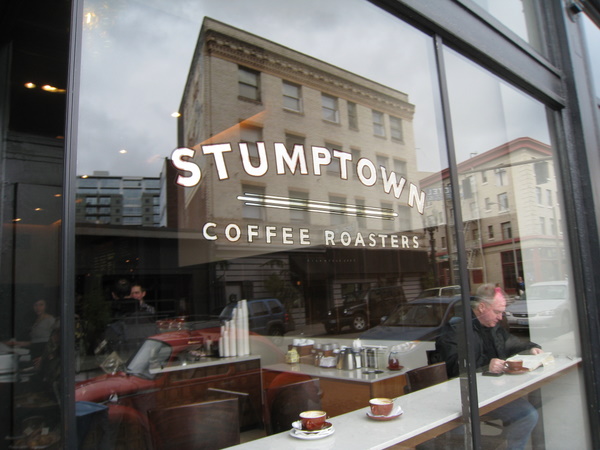 I've always heard of Powell books since I was a kid. Scott showed me the one and only, it actually wraps an entire block. Guess how many of your favorite P. Northwest companies have been inspired here…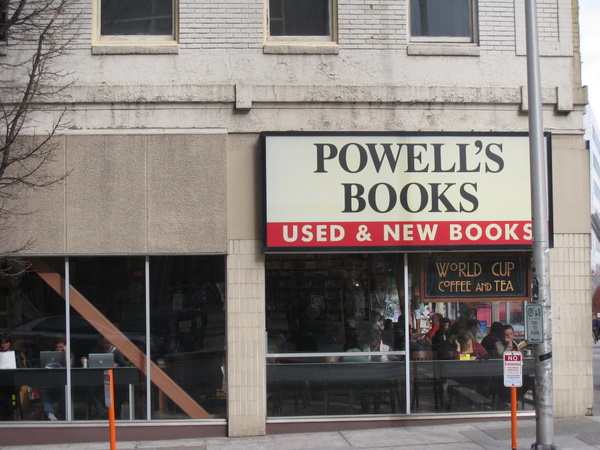 One of the largest Creative Firms in the world, Weiden + Kennedy. Their clients expand for miles; Nokia, Nike, Google, ESPN, etc.


This is how it's done in Portland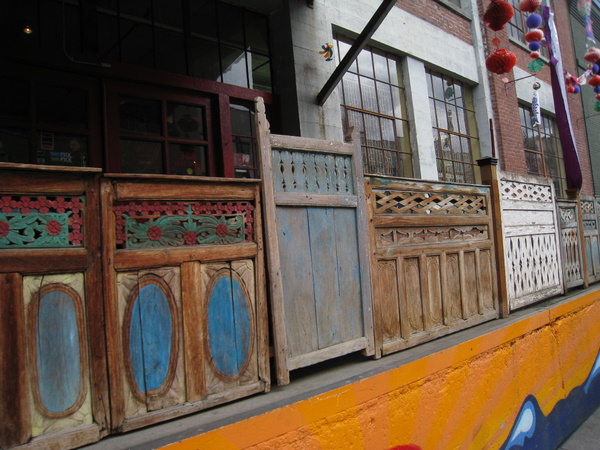 You can only imagine the messenger, fixie, bike scene in town. I wanted to check out more, but had to get on my way up outta here and to the next stop. Big ups to everyone and thanks for the time.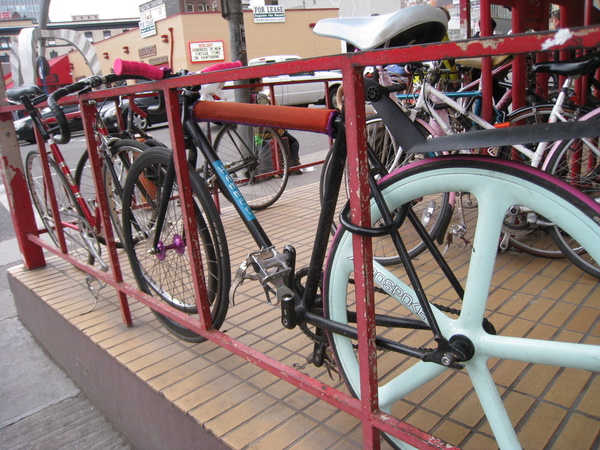 The Campus
April 2, 2009

Every time I leave on a trip, I get the feeling that I really don't want to leave. You know - dealing with the hassle of packing, getting on a plane, working on the road, etc. But when you actually leave and get away for a little while; you get a recharge and it gives you a different perspective on how things are.
I took a short trip to up North to catch up with some heads. First stop, NIKE (aka-the one and only, the holy grail, where shit happens, the campus) When I first came up here a while ago, I thought I was at the wrong place. It's literally a campus with everything and anything. Numerous buildings named after Nike's world class list of athletes like Mia Hamm, Tiger Woods , Lance Armstrong, etc. It's also got soccer fields, restaurants, bars, high tech gyms and the list goes on and on. The campus is surrounded by lush greenery and a track-like road that leads into the parking areas. Check it.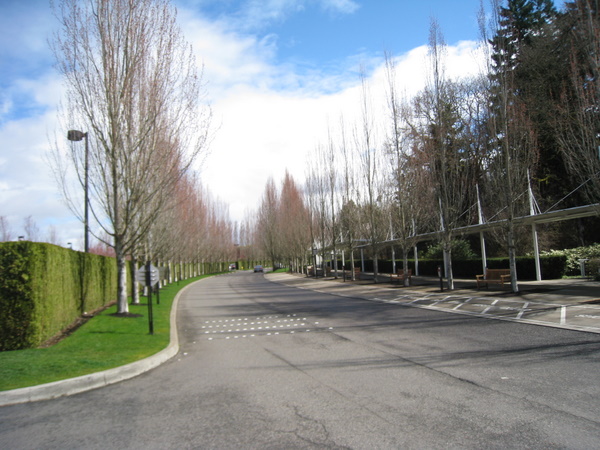 Inside, you can see some of the numerous buildings, near and far.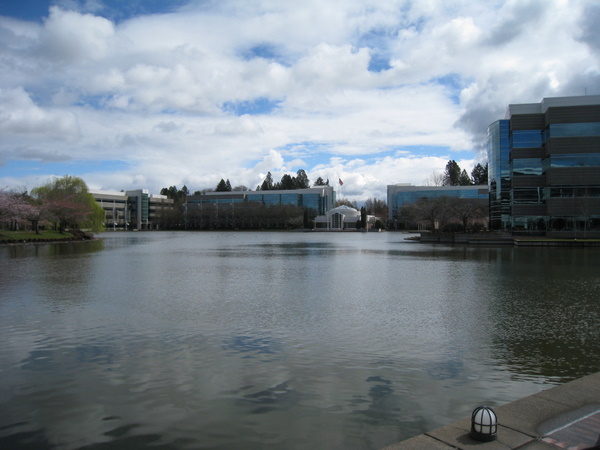 Dorothy, I guess we're not in Kansas anymore.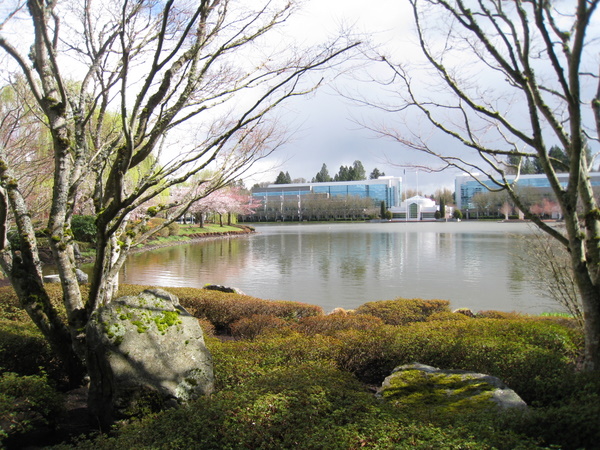 Yes, those are genuine Portland ducks roaming around, doing their thing.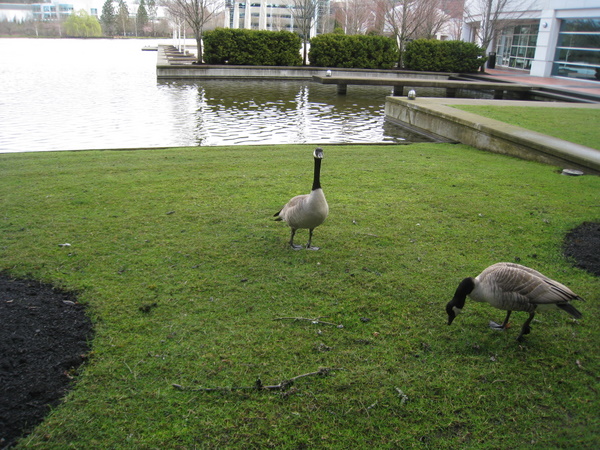 The Jerry Rice building, where my buddy's at. I think this is also where Nike's new action sports unit is located. From SB, to 6.0 to Snowboarding.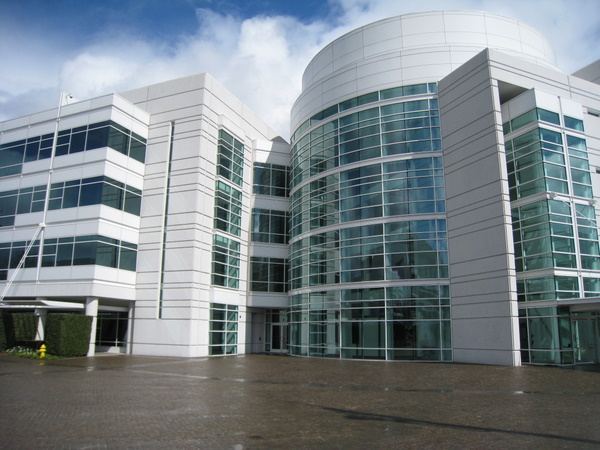 Meet Dennis. He came up from Nike's LA office in Culver City where he was originally dealing with the Entertainment group hobnobbing with the who's who in Hollywood and beyond. Now he's kinda big time and landed in the Global Creative Experience Sector. It's a little hard to explain, but its more big picture on how the brand can properly connect with their base on different levels. Retail and Merchandising are one of main focuses. Montalban in LA to NSW's Mercer's location are just some examples. Say hello D!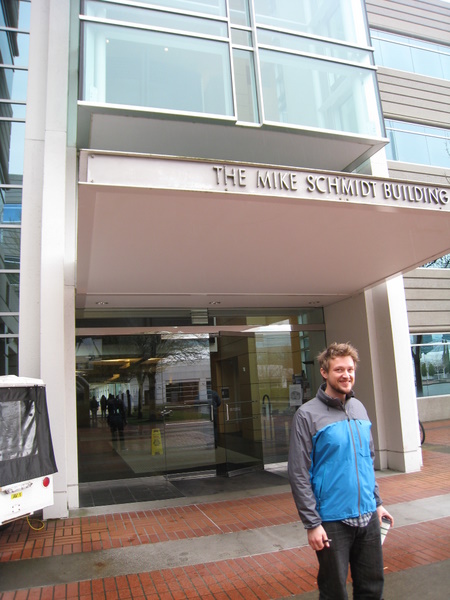 This is a new building named after Bo Jackson. You know, BO KNOWS… You can barely see it from here, but there's a floating basketball court-say whaaaat?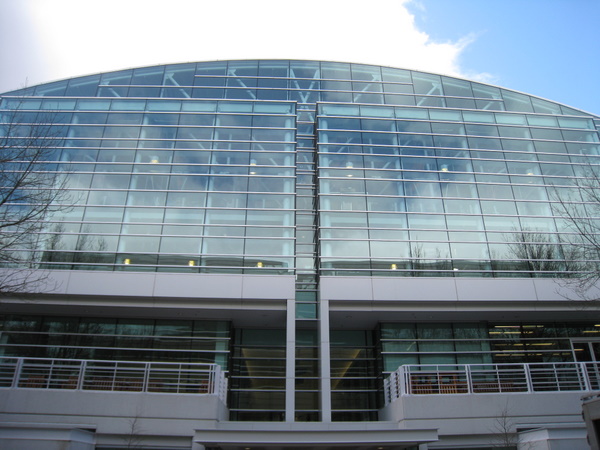 D was wearing one of NSW's latest jackets. Light, simple, technical construction-overall a great piece.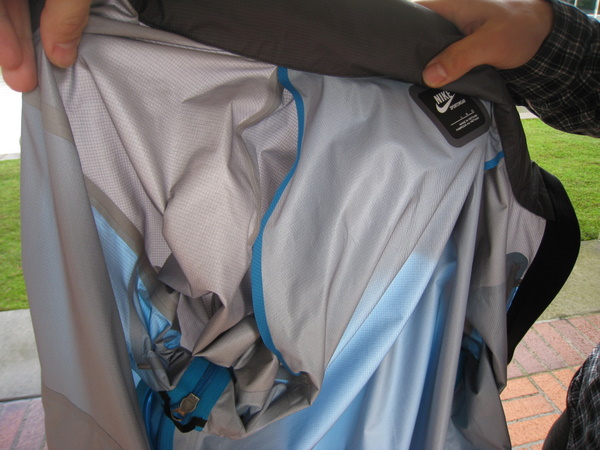 We had lunch at one of the many restaurants. This place was emulating a bar in Boston. I forget the story, but all around the place, there's pictures of athletes, stars and old memorabilia. The booth on the right is always "on call" for Phil Knight, just in case he stops by and although Mark Parker has taken the reins, yes, Phil still cruises around!
We talked about a lot of things, from our incredible 686 heli trip that we did last year in BC, to getting married (congrats to him and Crystal!), all the changes going on around the world, retail and just enjoying the simple things like gardening. I told him that next time he's in LA, we're gonna do a short trip to the mountains and try and revist the glory days.


On the way out, I saw this rad picture, Bill Bowerman (RIP, the co-founder of Nike) with Bill Cosby ...awesome!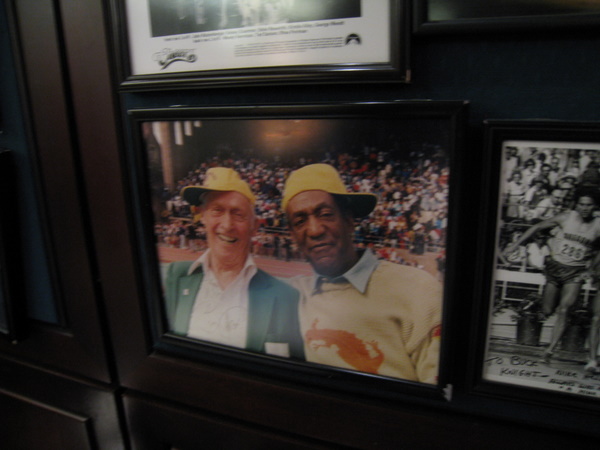 Foolishness
April 1, 2009

So I was waiting for someone to play a crazy joke on me. I use to be real gullible and believe pretty much whatever was told to me. One time my guys said that a group of kids broke into our warehouse in Torrance and stole everything-Another time, I got a call from my girl that the apt was flooded-What do they all have in common? That I'm a sucka for shit like this. So this year, I was on guard for something to happen sometime somewhere. Crazy enough, the only thing that went down was one of our friends, Seamus (pronounced Shaymus), dropped by to create some Foolishness of his own.

Anyone named Seamus, must be interesting. "S" is the SoCal rep for DVS , Lakai, Matix and IS. Not only does he fly the flag high for these great brands, he's also super talented in creating ideas for random things.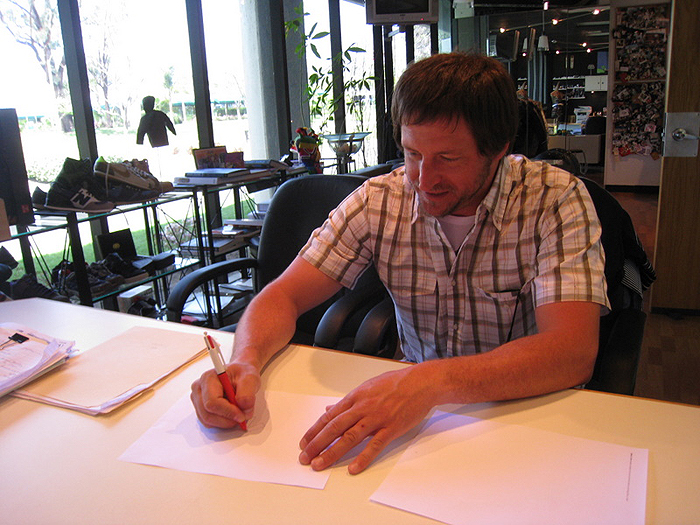 Seamus working hard at his version of the new Malakye x 686 jacket. Check out the details of his "Lifesaver Jacket," complete with a built-in Beer insulation bladder and convenient non-spill mouthpiece.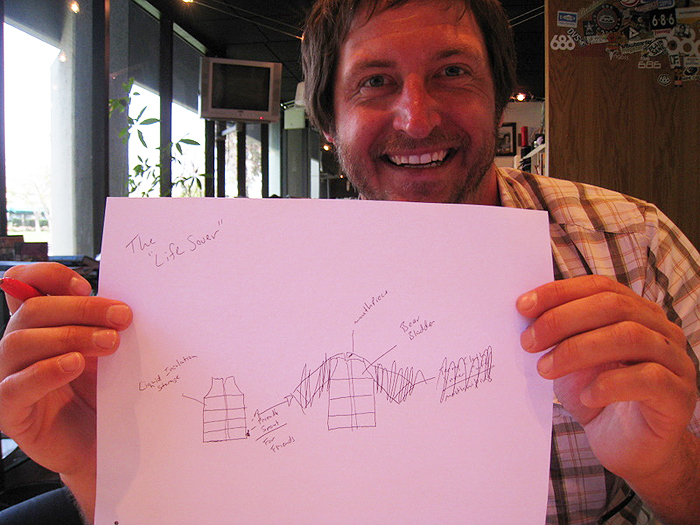 Another crazy concept from one of our past designers on 686 Day (June 8, 2006). What do you think- the pink fanny or the baby blue?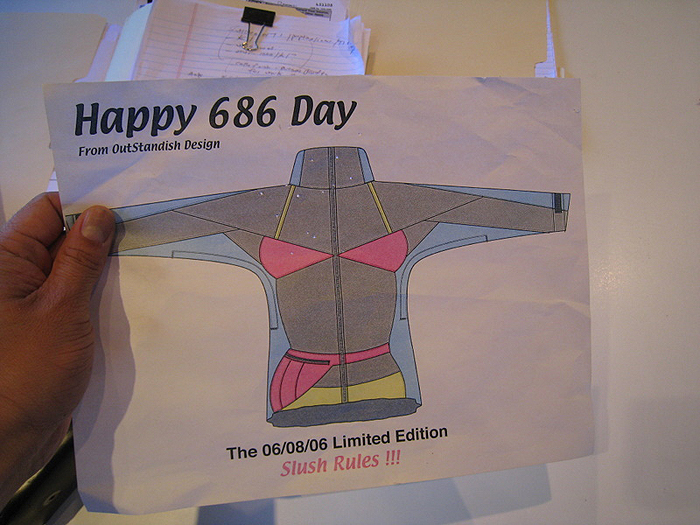 Later in the day, our Director of Apparel, Julie, celebrated her forever 39th B-day. We have this tradition to get cakes for everyone at the office. I only wish we could group them together as it seems like we have one every week-gotta do some more crunches…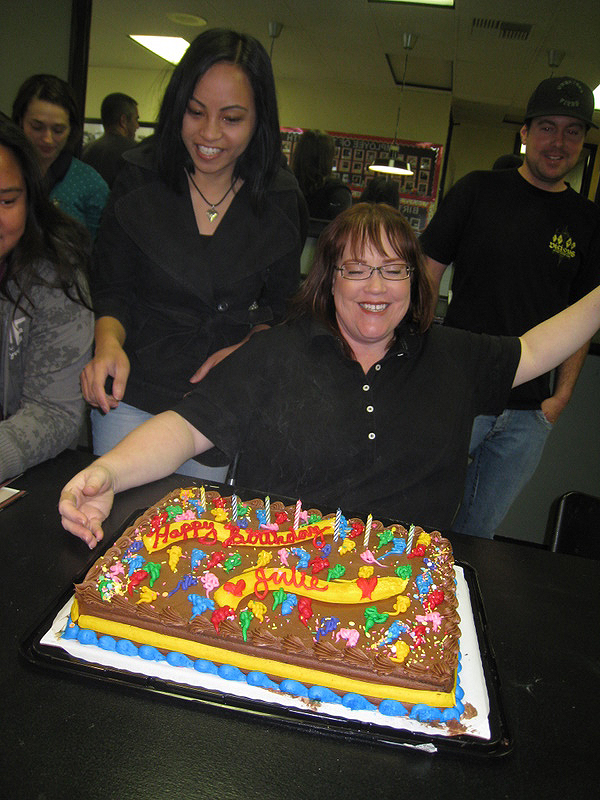 Some fellow Westlifers say'n wus up to Miss J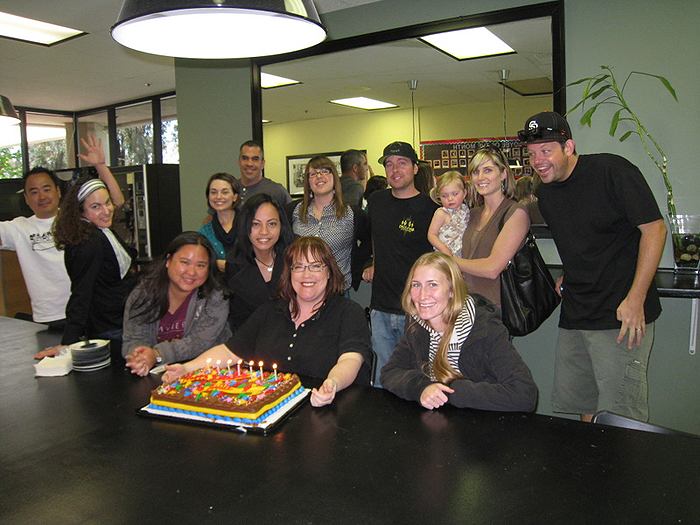 Mash-Up Archives:
March '09
January/February '09

Most Recent Mash-Up
---