Back to News
5Boro Skateboards 13th Anniversary Party and Art Retrospective
May 14, 2009
5Boro Skateboards 13th Anniversary Party and Art Retrospective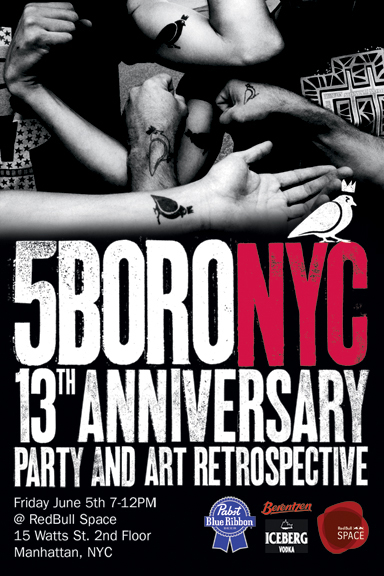 On Friday night, June 5th, 5boro Skateboards will celebrate its 13th anniversary with a special party and art retrospective at the Red Bull Space in SoHo.
Going down the night before the annual "Back to the Banks" contest, this 21+ event is open to the public and will run from 7pm-Midnight. Every deck 5boro has ever made – more than 250 – will be on grand display. There will also be a photo exhibit and video montage featuring clips of everyone who has ever skated for 5boro over the years. Plus, beats will be provided by DJ Sweet Waste from Brooklyn, with free drinks served up from Red Bull, Iceberg Vodka, Berentzen, and Pabst. It's sure to be a banger, so get there early as space is limited.
Following is a list of artists and photographers who have contributed to 5boro and will be featured in the art retrospective: Nardelli, Uncle Geez, Raza Uno, Thought Ninjas, Grotesk, Robert Mars, PK, Michael Sieben, Alessandro Zuek Simonetti, Christian Acker, Dylan Haley, Megumi Watanabe, Eddie Martinez, Sean Cronan, Allen Ying, Angela Boatwright, Ruby Lee, Lowrider, Stephan Marx, Allison Malecki, Ewok, Dave Reinbold, AKA, The CollaBros, Circus Media, Andy Madsen, Jimmy Gonzales, Karen Stern, Fletcher Ohmart, and Craig Metzger.
Find out more at: www.5boro.com.
---