Back to News
MIKE'S MASH-UP!!! - May Archives
May 28, 2009


Michael Akira West is the Owner and Creative Director of 686 Technical Apparel. The following are some of his experiences inside and out of the industry across the globe.


You like beef, bruda?
May 29, 2009
Guess where I am?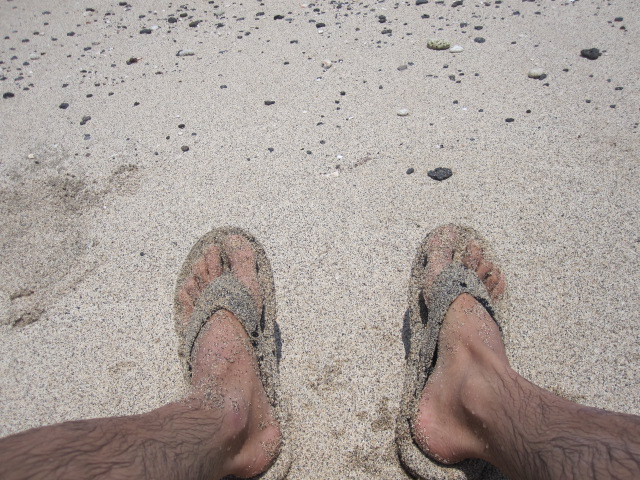 Hint…Sandy beaches


Hint…Crazy sunsets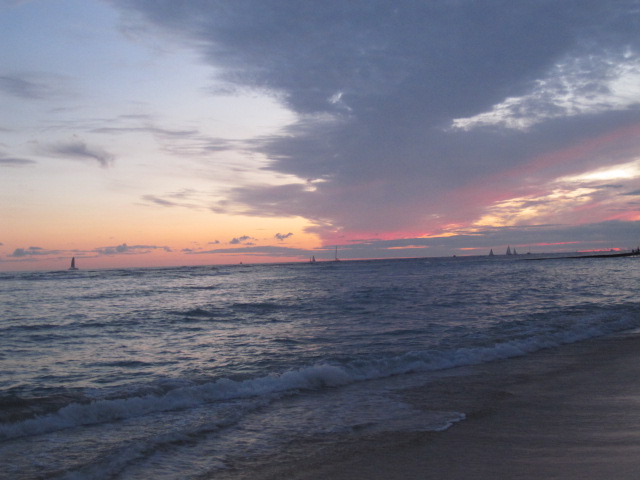 Hint…Mellow summertime surf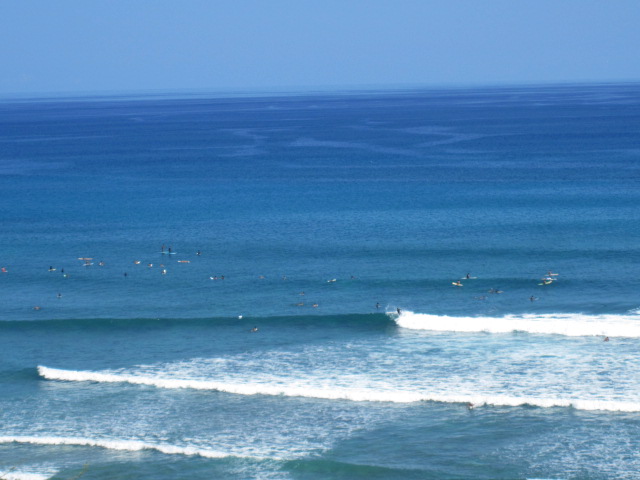 Hint…Turtles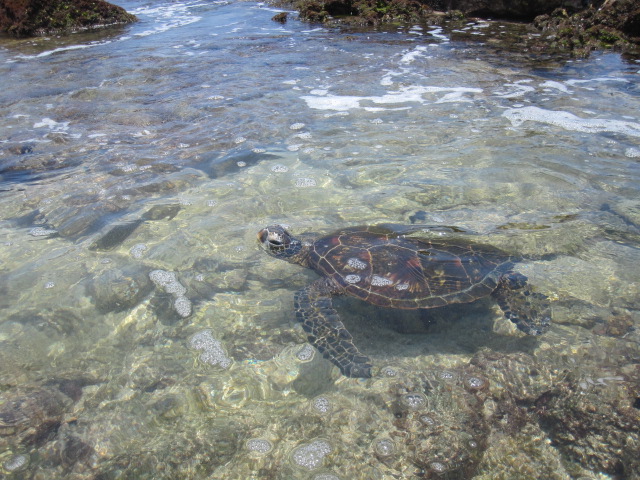 Hint…Stingrays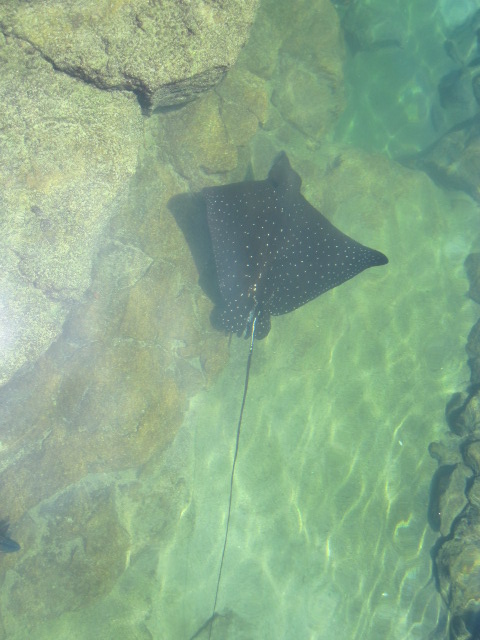 Hint…Local banana bread


Hint…Fufu drinks with an umbrella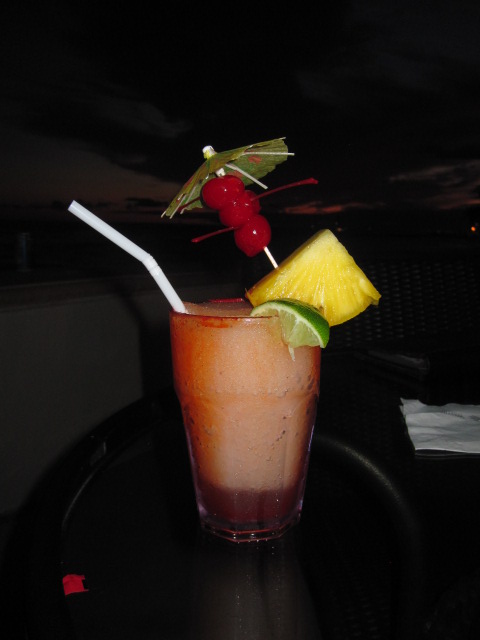 Aloha…it's Hawaii!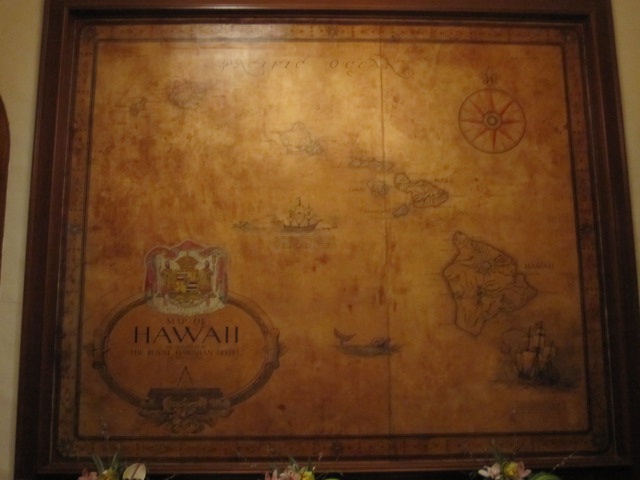 I'm actually here for a wedding. Yes, another damn wedding. However, I'm not complaining as the islands are one of my favorite places; and my right hand man, Doug, is getting hitched. I'm only here for a short time, but I gotta stop by a few places. First stop, Nico's on Pier 38.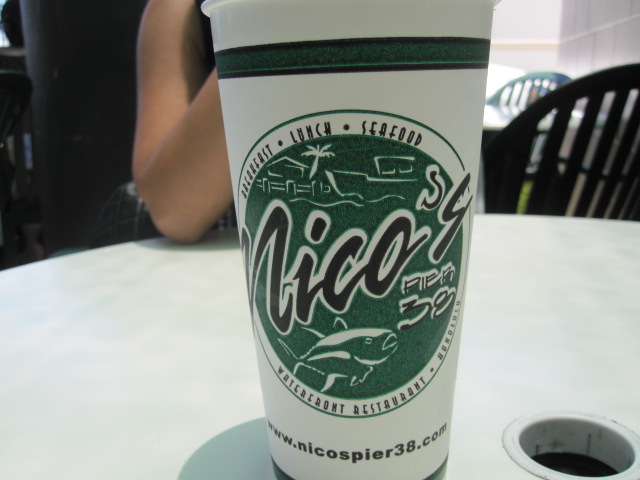 Next, Waiola Shaved Ice.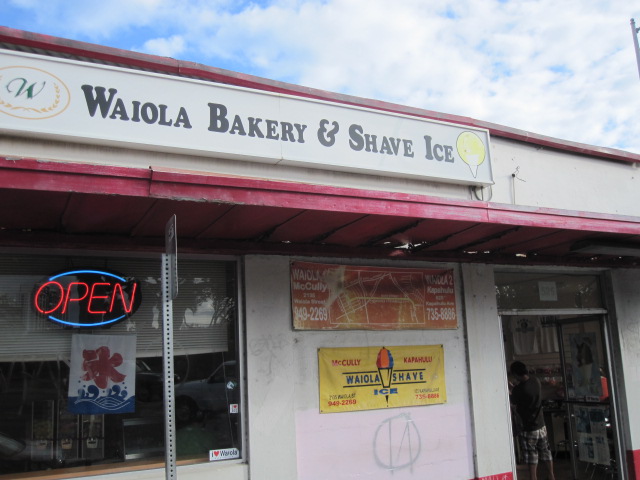 I got the Azuki Bean with condensed milk and ice crème in the center.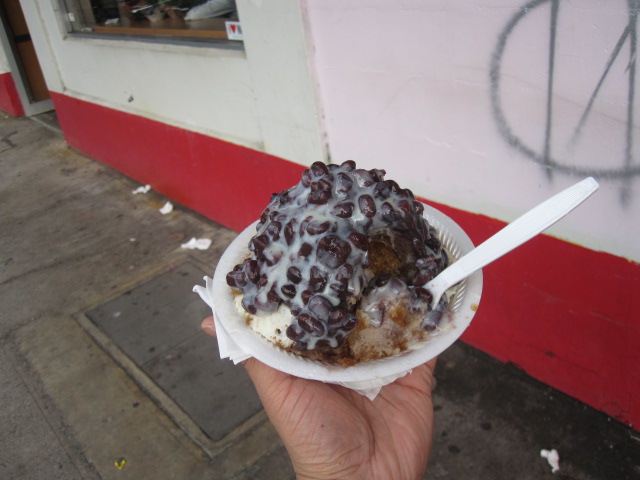 My girl's down with the lychee special.


It's mandatory you stop by here at least once a day and get the Mixed Plate Combo. A true establishment for many years, Rainbows.




Fashion goes out of Fashion
May 28, 2009
Over the past 17 years of being blessed doing my own gig, I've seen a lot of trends come and go. Unfortunately, I must admit, we've fallen into riding certain trends that "please the bottom line." Fortunately, the vast majority of times, I've tried to steer directly away from what everyone else was doing in order to just do our "own thang." If anyone knows the history of 686, you probably know what I'm getting at. Throughout these years, my main form of inspiration comes from all things that are "TIMELESS." Typically, it's the things that are as far out of this industry as possible.
One fine example is Mademoiselle Coco Chanel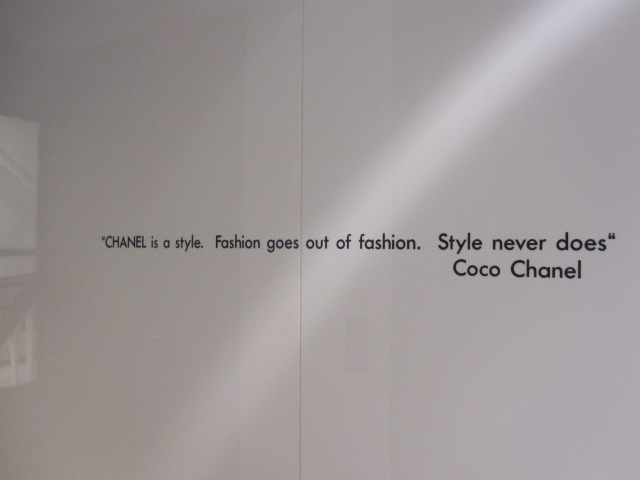 During a recent store visit, I ran across a photo exhibition by Douglas Kirkland on Coco Chanel in 1962.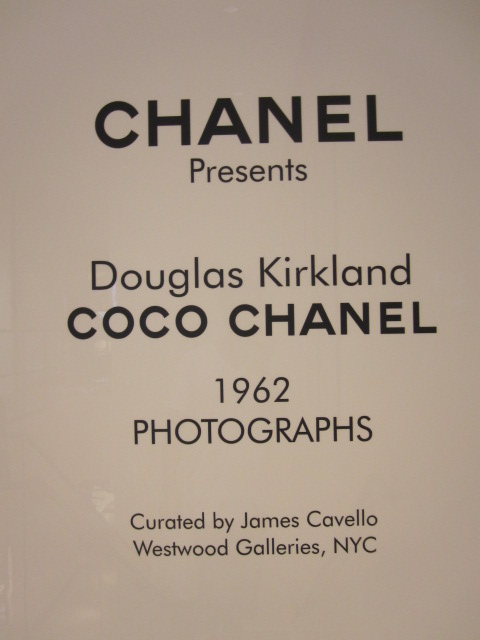 To give you a little background. In 1962, a young and upcoming photographer, Douglas Kirkland had a photo assignment for Look Magazine to photograph Chanel at 78 years old. Over three weeks, Kirkland shadowed Chanel, capturing her intense schedule of model fittings, designing, and living amongst family and friends. At first, Chanel only granted Kirkland access to certain areas and wanted to review all photos prior to any submission. However, later on; Chanel was taken back with his skills and keen sense of capturing true emotions, and she opened up areas most have never seen.
Mademoiselle Coco Chanel in happier times…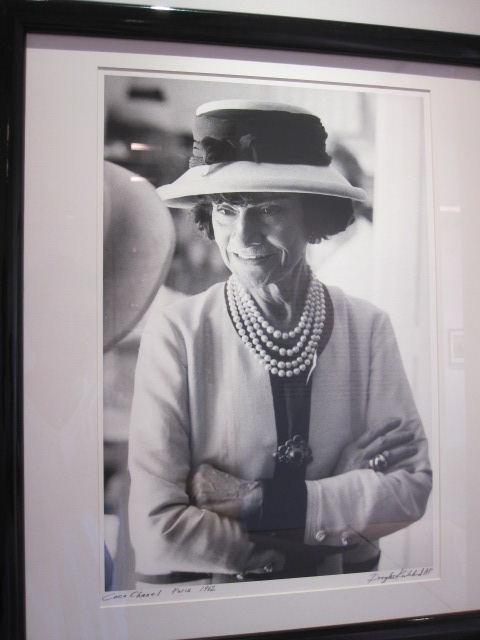 Coco Chanel revolutionized women's fashion with creations and style, including the little black dress, signature cardigan jacket, quilted handbags (damn, my girl is crazy for this shit!), costume jewelry, short hairstyles and the world's most famous and best selling perfume, Chanel No. 5 (I'm sure you can also see how much street culture has somewhat been "inspired" from Chanel's style. (Hint, starts with a S, D, etc)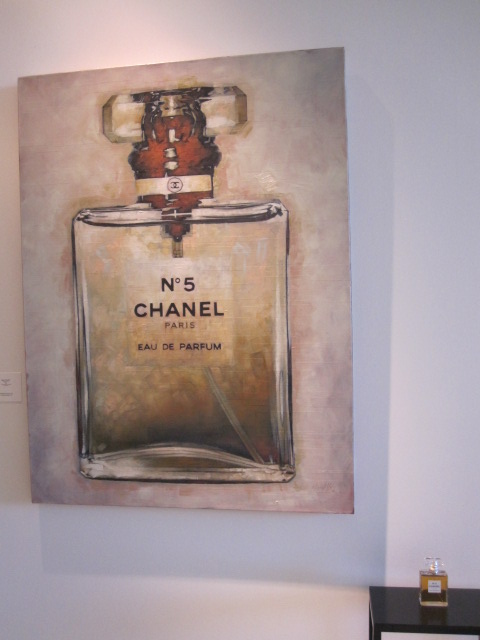 One unforgettable pose during a typical fitting.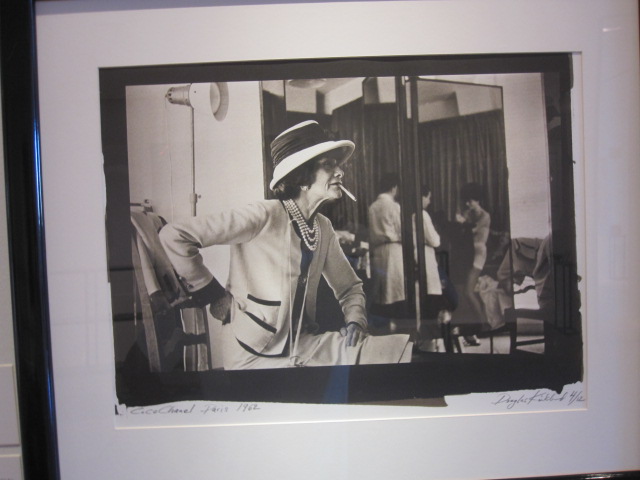 A closer look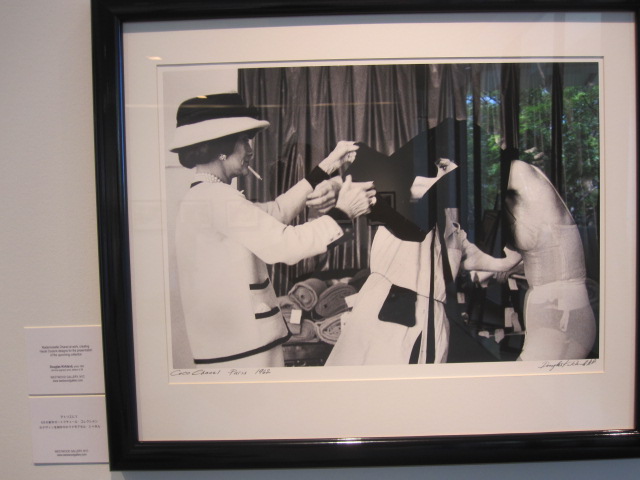 During a fashion presentation, models showing the latest for the House of Chanel.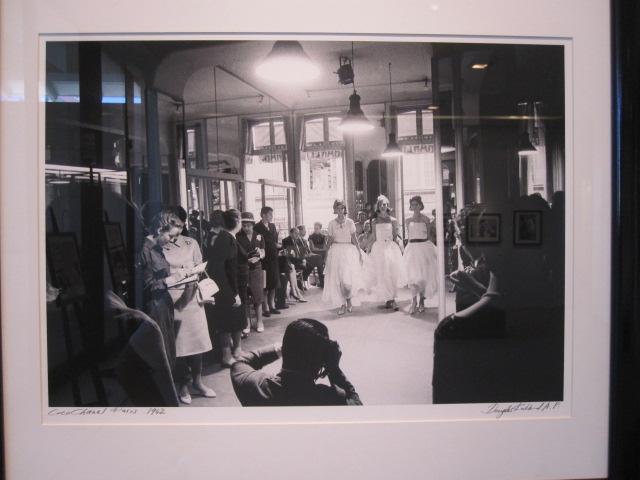 Some photog time after the presentation.




Post fashion show, models and Chanel get some R & R. Can you hear these picts talking?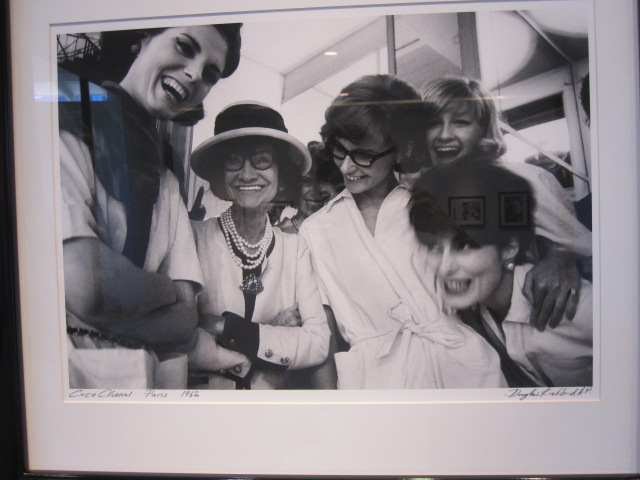 All in all, Chanel is a great example of how style resonates from an icon that transcends all boundaries over an infinite amount of time. If anything, support the people and brands that are not only unique, but true to the industry they love. One last rare shot of Chanel in Versailles with the Arc de Triomphe in the background.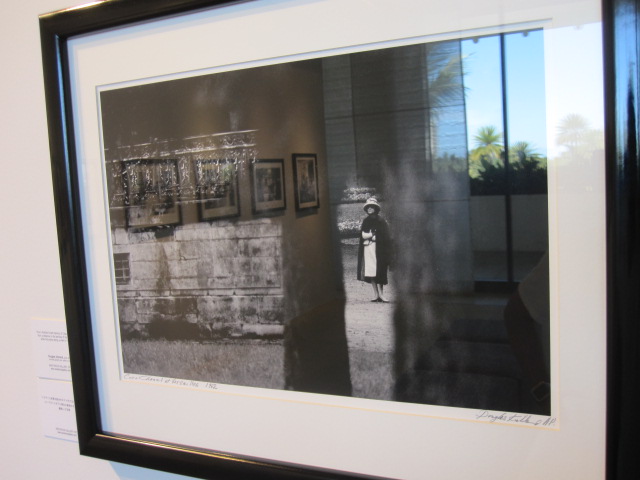 The Original
May 27, 2009
As many of you already know, I came up skateboarding in Hermosa and Venice Beach during the mid to late 80's. Street skating was 100% my life. From the crack of dawn to the wee hours of the night, there wasn't a day I would go through without my skateboard. Back then I looked up to a grip of icons like Gonz, Natas, Vallely (he was just coming up), Jesse Martinez, Scott Oster, Aaron Murray, Rocco and of course the Bones Brigade. Countless sessions like the OG Pavilion in Venice (RIP), the banks at Paul Revere/Kenter in the Palisades, the LAX hip, the schoolyards of 132nd in Gardena, Pay n' Play in Huntington and the Hermosa Pier and Valley School, were the spots where I lived. There was one other spot that was close to my house, called Beryl Banks, I would love to go to. Every week, Per Welinder would come up and bring his huge launch ramp in his Nissan pickup. Together with my friends and the likes of Jeremy Klein, Ron Chapman and Dan Peterka, we would ride the ramps till we couldn't walk. I knew of Per from all the Bones Brigade videos and Catchit/SK8 days when he was doing his freestyle thing. During the Beryl days, he was doing more street and launch ramps, so it was what I was into.
Check out Per in those days. BTW, the headband is soooo hot.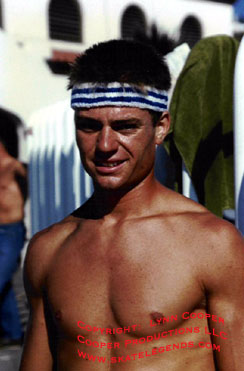 The one and only Viking.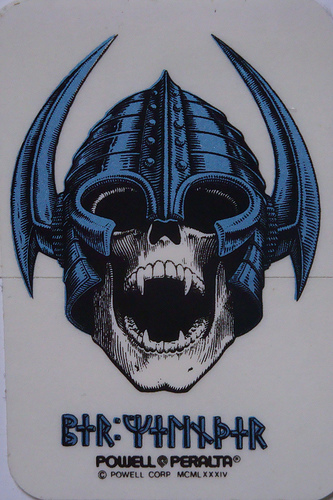 Fast forward a grip of years to present day and say hello to Per.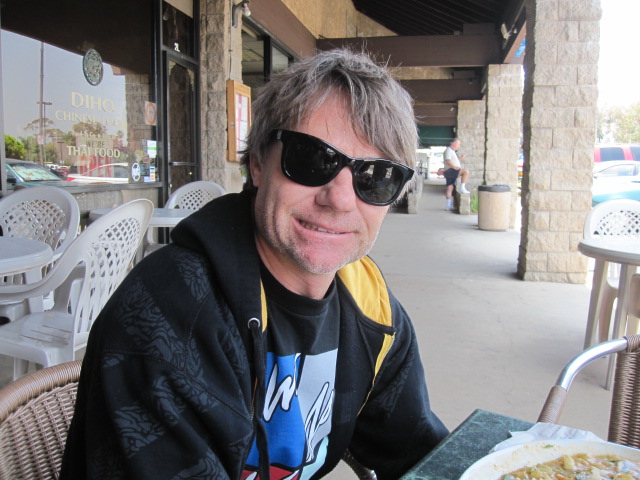 Per's done well for himself. He's the President of IASC, owner/operator of several projects including a long partnership with Tony on Birdhouse, Hookups with Jeremy and his distribution company, Blitz (Baker, Hookups, Momentum, SK8 Mafia, etc). Today, we're having lunch to talk about random shit as well as his new gig called Jus Liv. JSLV is Per's latest endeavor that crosses the boarders of street meets skate/snow meets hip-hop. The name and logos neat, as it's different.
Check out the shirt…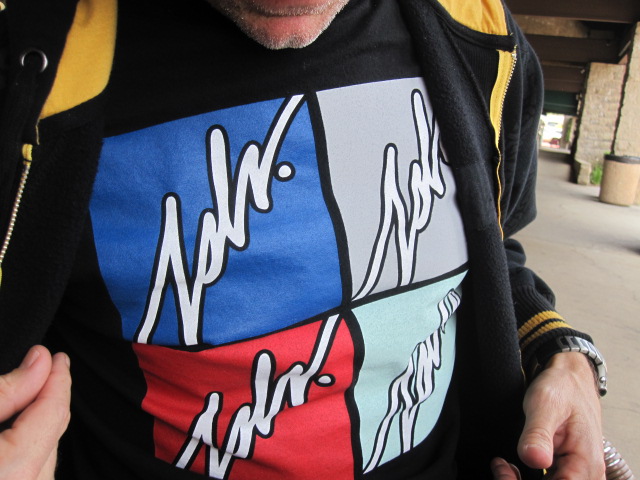 …While I check out my Saltado de Pollo and the secret green sauce at my favorite Peruvian restaurant in the OC.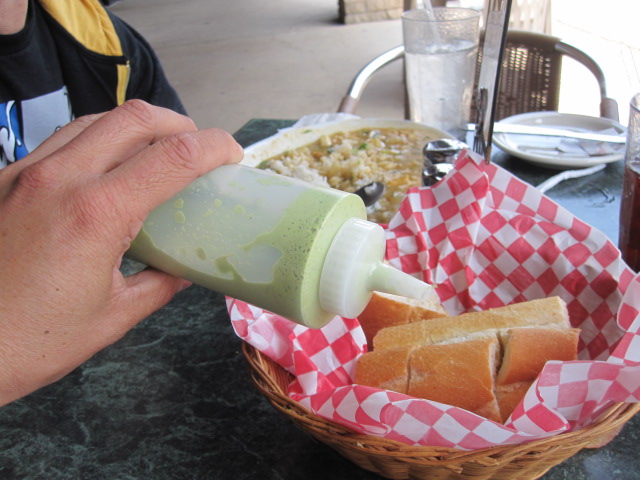 The Bike Ride to Hell!!!
May 22, 2009
Living in the Southbay of LA, riding your bike is standard protocol. Depending upon the type of ride, I either break out the Pake custom fixie for long street rides with my crew to downtown, OR the Electra cruiser for mellow rides near the beach. It was friday night and some friends were in town so lay the seats back, lower the ride, we're going cruising tonight! Or so I thought…
Parking's a bitch in LA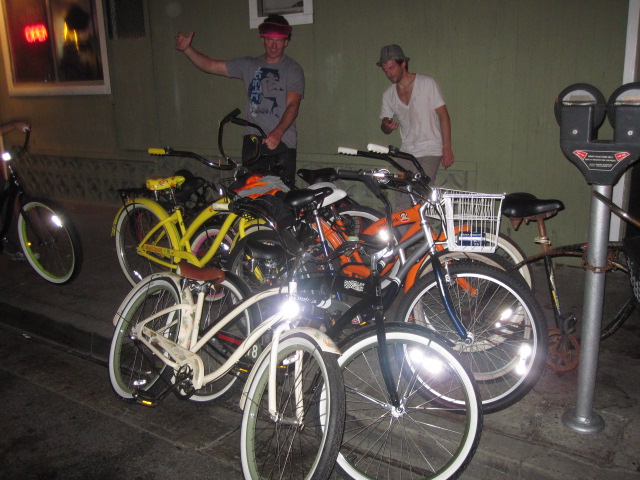 Jared likes the shorty with pink trim, how cute.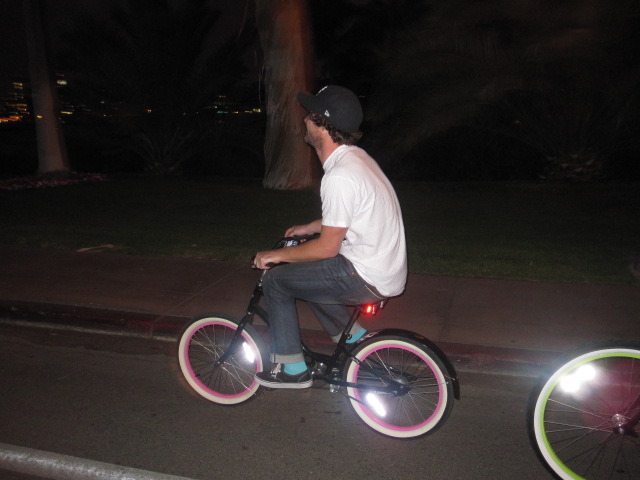 "Trying to catch me riding dirty" Nat and Stacey doing something?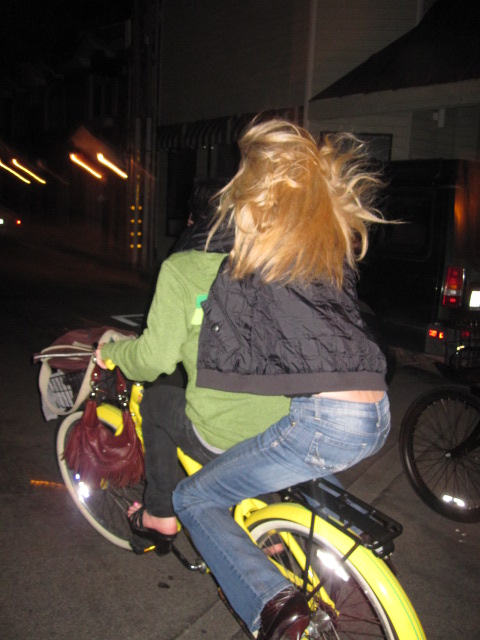 Please don't drink and drive.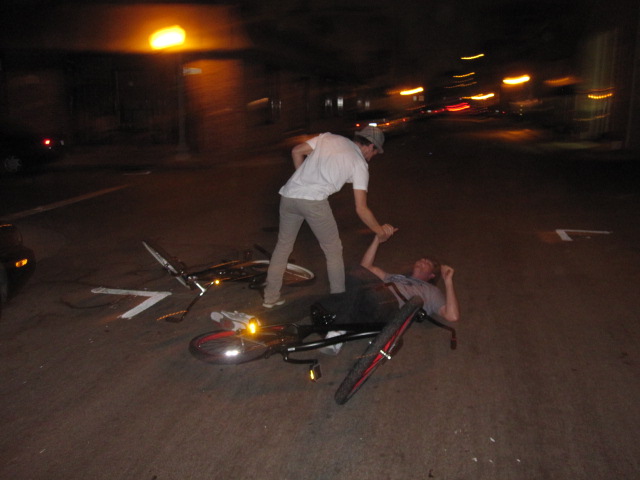 It was Nat's (Action Freight) B-day, so we got her a cake. Nat has an interesting way of blowing candles out.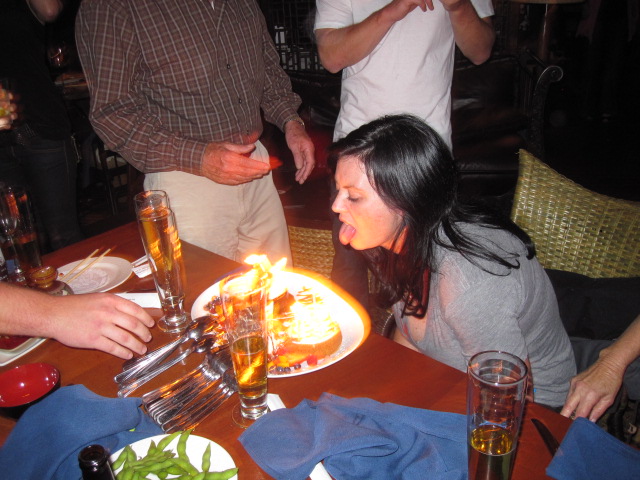 Daddy Nat had a little too much to drink.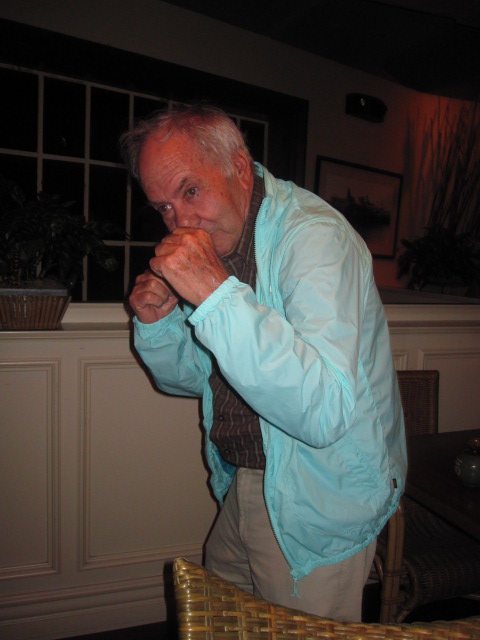 Andy was in town from SLC. He just started filming for the second season of Nitro Circus on MTV. All I gotta say is next time you see Bell, please hit him in the balls for me. Thanks.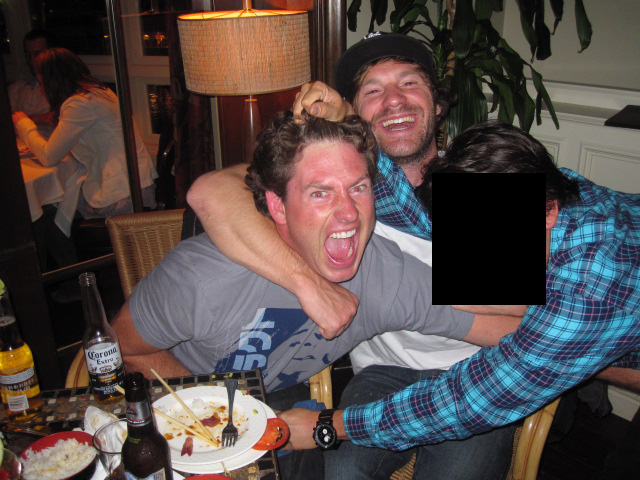 The Board of What?
May 20, 2009

Very glad to be back from my Asia trip and on US soil. The smog, the traffic, the crazy people, I just love coming home…
The crappy thing is that I had to jump on a plane and travel a whole day to the tip of Florida to Marco Island. Sounds great, but not when you're already jet lagged, sick (not swine) and just wanna sleep.
A view all too familiar.




Next time you have a layover in Chi-town, check out how cool the airport is.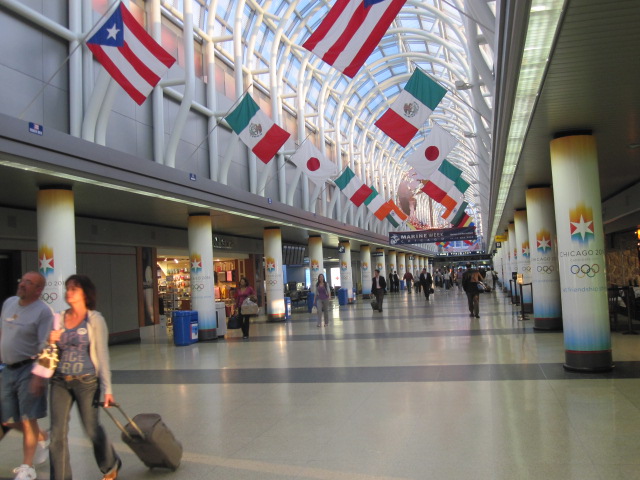 Aight, the reason I'm in Marco Island is to head to a meeting. Believe it or not, I sit on the Board of Directors for SIA (the governing non-profit body for the snow industry). When I was asked to "join" the board a few years back, I asked myself, "why the hell would they want me on this thing?" I mean, SIA is close to 40 years old and had the impression of being ruled by Old Ski Corporate Guys that sit around telling each other how cool they are (Sorry SIA, as this comes from the Indy Shredder mentality , because snowboarders typically don't give a shit about anything else but snowboarding, skateboarding, etc) That's my mistake, because it's clearly the opposite. To start off, everyone's not only an expert in their field, but also down to earth, funny as hell, and want to truly help the industry grow. On the shred side, companies like Vans, Sessions, Coal/Capita/Union, Quiksilver and even Burton represent the board as well as 686. Here's a brief snapshot of the roundtable.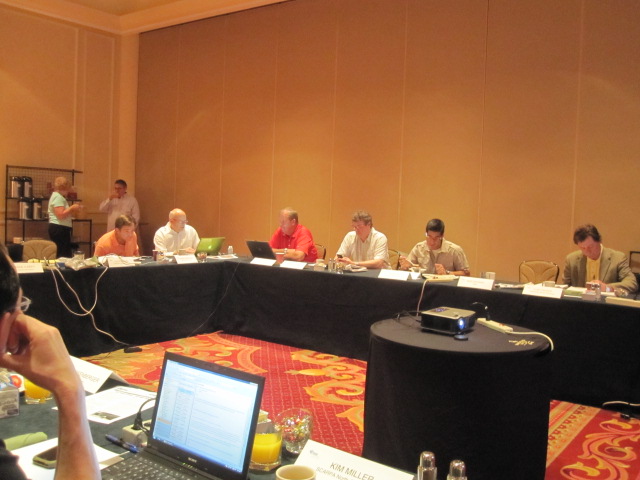 The secret papers that determine the future of our industry! Huaaaaaaaaaaaaaaaaaaaaa!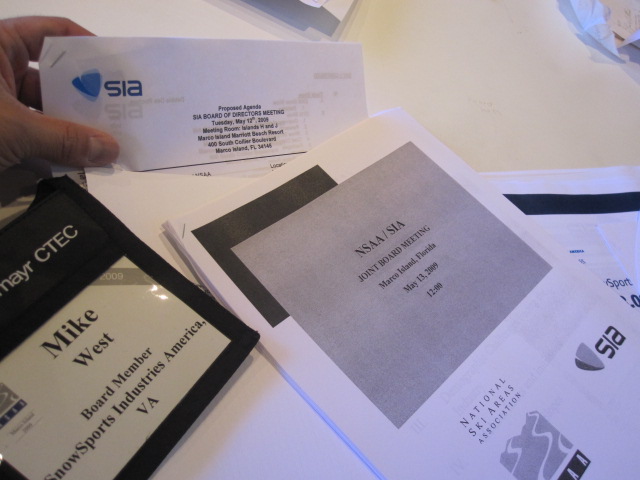 I'm bound to sole secrecy of what goes on in the meeting or I'll get shot (no joke, as the anti-trust laws for the group are tight as hell) However, I'll give you some heads up on a program that SIA has in the works. Recycling is mandatory in our field, especially in hardgoods. Did you know that all the ski's and boards made in the past 30 years, unless they've been burned, are still in existence somewhere, somehow, in a garage, landfill, etc? Just the thought sucks. The new program SIA is working on breaks all this down to something everyone can use. Check out the complex process that eventually can end up being used as countertops. (doesn't it look like something else?)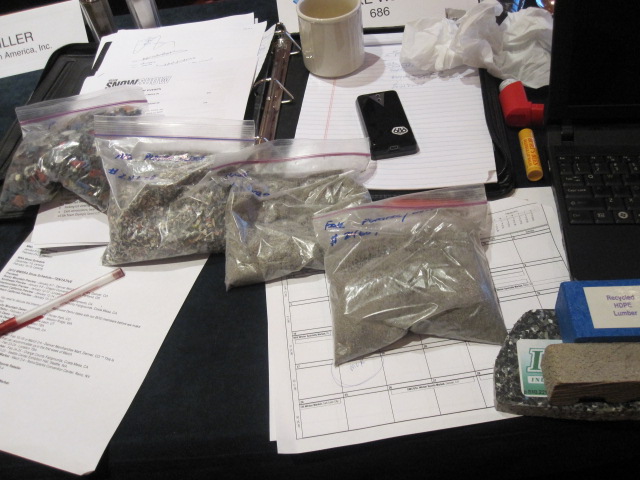 After the meeting, we all get down and get some eats. The last supper?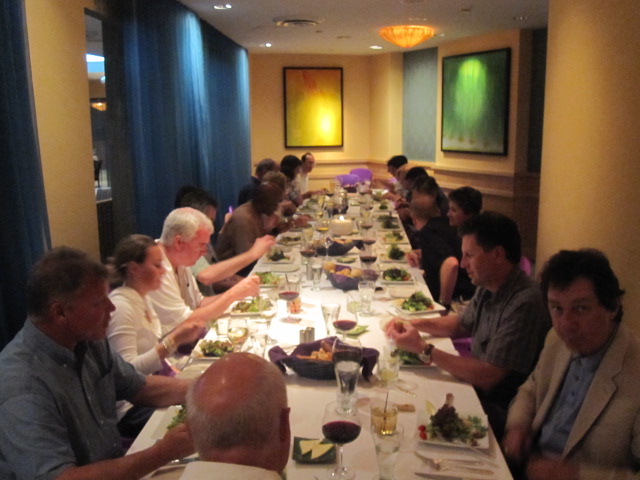 Check out the Chairman of the Board, Mike, in the brown shirt. Mike runs Seirus Innovation and is also a head NFL ref. He's actually the first black NFL head ref to do the Super Bowl, congrats! See Rosey (VP at Quik) in the white/blue shirt, all serious and shit.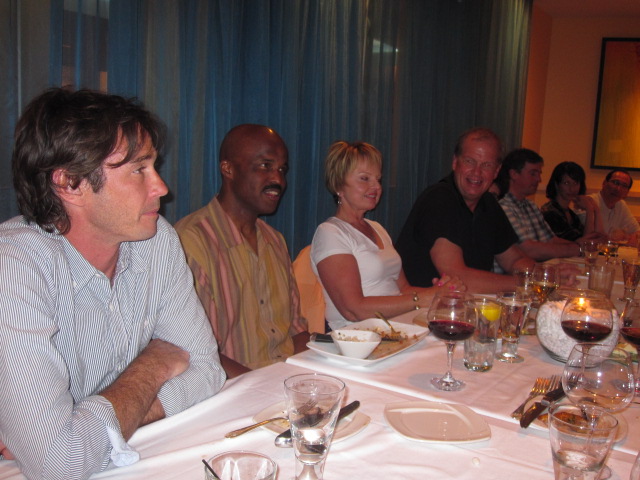 Every dinner, David (the President of SIA) makes a speech. This time he thanked a few people for their hard work over the years. What a guy?!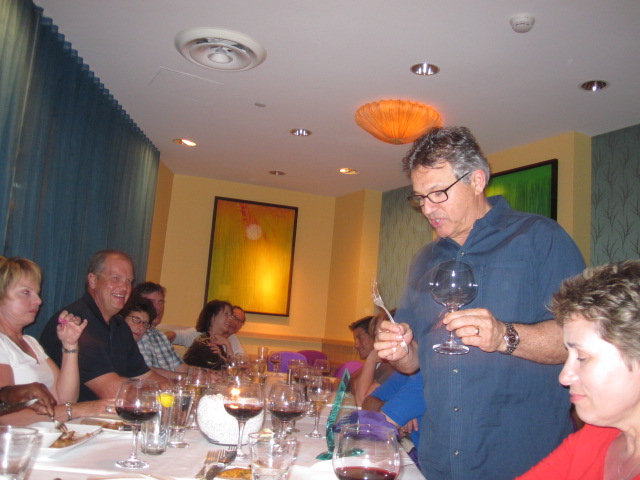 BTW, I was sick as hell this trip and actually don't remember how beautiful it was outside, I actually never even went outside cuz I was sick. View from my room.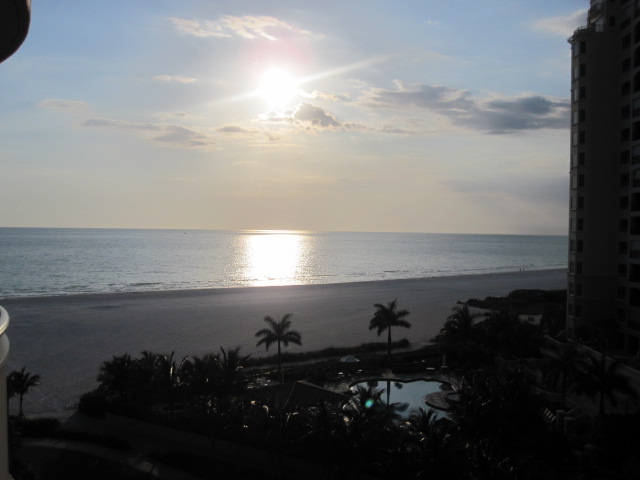 Now all I gotta do is jump on the plane and head back to reality. Only in F'n Florida!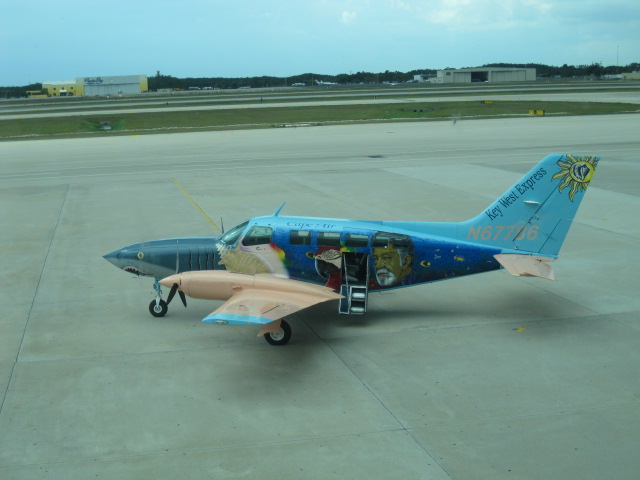 Q & C
May 18, 2009

Having the bulk of our biz in outerwear and building a name built upon quality products, I personally make sure shit is tight. We have a reliable team of Quality and Control Inspectors, both on the factory level and on a third party level. However; I still want to touch, feel and review it all before it's in your hands. We arrive at our newly built factory in Xiamen. (Here's some sneaks, as I gotta keep the rest on lockdown)
Front view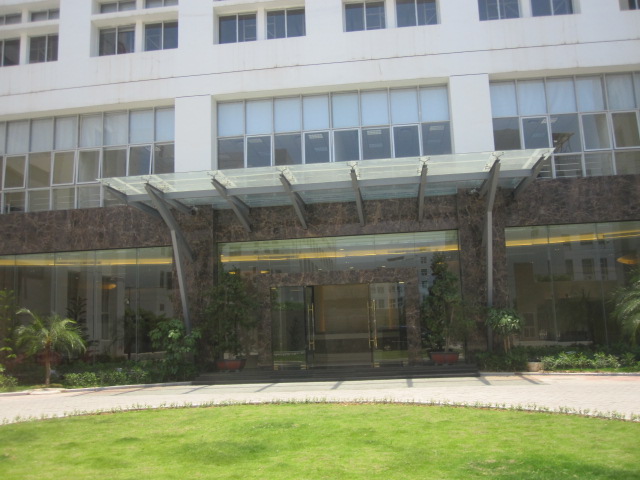 Side view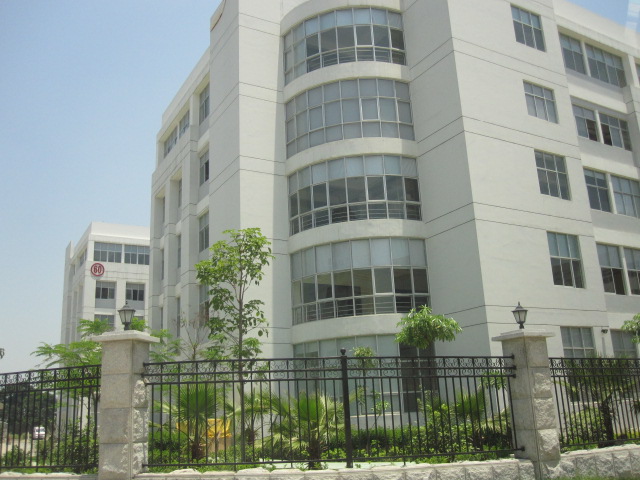 I usually don't give a shit how the factory looks, as long as quality product comes out of it. But our new factory is incredible. High tech, modern, super clean, etc. Check out the hallway. Looks like a hotel.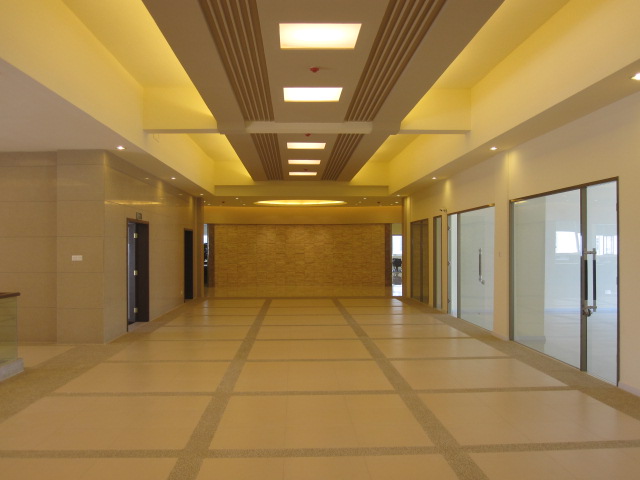 Chill area where we have "tea."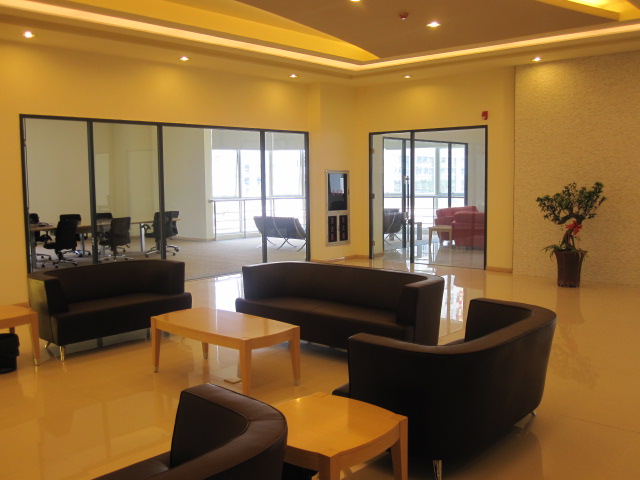 Ok, let's get down to biz. Before we do our Q & C process, I'd like to give you a brief rundown on what it takes on the production side (This is just a small part of the LONG process it takes from an idea on a piece of paper)
Over 50% of the cost of a jacket or pant is in the shell fabric. We spend a lot of $ using quality fabrics either from Japan or Taiwan to make our products. Here's what they look on line in rolls.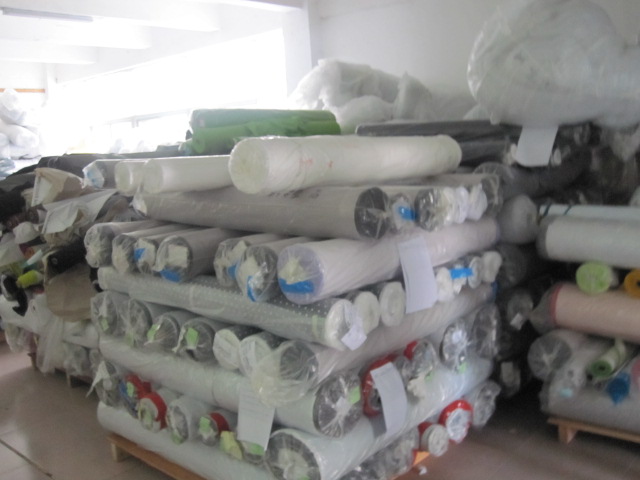 Like the glove factory, each roll is inspected to see if there's any inconsistencies. Next is the cutting process.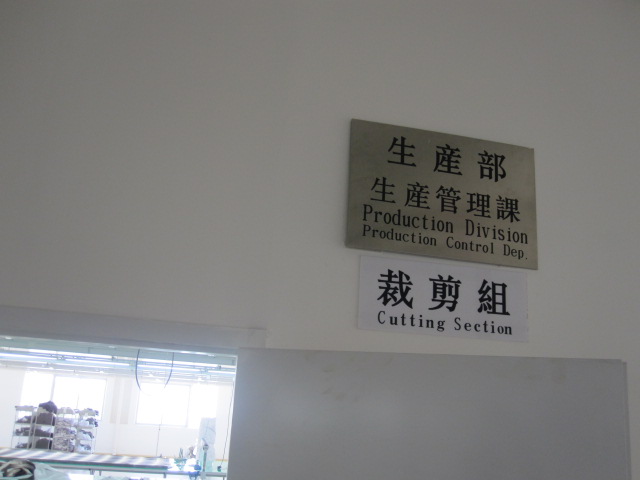 The Shell fabric out in layers.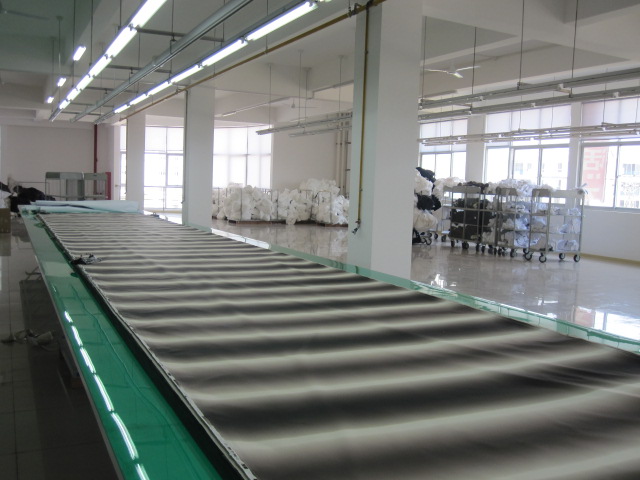 Each garment has a complex set of patterns that make up every piece of the product. Check some of ours (FYI, you live and die from a pattern. It's a complex process I'll have to show you later)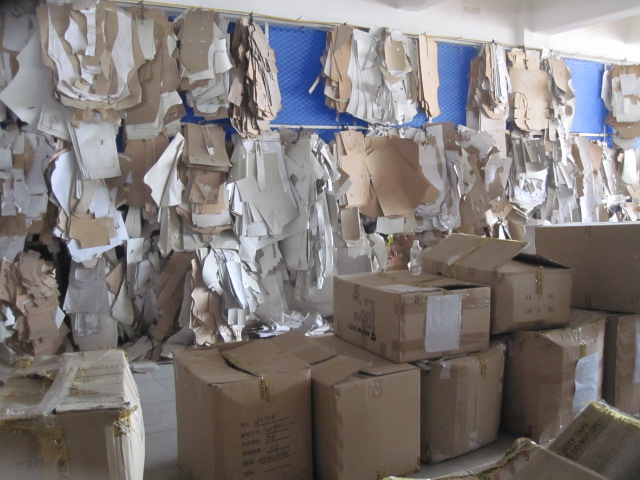 From the pattern room, markers (copies of the patterns laid out in a formula to maximize yield) are made, then cut with a crazy machine.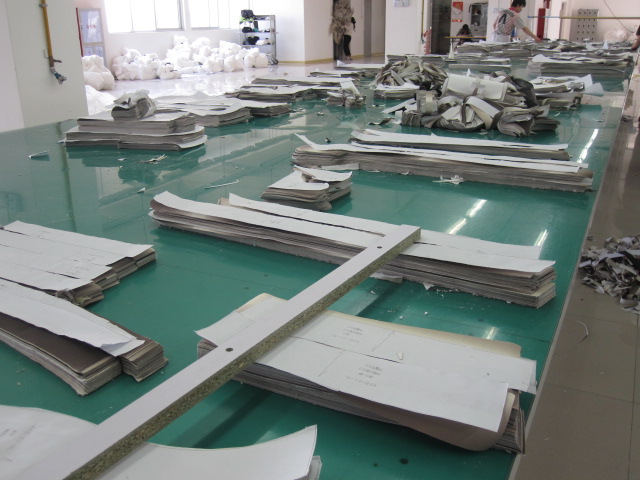 Some of our technical specs require Laser cutting to insure precise cutting for unique shapes. Laser cutting is actually done with a laser that will cut just about anything. It's an expensive process, but mandatory for the things we do.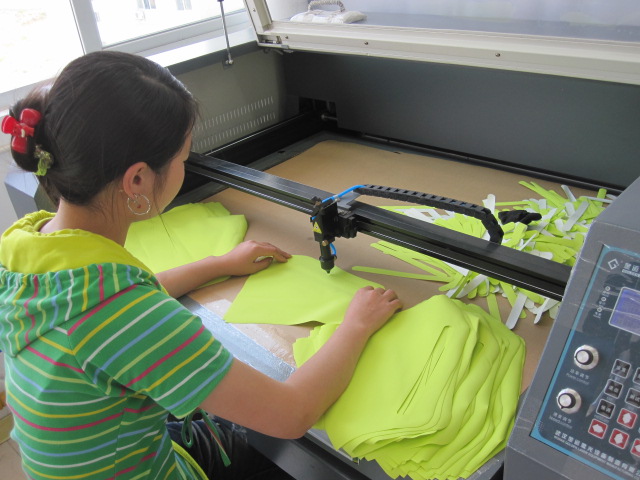 There's over a hundred pieces of fabric alone in a 686 garment. Each piece is neatly organized through a helluva lot of carts.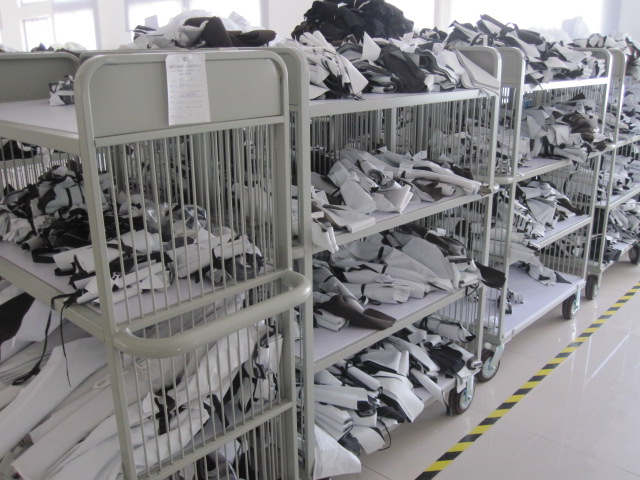 It finally hits the factory floor and goes through several "lines" of sewers. Here's an example of one line of 20 sewers per line. Each line has a line manager to make sure it's all good in da China hood.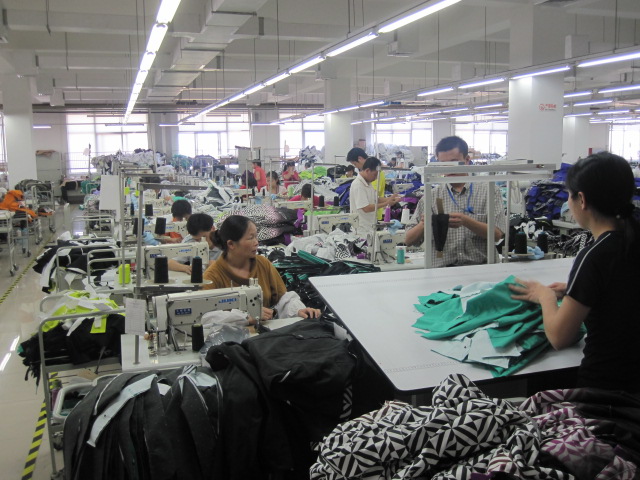 Here's one example of a sewer working on one small part of the hundreds of pieces that makes up a 686 jacket. Guess what this is? A cuff tab on our smarty liner (this small tab alone has 5 other inter-connecting pieces)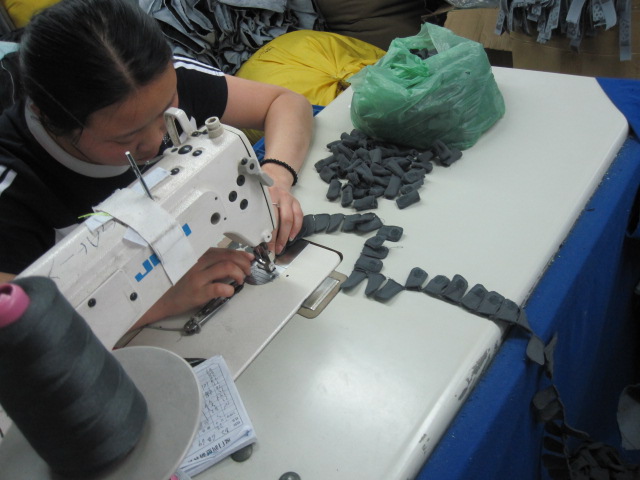 How about a larger panel on this same liner.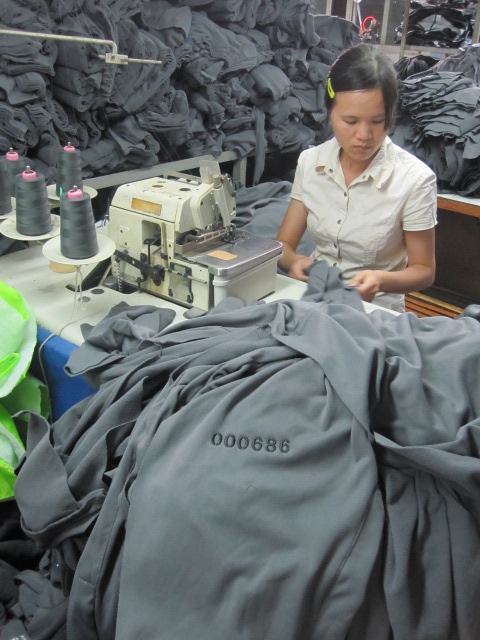 From another line, here's an example of the Welding process some of our pockets and seams go through. Each area is welded through a special adhesive process that's heated up to weld the seams together. It's a long expensive process that must be done correctly the first time.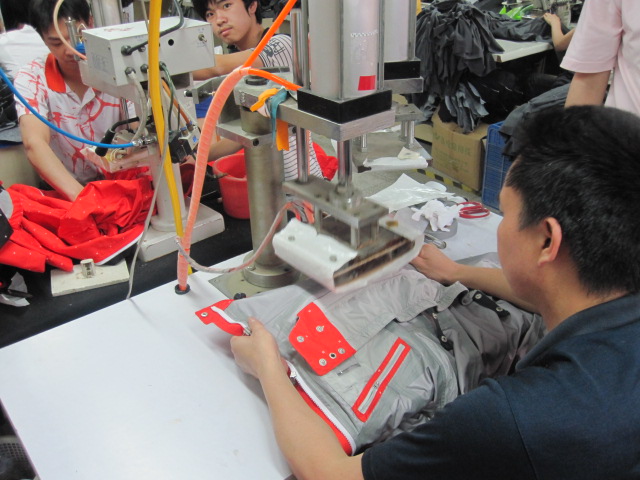 Later on in the production process, each garment is put through a special Waterproof/Breathable testing. A machine tests the time it takes for water to penetrate the fabric and taped seams. Most riders never go through crazy winter conditions to test the true waterproof ratings, however if you do, we'll make sure you stay dry.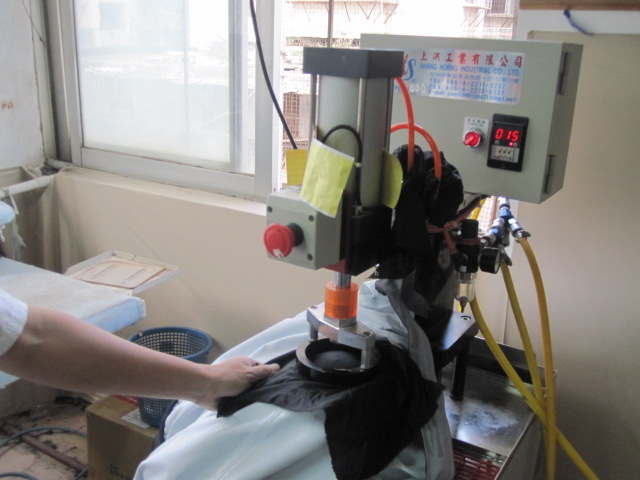 Skipping forward, each garment is checked through a series of inspectors that cut, trim, and clean any excess materials. At our exclusive 686 factory we have air guns that clean everything else off. Don't mess with me man!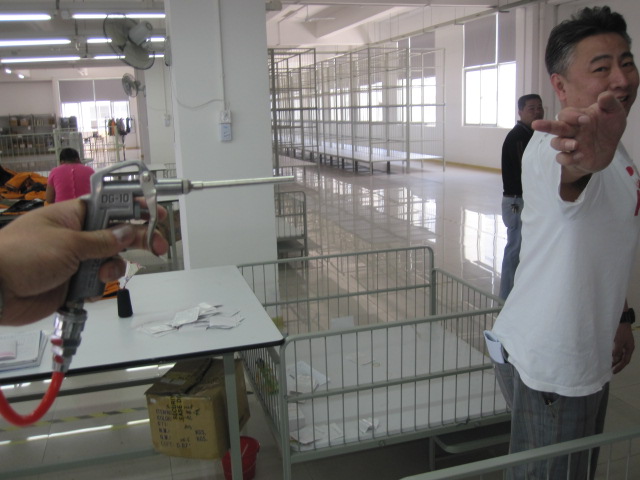 Fast forward again to post hangtags and folding to packing.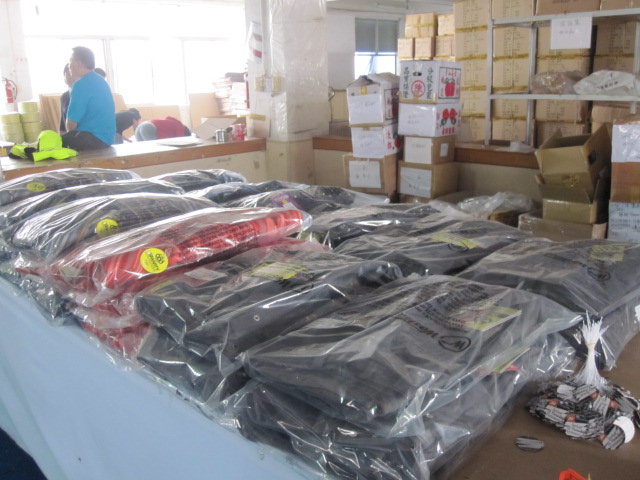 Almost there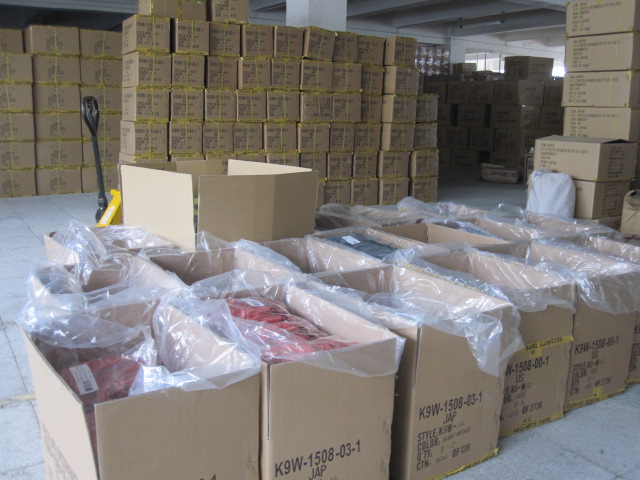 Ok, done!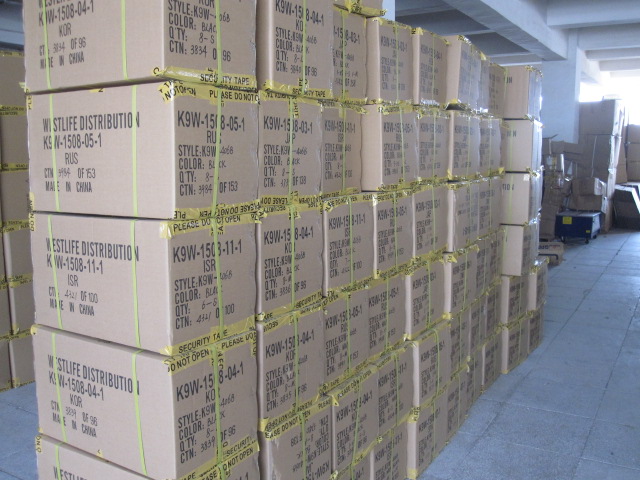 Now, I want you to pull box #524, #36, #144, #686, and a few more dozen boxes in each style, colorway, and size for the following countries so I can do a personal random inspection. Get your measuring tapes, tech packs, pens and paper, its gonna be a looooooooooong night.




For the Skittle-Thugs, XXXL pants. Front view…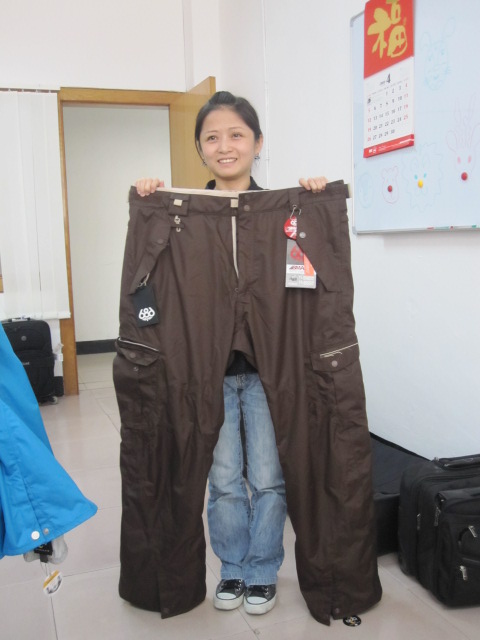 Side view…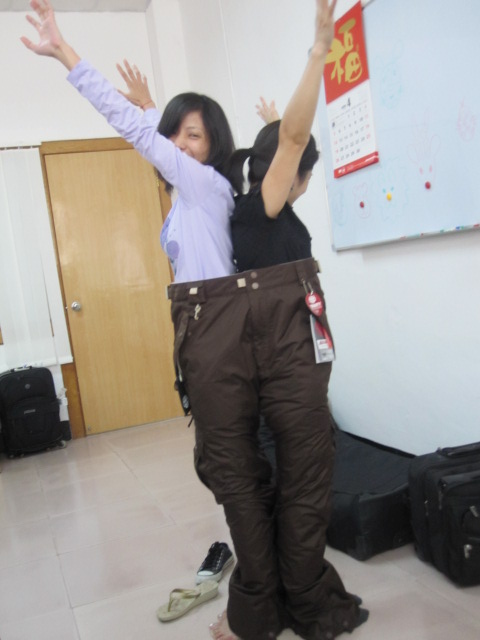 I think it's time to get the hell back to LA, when these guys are scared of the Swine and…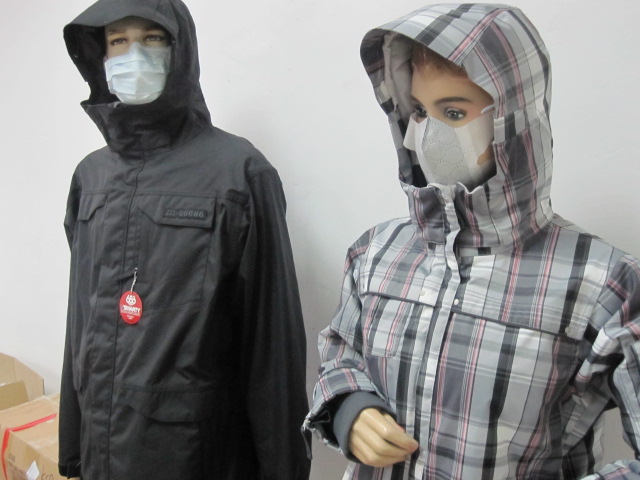 …Leila (686 senior outerwear designer) can't find a bathroom that has a damn Western toilet seat to sit on!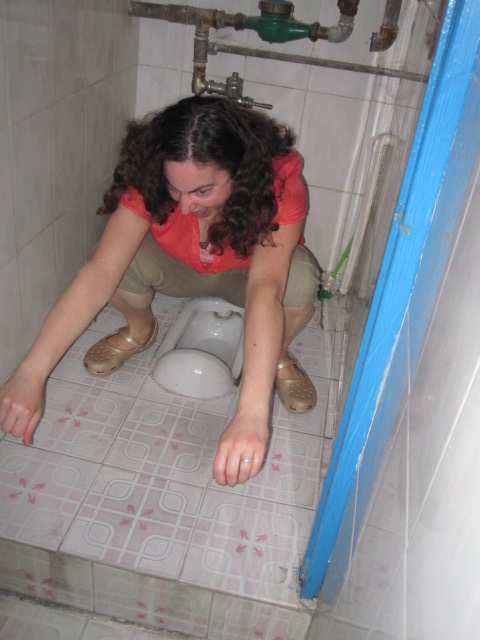 IN BETWEEN THE MIX
May 14, 2009

Today was a travel day, as we headed to our main factory in Xiamen. Since our flight schedule didn't allow us to get in early, we decided to take some time and check out some sites. It's crazy when I come to these factory Q&C trips, I've never had the time to see anything else but the factories. So today, I'm gonna milk it ALL! First stop…SHOES!
Aight, here's the deal, it's already a given that I'm into all types of sneakers, from boots to performance to the classics. However one thing that never gets old is all the counterfeit shit that comes out. To be honest, buying counterfeit shit SUCKS. Before you tell me I suck, check it. You're not only supporting the billion dollar Industry that dilutes the brand, product and the people who make it; but you're also supporting crappy quality products that don't help anyone. (Yes, I'm learning the hard way, as 686 has a big counterfeit problem in Eastern Europe and parts of Asia.) Sorry for the Public Service Announcement, now let's get back to the program. Yes, counterfeiting sucks, but in this case, the shoes weren't counterfeit, they are REAL. Basically, somehow they get "misplaced" from the factory floor and through many hands, end up here. We traveled to a "secret" spot down the way. (I mean BFE, outta the way).
One non-descript half-made brick building.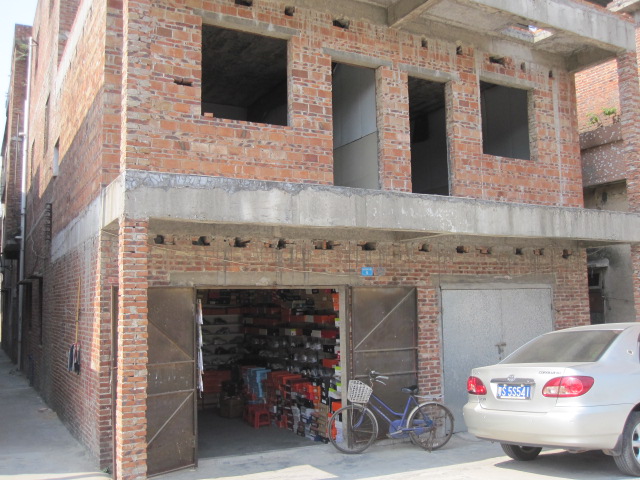 In the front, they have "real" looking shoes in "real" looking shoe boxes.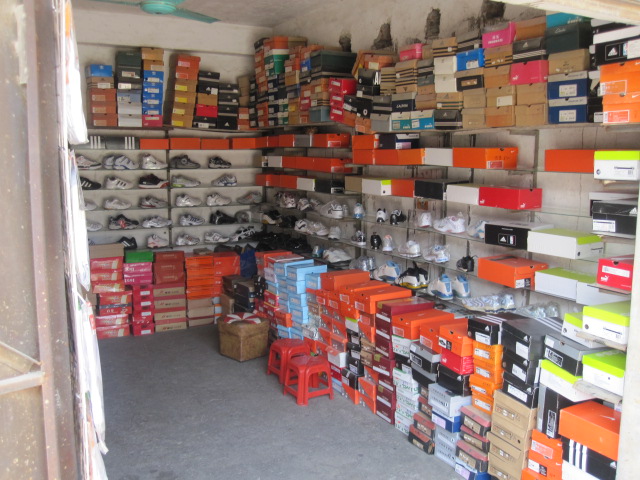 However, behind the secret steel door, you have the REAL shit. It's all messy and stacked everywhere, but they have almost all the sizes for the new models. You name it, they got it. Let's just call it by the first letters-N, A, NB, M, R, P. (Excuse the shitty shot, as I was trying to be stealth and not have them catch me, or I would get shot)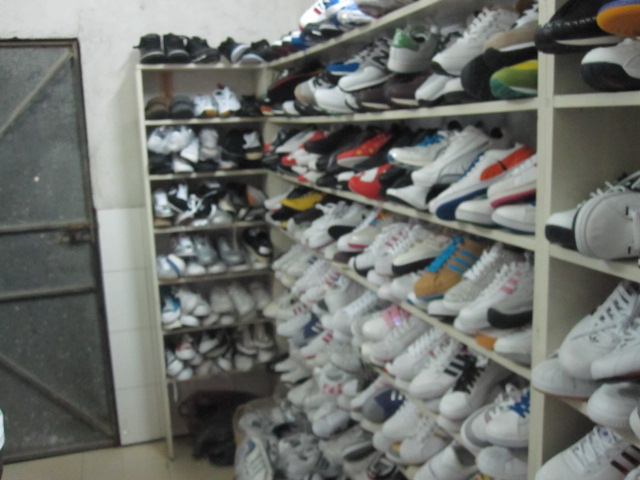 Flywire twins activate! Form of a sucka that saved $100 per pair!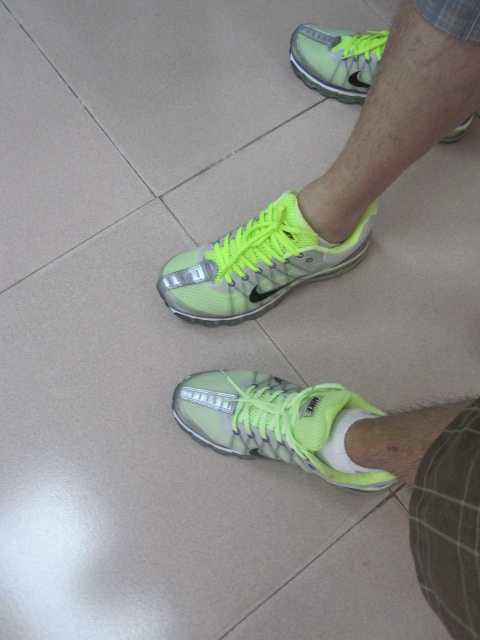 Xiamen is on the south coast of China, about an hour from Hong Kong. When you head to the factory straight from the airport, you forget it's close to the water. Is this China? (btw, I already checked, no surf here)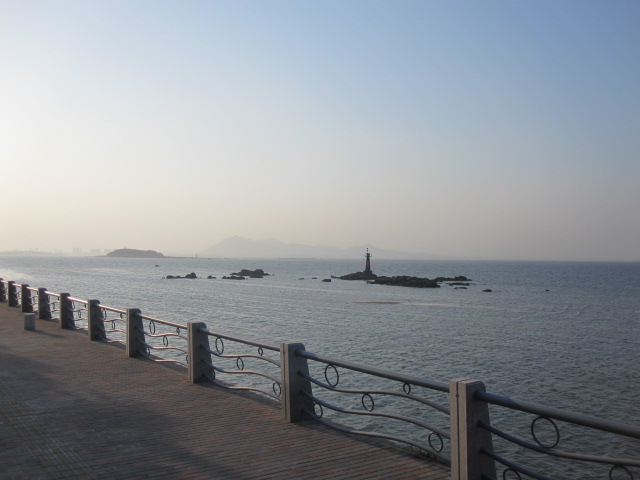 Ok, this is more like it.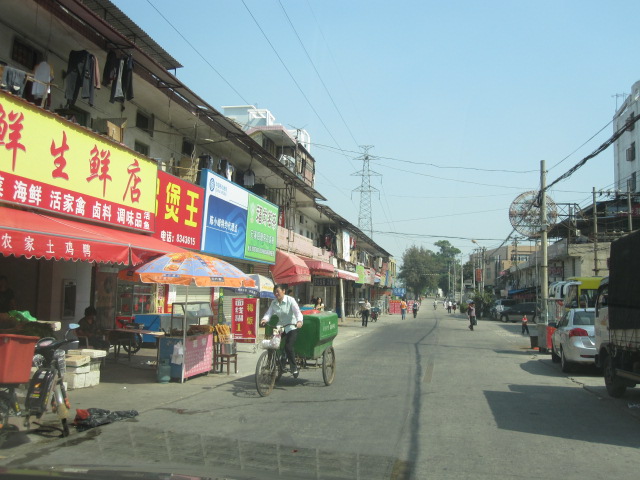 How about some apartments down the way.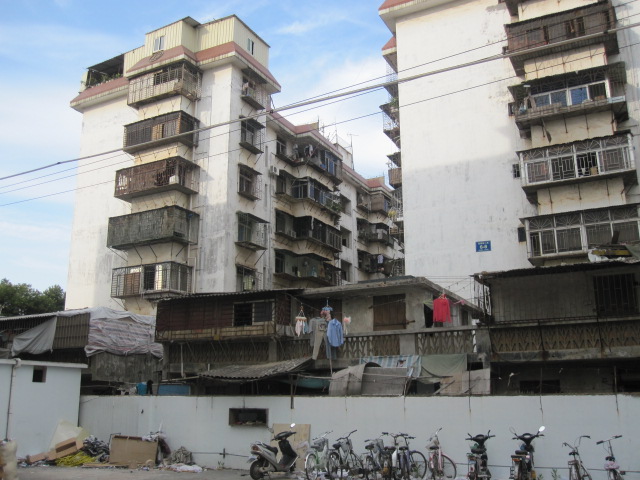 Here's one way to tell the neighbors to stay on their side. Think this will work back home?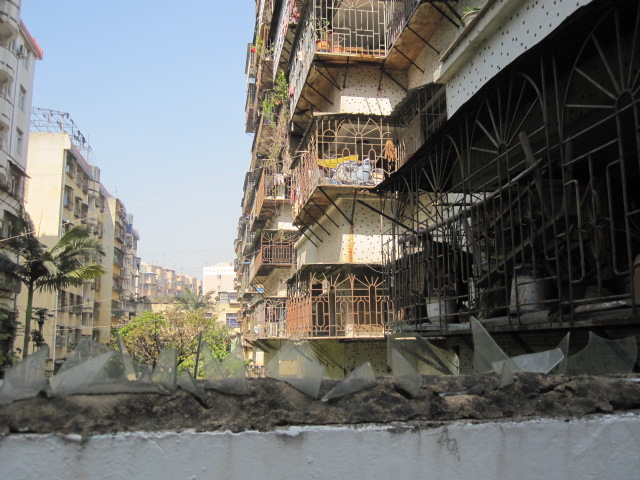 It depends on the area, but lately I've seen a lot of abandoned projects from investors running out of $. One example of the Chinese AM/PM station.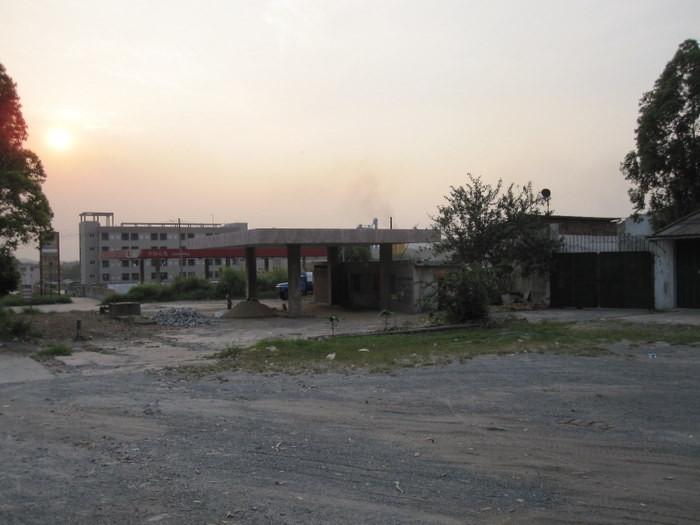 Ok, you get the picture. It was night time and we headed to get some snacks and drinks. Wow, NB sure has a lot on their plate! J.k.




This is another one of those "karaoke" clubs that has snacks, drinks, dice games and what else… local girls (yuck), to help pass time. Started off with the dice game, you lose, you drink!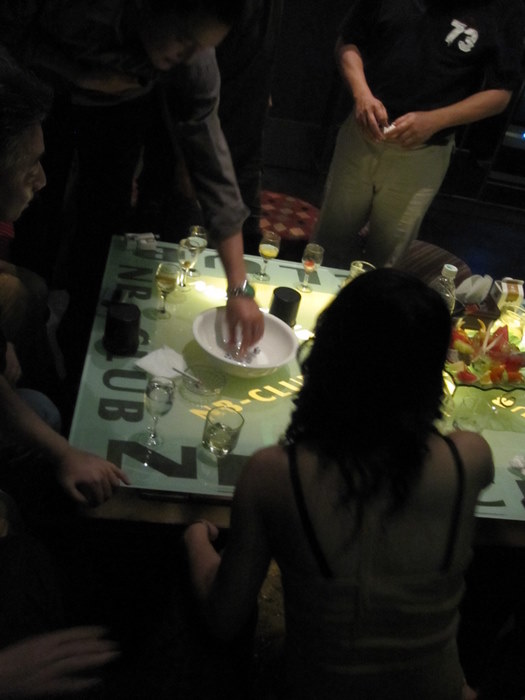 Mr. Lai lost.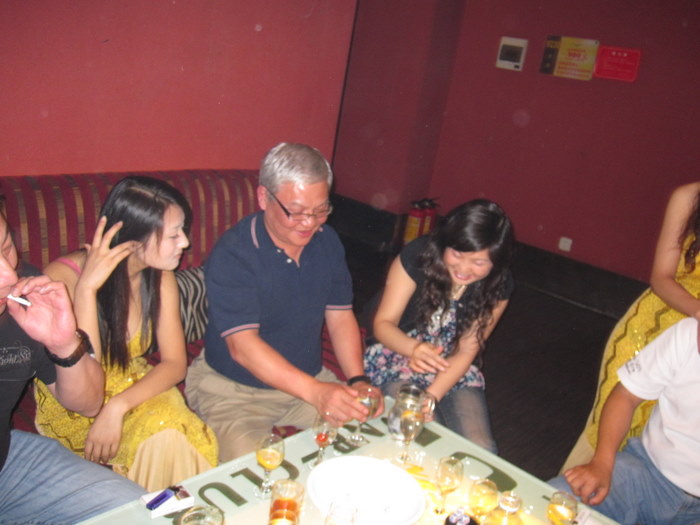 Here's "Little Shit" (His name is actually Mr. Hsieh-pronounced Shay ), but we call him Little Shit and he's stoked about it. BTW, Little Shit is one crazy Mother F. Always on point and always ready to go go go.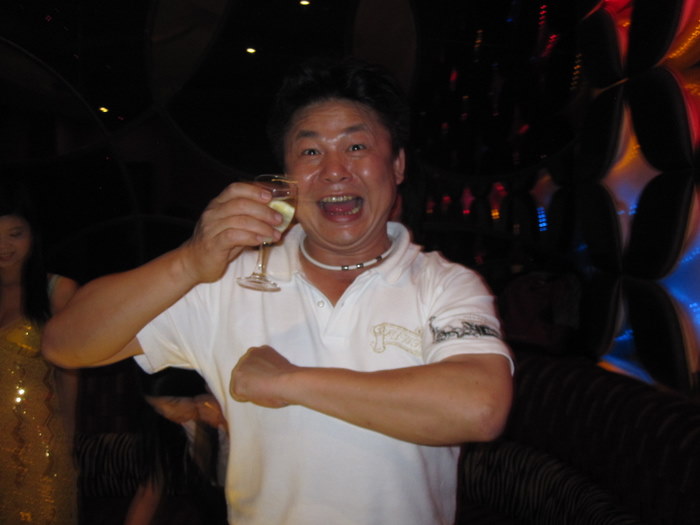 Here's "Big Shit" (same Chinese name, but much bigger, hence big shit) Big Shit is the factory manager so I gotta pay respect and say cheers!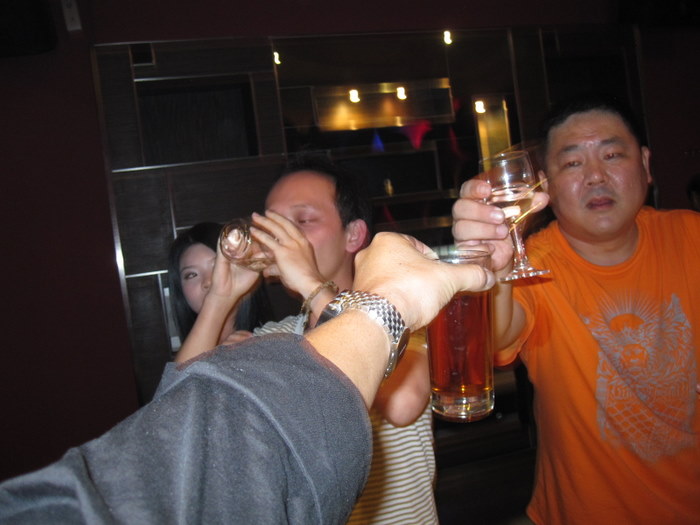 Lastly, here's Sup (short for Wus-Sup, cuz I always forget his name). Sup's one of the lead merchandisers at the factory, so I said wus up to sup with his lady friend! (Look closer and you might just find that someone needs a razor-and I'm not talking about sup…) Get me the F outta here!!!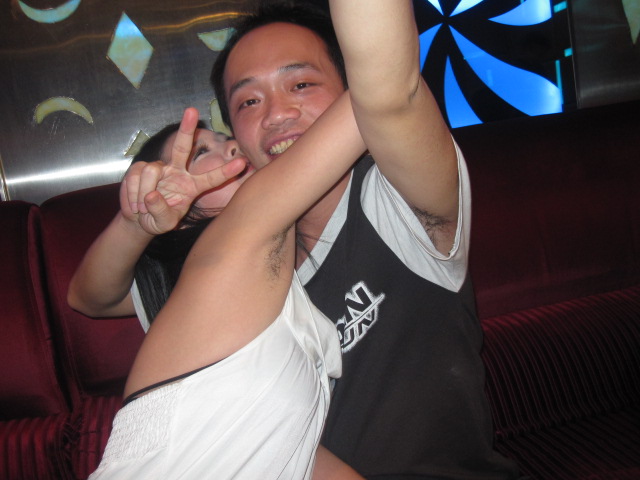 The "S" Word
May 12, 2009

You've heard the term, "You're as good as the people you surround yourself with." Well, it's true! At least when you run your own gig. 686 is run by the people for the people, we live and breathe what we love to do. So it makes perfect sense to have the right heads making the shit you love to do, right? The "S" word I'm referring to is the Supply Chain, Suppliers or Sourcing. Being in biz for nearly 17 years, we've worked with lots of incredible suppliers that enable our ideas come to life. However part of the game is to make sure we work with the best. Today, I'm checking out a new Glove factory with my crew. I like to talk directly to the owner of the factory to feel them out.
These guys are from Taiwan, so we already have something in common.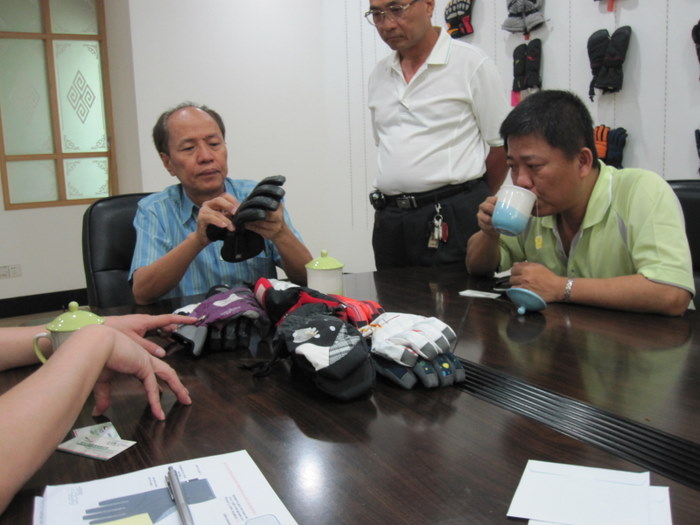 You typically can get an idea what type of factory it is when you see the list of companies they already work with. Never heard of this BR brand, so Mr. Lai is showing me how it's done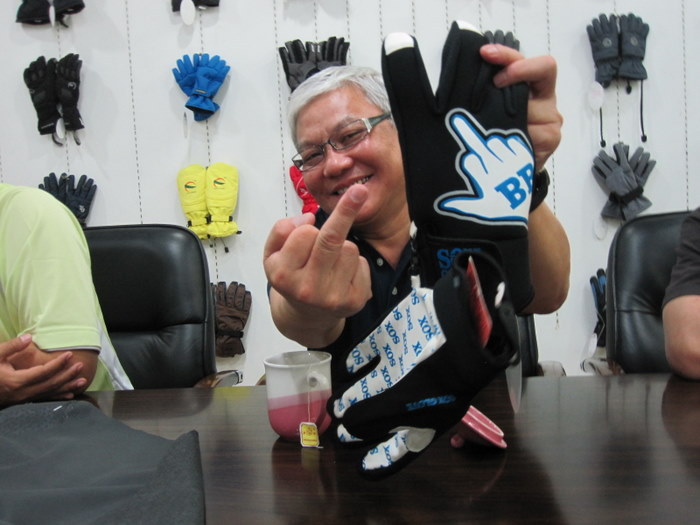 After we discuss all the basic terms, walking the factory floor is a MUST. This is where you can tell how shit's run from top to bottom. I'll give you a brief tour on how gloves are done. It all starts with the shell fabric, each roll is checked for any inconsistencies.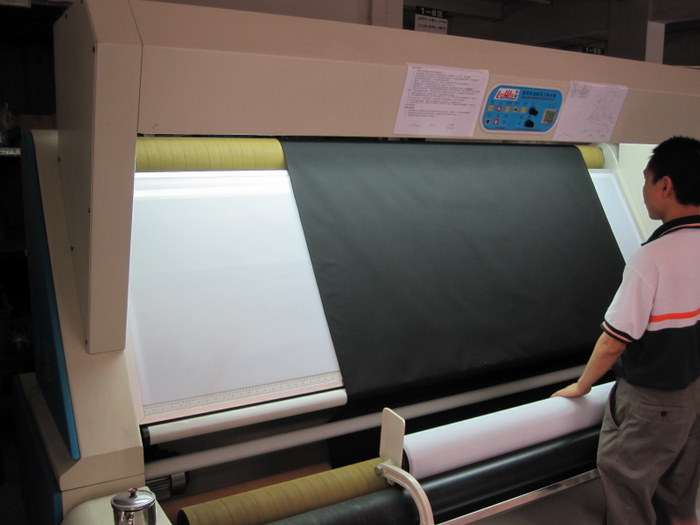 Gloves are much different than traditional outerwear construction. First off, all main pieces are actually Die-Cut. Here are the countless dye's it takes to make one glove.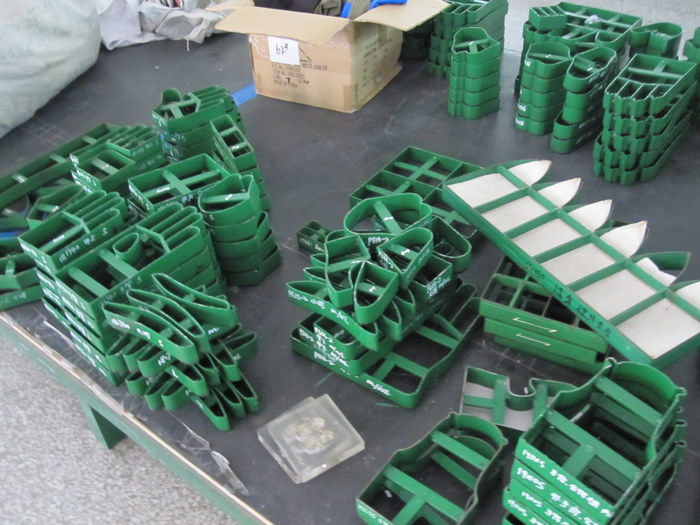 Check the dye's in action, cutting all the panels. Watch those fingerrrrrrrrrsss!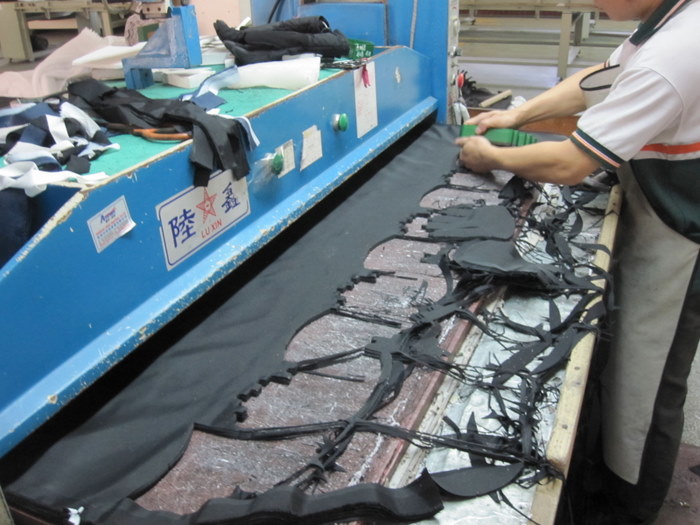 Fast forward to sewing all these shell panels as well as….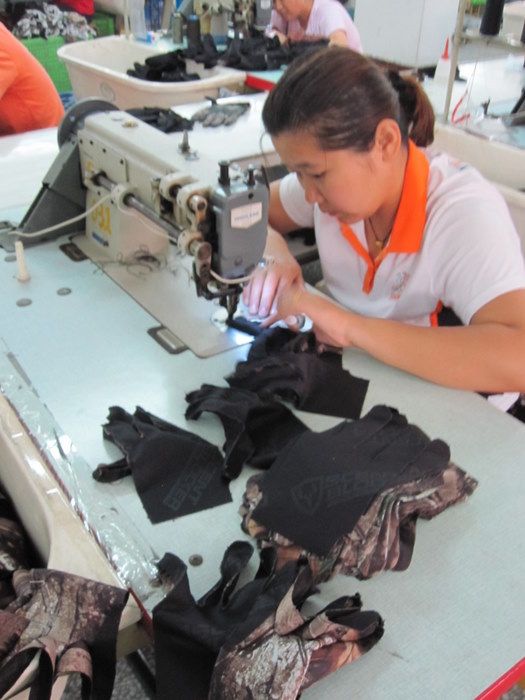 …sewing all the interior linings to….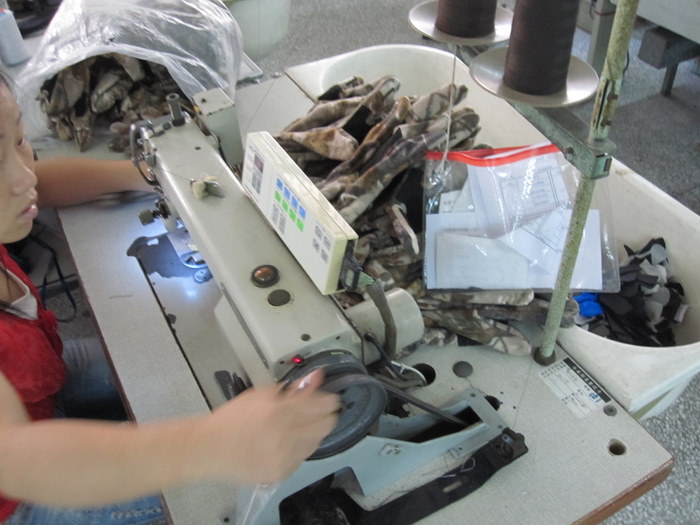 …adding the Waterproof inserts to…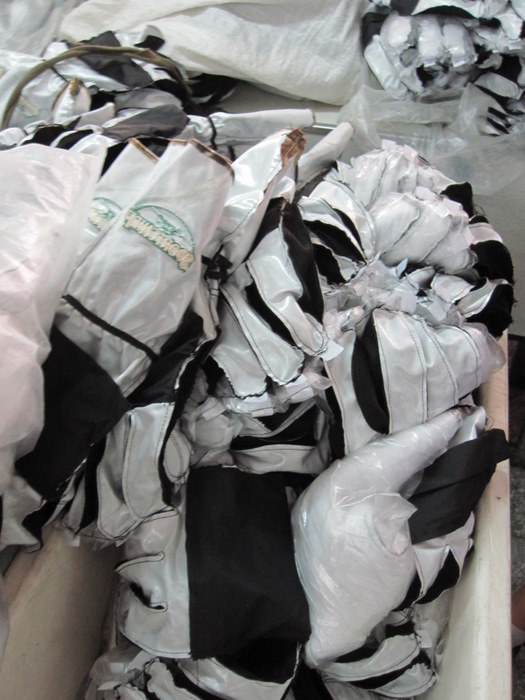 …forming the actual glove shape. I call it the Glove Last. The true quality of a glove is in the Last. It has to be ergonomically shaped and functional to the hand. Easier said than done when everyone's hand is different. Sourcing is a never ending process that takes a shit load of time, but is truly the testament to what makes a good company better.





Its China time!
May 11, 2009

I know the last two posts seemed like I did a whole bunch of nothing, but we actually got a lot of work done. So much that I didn't take too many picts. I apologize and will get my game up.
In the meantime, I was kinda hungry. How about some dry Duck Tongue?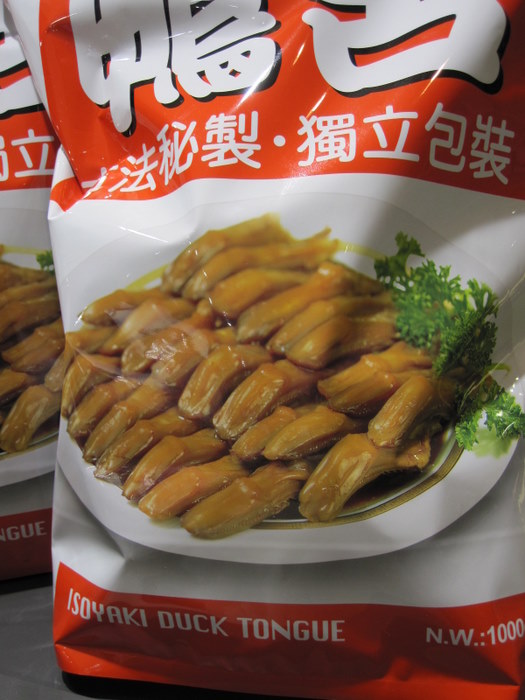 On the way over, we took the Ferry from Hong Kong. Check out the Chinese version of an automatic luggage carrier.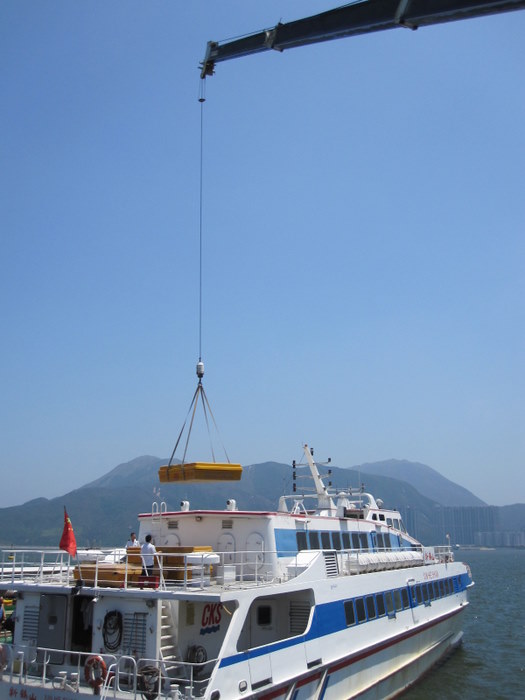 I know it's here somewhere?!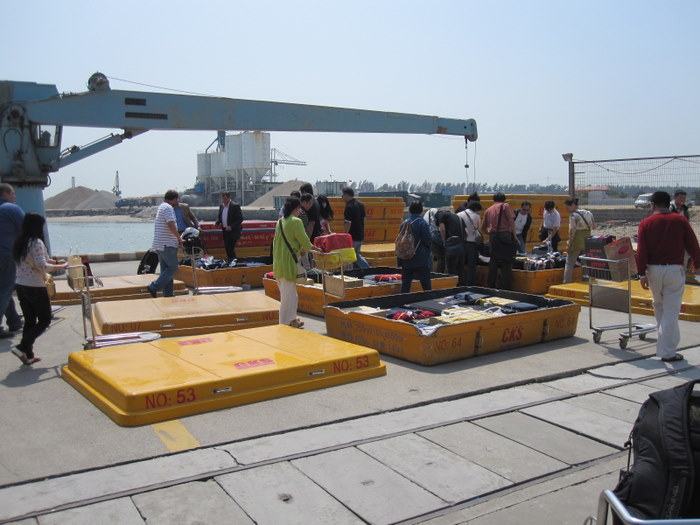 Since the SARS scare in China a few years ago; the Chinese take every sickness very serious. Now it's SWINE flu that's on the list. Look around and everyone was wearing masks, including me!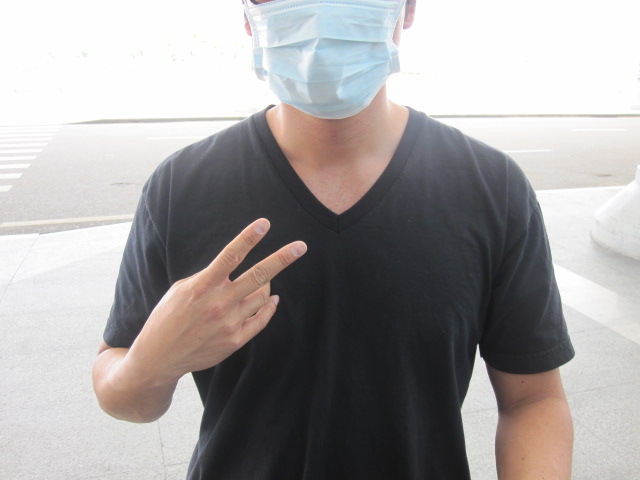 Every person entering HKG/China has to fill out a Health Form. I filled out mine, but for some reason, I had some trouble, dunno why?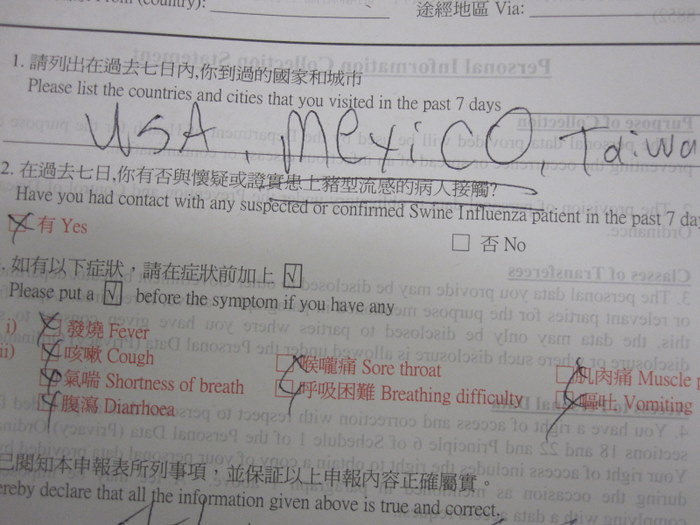 After a few setbacks, we arrived in Guangzhou and drove a few hours to one of our factories in Doan guan. Both these areas have undergone major expansion, what was a few years ago, is totally different today. Nonetheless, we checked into our top secret 686 factory (can you read Chinese?)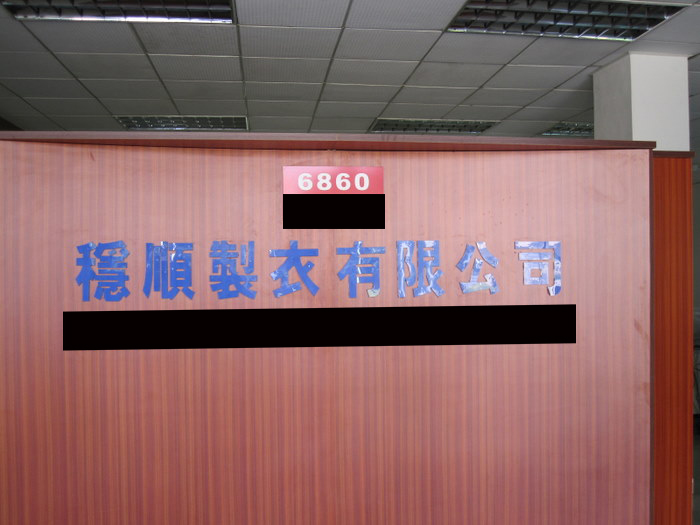 There was a little issue on the pant specs. Even factory owner, Mr. Lai ( grey hair) gets involved.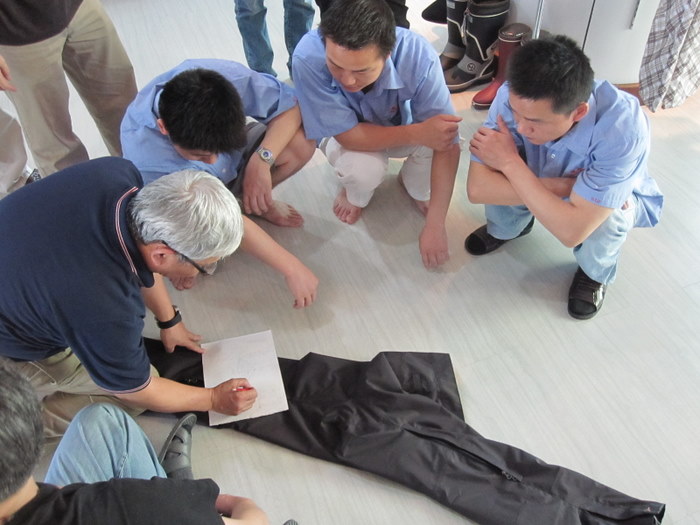 An hour later, some good suggestions, and it's fixed!




RIIIIIIIIIIIIIIING! At 5:30pm sharp, the bell rings and it's Dinner time! At the 6860 factory, the workers actually live, eat, work and play here. Depending upon the area, it's pretty typical to do it all in one place. First out, first to eat!




What's for dinner? Steak, Seafood, Salad???? Well, not really: Rice, Veggies and some sort of Secret Soup…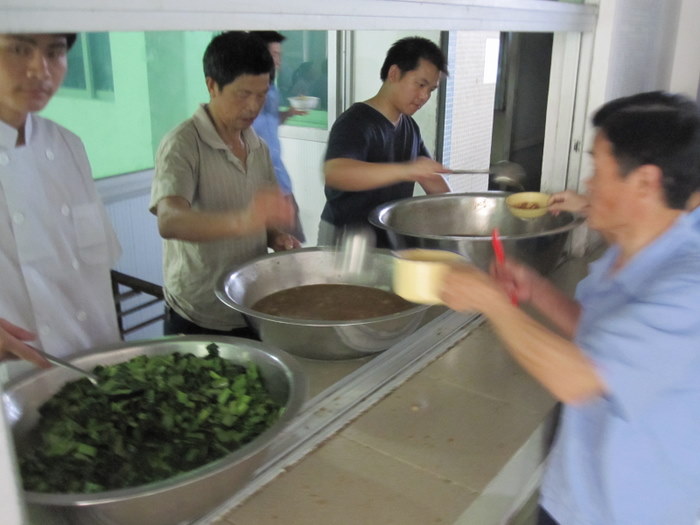 Something tells me that they don't want to be bothered while they eat.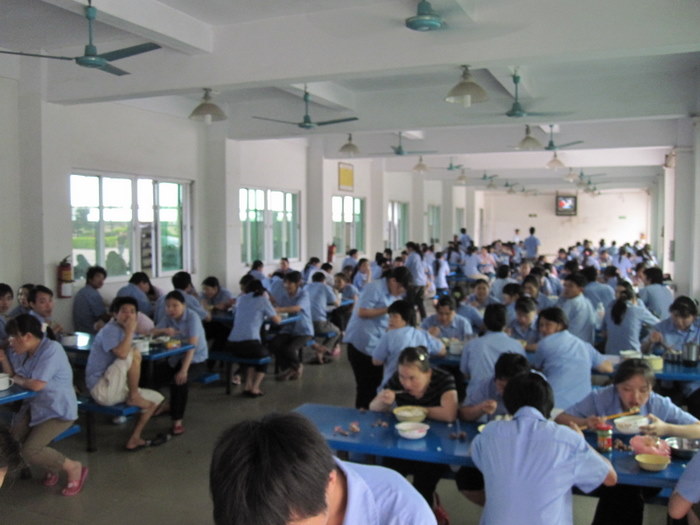 When I'm in China, I'm pretty easy going, I don't like to stay in some swanky hotel or demand Western food. I was actually down to eat with the workers. Mr. Lai told me it's going to have to wait, as they had something very "special" for dinner. We cruised down the road and checked into this non descript building. They told me everything was "fresh." Man, it was a little too fresh for me, especially when I can still "hear" it…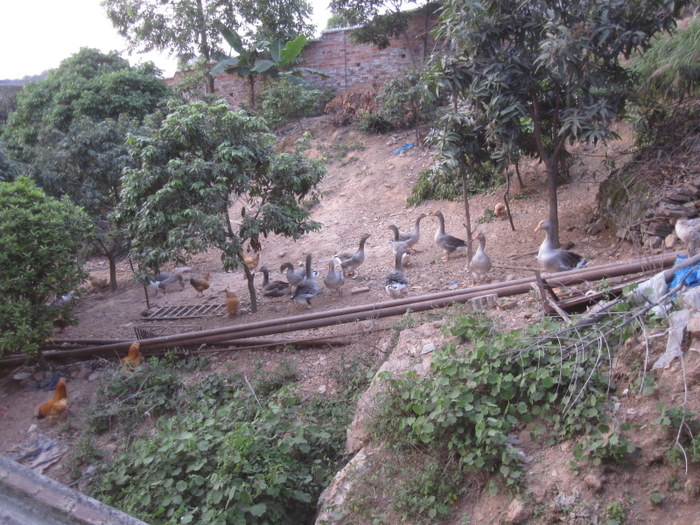 The managers at the factory kept talking about this special soup, they said it's so special, it has actually cured some of their sickness. Crazy thing is that it costs over $200 just for this soup. (To give you a hint, an average factory worker makes around the same amount per month) This is the stuff that's from the soup. Doesn't look like chicken, but it is….all of it.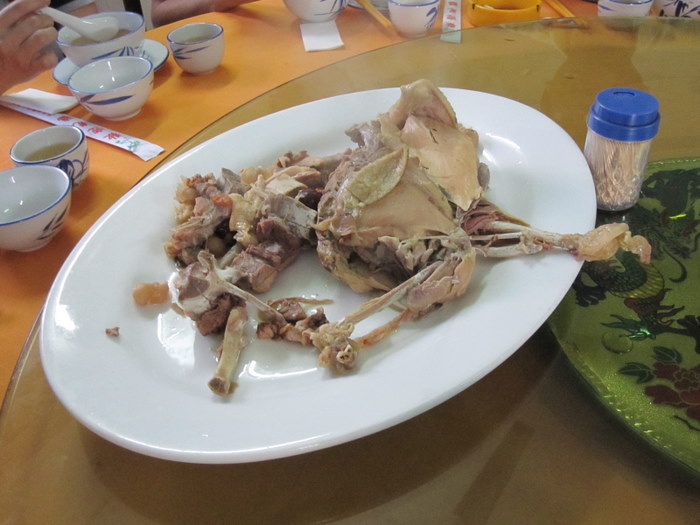 Like I previously mentioned, Chinese people think the head and tail are good luck. Oh well, when in China…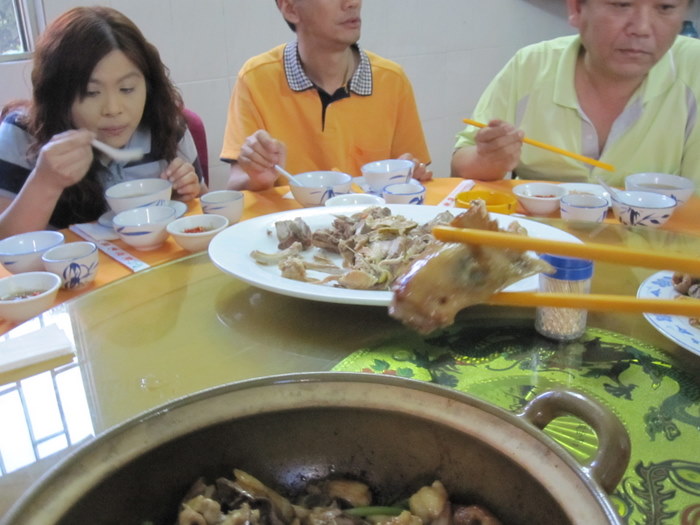 I'll give you a hint, it use to leap and say ribbit, ribbit.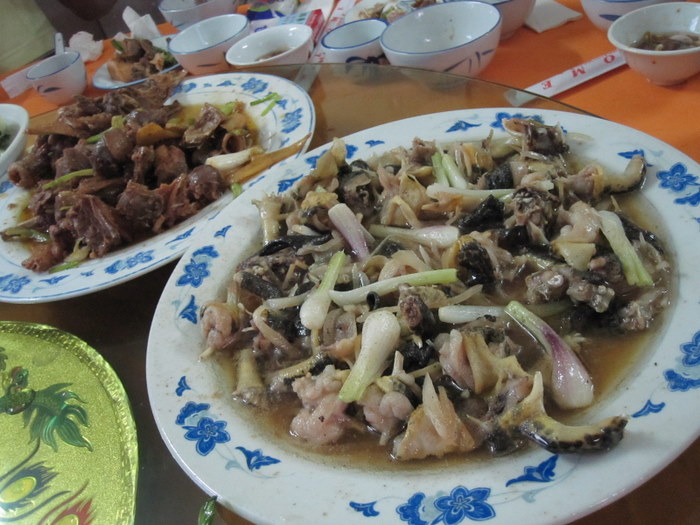 Ok, that's enough, I need a drink to wash all this stuff down, fast.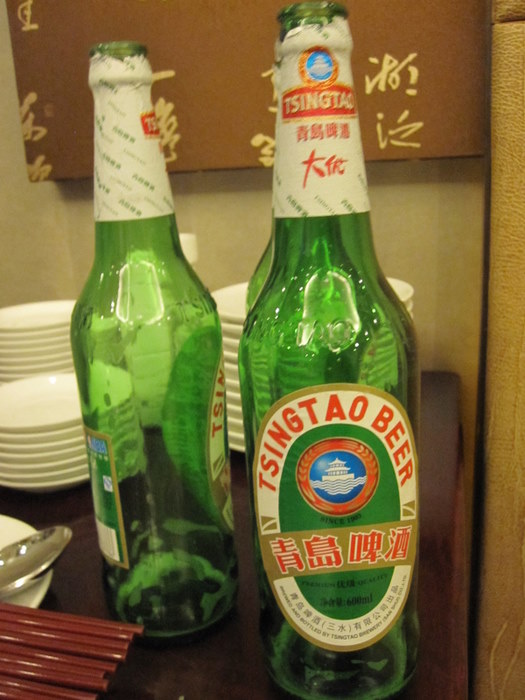 The little island that could
May 10, 2009

Back in the day, I didn't know where the hell Taiwan was. I thought it was a city in China (ie: ROC, Rep of China ). Little did I know Taiwan is kind of like Japan, it's one small island that does a hell of a lot of stuff. In the outerwear game, we depend on synthetic fabrics such as nylon and polyesters. Taiwan is the main country that makes this happen; not to mention it's where most our development goes through.
Checked into the office and it seemed like business as usual?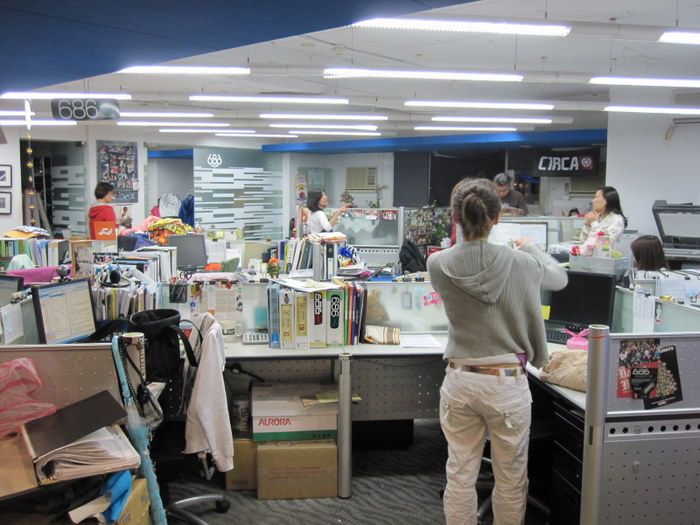 Well, not really…our crew in Taiwan has this tradition of spreading the whip cream love on birthdays. Today was Vina's b-day.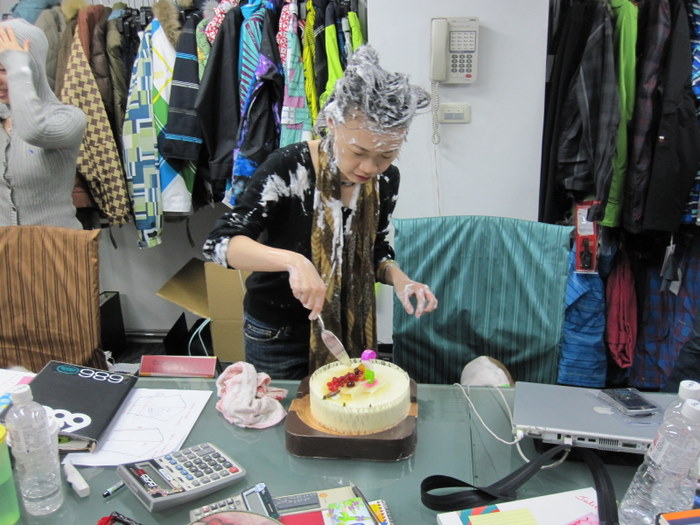 What the hell I gotta do with this?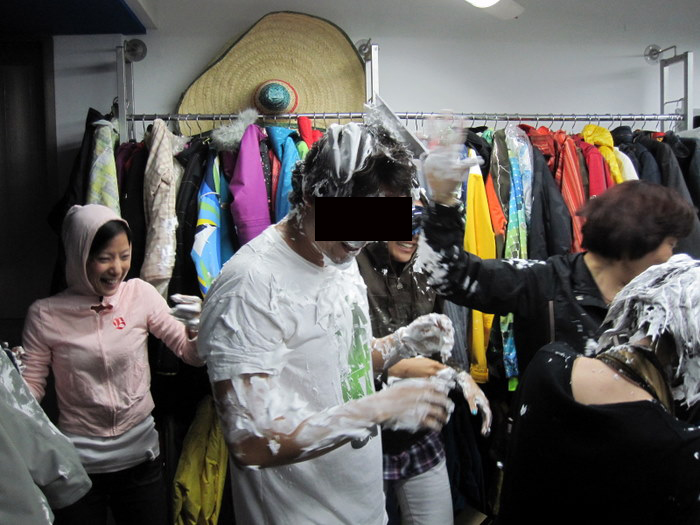 F-off!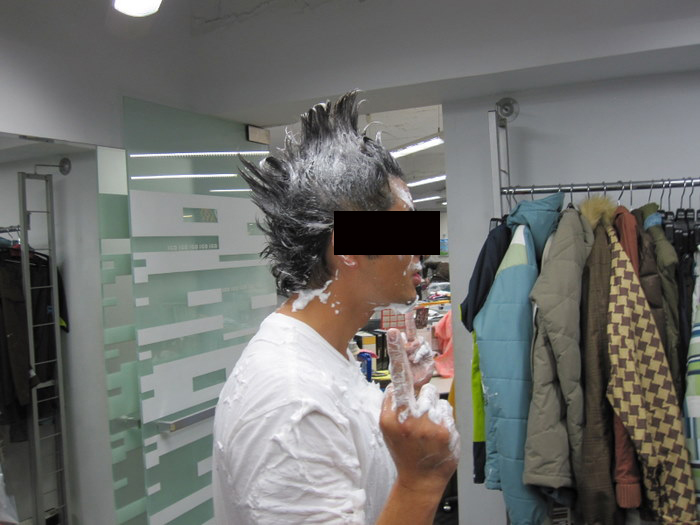 Here we go AGAIN
May 9, 2009

It seemed like just a few days ago (I mean months), I was in Asia for something or another. Well this time around, it's the biggie. Once a year, I do the full tour and visit our primary suppliers to make sure all is good in the Asia hood.
First stop-Hong Kong. Interestingly enough, I got off the plane and saw this poster (sorry my ipod was in the way)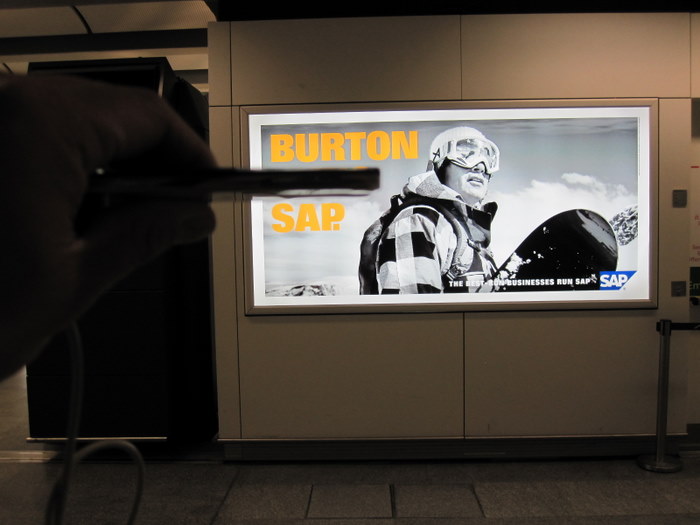 I took the speed train to the Hong Kong side. On the way to my hotel, I took the street bus. Check it-Double decker bus, that's about 8' wide, 20' tall and about 100 years old. Good times!




The one and only-Lan Kwai Fong-aka: the black hole, aka: nighty night, aka: what the hell happened?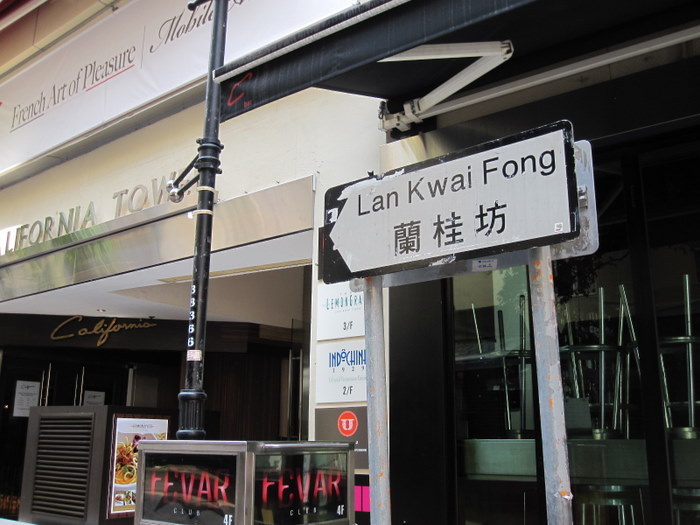 Somewhere between Santee Alley and Avenue of the Stars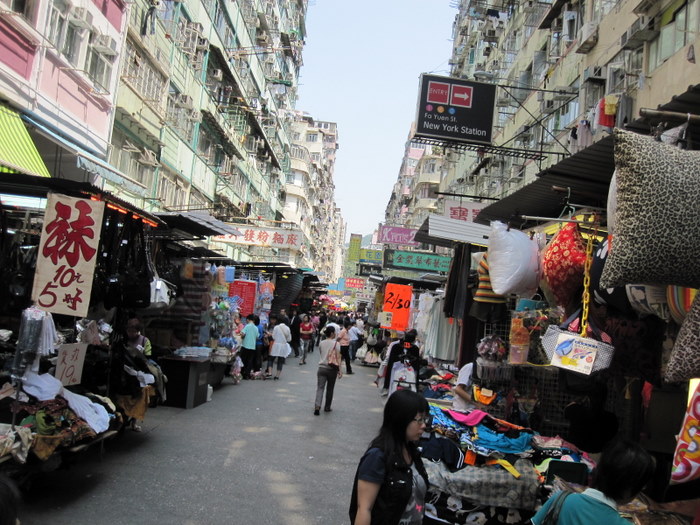 If you already didn't know-I love turtles. Not cuz its suppose to be good luck or they live a long time-but just because there chill.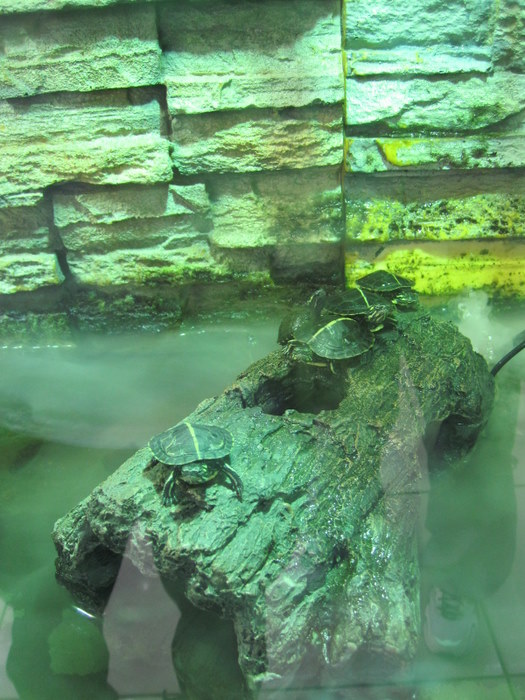 These are baby Blow Fishes. You know the fishes that grow to be about 8" long and 'Puff." There actually a delicatessen in many countries. However one important thing-its highly poisonous. It takes a certified licensed chef to even start to serve this dish and estimated that hundreds of people dye a year just cuz something went wrong. I've had it once and it tastes like chicken….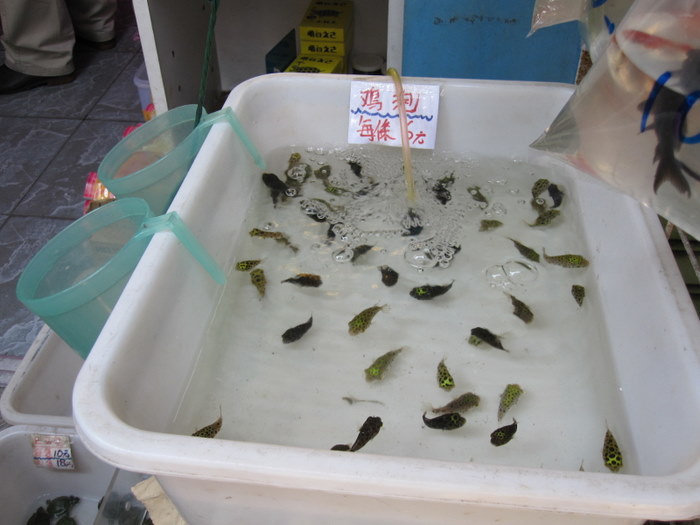 Dinner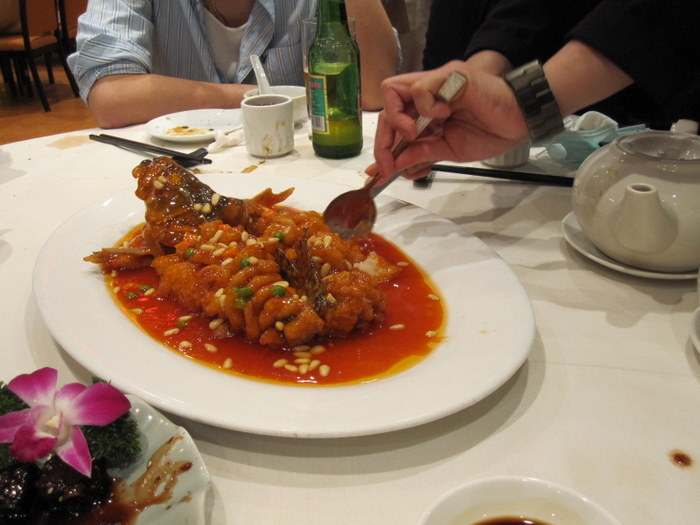 When I come to HKG, I try to stop by and say wus up to the Hypebeast Family. It's always last minute but we rally and catch up. For some reason it ends up with a liquid beverage in one hand and something "bad" in the other. Andy from Adidas was in town-together with Eugene, Jason and a bunch of other good people.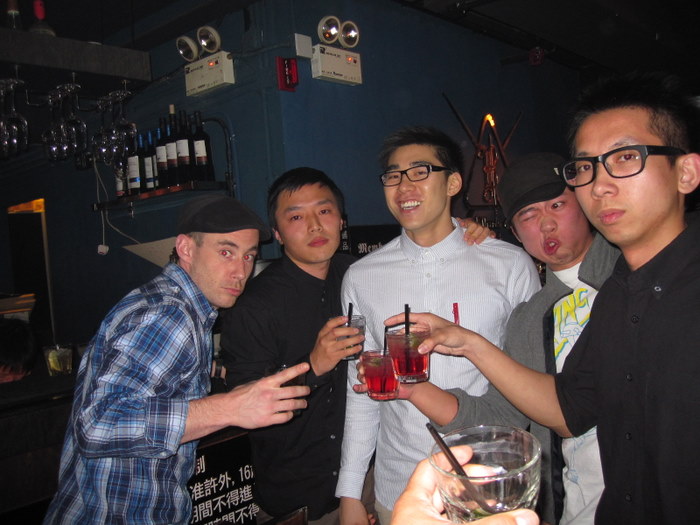 Ancient Chinese Secrets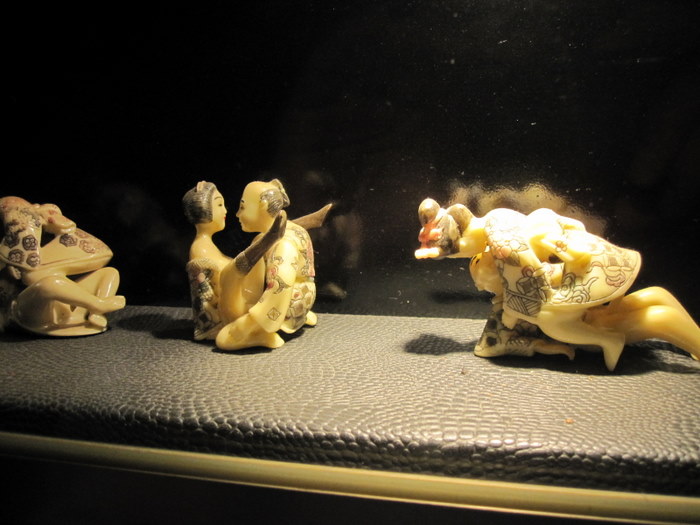 "Nighty night"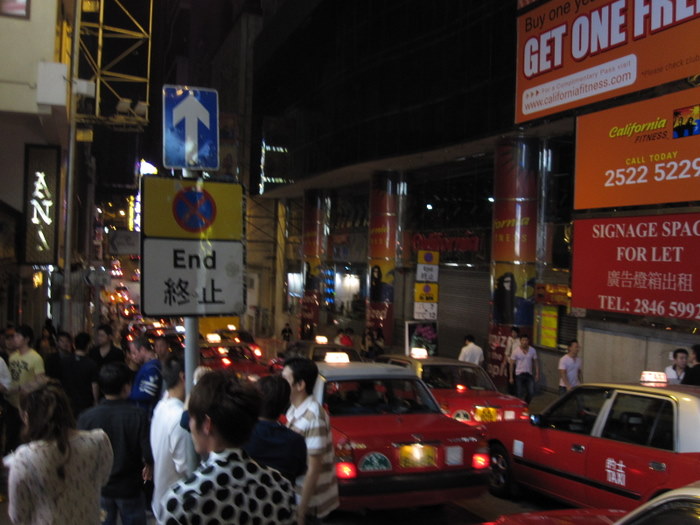 It's a New Dawn, a New Day
May 4, 2009

No actually, its New Era. Most of you know that I'm not that into Orange County (sorry)-not that it doesn't have all the different things LA has-but it's just a little too slow and bro bra for me (sorry again). However it is more convenient when some heads are right down the way. Moritz (686's senior designer) and I took a short 5 min drive to see our friends at New Era. Braden or Cobb weren't around, but we met with none other than Chi-Kay and Donavan! Howz it fellas.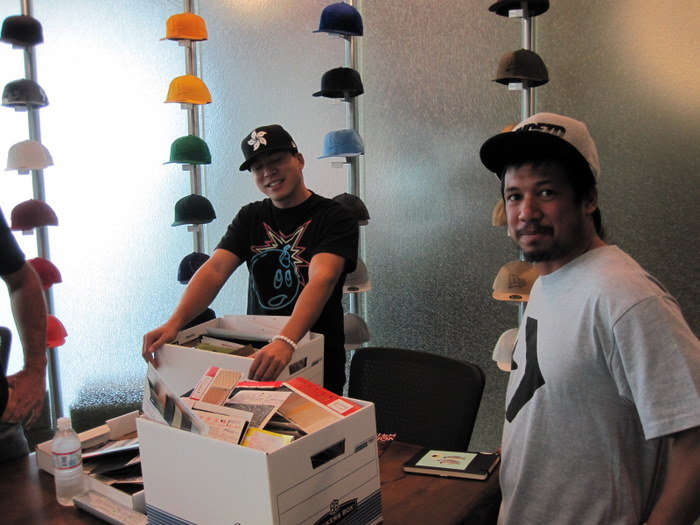 Yo Mario!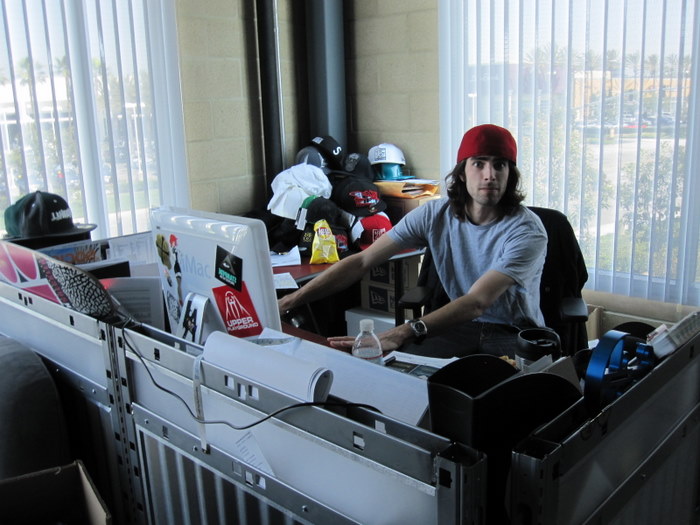 We were there to talk about Fall/Winter 10 headwear and rummage through all the new materials they just got from a long trip overseas. Fun!




In between the meeting, we came up with some top secret shit that that will end up ruling the world as we know it-Stay tuned. Until then, check out their auto hat form press-kinda like a drycleaner press, but for hats. There shipping one to my house next week-thks guys!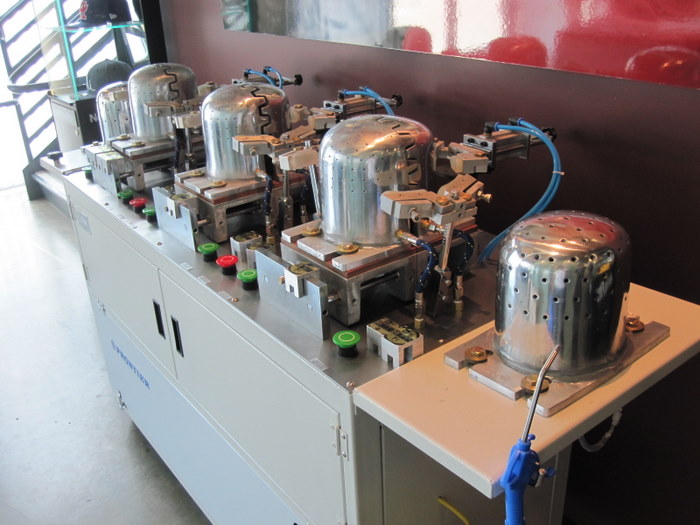 See yah next time!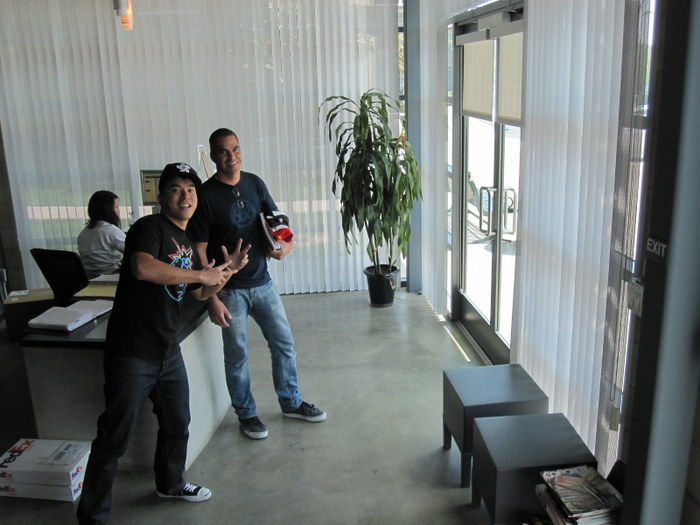 INDUSTRY RUN-IN'S
May 1, 2009

Had a few peeps stop by the joint. First up, I had lunch with an old friend-Damon. D's been around a long time-I first met him when he rode for 686 way back when. His next stop was being part of the whole A# posse (the OG crew), then defected to the Big B, to most recently at Vans. He's got mad skills from Design to Merchandising to Marketing to Category Management-He's def an asset to any team. Holla at him.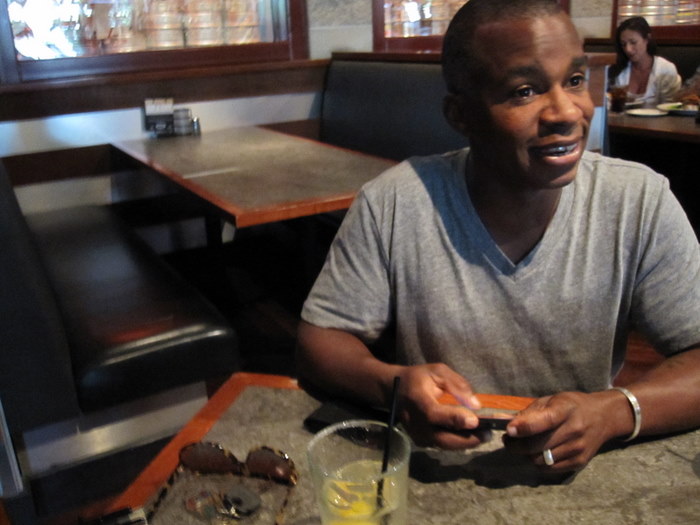 Holla at his youngn'z as well.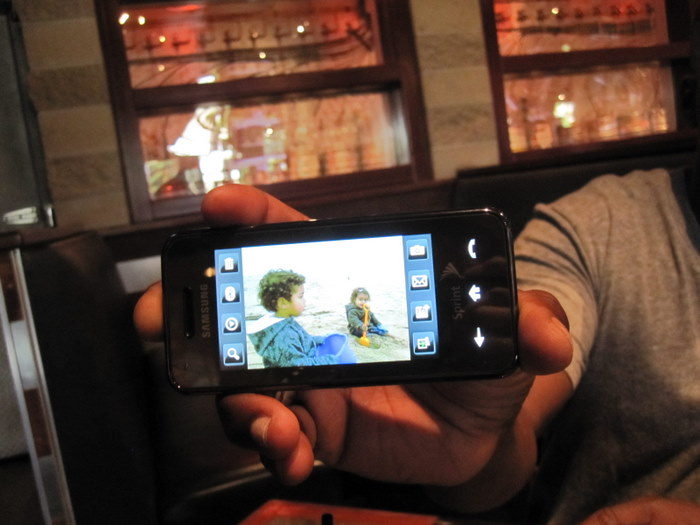 Friends, B + B (Bobby + Ben) from the HUND'S rolled by to say wus up. As I drive from LA each morning, it can seem like an eternity to come down to OC-But Bobby and Ben made it down. We catch up once and while to see what's going on with each other-This time around there doing a new spot called OC Wednesdays. Check it! B + B live and breathe what they do-It's something I respect as I see a lot of similarities between them and 686's organic culture. We're owned and operated by ourselves and love what we do, regardless of all the BS that comes our way.
Serious look (What the hell is that Black thing doing on my desk?)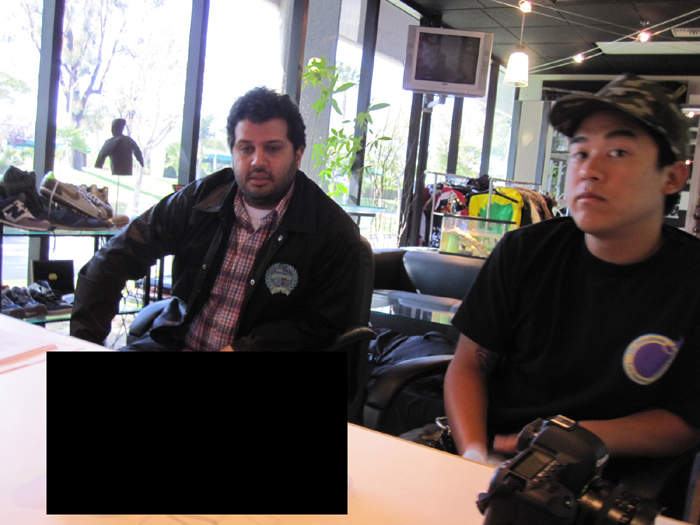 Not so Serious look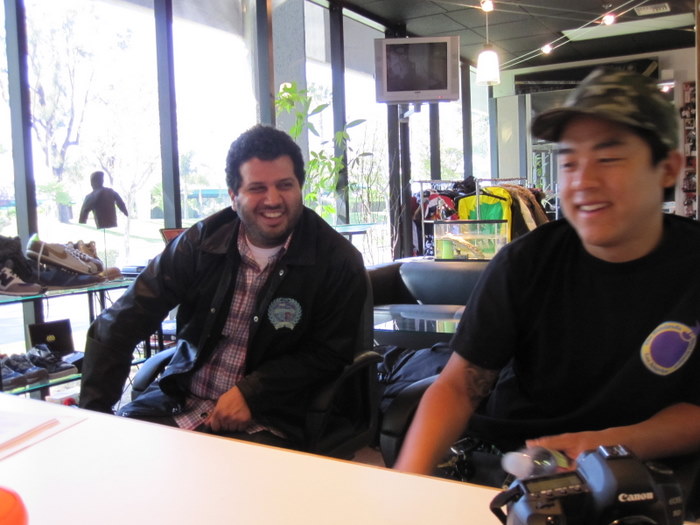 After work, and an hour plus drive back home to the Southbay, I met up for dinner with Brian. BD and his brothers run Podium Distribution -home to DVS, Matix and Lakai. From their humble beginnings running one of the best shops ever-118-to what they do today, they've not only run shit really well, but they've done it on their own terms. We were sharing some stories on what's it like to do your own gig-In the end, it's never easy, as we're accountable for a lot. However we're both very thankful and stoked to be a part of the community we all love. BD's a rad shredder and even a better Dad. Cheers!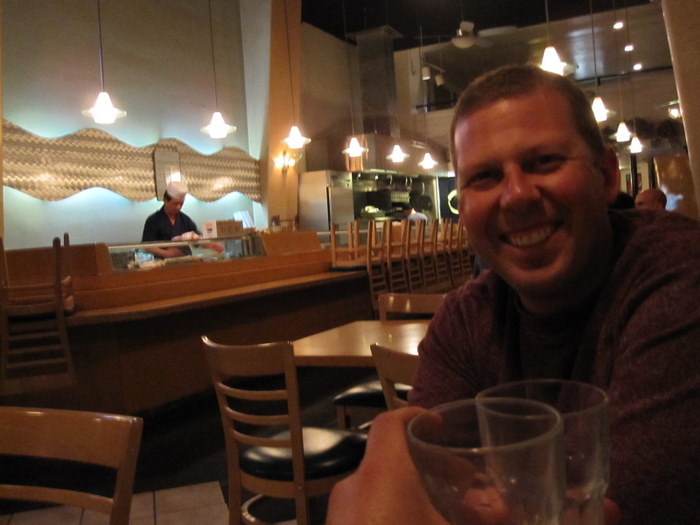 Mash-Up Archives:
April '09
March '09
January/February '09
---